Factors such as whether a home has a prepayment meter or whether they are willing to install a smart meter can affect which tariffs customers can access.
There is also a pivotal choice between fixed and variable tariffs, although this binary choice has altered somewhat in recent years.
Ultimately, every household has different energy needs and it's important to consider all the factors before making a decision.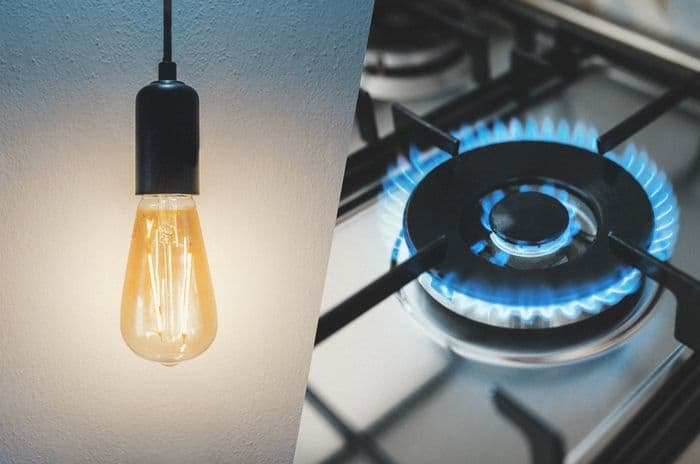 Credit: ALDECA studio/Shutterstock.com
---
1. Should you choose a fixed or variable tariff?
One of the main choices that customers have to face when choosing a tariff is whether they want a fixed or variable deal.
These are the headline differences between the two plans:
A fixed energy tariff allows customers to fix their energy prices for a set period of time, usually one or two years.
A variable energy tariff will change its pricing as wholesale costs of energy fall, but customers aren't locked in to staying with that supplier.
While fixed tariffs have historically been cheaper than variable deals, the spike in energy prices in 2021 and 2022 saw consumers protected by the energy price cap that governs variable deals, making them the cheapest energy plans on the market.
This means that fixed tariffs may not be economical for most households for the foreseeable future, although it's important to balance the risks of being on a variable tariff and the possibility that energy prices will rise every three months under the energy price cap.
Exit fees
Any customers thinking about fixed energy tariffs should also be aware of exit fees.
As the name suggests, exit fees are charged to customers who want to exit their fixed energy deal before it ends.
These are designed to discourage customers from switching energy supplier, but they can sometimes be less than a customer would save by switching from one provider to another.
When comparing energy deals, be aware of the exit fees associated with some fixed tariffs but also remember some energy companies don't charge them and won't penalise customers for leaving early if, for example, they find a better deal or move home.
In the past, we've seen major suppliers like British Gas and E.ON penalised for mistakes relating to customer exit fees, meaning it's worth checking that suppliers are enforcing them correctly.
There's more information about in this our guide to energy consumer rights or learn about the process for making an energy complaint.
---
2. Are dual fuel tariffs better than single fuel?
A dual fuel contract is simply an agreement for a supplier to provide both gas and electricity to a customer.
Dual fuel tariffs are only available to customers using both fuels, so if you're on electricity only or use oil or bottled gas (LPG) for your heating, this type of tariff will not apply to you.
Although dual fuel tariffs are increasingly becoming the norm, especially among customers switching to cheaper and simpler tariffs, dual fuel hasn't always been the default and some suppliers used to offer incentives for customers to take both gas and electricity from them.
Dual fuel tariffs have some key benefits:
Reduced administration because there's only one company involved
One point of contact if something goes wrong
Cheaper prices because some suppliers are more generous with dual fuel than single fuel tariffs
However, on the flip side, there are some downsides:
Dual fuel might not always be cheaper and we might miss on good single fuel deals
Early exit fees apply to both fuels, meaning we essentially pay to exit a contract twice
For the most part, customers are only going to see dual fuel tariffs pushed by energy suppliers - unless they live in a property that isn't connected to the gas network and where electric-only is the default position.
---
3. Do you have a standard or prepayment meter?
The types of energy tariffs open to us will depend on whether we have a standard energy meter or a prepayment meter.
Standard meters, also known as post-pay or credit meters, charge us for the energy we use after we've used it.
Meanwhile, prepayment meters require us to top up the meter with credit before we can use it.
Energy suppliers are required to have a prepayment tariff available to customers, but the best energy deals are available for standard meters.
It's sometimes possible to upgrade from a prepayment meter to a standard credit meter if the supplier agrees as we explain in our guide to prepayment meters and whether customers should switch away from them.
---
4. What about other types of meters?
There are two other notable types of meters to be aware of:
Smart meters
Economy 7 meters
Smart meters are being rolled out across the country, although the original deadline was missed and the revised deadline has already been put back into 2025 due to slow installations during the coronavirus pandemic.
A smart meter sends information about our energy use straight to our supplier, cutting out the need for regular meter readings and ensuring our bills are accurate.
Some energy deals are only available to customers who have smart meters or who are willing to have them fitted.
This is partly because some tariffs (i.e., tariffs for electric vehicles) need smart meters to make them work properly, but it's also because companies are meant to ensure that 85% of their customers have smart meters by the deadline.
So, if a household is unwilling to have a smart meter fitted, this might mean they cannot access certain tariffs.
Economy 7
A small proportion of households have an Economy 7 electricity meter meaning they will need to sign up for an Economy 7 tariff or have their meter changed.
These tariffs have two separate rates:
A day rate for using electricity during the day
A night rate for cheaper overnight usage
To get the benefit of an Economy 7 meter, customers will need to make full use of their electricity supply overnight and use less during the day.
Having an Economy 7 meter can limit the number of energy deals a household has access to as some suppliers have stopped offering them.
However, customers can still request a supplier install a new standard meter instead - that's worth asking about if you're trying to move away from an Economy 7 tariff.
---
5. Energy tariffs for electric vehicles
Some energy tariffs are designed specifically for customers with electric vehicles (EVs).
These types of energy deals have been around for a few years now and generally offer cheaper electricity rates overnight to enable customers to charge their cars.
If you're considering buying an electric vehicle, there are some good reasons to look at EV tariffs:
Enable cheaper charging at off-peak times
Some suppliers will have deals on charger installations
Can be more economical than using public charging points
Customers will usually have to sign on to one of a supplier's other electricity tariffs and then transfer across to their EV tariff. They will usually need to take a supplier's gas tariff too.
For any household with an EV, it's worth doing the sums and working out whether a specific tariff is economical.
There's more information on electric vehicle tariffs in our dedicated guide.
---
6. Should you choose a green energy tariff?
Many energy suppliers now offer renewable electricity as standard on some of their tariffs.
We've seen big names like E.ON move towards those policies as well as smaller suppliers like Shell Energy.
However, as we explain in our guide to green energy plans, some green energy tariffs may not be as environmentally friendly as they purport to be.
There are two methods energy suppliers use to contribute green electricity to the National Grid:
They can generate renewable energy themselves or buy it from small generators directly
They can buy renewable energy on the open market
This second method is the contentious one, and there's the potential for certificates to be separated from the electricity itself - meaning these tariffs might not be as green as they could be.
It's vital to check where suppliers are getting their green energy from if climate friendly policies are important to a household when choosing an energy provider.
Greenest tariffs
Three energy providers are not bound by the energy price cap because their energy is the greenest available in the UK:
Ecotricity
Good Energy
GNUK
Choosing a tariff from one of these suppliers will cost customers more and so they are not practical for all households, especially those on a stricter budget.
Yet these three suppliers are the best options for those looking to make sure their energy is the greenest it can possibly be and who want to help invest in future renewable generation in the UK.
---
7. What are online energy tariffs?
Many energy tariffs are now advertised as "online", although this can refer to one of two things:
It's a plan you sign up to online, through the supplier's website directly or via a third-party website such as Choose
It's a plan which is completely managed online, including all billing, meter reading submissions and customer service
Often, what we're talking about is a combination of both these elements.
Customers sign up to these energy plans online and then manage their account online for the duration of their time with that energy provider.
Energy customers who manage their accounts online have the same protections as every other energy customer. The only difference is that the account is managed entirely online wherever possible - although customer service advisors are still available when necessary.
This means no paper bills, so customers must be confident accessing their energy bills online and managing their account in that way.
Some suppliers will offer paper billing rather than the paperless default but be aware this may cost a few pounds more every month. We've got some examples of this below.
In practice, many of us are already managing our energy accounts in this way. Opting for an online energy plan, though, can save us money and might have other benefits too:
Saving time
Reducing incorrect payments
Giving customers more control
Reducing the amount of paper used
Energy providers will sometimes offer a small monthly discount for customers willing to accept paperless billing.
It might also be that some tariffs are unavailable to customers who are unwilling to handle their energy bill online.
Learn more about how to read your energy bill or what to do if your energy bill is wrong.
There's also a dedicated on how to reclaim credit on your energy bill to stop too much money building up on your account.
---
8. Payment method limitations
Paying by direct debit is the cheapest way to pay our energy bills.
If we want to pay on receipt of our bill (known as "standard credit"), suppliers will usually charge us more for this.
Yet there are still customers who prefer to pay on receipt of their bill. This gives them more control over their energy accounts, especially if they still receive paper bills and don't manage their account online.
This could involve a bank transfer or paying by cheque, cash, telephone or over the counter at their local Post Office.
Energy companies prefer customers to pay by direct debit as it removes administration costs and it reduces the possibility that payments are going to be missed.
Companies often warn of the dangers of paying by non-electronic methods (i.e. cheques may arrive late and incur fees), but some customers are still more comfortable with these methods of payment - just take extra care that payments arrive on time.
One final point: the energy price cap has separate caps for direct debit and standard credit customers, with those paying on receipt of their bill paying slightly more for their energy.
---
9. Should you choose a large energy supplier?
Large and medium energy suppliers are comprised of the following:
There are also medium sized providers like Shell Energy and Utilita, along with smaller companies including Ecotricity and Utility Warehouse.
Some of these providers offer different services including greener tariffs, as already discussed above.
The debate over whether to choose a large or challenger energy supplier has become less important in recent years following the collapse of dozens of companies in 2021 - there are simply fewer smaller providers around to choose from.
That said, the fact that smaller providers have collapsed or sold their customer base doesn't necessarily mean there is no place in the UK energy market for these smaller companies.
Regulator Ofgem has improved licencing tests for new energy suppliers and strengthened checks on existing suppliers over recent years, yet many customers may be justifiably wary of choosing a smaller provider given the tumult of the 2021/22 energy crisis and the number of collapses.
---
10. Bundling extras with your energy deal
Some larger energy suppliers encourage customers to take extra services from them.
We've already mentioned that some suppliers offer EV charger installations but some like British Gas and Scottish Power also offer extras such as:
Boiler installations
Boiler and heating cover
Home improvements
Smart home technology
There can be some good deals available for customers willing to bundle other services alongside their energy tariff.
However, there are a couple of questions to ask before choosing a tariff with additional services:
Is it cheaper to take the services separately from different companies?
Is the service on offer at a competitive price?
Will the cost go up after a set period (e.g. 12 months)?
Does the service come with a lengthy contract and is that the same length as the tariff itself?
Cost is the key point here and it's important to shop around to see if the bundle is truly as good as the energy company would like you to believe.
---
Summary: Be tariff aware
There are plenty of choices that customers have to make or factors they should be aware of when searching for the right energy deal.
For example, some of these factors will dictate which tariffs are available to households or which ones they should be looking at:
If they have a prepayment meter or not
If they have an Economy 7 meter
If they have an electric vehicle and want to charge it at home
There are also more nuanced questions about whether a customer would be happy installing a smart meter to meet their supplier's requirements or whether they are happy to pay by direct debit.
Other choices include:
Whether to opt for a fixed or variable tariff
Whether to choose a green tariff
Whether to bundle extras in with the tariff
Whether to choose a smaller energy supplier
Ultimately, individual household requirements and what customers are comfortable with will help to dictate the type of tariff they should choose.
The energy crisis of 2022 has demonstrated that choice in the energy market can be affected by external factors, and the decisions that would've been more straightforward a few years ago (such as fixed tariffs over variable ones) are now more complex.
Learn more about free home insulation options or how to cut your energy bills cheaply.