As well as a support package provided by the Government, energy customers struggling with debt can sometimes apply for grants from their supplier.
It's also worth seeing if you're eligible for the Government's free insulation scheme ahead of a further bill increase expected in the autumn.
Both the Government and the energy regulator are looking at ways to help customers and improve the market, but most customers are advised to stay with their current suppliers for now.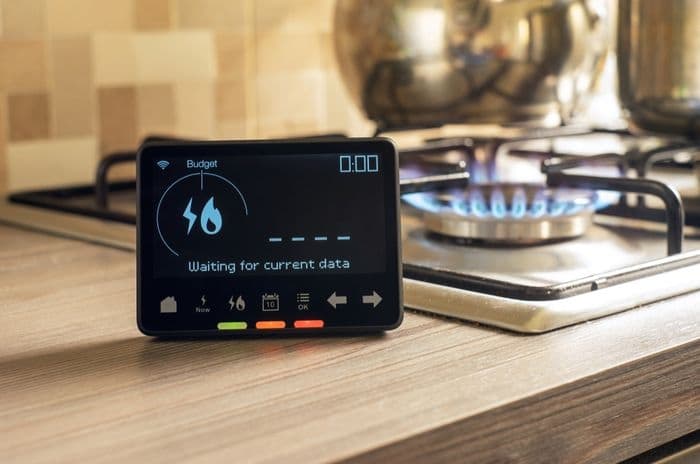 Credit: Vitalij Terescsuk/Shutterstock.com
---
What help is available for energy bills?
2022 is proving to be a difficult year for energy customers, with an unprecedented increase in the energy price cap leading to bills rising for many customers on variable tariffs.
At the same time, customers with fixed tariffs coming to an end are finding their monthly bills to be much higher than before and current fixes are generally above the level of the variable cap.
Support is being provided by the Government to help limit the effects of these price hikes. In addition, there are energy grants available and insulation schemes to improve energy efficiency.
We'll look at each area of support in turn.
Government support for energy bills
The latest UK Government support package for energy customers was unveiled in May 2022.
It includes the following measures:
| Support | What does it offer? | How do you get it? | Notes |
| --- | --- | --- | --- |
| Energy Bills Support Scheme | £400 grant to all households in England, Scotland and Wales | The credit will be automatically applied to energy meters from October 2022 | Arrangements in Northern Ireland differ but funding has been provided |
| Cost of Living Payment | £650 grant to households on most means-tested benefits | First payment to be paid from 14 July 2022 onwards, second payment to follow in autumn 2022 | Eligible benefits: Universal Credit, JSA, ESA, Income Support, Working Tax Credit, Child Tax Credit, Pension Credit (but not Housing Benefit) |
| Pensioner Cost of Living Payment | £300 grant to pensioners in receipt of the Winter Fuel Payment | It will be paid alongside the Winter Fuel Payment in November/December | Must be eligible for the State Pension as of 19 September 2022 |
| Disability Cost of Living Payment | £150 grant to people in receipt of disability benefits | It will be paid directly to claimants from September 2022 | Eligible benefits: DLA, PIP, Attendance Allowance, Scottish Disability Benefits, Armed Forces Independence Payment, Constant Attendance Allowance, War Pension Mobility Supplement |
| Household Support Fund | N/A | Apply to Local Authority for support | Extra £500 million funding to provide targeted support |
Note: The £400 Energy Bills Support Scheme is an update to the £200 energy loan first announced in February. It has been extended and converted into a non-repayable grant.
With the exception of the Household Support Fund which is reliant on struggling energy customers seeking help from their local authority, all these measures should be paid automatically.
So, all households in England, Scotland and Wales will receive £400 credited to their energy meter by their energy supplier automatically later this year.
The other grants will be combined where appropriate. For example:
A pensioner in receipt of Pension Credit and the Winter Fuel Payment will receive the £400 bill credit, £650 Cost of Living Payment and the £300 Pensioner Cost of Living Payment - a total of £1,350.
A household in receipt of Universal Credit will receive the £400 bill credit and the £650 Cost of Living Payment - a total of £1,050
These measures were an update to the energy support package announced in February 2022 when it became clear more support would be needed.
As we mentioned above, the Energy Bills Support Scheme was doubled from £200 to £400 and made non-repayable, while the Household Support Fund provided extra money to local authorities (and was subsequently extended in the Spring Statement).
These were the other measures announced in February 2022:
| Support | What does it offer? | How do you get it? | Notes |
| --- | --- | --- | --- |
| Council Tax rebate | £150 non-repayable rebate on council tax | Households in England, Scotland and Wales in Bands A to D will receive it automatically | Northern Ireland have paid a separate £200 grant to customers on certain benefits |
| Warm Home Discount | £150 support for low-income homes | Eligible customers will receive the rebate automatically | Increased by £10 and expanded to more people |
While the council tax rebate was supposed to be paid from April 2022 onwards, there were delays with many local authorities in issuing the payments.
Government calculations on the full amount households will receive as part of the energy crisis measures usually include the £150 council tax rebate in the full calculation.
So, the pensioner household we mentioned above will receive a total of £1,500 in support in 2022 while a household on Universal Credit will receive a total of £1,300.
Other energy support for Winter 2022
The expanded eligibility for the Warm Home Discount (WHD) scheme means that an extra 750,000 people will be eligible for the payment in Winter 2022.
For 2022, this is worth:
£150 applied directly to a customer's energy bill
This is an increase of £10 compared to 2021 and other changes have also been made.
There are now two groups eligible for the WHD:
Core Group 1 includes those who receive the Guarantee Credit element of Pension Credit.
Core Group 2 includes customers on a greater range of benefits who have high energy costs.
Both groups of customers will have their WHD rebate paid automatically in 2022 and they will receive a letter explaining their eligibility before October 2022.
Unfortunately, the way the WHD has been redesigned means that, while 750,000 more people will be eligible for the rebate, this won't include those in receipt of Disability Living Allowance (DLA) or Personal Independence Payment (PIP) - unless they are in receipt of another benefit and judged to have high energy costs.
The Government's own Impact Assessment suggests that this will cause a 35% reduction in the number of rebate recipients claiming DLA/PIP. Due to this, many households could miss out on the Core Group 2 rebate when they have previously received the WHD, so it's worth checking if you're still eligible rather than relying on the £150 to arrive later this year.
There are two other regular help packages to be aware of:
Winter Fuel Payment. This is worth up to £300 for pensioners, although most will get £200.
Cold Weather Payment. If the temperature drops to zero degrees Celsius or below for a consecutive 7-day period between 1 November and 31 March each year, low-income households will receive a £25 payment.
Eligibility for these schemes is complicated, so it's worth reading about them in more detail if you think you might be able to claim them. Here's our guide to help paying fuel bills in winter.
Grants to cover energy debts
Major energy providers have funds set aside to help customers who are struggling to pay their bills.
These funds are designed to support customers who have already fallen into energy debt and have sought assistance from a debt charity (more on this below).
So, the following funds are last resorts rather than being something customers can rely on to pay their bills:
| | Information | Website |
| --- | --- | --- |
| British Gas Energy Trust | One-off debt relief grant to clear an outstanding debt. Grants of up to £1,500 usually available for customers and non-customers. | British Gas |
| British Gas Energy Support Fund | Grants to clear energy between £250 and £750 for British Gas customers. | See above |
| Bulb Energy Fund | Applications for the 2022 fund are currently closed for applications. | Bulb |
| EDF Energy Customer Support Fund | Grants offered to most vulnerable households. An application must be made for specific details. | EDF |
| E.ON Energy Fund | No longer accepting applications - customers must apply below. | N/A |
| E.ON Next Energy Fund | Grants to help struggling customers in energy debt take control of their finances. | E.ON Next |
| Octopus 'Octo Assist Fund' | Grants and advice to help customers. | Octopus Energy |
| OVO Energy Fund | Grants for those on low incomes in energy debt. | OVO Energy |
| Scottish Power Hardship Fund | Grants for those on low incomes in energy debt. | Scottish Power |
Each scheme has different criteria and it's only by checking the individual websites that we can check whether we might be eligible.
Out of these, the only one that accepts applications from people who are not their customer is the British Gas Energy Trust.
We cover energy grants in more detail in our dedicated guide, as well as looking at support for water bills.
Debt help
As already mentioned, energy suppliers usually expect customers to seek debt advice before making a claim to one of their grant schemes. This is to ensure that they have a strategy to handle their overall financial situation rather than simply fixing one part of the problem.
It's also useful for customers struggling with debt across all aspects of their life to speak to a debt professional and understand what changes they can make and what assistance is available to get out of debt.
National charities to support those in financial difficulty include:
Citizens Advice
StepChange
Debt Advice Foundation
Learn more about where to get help with debt and what to expect when you get in touch.
Insulation and energy efficiency
Insulating a home more effectively can bring energy bills down, although it's an expense that many customers will be unable to afford without help.
There is some assistance available in the form of the Energy Company Obligation (ECO) scheme.
This is currently in the transition period from ECO3 to ECO4 (the new version is expected to start on 1 July 2022) but the main points of ECO look set to remain the same:
The scheme aims to improve homes through free insulation.
It is focused on low-income and vulnerable or fuel poor households that have an Energy Performance Certificate (EPC) rating of D-G.
It covers England, Wales and Scotland with at least 3.5 million homes eligible.
As we saw with the Warm Home Discount above, the Government plan to tinker with the eligibility criteria for ECO4 compared to its predecessor, and those on disability benefits may miss out.
They cite figures from the 2017 English Housing Survey that suggest 60% of DLA/PIP recipients also receive one of the eligible means-tested benefits, with fuel poverty rates amongst households receiving both of those types of benefit higher (27% compared to 10% on disability benefits alone). However, this still means they expect up to 10% of disabled households who are in fuel poverty to be unable to access the scheme under the new rules.
A route for support called ECO4 Flex could give Local Authorities and suppliers more ways of helping customers. Details on how this will work are still vague, so we'll update our guides when we have more clarity around it.
Find out more about getting free insulation through the ECO scheme or learn more about the Boiler Upgrade Scheme and the grants available to homeowners to install low carbon heating.
---
What does the energy price cap do?
The energy price cap is a limit to the amount that energy suppliers can charge customers on variable tariffs for each unit of gas and electricity they use.
It isn't a cap on the total amount of an energy bill - the figure given by Ofgem when they calculate the cap refers to a typical household using an average amount of gas and electricity.
At present, the price cap is set twice a year, although energy regulator Ofgem is thinking about changing this to every three months and have confirmed that's their preferred plan from October 2022.
The energy price cap from 1 April to 30 September 2022 was set at:
£1,971 for Direct Debit customers
£2,100 for Standard Credit customers
£2,017 for Prepayment customers
This was an increase of £694 over the course of a year for those paying by Direct Debit compared to the cap set six months earlier.
Read more about the energy price cap and what it means for your energy bills.
Will the energy price cap rise any higher?
Industry experts warn that the energy price cap is set to rise further when it is reassessed ahead of October 2022.
In fact, the reason the Government chose to issue their revised energy support package in May was because of advance warning from Ofgem about the potential scale of the increases.
The highest estimate we've seen came from Investec in February who warned that it could rise another 64% to £3,200, although other estimates suggest it might reach £2,700.
Even so, it means that households are looking at another sharp increase in energy bills in the autumn, with Citizens Advice warning of an energy crisis in a stark intervention in March.
They said 14.5 million people could be struggling with their energy bills after the cap rises again in October, up from the five million finding it difficult to pay their bills after the April price cap hikes.
Should you fix an energy deal now?
Most energy companies are not encouraging customers to switch supplier right now, and our energy comparison search may not show many options for households to switch to right now.
Fixed deals are likely to be significantly higher than the current price cap level and, while they may be better value than the October price cap when that comes into force, we simply can't guarantee that right now - nor can we predict how prices will look in 2023.
We're seeing anecdotal evidence of suppliers encouraging customers to fix on deals that are massively above the price cap - and the regulator has warned against this practice, reminding suppliers they should not direct customers to tariffs that are not in their best interests.
With all this in mind, we're not advising customers to switch to a fixed tariff and to think very carefully if your supplier approaches you with a fixed deal.
We've got more information in our guide to the cheapest energy suppliers around right now.
---
Summary: What's next for energy policy?
Energy bills are so high at the moment thanks to a surge in wholesale gas prices that helped push dozens of energy companies towards collapse in 2021.
This has been compounded by the fact that many of these companies went bust while holding credit balances from their customers. A levy to cover these has been added to the price cap.
The Government and the energy regulator have been looking at ways to improve the energy market and help customers, most of which we've covered in this guide.
However, it's worth listing the most important areas again:
The Government has provided a support package including energy bill credit worth £400 for all households in England, Scotland and Wales along with targeted support for households on low incomes.
Ofgem is looking at ways to make the price cap more effective and has opened a series of reviews into suppliers to ensure they're being fair with customers.
As a short term measure, Ofgem have also instructed energy suppliers to make the same deals available to existing customers as for new ones.
It's already clear that millions of customers are finding their energy bills too expensive and charities such as Citizens Advice believe this is going to get worse before it gets better.
When we commissioned research in February to check whether energy customers thought the support on offer from the Government was good enough, there were some stark findings:
66% said the Government's help isn't enough to prevent cutting back on heating or other essentials
21% said the energy loan would not be enough to pay their bills while another 28% said repaying it would cause them difficulties in the future
It's therefore welcome that the Government has converted the energy loan into a grant and doubled it as well as providing more targeted support measures for low-income households.
Even so, once the October 2022 price rises come into force, many customers are going to be hit with unprecedented bills at the most expensive time of year.
To stay up to date with what's going on in the energy market, sign up to the Choose newsletter. We send a monthly email specifically about energy to go alongside our weekly consumer newsletter.