Grants of £5,000 are offered to those installing heat pumps, while customers in rural areas may be able to benefit from biomass boilers as an alternative.
A certified installer must agree a quote with the homeowner, with the grant then discounted from the final bill.
Up to 90,000 homes are expected to benefit from the scheme which is also open to private landlords and second home owners.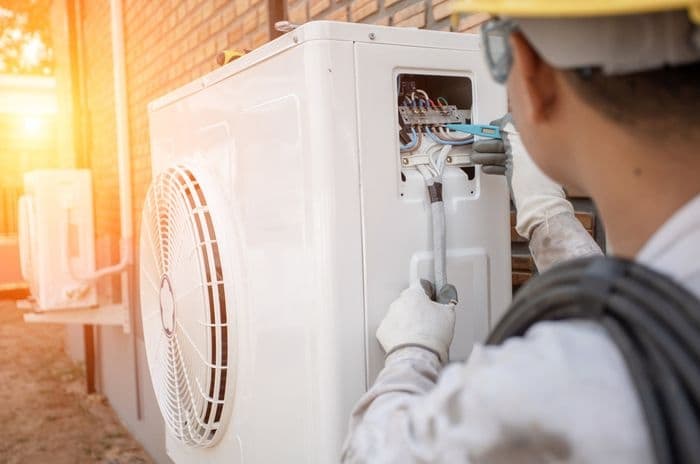 I AM NIKOM/Shutterstock.com
---
What is the Boiler Upgrade Scheme?
The Boiler Upgrade Scheme (BUS) offers grants to homeowners looking to install low carbon heating systems in England and Wales.
It was first announced as part of the Government's Heat and Buildings Strategy in October 2021 and runs until 2025.
Property owners can claim grants for:
£5,000 off the cost and installation of an air source heat pump
£6,000 off the cost and installation of a ground source heat pump
£5,000 off the cost and installation of a biomass boiler
The grants are designed to help households fund the transition to greener homes, but it's important to note they don't cover the full costs of the installation.
For example, estimates from the Energy Saving Trust suggest the following price ranges, depending on what size property we own:
Air source heat pumps cost between £7,000 and £13,000
Ground source heat pumps cost between £14,000 and £19,000
Biomass boilers cost around £16,000
So, the BUS is a contribution to the costs of a new low carbon heating system rather than a grant covering the entire cost.
Restrictions
While the scheme is open to domestic and non-domestic premises in England and Wales, there are some installation restrictions to be aware of when looking at the BUS:
The new system must have been commissioned on or after 1 April 2022
It must be capable of meeting the full heating and hot water requirements of a home
It must replace an existing fossil fuel heating system and can't replace another low carbon heating solution
Biomass boilers are only covered in rural areas where a property has no connection to the gas grid and where there is an emissions certificate to show polluting emissions are kept to a minimum
Hybrid heat pump systems are not eligible for the grants
There are also eligibility guidelines to be aware of - we cover those in more detail below.
Scotland and Northern Ireland
It's important to note that the Boiler Upgrade Scheme is only available in England and Wales. The details in this guide are not applicable to homes in Scotland or Northern Ireland.
Customers in Scotland should check the current grants offered by Home Energy Scotland.
Meanwhile, people in Northern Ireland can look at funding options that might be available from NI Energy Advice.
Who's eligible for the Boiler Upgrade Scheme?
The Boiler Upgrade Scheme is aimed at homeowners who want to install more low carbon heating systems in their properties. This includes:
Owner occupiers
Private landlords
Second-home owners
However, these grants don't cover social housing, new builds (apart from some self-builds) or properties that have already had Government support for heat pumps or biomass boilers.
In addition, there are a couple of other caveats:
The installation capacity must not exceed 45kWth (this covers most homes)
The property must have an energy performance certificate (EPC) with no outstanding recommendations for cavity wall or loft insulation
These are factors that an installer will be able to advise on when a homeowner consults them.
How to apply for the Boiler Upgrade Scheme
Homeowners do not apply for the Boiler Upgrade Scheme. Instead, the scheme is accessed via certified installers who apply the grant discount to the final bill.
The process works like this:
A homeowner finds an MSC certified installer
The installer advises whether the proposed installation is eligible for the grant
The homeowner and installer agree a quote
The installer applies for the grant
Ofgem will email the customer to check the installer is acting on the customer's behalf
This last point is designed to ensure that installers are only claiming for work that has been agreed between them and the homeowner. Ofgem might also call to check the installation is legitimate or visit the property.
Only certified installers are permitted to install low carbon systems under the BUS. Search for nearby contractors on the MSC website.
It's anticipated that 90,000 heat pumps could be installed under the £450 million scheme.
What are heat pumps?
Heat pumps are a low carbon energy solution that work by capturing heat from outside the home and bringing it into the property.
There are two types of heat pumps to be aware of:
Air source heat pumps
Ground source heat pumps
As the names suggest, these capture energy from the air or the ground depending on which option a household installs.
While heat pumps use electricity to operate, they generate far more than they use, making them a more environmentally friendly option.
Green energy proponents are strong advocates for heat pumps and we saw major energy companies join forces in April 2021 to argue that decarbonising homes through heat pumps should be a priority.
However, there are some downsides to heat pumps. Not only are the installation costs higher than a gas boiler, they also require more space and require significant disruption to install.
The Energy Saving Trust have got a full guide to heat pumps and how they work.
What other energy efficiency schemes are available?
The focus of the Boiler Upgrade Scheme is on the installation of low carbon heating systems.
It replaced the Renewable Heat Incentive (RHI) that ran until 31 March 2022, although it works very differently.
While the RHI offered tariff payments for seven years to reward homeowners for using renewable energy, the BUS provides upfront grants to installers to get the work done. The total value is slightly less than the RHI, however: the maximum available under the BUS is £6,000 while RHI instalments totalled £7,000.
There was another option the Government unveiled in 2020 called the Green Homes Grant. However, the scheme was scrapped after just six months and underperformed badly according to the Public Accounts Committee (PAC).
Boiler replacements
A limited number of traditional boiler replacements are available under the Energy Company Obligation (ECO). From 2022 until 2026, this is known as the ECO4 scheme.
This is available to some households in receipt of the Warm Home Discount (WHD) or income-related benefits such as Pension Guarantee Credit or Universal Credit. Households can also be referred by their local authority.
Under ECO4, energy companies can help households who are struggling to afford their fuel bills. A small portion of the funding can be put towards replacing traditional boilers - but it isn't a priority of the scheme.
The Government wants to incentivise repairing traditional boilers and also wants to encourage homeowners to install more low carbon systems instead.
A maximum of 5,000 boilers will be replaced each year under ECO4 while up to another 5,000 per year could be repaired. This puts a top limit on 20,000 replacements and 20,000 repairs over the life of ECO4.
This is a significant reduction from the 134,000 new boilers installed under ECO3, but it reflects the Government's changing priorities.
For customers looking to replace a traditional gas boiler with a like-for-like system, the usual option is going to be self-funding.
A straightforward gas boiler replacement could cost around £4,000. So, it may still be cheaper for homeowners to purchase a new gas boiler to replace an old one rather than install a heat pump and claim a grant under the Boiler Upgrade Scheme.
Insulation
The focus of the ECO4 scheme is insulation and improving the EPC ratings of homes.
Under the scheme, energy companies are obliged to help low-income households install:
Cavity wall or solid wall insulation
Flat or pitched roof insulation
Room-in-roof insulation
Park home insulation
Floor insulation
The Government aims to improve 450,000 homes during the lifetime of the ECO4 scheme, although this is a major reduction on the number helped during previous waves of ECO.
See the full details of funding available for insulation.
Summary: Worth considering
The Government's aim with the Boiler Upgrade Scheme is to encourage homeowners to update their heating systems to a low carbon solution that will help the UK in their net zero goals.
It's estimated that 90,000 properties may get new heat pumps thanks to the BUS, yet critics of the scheme argue that it's a tiny number compared to the investment needed.
If you're considering accessing the BUS, remember the following:
You must be a homeowner to benefit
It's only available in England and Wales
The grants do not cover the entirety of the installation cost
After you agree a quote with an installer, they will apply for the grant and Ofgem will follow up to check the work is being done
There's a wider question about whether an air source or ground source heat pump is the right heating solution for your home.
Speaking to an installer should be able to clear that up fairly quickly, with smaller homes not always able to benefit from heat pump installations. It's always worth checking if the scheme interests you, however, and it's always worth getting quotes from multiple installers too.
Ultimately, the Boiler Upgrade Scheme is one part of the UK's strategy to reach net zero. Even if critics say it doesn't help as many households as it should, homeowners who are eligible and can afford the extra investment may want to take advantage of it while they can.
Learn more about the best energy efficiency home improvements and how much they could save you.