Under the ECO4 scheme, energy suppliers must install a certain number of energy efficiency measures each year.
These are targeted at homes in low Energy Performance Certificate (EPC) bands who are on means tested benefits, although there is a referral route for other low income households.
The Government estimates 450,000 households will be upgraded by ECO4 before the end of March 2026.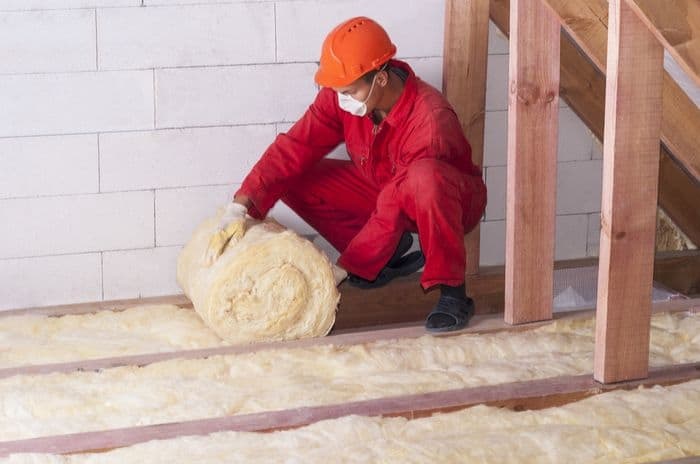 ---
ECO4 home insulation
ECO4 is the latest incarnation of a Government scheme that's been running in various forms since April 2013.
It replaced ECO3 in April 2022 and is set to run until March 2026.
The Government estimates that 450,000 homes could be upgraded over the four years ECO4 is in operation, adding to the 2.1 million already upgraded under previous ECO schemes.
ECO4 is "fabric first", so it aims to improve the energy efficiency of walls as a primary measure, meaning that insultation is a key focus.
ECO4 Flex
50% of ECO4 can be used as part of the ECO4 Flex scheme.
This targets households that are not on means tested benefits but have low incomes (under £31,000 per year) and are in houses that need upgrading.
Suppliers, local authorities and the devolved administrations in Scotland and Wales can participate in Flex - but it isn't mandatory, so your local authority may not be involved, for example.
Citizens Advice are able to refer households to local authorities, plus local authorities may work with mortgage lenders to target low-income households directly.
Which suppliers offer ECO4?
Any energy supplier with a customer base of more than 150,000 customers is obligated to install measures under ECO4.
At the time of writing, that includes:
British Gas
Bulb
E
Ecotricity
EDF Energy
E.ON (including Npower)
ESB Energy
Octopus Energy
Outfox the Market
OVO Energy
Scottish Power
Shell Energy
So Energy
The Co-operative Energy
Utility Warehouse
Utilita
Different suppliers will have different criteria, so be sure to check directly.
It's important to reiterate once again that some suppliers will accept ECO4 applications from customers of other energy companies. That should be listed on their application pages if that's the case.
---
Are you eligible for free insulation?
To get free insulation or other home efficiency measures under the main part of ECO4, households must:
Live in an eligible property
Be in receipt of means tested benefits
Have a household income lower than £31,000 per year
Households that live in an eligible property and are on low incomes but don't necessarily receive means tested benefits may still be able to get free insulation through the ECO4 Flex scheme.
Residential status
As ECO4 is aimed at households that would benefit most from energy efficiency upgrades, there is strict criteria on the households that are eligible.
To be eligible for ECO4, households must be either:
Owner-occupiers in homes that are in EPC bands D, E, F and G
Renters in bands E, F and G
In addition, social housing renters with an EPC band of D may be eligible for innovation measures - more on those below.
Eligible benefits
ECO4 is targeted primarily at people on means tested benefits who wouldn't otherwise be able to afford the improvements to their home.
If anyone in the household is claiming one of the eligible benefits listed below and the combined annual income of the household is less than £31,000, they may be eligible for an ECO4 grant.
These are the eligible benefits for ECO4:
Income-based Jobseekers Allowance (JSA)
Income-related Employment and Support Allowance (ESA)
Income Support (IS)
Pension Credit Guarantee Credit
Pension Credit Savings Credit
Working Tax Credit (WTC)
Child Tax Credit (CTC)
Universal Credit (UC)
Housing Benefit
Of these, Housing Benefit and Pension Credit Savings Credit have been added to the eligibility for ECO4 and weren't previously used to calculate eligibility in ECO3.
Part of the reason for this was to increase the eligibility pool and make sure people on legacy benefits didn't miss out on support.
However, the flip side of this is that some benefits have been cut from eligibility as we cover below.
One final point: if households are eligible for the Warm Home Discount (WHD) scheme and live in a property in EPC bands D-G, they should be eligible for ECO4.
Benefits that are not eligible
Under previous versions of ECO, some benefits that were not means tested were included in the eligibility criteria.
However, the following benefits have been removed for ECO4:
Disability Living Allowance (DLA)
Personal Independence Payment (PIP)
Attendance Allowance
Carer's Allowance
Severe Disablement Allowance
Industrial Injuries Disablement Benefit
War Pensions Mobility Supplement
Constant Attendance Allowance
Armed Forces Independence Payment
Removing non-means tested benefits from ECO4 eligibility was a contentious decision and the majority of consultation responses argued against it.
The Government ultimately decided to go ahead with the plans, stating that they estimate 46% of ECO4 beneficiaries will still be households containing someone with a disability or long-term illness.
That said, they concede 400,000 owner-occupiers are in EPC bands D-G and will not be eligible under the core scheme, but they may be able to get support through ECO4 Flex.
---
Free insulation: how it works
Eligible households can apply to any participating energy firm - not just the home's supplier - to get a free home assessment.
It's worth noting, however, that different energy providers have different eligibility criteria, so it's important to read their website and understand what they're offering.
The process will usually work like this:
Supplier conducts a free home assessment
They will look at what energy efficiency measures are already in place and what measures would improve the EPC band of the property
If the property is suitable (and if the energy supplier agrees to fund the work), it should be undertaken as quickly as the provider can manage it
This is obviously only an estimate and suppliers will vary on their own timescales. However, be sure to get a firm timetable from your provider and double-check what they need from you to proceed.
There may be more red tape in the case of households eligible under ECO4 Flex because of the verification steps suppliers need to take to ensure households are entitled to support.
Is my home suitable for ECO4?
Under this scheme, assessment is free and puts you under no obligation to go ahead with the work.
Energy companies are compelled by Government to provide these energy efficiency improvements or face fines, so you won't be given the hard sell on upgrading to paid energy efficiency measures.
But if you want to double check before getting someone round, here are the basics:
The type of insulation that'll be available to you depends on your property.
Loft insulation fills the usually empty space in a loft by laying insulating material on top of the joists to prevent heat escaping from below. The recommended level of loft insulation for a typical property in the UK is 270mm, so there may be room for improvement if yours is dramatically less than that.
Some people don't like the idea of loft insulation because it removes any storage space they have in their loft. However, if you're going to get it for free, it might be worth challenging those preconceptions.
Loft insulation could save you up to £225 a year depending on the size of your home. With energy prices rising, this could be a real bonus.
Cavity wall insulation works by filling the gap between the internal and external walls of a property. This cavity should be at least 50mm wide to allow sufficient insulation to be installed. The mineral wool and foam inserted into the space keeps cold air out and warm air in, but it isn't suitable for all homes that may seem to be eligible.
Certain areas of the UK are more exposed than others to high winds and driving rain. When this impacts against a property protected with cavity wall insulation, it can have some bad side-effects including damp and mould problems. Always check with your installer to confirm cavity wall insulation is suitable for your home.
Houses that were built after 1990 will usually have adequate insulation already, although anyone with an EPC band lower than D may want to check their insulation levels to be sure.
There are other reasons why your property might not be suitable. These include:
A flat complex where tenants refuse to coordinate
Property has a timber or metal frame
Property is made from natural stone or concrete
Damp is another key concern. During your assessment, it's entirely possible your energy company will refuse to install any insulation until damp problems have been sorted out.
This can be expensive, especially for those customers who would've qualified for free insulation under ECO4 and necessarily are the most vulnerable when it comes to energy expenses.
Is the insulation really free?
Suppliers can charge for improvements in some unusual circumstances.
If the installation requires a lot of extra work - like putting up scaffolding for external insulation or removing old insulation - they may charge or part charge for the extra cost.
The good news is that having the assessment is free and no obligation.
If there are costs, you'll still save in comparison to doing it yourself, and continue to save on bills once it's done - but it's your choice whether to accept them or go without.
---
Innovation guidance
Earlier we mentioned those in social housing with an EPC of D may be eligible for innovative energy efficiency measures to improve their home.
The detail on these is scant and, really, it relies on energy suppliers wanting to participate in innovative installations as it isn't something they're compelled to do.
However, providers can deliver up to 10% of their obligation through innovative measures, so it's something to be aware of.
With such measures, it may just be a case of applying for the right thing at the right time, so you won't lose anything by checking with your supplier or another provider from the ECO4 scheme to see if there's anything currently available.
---
Other options for energy efficiency
If your household isn't eligible for free improvements, there are still plenty of things you can do to save money on your energy bills.
While switching energy supplier is not the money saver it used to be, customers can look at other options such as:
Households that have some money to put towards improving their home heating system may also want to consider the Boiler Upgrade Scheme (BUS) that is now open for applicants.
Making improvements yourself
Loft insulation is something that can be installed comparatively cheaply, although the approximate fee of £395 may be a lot for customers to pay upfront. Similarly, cavity wall insulation can cost around £725 to install.
Unfortunately, most energy providers don't provide finance for insulation products, but there might be schemes in your local area designed to help improve energy efficiency in the area.
Check your council's website to see if they have any details of such schemes, and organisations such as Citizens Advice often flag up energy efficiency schemes when they appear too.
Wales, Scotland and Northern Ireland
Wales, Scotland and Northern Ireland have similar schemes for free insulation and boiler upgrades, and in Northern Ireland eligible homes can also qualify for new heating systems.
It's worth finding out what's available and whether it could help your home by visiting the websites of the devolved authorities.
In Wales, Nest also offers free assessments and money management help over the phone. Call 0808 808 2244.
In Scotland, Home Energy Efficiency Programmes offer free advice, including home assessments, for everyone, as well as free insulation for those on certain benefits.
In Northern Ireland, NI Energy Advice offers advice and grants.
Check with each of the scheme providers for eligibility.
---
Summary: some options available
Customers looking for cheap ways to insulate their homes may be frustrated that the main source of funding in England is squarely focused on the lowest income households.
With the ongoing energy crisis putting dozens of suppliers out of business and driving up bills for millions, getting the house insulated is one way to try and limit those costs.
There are a few crucial things to remember about ECO4:
It's open to owner-occupiers and renters as long as applicants are in a property with a low EPC band rating
Those on means tested benefits are eligible with a maximum income allowance of £31,000
ECO4 Flex allows suppliers to make up 50% of their obligation on low-income households referred by local authorities or other routes
ECO4 is mandatory for all energy suppliers with more than 150,000 customers and there should be no costs to customers
ECO4 is set to run until March 2026
We're only at the beginning of the ECO4 scheme and the Government will update each year to show how many homes are getting the benefit and which measures are being installed most frequently.
Data should also demonstrate how many households are benefiting under ECO4 Flex, the designated route for low-income homes that may not be on means tested benefits.