Customers simply choose a new energy deal and all the hard work takes place behind the scenes.
If something goes wrong during the switch, suppliers will pay automatic compensation.
However, whether it is financially worthwhile to switch will be down to a household's circumstances and the state of the energy market.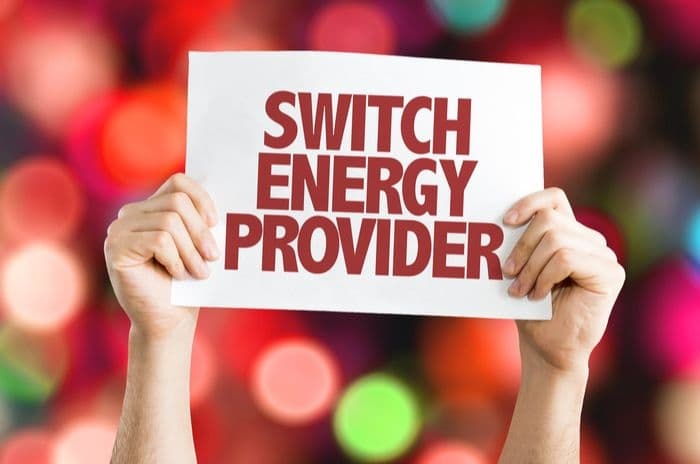 ---
Should you switch energy supplier?
A few years ago switching energy supplier was almost guaranteed to save money, with hundreds of thousands of households switching supplier each month and millions per year.
However, the collapse of dozens of energy suppliers in 2021 and the energy price cap becoming one of the cheapest deals available means the benefits of switching might be limited - for now at least.
There are still some situations where switching might be worthwhile and it's worth checking the market when a customer is in one of the following situations:
Receiving a notice from their existing energy supplier that prices are going up
Fixed term deals coming to an end
Moving home
Receiving an unexpectedly high bill
Being approached by another supplier
We wouldn't recommend switching when approached on the street or the doorstep by a representative of another energy company, but it can definitely serve as a reminder to check your energy options.
Most often, customers switch from one energy supplier to another because their fixed tariff is coming to an end and they want to lock in another cheap energy deal for the next 12 months or longer.
We've got more on why switching could be worthwhile below, but let's first look at how to switch energy providers and what protections there are for switchers.
---
How to switch energy supplier
1. Compare first
Until we search for energy deals that are specifically tailored to our circumstances, we won't know how much could potentially be saved every year.
Comparing energy deals from multiple suppliers can often help us find deals from across the market, although this might not always be an option if suppliers are not offering competitive deals to prospective customers due to wider market conditions.
We've got more on how to find the right energy deal for you in our dedicated guide, but here are a couple of things to consider:
Whether it's a fixed or variable tariff
Whether it's single fuel or dual fuel
Whether it has high exit fees
Whether it's a green energy tariff
Different households will have different priorities, so remember to look at your individual circumstances, even when searching for the cheapest energy deals.
2. Check current obligations
In general, only commercial supplies for business have a contracted notice period for switching.
Even households with fixed energy deals - which are intended to run until a set date - can switch before then, although it's likely they'll have to pay an exit fee to do so.
This is usually around £30-£60 per fuel so customers will need to weigh up whether the amount they could stand to save is worth paying the early exit fee.
Some energy suppliers will run offers where they reduce bills by the amount it costs to exit an existing contract - it's rare but it happens and can prove to be a nice incentive.
Customers who are looking at moving should read our guide about moving home with a fixed energy plan.
3. How long does switching take?
Regulator Ofgem has worked hard to make switching easier for customers in recent years, and this includes obligations that suppliers have to meet or they must pay compensation.
These Guaranteed Standards from Ofgem ensure that energy suppliers must pay £30 to customers automatically if any of the following happens during the switch:
If a switch takes more than 15 working days
If a customer is switched by mistake
So, customers are protected by these standards and should expect switches to take place within 15 working days.
There won't be any interruption to an energy supply while going through the switching process - it's something that the supplier takes care of once they're notified rather than the customer having to act.
The switching process is usually very smooth, with a new supplier getting in touch to talk us through what should happen and when.
Most energy companies are also voluntarily signed up to what's know as the Energy Switch Guarantee (ESG), separate standards pioneered by the energy trade association Energy UK. There's more detail on the ESG below.
4. Take meter readings before and after switching
The most important thing to remember on the scheduled day of the switch is to take meter readings. Some suppliers will send someone to take a reading, others will ask us to do it.
It's a good idea to take photos of the meters when the reading is done to help eliminate the possibility of any billing discrepancies.
5. Reclaim any credit on your account
Most providers should show any existing credit on the final bill and arrange or offer to refund it fairly quickly, but if not we can reclaim energy credit well after we've left.
Another of Ofgem's automatic compensation rules means that a customer will be paid £30 if a final bill (including any credit on their account) isn't issued within six weeks of a switching taking place.
Theoretically, a customer's old energy company will have their address and account details, but it might be useful to have the following information on hand during the switching process and when potentially chasing down credit on the account:
The name of the supplier they're switching to
The name of their current supplier
The name of the energy tariff they are currently on
How much they spend on gas and electricity annually
Meter Point Access Number
Bank details
We've got more detail about how to reclaim energy bill credit and what to do about energy bill problems such as unexpected back-bills.
Switching from a prepay meter
Prepayment meters can be a more expensive way to pay for energy, although Ofgem has brought in caps to help reduce the cost of these tariffs as well as the cap to limit standard variable tariffs (SVTs).
Those with a prepayment meter can still find better deals, even if they're in debt to their supplier (as long as the debt does not exceed £500 per fuel). Unless they're in debt, they can also ask to be moved to a post-pay meter.
This request is more likely to be successful if we've built up a good repayment history with our supplier or made serious efforts to rebuild our general credit history over a period of time.
Those who already have a standard credit meter but who are in debt to their current energy supplier, and have been for more than 28 days, can be refused the right to switch.
If the debt is less than 28 days old, however, it will be added to a final bill from the outgoing supplier.
---
Energy Switch Guarantee
The Energy Switch Guarantee (ESG) was launched in 2016 by trade association Energy UK.
There are 10 commitments suppliers have signed up to as part of the Guarantee:
Your energy supply won't be interrupted.
The switching service itself is free.
No more than 21 days will pass from the date your new supplier receives your application.
There's no need for your incoming energy supplier to visit your home unless all parties agree they need to.
The new energy provider will arrange the switch, including the process of contacting your existing supplier.
Once you sign up with a new supplier there's a 14-day cooling off period where you can change your mind about the switch and cancel to stay with your existing supplier.
Your existing provider will work with your new supplier to ensure you're only charged once for the energy you use during the switching period.
If any problems occur while the switch is in progress, your new provider will be responsible for dealing with it and keeping you in the loop.
Your final bill for your existing supplier will be issued no later than six weeks after the switch has gone through.
If any refunds are due from your existing supplier, they will be issued no later than 14 days from the date of your final bill.
Together, these commitments are designed to ensure a smooth switching process for customers, but it's worth noting they're voluntary and so suppliers don't have to sign up.
At the time of writing, these 10 suppliers are part of the ESG:
| | | | | |
| --- | --- | --- | --- | --- |
| British Gas | Bulb | E.ON | EDF Energy | ESB |
| Octopus Energy | Outfox the Market | Shell Energy | So Energy | SSE |
While these suppliers represent a good proportion of the market, they don't cover all of it, so the supplier you're switching to may not be part of it.
Supplier performance
Energy UK keeps track of how members are performing in relation to the ESG commitments.
The latest figures for Q4 2021 show:
98% of customers were switched within 21 days
91.7% of customers received final bills within six weeks
97.2% of customers received credit refunds within 14 days
While these figures were down slightly compared to the previous quarter, they still demonstrate the majority of customers are having a positive switching experience.
All this said, switching issues are often a top reason for customer complaints, so brush up on all your energy rights before initiating a switch and find out more about how to complain about an energy supplier.
---
Saving more money
As well as switching supplier, there are numerous small changes customers can make to lower their energy bills and make the most of the energy they're using.
Here are some examples:
Manage your account online - There's often a discount available for agreeing to forgo paper statements and looking after the account online.
Pay by direct debit - Cuts the bill by around 10% just for signing up for automated payments and can be a requirement of signing up to some tariffs.
Check the meter - Traditional suppliers may rely on quarterly meter checks; others ask for monthly readings. It's worth getting into the habit of providing a meter reading once a month to prevent estimated bills that are either too large or too small. The latter in particular can lead to customers having to make huge payments at the end of the contract or annual period.
Consider a smart meter - Smart meters can help customers save money. They track how much energy we use day-to-day and provide information about which activities and appliances we're spending the most money on. We can then use this information to make changes to our energy consumption habits in a bid to save money. Smart meters can also help us stay on top of meter readings, preventing inaccurate readings, as they send a daily reading to our energy supplier for us. Smart meters are being rolled out across the country, with coverage of over 85% of customers expected by 2025.
Check for free energy help - Households where someone is above pensionable age or considered vulnerable, can get extra help. It used to be the case that those in, or at serious risk of, fuel poverty could be eligible for a supplier's social tariff - but these were all phased out by 2015 - instead, consider energy grants.
Use less energy - Better insulation saves households hundreds of pounds per year. Home insulation can be available for free under Government schemes and there are plenty of ways to cut down on energy use with these efficiency tips or by choosing more energy efficient appliances.
---
How to find your energy supplier
For customers who don't know who their energy supplier currently is, there are different ways of finding out depending on which fuel source you're looking at.
To find a supplier, customers will need their full address and postcode.
It's also useful to have current meter readings on hand to provide to the supplier and bank details to set up a payment account with them.
Finding your electricity supplier
Great Britain is divided into 14 electricity distribution areas. Northern Ireland is connected to the Republic of Ireland's grid, so that works a little differently.
Each of these regions is managed by a Distribution Network Operator (DNO), so the first task will be to get in touch with them.
Although the DNOs are often energy suppliers themselves, that doesn't mean they are the energy supplier for our home. However, they will be able to explain who is.
Contact them by calling the number for a specific region:
North Scotland: Scottish and Southern Electricity Networks - 0800 048 3515
Central & Southern Scotland: SP Energy Networks - 0330 1010 300
North East England & Yorkshire: Northern Powergrid - 0800 011 3332
North West England: Electricity North West - 0800 195 4141
Merseyside, Cheshire, North Wales & North Shropshire: SP Energy Networks - 0330 1010 300
East Midlands & West Midlands: Western Power Distribution - 0800 096 3080
South Wales & South West England: Western Power Distribution - 0800 096 3080
London, South East England & Eastern England: UK Power Networks - 0800 029 4285
Southern England: Scottish and Southern Electricity Networks - 0800 048 3516
Northern Ireland: Northern Ireland Electricity Networks - 03457 643 643
Republic of Ireland: ESB Networks - 00353 1850 372 757
The Energy Networks Association (ENA) also provides a postcode search tool to help us find our network operator. This can be particularly useful if a home falls on the border of two regions and we're not sure which we should call.
Finding your gas supplier
Don't know who supplies a home with gas? This one's easy to solve.
Simply call the Meter Number Helpline, which can be reached on 0870 608 1524.
They will ask for our address and postcode, and then should be able to supply us with full details of who our gas provider is.
About your meter numbers
Both our gas and electricity meters have unique numbers allocated to them which tells a supplier exactly who and where we are.
An electricity reference number is called a 'Meter Point Access Number' or MPAN for short. It's 21 digits long and it's generally printed on our bills.
Alternatively, when we contact your DNO to find out who our electricity supplier is, they will be able to give us our MPAN.
For your gas supply, this reference number is called the Meter Point Reference Number, or MPRN.
It does the same job as the MPAN, letting a provider know exactly who and where we are. Again, we should ask the Meter Number Helpline when we phone up to find out who supplies our gas.
If we're calling up to find out who our energy supplier is, it's worth requesting these numbers at the time to ensure we are being billed correctly.
---
Summary: Switching made simple
The main reason customers switch energy provider is to get a better deal, and due to the energy crisis, there aren't many of those around at the moment.
From being the most expensive tariff and accused of helping to squeeze customers, variable tariffs have become a refuge against rising energy prices.
However, there are still some situations where a customer may want to switch their energy supplier:
If they're moving home
If they've come to the end of a fixed deal
If they want to move from a prepayment meter
Switching has become a consumer-led process and it's much simpler than it used to be.
So, if you do need or want to switch energy supplier in the current climate, you will be able to do so with confidence.