Billing is the most complained about issue for energy customers, but there are processes in place to ensure customers are treated fairly.
There are also rules around energy switching and direct selling to help customers make informed decisions about their energy supply.
If customers are unhappy with an energy provider, making a complaint is straightforward and may yield compensation or a discount on their bill.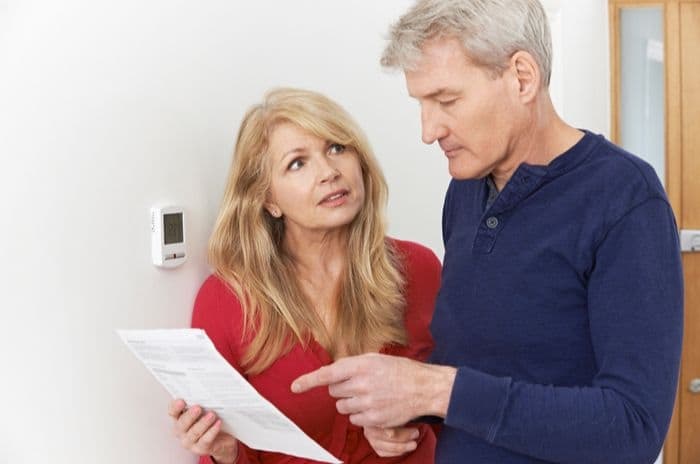 Credit: SpeedKingz/Shutterstock.com
---
Knowing your energy rights
The rights we have as energy customers can help protect us if things go wrong.
Thanks to interventions from regulators, it's now much easier to understand the responsibilities energy companies have to their customers - and to work out how to hold them to those rights.
We've separated this guide into three distinct areas:
Gas and electricity bills
Switching supplier
Selling energy plans
These are the cause of many complaints for energy companies, although there are also complaints about smart meters and energy customer service itself.
---
Gas and electricity bills
By far the most complained about issue in the energy sector is our bills.
Whether it's because they're too high, incorrect or we simply don't understand them, UK bill payers are frequently unhappy with this part of the energy consumption process.
Let's look at some of the most common billing issues.
If you think your bill is wrong
Energy suppliers do send out incorrect bills sometimes, whether that's due to an issue on their end or the result of our error in supplying meter readings.
The first thing to do if we think our energy bill is wrong is to check we're reading it correctly.
It might sound overly simple, but things like a change in our tariff or just a couple of months of high usage over a cold winter can make a legitimate bill higher than we think it should be.
However, there are a couple of other elements that could be affecting our bills and could need investigating:
We may have been billed for the wrong meter
The meter readings could have been entered incorrectly
Comparing the readings on our actual meters with the ones on the bill should give us a rough idea of whether they're right.
If they are wildly different, there's been a mistake. However, if they are largely the same but we were still billed for more than we expected, we should check that we're not being billed for a debt we've built up.
Remember, suspiciously low bills are something to be concerned about as well - it could mean we'll receive a much higher bill in a few months or that our meter isn't working correctly.
If your direct debit increases
If our direct debit suddenly shoots up, this is probably part of a bi-annual review that suppliers undertake to ensure we're paying enough.
If a direct debit wasn't covering all the energy we were using, we may have built up a debt, and need to pay more each month until it's paid back.
The UK's Direct Debit Guarantee says we must be informed a minimum of 10 days before the payment is due to leave our account if the amount is going to change.
If our bill changes and we have not been notified, we can call the bank to dispute the charge. We may also be able to claim compensation.
Unexpected increases in direct debits have been a major issue for energy customers in recent years, with energy suppliers warned to address the way they set their direct debits and how they are reassessed.
If you're not getting energy bills
If we haven't received a bill for our energy and haven't paid for a while, it's essential that we contact our supplier as soon as possible.
This could happen if:
We've just moved into a property and there's some confusion over who the energy supplier is
There's an error on the part of the energy company that means bills are not being sent
Ignoring the problem could mean we end up with a huge bill to pay off.
Under Ofgem rules introduced in 2018, energy suppliers are limited to issuing back bills for up to 12 months of energy usage, but that's still a hefty amount to pay in one go for any customer.
There are also certain circumstances where providers can issue back bills for more than 12 months if a customer is actively at fault such as:
If a customer has prevented a supplier taking a meter reading
If a customer has wilfully avoided paying a bill
These are rare cases, but they demonstrate the importance of making sure we're paying what we owe - because we'll need to one way or the other.
If your supplier puts their prices up
Supplier must tell us at least 30 days before they are due to make changes that our energy price will increase.
This is unless we're on a tracker tariff or staggered tariff which regularly change price.
If we are on a fixed rate tariff, suppliers are not allowed to change the price we pay for your energy unless the government has increased VAT.
We should be notified between 42 and 49 days before a fixed rate tariff is due to end, at which time we can renegotiate a deal with the current supplier or shop around for a new provider.
From 42 days before the end, you are free to switch away without paying any exit fees.
If an energy company doesn't give 30 days' notice of a price change or doesn't let us know our fixed energy tariff is coming to an end, we should make a complaint.
If you can't pay your bills
If we're struggling to keep up with payments on our energy bills, it pays to talk to our supplier as soon as possible.
They will usually work with us to develop an affordable payment plan.
There are also energy grants available to help customers in severe hardship who are struggling to pay their bills.
In addition, certain schemes help older and vulnerable people with their energy bills during the colder months.
If your energy supplier goes bust
With so many energy firms going bankrupt over the recent past, knowing our rights when a supplier folds could be very useful.
As we explain in our guide to what happens when an energy company collapses, Ofgem has a tried and tested procedure called the Supplier of Last Resort (SoLR) process.
This means our energy supply will continue and we will be transferred over to a new supplier by the regulator.
When the SoLR takes over an account, they will honour any credit balances we held with our previous supplier. However, they won't honour any fixed price tariffs, instead putting us on to what's known as a 'deemed' contract.
Deemed contracts are usually more expensive than our previous contract would have been, so once the new supplier has control of the account, we should ask to be put on their cheapest tariff. Alternatively, this can be a good time to shop around for a new supplier.
---
Switching supplier
Our rights around switching energy supplier have been strengthened in recent years.
Since May 2020, energy companies have been bound by Ofgem's Guaranteed Standards that force them to pay automatic compensation if:
A switch takes more than 15 working days
If a customer is switched by mistake
If a final bill is not issued within six weeks
In all these scenarios, customers will receive £30 in automatic compensation.
These standards give customers more rights around than their switch than ever before, but let's look more closely at our rights around energy switching.
If you're in debt
If we owe money to your current supplier, it may affect our ability to switch.
If we've been in debt for 28 days or less, this will simply be added to our final bill and we're free to go ahead and switch supplier.
However, if we've been in debt for more than 28 days, we can't switch supplier until we've paid back the money.
If the debt is the fault of the supplier (for example, they've estimated a bill wrong), then we can't be stopped from switching but will need to pay this money when we get our final bill.
If you've been switched by mistake
If our energy supply has been switched to another provider in error, there are clear rules on what suppliers must do to put things right.
We can contact either of the suppliers involved for help - they are both responsible to fix the situation.
The suppliers should explain what they will do to correct the error, and this should be given in writing within five working days of our first contact with them.
Within 20 working days, we should be switched back to our original supplier, and should receive written confirmation of this.
During this period, we should not be billed by the new energy supplier. If a supplier fails to adhere to these rules, we should raise a complaint.
Remember, if we are switched by accident, we'll be entitled to £30 automatic compensation.
Other compensation may be available if the process drags on or the compensation isn't paid in a timely manner.
If you've changed your mind
If you've started a switch and have had second thoughts, you may be able to cancel, but it will depend how far through the switching process you've got.
Energy companies are subject to the Consumer Contracts Regulations that came into force in 2014 and stipulate that there must be a minimum of 14 days' cooling off period when we sign a contract.
However, if we've passed this point, the process to switch our supply is usually too far through to stop it going ahead.
This may also mean that we are liable to pay an exit fee to leave our new company.
Your rights around exit fees
Also known as cancellation fees, exit fees are often associated with fixed term energy contracts that have an end date.
Leaving the contract before this date will trigger the exit fee, typically around £30 but, in some cases, as much as £60 or more.
If we're in the last 49 days of our contract term, we have a right to switch without being charged an exit fee.
If we want to switch outside of this period, the exit fee will apply, although some suppliers have been known to waive the fee if we're switching to a new plan with the same provider.
If we're moving to a new house and we plan to keep our existing energy tariff, you'll just be changing our personal details and shouldn't be charged an exit fee.
---
Selling energy plans
With dozens of energy providers in the marketplace, competition for business can be fierce.
As such, many energy companies use third party sales teams to get people to switch to them. While there's no law against this, there have been times when the way in which energy plans have been sold weren't right.
Here's what customers need to know about being sold an energy plan.
If you've been sold an energy plan directly
Direct selling of energy contracts used to be relatively common throughout the industry, although there aren't as many complaints about it now.
This can be done via doorstep sales reps or through unsolicited phone calls. Both types of selling are governed by strict laws which sales companies must abide by.
For a start, they must give us all the information we need so that we can make an educated, balanced decision about our purchase. For energy contracts, this must include things like:
The price per unit of gas and electricity
How long the tariff is for
Whether we need to use a specific payment method
Whether we need to have a smart meter installed
They should also advise us of any cancellation fees applicable once we're signed up, including when these apply and how we go about cancelling.
We are entitled to a 14 day cooling off period, where we can cancel our plan without any penalty.
If you think you've been mis-sold
Despite tight regulation, mis-selling is still a common occurrence.
If we feel the representative made promises which have not been kept, we have a right to cancel and to make a complaint. We could be entitled to the money back that we've wasted on the new plan, as well as additional compensation.
There are a few things to be aware of:
We should check the actual unit rates of a new tariff before signing up as some companies may set a direct debit low to make the plan appear cheaper when we're on a higher rate
If we were not told how much we'd be paying on the new plan, we should not have been signed up and we have grounds to complain
We must be told of our cancellation rights
If we feel we were sold a plan with any of these issues, we should contact our energy supplier and lodge a complaint.
---
Complaining about your energy supplier
If any of the rules or regulations we've covered in this guide have been breached, customers should consider making a formal complaint to their energy provider.
There's more detail on how to do that in our guide to energy complaints, but it's worth considering for the following reasons:
We may get compensation or a bill discount
The problem should be resolved and won't cause problems in the future
It can alert energy suppliers to issues with their systems
It could stop other customers being adversely impacted
While making a complaint can seem daunting, it's a straightforward process and cases can be escalated to the Ombudsman Services after eight weeks if no agreement has been reached with the energy provider.
---
Summary: Understanding your rights
Energy customers in the UK have plenty of rights, but one of the main problems is that we don't know about them.
For example, the fact that we will get £30 automatic compensation if we don't get a final bill within six weeks of leaving a supplier can give us a nice surprise when we check our bank account, yet it also means we don't know what we should complain if it doesn't appear.
So, arguably, more people should be made aware of the rights around their energy supply and given support to complain if things go wrong.
There are some key things to remember about our energy rights:
If there's anything wrong with a bill or payment, we should contact the provider immediately and follow it up with a formal complaint if we're still not happy.
Switching energy provider is governed by a clear set of automatic compensation rules to ensure a smooth switch.
Mis-selling can still be an issue for energy customers, so read the small print of any energy contract
Overall, energy customers are protected from unscrupulous energy suppliers and should be compensated if errors occur.
No one likes paying their energy bills, but these protections at least make it fairer.