British Gas offer a range of fixed energy tariffs to customers, with their Green Future plan their greenest ever option.
Alongside energy plans, British Gas also have multiple other services on offer such as boiler cover, home insurance and smart home technology.
However, they aren't the cheapest energy company around and their focus on fixed deals could put some customers off.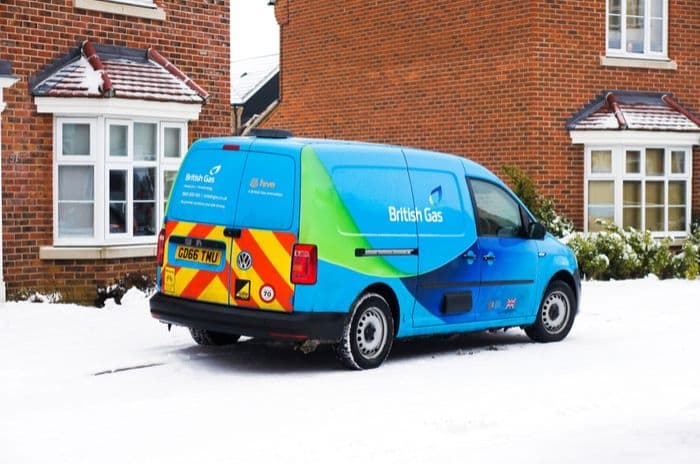 Credit: Tom Gowanlock/Shutterstock.com
---
At a glance
What do British Gas offer?
Fixed tariffs
One or two years
Exit fees
Up to £40 per fuel
Fuel mix
76% renewables and 24% nuclear
Green tariff
100% renewables / 90% carbon offsetting and 10% green gas
EV tariff
Cheaper electric between 12:00am and 5:00am
Extras
Boiler and central heating cover
| What we like | What we don't like |
| --- | --- |
| Easy to understand tariffs | Not the cheapest energy provider around |
| Good customer service record | Exit fees are high |
| Full range of additional services | 'Greenwashing' concerns |
| Decent green tariffs | |
---
Tariffs
British Gas advertise three major tariffs on their website: HomeEnergy Secure, Complete Protection and Green Future. All are fixed energy tariffs with exit fees, so customers will need to commit for a set period of time or pay to leave early.
We ran a quote to get energy deals from British Gas for a typical property in Yorkshire. We used the industry averages of 2,900kWh electricity and 12,000kWh to get the figures shown in the table below.
British Gas prices
| | Tariff | Electricity | Gas | Exit Fees | Total per year |
| --- | --- | --- | --- | --- | --- |
| British Gas | HomeEnergy Secure (2 year fixed) | £683.66 | £570.24 | £40 per fuel | £1,253.90 per year |
| British Gas | Complete Protection (1 year fixed) | £683.82 | £570.39 | £30 per fuel | £1,254.21 per year |
| British Gas | Green Future (2 year fixed) | £701.66 | £588.24 | £40 per fuel | £,1,289.90 per year |
The cheapest tariff British Gas offer is HomeEnergy Secure, a plan that fixes prices for two years and comes with a £40 exit fee per fuel.
It isn't much more expensive to take the Complete Protection tariff if customers prefer a 1-year fix. This also comes with Home Services Cover (more on this below) for 12 months at no extra cost if a customer doesn't already have coverage with British Gas. After 12 months, this service will automatically renew at an average of £11.50 per month.
Finally, Green Future is the greenest energy tariff offered by British Gas. It was introduced in early 2020 and provides 100% renewable electricity with 90% of gas matched by carbon offsetting and 10% green gas. British Gas will also plant 5 trees for each household enrolled on Green Future.
Despite pledging to phase out standard variable tariffs in 2017, British Gas do offer them to some customers and they usually set their limits close to the energy price cap imposed by Ofgem.
Back in February 2019, British Gas criticised the energy price cap for reducing their profits and impacting cashflow, something that didn't exactly win them fans among the public.
Electric Drivers tariff
British Gas also offer a tariff targeted towards users of electric vehicles (EVs), allowing them to charge their vehicles overnight at a lower rate rather than the standard unit rate which may be prohibitive for many drivers.
Cheaper electricity is available to customers between 12:00am and 5:00am, allowing them to charge their EVs overnight at a reduced rate.
To be eligible for the EV tariff, customers will need a British Gas electricity smart meter to check they're using the tariff correctly. If a smart meter is unable to be installed, customers won't be able to switch to this tariff.
British Gas may also require proof of a customer's electric vehicle ahead of switching them over to this tariff.
There are no exit fees associated with the Electric Drivers tariff, but customers should be aware they cannot take the tariff with them if they move.
Exit fees
Exit fees are commonly charged by providers to ensure customers don't switch away before the end of their fixed term deals. British Gas charge the following exit fees on their tariffs:
Home Energy Fix Green - £40 per fuel
Complete Protection - £30 per fuel
Green Future - £40 per fuel
Electric Drivers Energy - No exit fees
Some suppliers make a virtue of not charging exit fees, so it might be worth shopping around if the thought of getting an extra bill if you need to leave is worrying.
---
Price
British Gas are significantly more expensive than the cheapest deals available from other suppliers at the time of writing, as well as being more expensive than some of their major rivals.
| Tariff | Monthly Estimate | Length | Exit Fees | Total |
| --- | --- | --- | --- | --- |
| Avro Energy Simple and Surge | £89 | 12 months | None | £1,062.47 per year |
| Together Energy Green Together Smart | £96 | 25 months | £40 per fuel | £1,151.72 per year |
| E.ON Next Online | £97 | 12 months | None | £1,153.43 per year |
| OVO Better Energy | £100 | 12 months | £30 per fuel | £1,196.59 per year |
| British Gas HomeEnergy Secure | £104 | 24 months | £40 per fuel | £1,253.90 per year |
Note: We ran an energy comparison search for the same Yorkshire property using Ofgem typical usage.
---
Fuel mix
British Gas say their electricity on some of their tariffs is matched by 100% renewables, with their overall fuel mix showing 76% renewables and 24% nuclear power.
Looking a little closer, however, we find that British Gas's renewables pledges are backed by Renewable Energy Guarantee of Origin (REGO) certificates where companies buy certificates to prove a unit of green electricity has been produced.
Some critics of this process label it as 'greenwashing' and the Government is currently undertaking a review to see whether the system's working correctly.
As we've already mentioned, British Gas promise 90% carbon offsetting and 10% green gas on their Green Future tariff. This can also be seen as problematic, but green gas is more difficult to produce than green electricity and carbon offsetting is a solution several energy companies use.
Read more about why the greenest energy tariffs in the UK and what to look for.
---
Customer service
In a crowded energy marketplace, customer service is often a key factor for customers choosing which supplier to switch to and, like most energy providers, British Gas has been rebuked several times by regulator Ofgem.
British Gas suffered a major customer service blow in January 2020 when their switch to Payzone as a new pre-payment partner went badly wrong.
270,000 pre-payment meter customers were affected by the change when they weren't effectively notified about it, with little information available for those who didn't use the internet. The issues were further compounded by British Gas keeping their general enquiries telephone line closed on 1 January 2020 when the switch occurred.
As a result, they paid £1.48 million in compensation to those affected and a further £250,000 into a voluntary redress fund to help vulnerable customers.
Other occasions where Ofgem have become involved include their edict for British Gas to pay £9.5 million in compensation in early 2017 for billing system issues dating back to 2014 and then a further £2.65 million in redress in 2018 for billing problems including overcharging customers who tried to switch. That issue re-emerged in 2021 when they were named as one of 18 energy suppliers breaching price protection rules.
Recent complaints history
Quarterly complaint figures are published by Ofgem, and the good news for British Gas is that they have improved their complaints record over recent years.
After a spike in Q1 2015 of 3,501 complaints per 100,000 customers, they had reduced their levels to 1,252 by Q2 2021. This makes them one of the best performing of the larger suppliers on current standards, well below OVO's 3,246 complaints per 100,000 customers.
Even so, while British Gas's 1,252 complaints is better than most of their rivals, it's higher than Octopus Energy, Utility Warehouse, Utilita and Avro Energy, who had the lowest level with 238.
So, the key takeaway here is that British Gas are performing better than major rivals when it comes to customer complaints, but they're not the best compared to some of the challenger suppliers on the market.
Read more about how each energy provider performs for customer service in this guide.
Learn about the rights energy customers have and about the Energy Switch Guarantee (ESG) here.
---
What else do British Gas offer?
Part of the attraction of a large energy supplier like British Gas is the possibility of accessing additional services. As well as a range of boiler and insurance support options, British Gas are also well known for their Hive smart home system.
HomeCare
British Gas's boiler, central heating, plumbing and electrical services are incorporated within their HomeCare products. There are different tiers of HomeCare, all based around a monthly fee and including different services:
Package
Services
Monthly price (from)
HomeCare One
Annual boiler service
Boiler and controls
£14
HomeCare Two
Above plus:
Central heating
£17
HomeCare Three
Above plus:
Plumbing
Drains
£20.50
HomeCare Four
Above plus:
Home electrics
£23.00
These are estimated prices and customers get cheaper deals if they sign up with a £60 excess included in the policy.
If customers don't need every element listed above, British Gas offer some individual cover products too:
Boiler & Controls Breakdown Cover - £2.50 per month
Central Heating Breakdown Cover - £5.50 per month
Boiler Service - £85 per year
Customers may already have access to some elements included in the HomeCare service through policies they hold with other companies. Equally, there may be better deals to be had with other providers, so customers should shop around to find cover that's suited to their home and requirements.
New boilers
Boilers are one of British Gas's specialties, and they offer a full service installation system which includes free quotations, online estimates, expert fitting and a five year warranty plus 12-month full system cover.
In addition, they act as a credit broker to help customers access credit options to help pay for their boiler, although successful applications aren't guaranteed.
British Gas claim they fit more boilers every year than any other supplier, and they often offer money back or discount deals for existing energy or HomeCare customers.
Home improvements
Engineer appointments are offered to provide quotes for home improvement services across three distinct areas: central heating, water efficiency and electrical improvements.
For central heating problems, this covers things like the system taking a long time to heat up or making odd noises. It also covers frozen pipe issues and radiators which aren't as warm as they used to be. So, for instance, they offer a Powerflush with a lifetime guarantee (when combined with HomeCare).
Water efficiency work includes taking action against leaks and reducing limescale throughout a property. There's also a Surestop button installation service to ensure it's easy to turn water off quickly if necessary.
Electrical improvements include fixing faulty writing, installing and repairing sockets and generally upgrading the electrics within a home to meet appropriate safety standards.
Smart home
Thanks to their partnership with Hive, British Gas offer a range of smart home products and services. They say their customers get better deals on Hive products, leading to the best prices for the technology. One definite bonus is the professional installation by a British Gas engineer.
Smart home technology from Hive covers a whole range of services across the following categories: Hive Active Heating, Hive Lights, Hive View, Hive Plugs, Hive Sensors, Hive Hubs and Hive Heating Valves.
If smart technology is of interest to customers of any energy supplier, British Gas offer a Hive Starter Pack to both customers and non-customers.
This plan includes a Hive Hub, two Hive Light Dimmable bulbs, a Hive Motion Sensor and a Hive Plug while also coming with a 12-month guarantee for £129.
Home insurance
British Gas offer home insurance options tailored both to homeowners and to tenants.
Homeowners can choose between a combined Buildings and Contents Insurance policy or opt for Buildings only or Contents only cover. Either way, the building is protected up to £1m with their cover while contents cover is up to £80,000.
Tenants can access Contents cover which also protects their possessions up to a total value of £80,000, with £10,000 for a single item of value.
Optional extras currently listed on the British Gas site include Home Assistance, Accidental Damage, Personal Possessions, Key Cover and Legal Expenses Cover.
In July 2021, British Gas launched a renter's bundle combining a fixed energy tariff with home insurance and contents cover up to £20,000.
---
Verdict: Is British Gas any good?
British Gas's long history as an energy supplier in the UK sets them apart from their rivals. Even though customer numbers have dropped over the years, British Gas still have a 26.6% share of the gas market and a 17.9% share of the domestic electricity market in the UK.
While they're not the cheapest energy supplier on the market, they're still competitive, especially when up against their larger rivals. However, their high exit fees may put some customers off committing to one of their tariffs for a year or more.
There's no denying that British Gas offer a full energy service that is tricky for its rivals to compete with. If customers want to link their energy supply with smart home technology, repairs and even home insurance, British Gas offers all these options and more.
Ultimately, British Gas remain the most popular energy provider in the UK and they have one of the lowest complaints levels for a company of their size. Customers looking for stability in their energy supply may well opt for the biggest name in UK energy.
Others who want the British Gas service in a cheaper guise may want to consider British Gas Evolve, their digital only brand.