Every energy supplier has a procedure to handle customer complaints, so following this is an important first step.
We should keep records of contact with our supplier and make sure we're polite in our dealings with them.
If we're not happy with the resolution offered by the supplier, we can escalate the complaint to the Ombudsman Services after eight weeks.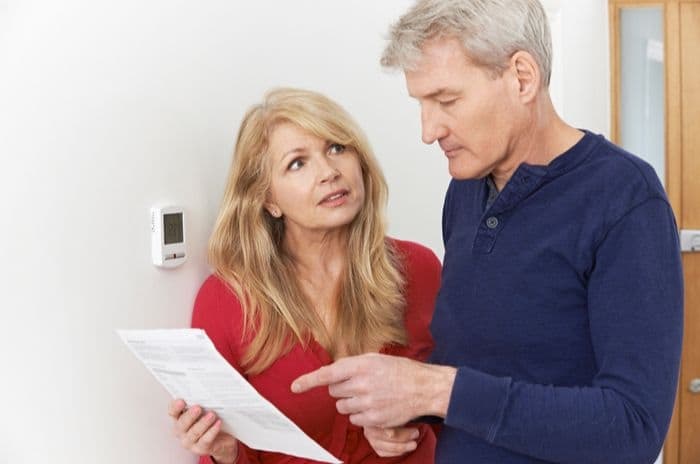 Credit: SpeedKingz/Shutterstock.com
---
How to complain about an energy provider
The process for making a complaint about an energy provider is straightforward and it's important for customers to follow the right steps to get their complaint dealt with effectively.
Even if we're uncertain whether we want to take a complaint further, it's worth contacting a provider and making any concerns we have about a supplier's practices clear.
Energy companies are frequently investigated by regulator Ofgem for breaching their responsibilities, so getting our complaints on record can help.
Find out more about the rights energy customers have.
Follow the provider's procedure
Each energy provider will have a slightly different "complaints handling procedure", which can be found on the complaints page of their website.
The complaints procedure will look something like this (in summary):
The customer contacts the supplier, often via a specific telephone number or email address.
The supplier investigates.
The supplier either admits they're at fault or argues that they are not.
Ideally, we want as much of our communications with our supplier in writing as possible. This makes it easier to escalate our case later or point out that our complaint hasn't been fully addressed.
Throughout this process, it's important for customers to continue paying their bills as usual.
Any complaint we have should be considered as separate to our responsibilities to pay our bills (and, indeed, to a supplier's responsibility to consider supplying our energy).
If a supplier admits they're at fault, they may:
Issue a formal apology
Make a goodwill gesture such as a bill discount
Offer more substantial compensation
The actual resolution will depend on the severity of the customer's complaint and how much the energy supplier feels it was their fault.
If a customer doesn't agree with the resolution or the supplier doesn't admit they were at fault, the next step is to obtain a "letter of deadlock" from their supplier.
This letter should detail the complaint so far and explain that we plan on escalating it to the Ombudsman Services if we haven't heard from them by a specific date.
Citizens Advice have a great template for this.
Take it to the ombudsman
If things aren't resolved after eight weeks, or if the customer receives a letter of deadlock they don't agree with, it's time to go to the energy ombudsman.
Note that it's worth acting quickly - if the energy supplier has sent a letter of deadlock, there's only 12 months in which to take it to the ombudsman.
An ombudsman is an impartial third party who must look into both sides of the case and offer a decision. The UK energy ombudsman is approved by Ofgem (the regulators) to deal with disputes between energy providers and consumers.
After accepting a complaint, the ombudsman will contact the consumer to agree the main issues and check what they consider to be a reasonable resolution. They may ask for authority to chase up the complaint over the phone, which can substantially speed up the process.
When processing a complaint, they take the following into account:
Both the supplier's and consumer's side of the story
Any regulations, official guidance and standards
Codes of practice and relevant legislation
Accepted good industry practice
Bearing all that in mind, it should take them between six and eight weeks to come to a decision.
If the decision is accepted, it becomes legally binding and the supplier has 28 days to comply.
The ombudsman has the power to get the supplier to:
Fix/correct the problem
Apologise to the customer
Respond and explain the issue properly
Give financial compensation
The best way to get a complaint started with the Ombudsman Services is by using their website. It also gives clear information on what type of complaints they can handle.
For those with issues that can't be sorted swiftly, Ofgem also recommend seeking the support of Citizens Advice.
They can advise on the guaranteed standards individuals should expect in their dealings with the suppliers, offer impartial advice and draft template letters, and refer cases to other organisations that can help further if needs be.
Still unhappy?
The energy ombudsman's decision is final for the energy supplier, but not for the consumer.
If an individual chooses not to accept it, they lose the right to the resolution offer, but they still have the right to take their complaint further through the courts.
This can be a costly and lengthy exercise, so it's worth being very cautious before taking this step.
Look carefully at the responses already given by the energy provider and the ombudsman to see whether any court action stands a reasonable chance of success.
---
How to increase chances of a resolved complaint
Making complaints in any sector - from energy, to water, to banking - is easier for customers who remember they're dealing with fallible human beings, just like them.
As frustrated as we might be, following the right process and being polite about it can significantly improve our chances of a positive resolution.
Be reasonable
Providers have a responsibility to deal proactively with complaints quickly, efficiently and professionally.
It sounds obvious, but staying calm and friendly will help resolve most issues more quickly. Those feeling particularly panicked or angered should remember not to take it out on the customer service staff, who genuinely want to sort things out for their benefit as well as the caller's.
Customers should also have a good idea of what they want from the complaints procedure and be willing to cooperate and offer help.
For example, if an energy bill is wrong and the customer wants an accurate one, they should ask for that, plus a refund; and offer to provide up-to-date, dated photos of their meters.
Similarly, if there is a large amount of credit on a customer's account and they're having trouble getting a refund on their balance, providing the most recent meter readings is a good way of backing up the argument.
This skips the step where the supplier has to ask for the evidence (speeding things up) and makes the customer seem reasonable and helpful (earning them the goodwill of people who can resolve these issues).
Keep records
Keeping track of correspondence will make following up for the customer and the supplier much easier and quicker.
Customers should make a note of who they speak to when calling their provider and the dates and times they made the calls.
Following up phone calls with an email summarising the conversation, and asking for confirmation, is also useful.
This is particularly important if a supplier is dealing with a complaint poorly or unfairly.
But it can also be useful should a customer wish to claim compensation later, as notes and phone bills can be used as evidence of the cost, both financially and in terms of time, of dealing with the problem.
If the situation isn't resolved with a couple of phone calls and a customer ends up going through the provider's official complaints procedure, communicating solely through email or letters will help keep track of it all more easily.
It also makes everything more straightforward if the complaint is escalated to the Ombudsman Services.
---
What are energy customers complaining about?
Quarterly data from the Ombudsman Services shows what energy customers are complaining about when grievances are escalated to that level.
Figures for Q1 2022 show that the top three areas for complaints were:
Billing
Smart meters
Customer service
As billing is such a major driver of complaints, the Ombudsman Services also breaks down the top three sources of billing complaints. Which are:
Disputed gas or electricity usage
Disputed account balance
Billed to incorrect meter
Billing has long been a thorny issue for energy customers, but the number of complaints have significantly increased in recent years:
There were 13.21 complaints per 100,000 customers about billing in Q4 2018
This had risen to 20.97 per 100,000 in Q2 2022
Despite efforts by regulator Ofgem to ban unreasonable backbills that came into force in 2018, concerns around disputed account balances and disputed usage remain common.
Other sources of complaints
Smart meters are a frequent reason for complaint, even though they are far behind billing complaints in terms of quantity.
As we explain in our guide to whether you should get a smart meter, suppliers are racing to meet installation targets which means many customers are being encouraged to get smart meters when they may not necessarily want them right now.
This could be a source of frustration along with any issues during the installation process or difficulties when smart meters don't work as expected.
Switching complaints have previously been in the top three issues reported by the Ombudsman Services, but the collapse of dozens of energy suppliers in 2021 and rising energy prices has led to a reduction in the number of customers switching their energy supplier.
The Ombudsman Services examine tens of thousands of energy complaints every year, with almost 70,000 complaints received during 2021.
---
Summary: Simple process
Complaining about an energy supplier is a simple process thanks to the procedures companies have put in place.
There is a clear progression for complaints that says if we're not satisfied within eight weeks, we can escalate to the energy ombudsman and get an impartial decision on our issue.
To recap, we should:
Make a complaint to our energy provider using their complaints procedure
Provide all relevant information and be polite
Request a "letter of deadlock" after eight weeks if we're not happy
Take the complaint to the Ombudsman Services
Customer service for energy customers varies from supplier to supplier, although data from Citizens Advice published in July 2022 shows standards are slipping across the board.
In this climate, it's more important than ever for customers to raise issues with their supplier and escalate them where necessary - keeping the pressure on suppliers to improve their standards will help all customers in the long run.