Energy companies will often provide a refund on credit balances when they get too high, however a customer usually has to request one directly.
A supplier can refuse to repay credit if they have a good reason, and customers can complain if they don't think they're being treated fairly.
Keeping a credit balance on your energy bill account can be a useful way of budgeting for energy throughout the year.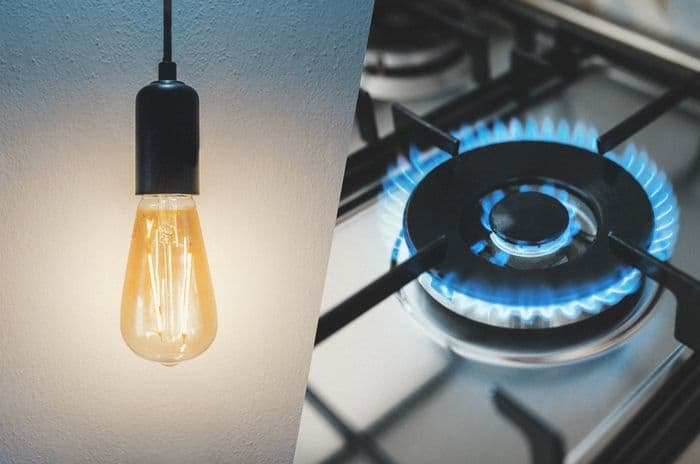 Credit: ALDECA studio/Shutterstock.com
---
How to claim back energy bill credit
Energy suppliers are obliged to consider credit refund requests. However, they are not obliged to grant them, as we explore below.
The process for requesting a credit refund from a supplier is:
Contact the supplier by live-chat or phone
Explain how much credit you would like refunded
Be prepared to give current meter readings
If a supplier says they will not give you a refund on your current credit balance, they must explain why.
Customers can still argue against this by raising a formal complaint with their supplier.
If this is unsuccessful, they can escalate the complaint to the Ombudsman Service as we discuss in more detail in our guide to complaining about an energy supplier. This can only be done after eight weeks and customers must engage with their energy supplier first.
Reclaiming credit on a closed account
For closed energy accounts where we have switched supplier or moved home, the process is regulated by Ofgem rules.
These state that:
Suppliers must send a final bill within six weeks of a switch
Suppliers must automatically refund a credit balance from a final bill within 10 working days (two weeks) from the date of the bill
So, we have clear timelines that credit refunds must follow when we leave a supplier - and these are backed by automatic compensation if suppliers don't meet these guaranteed standards.
If a provider breaches either of the conditions mentioned above, they will pay £30 in automatic compensation as per Ofgem rules.
Note: These rules don't apply if an energy supplier collapses and we're switched to another company.
---
Suppliers and credit refunds
Energy suppliers may have internal guidance that says customers should leave a certain amount of credit on their energy bill balance.
Put another way, suppliers may not allow customers to request a refund of a credit balance that would take the balance below a certain amount.
As an example, British Gas explains in their policy:
They will hold up to £75 in credit on a customer's account and will only refund money if there is £5 or more left over after they have put the £75 credit towards next year's bills
This is a convoluted and perhaps confusing way of saying that they can hold at least £79 in a credit balance and refuse to refund the customer.
Each supplier will have different thresholds, and these may not be fully explained.
For instance, EDF's terms and conditions mention they have a "specified credit amount" that they set (similar to British Gas's threshold) but this isn't detailed in the conditions or on the payment pages.
Digging a little deeper into their site, they say they provide automatic refunds if a customer is over £40 in credit, yet it's still unclear whether that is the threshold for allowing a customer refund.
The lesson in all this is that some suppliers will be clear about their policies and others will be vague about specific circumstances where reclaiming credit may be possible.
However, as we discussed above, suppliers need to give a reason when they reject our claim for a refund, and we can always challenge it with the Ombudsman if we're unhappy.
Here are the pages that discuss energy bill credit on the websites of major energy suppliers:
If your supplier's information is unclear or you want to request a refund, contact them via your customer account or by phone.
Direct Debit reassessments
Energy companies will regularly reassess our Direct Debits to check if we're paying too much and whether that's leading us to build up a credit balance.
This means they may decide to refund us our energy bill credit automatically without us asking them to, or they might simply lower our future payments to ensure that we're not building up too much credit and are instead chipping away at our current balance.
Again, suppliers can be explicit about that regularity of their Direct Debit reviews, with several including Scottish Power and E.ON Next saying they check them annually.
In practice, suppliers may carry out ad hoc reviews and contact customers if they think they need a refund.
As we explore below, there have been complaints from customers that suppliers are hoarding credit balances and regulator Ofgem is tackling that.
---
Why energy bill credit is accumulated
Many energy customers pay by monthly Direct Debit.
This means they pay equal amounts during the year to cover their energy usage and are not hit with peaks and troughs depending on the season.
For most people, this is a useful budgeting technique, but it does mean that we might build up credit balances in certain circumstances:
If we're using less energy because we're out of the house more or someone has moved out
If we're using more energy efficient appliances or we have energy efficiency measures installed
If a supplier didn't calculate our payments correctly when we signed up
On this last point, since energy suppliers calculate our Direct Debits based on the type of house we're in and the information we give them about our energy usage, it's possible that errors will be made.
As an example, when we input your property details into the Choose energy comparison checker, we will be asked whether we know exactly how much energy our household uses or if we need to estimate based on Ofgem averages and usage level (low, medium or high).
The more accurate we can be in our estimations when we sign up to an energy deal, the less likely we are to build up credit balances on our account.
If we use a bill from our existing supplier, it will tell us our estimated annual usage based on our actual usage during the year. Providing this figure to our new supplier at sign up can reduce the possibility of paying too much during the year.
Finally, there are a couple of instances where credit may be added to our bills by someone other than ourselves:
If a supplier pays us compensation, that is usually added straight to our bill credit
If third-party support schemes like the Government's £400 energy bill credit are issued, that will be added to the credit balance and will be unavailable for withdrawal
Just bear in mind that credit accumulated through these types of methods may be unavailable for a refund or may be best left where it is as it does not demonstrate we're ahead on our bills, just that there is extra credit in our account.
Should you keep a credit balance?
Our energy bills are designed to balance out through the year. The theory is that we build up a credit cushion during the summer to help us avoid higher bills during the winter.
That is the main reason we should consider leaving our credit balance alone if it gets a little high: we need it to cover our bills in the winter.
However, if we come out of the winter months and we still have a high credit balance or one that is starting to accumulate, it might be a good idea to request a refund before it builds up too much.
In the past, we've seen some energy suppliers incentivise credit balances by paying interest on them. Yet OVO Energy scrapped that perk for new customers in 2021, and it's unlikely providers are going to be clamouring to bring it back.
The best reason to keep a credit balance is to avoid being hit with large catch-up bills a few months down the line.
Before requesting a refund, ask the following questions:
Is your home energy usage likely to increase in the months ahead?
Are you heading into the more expensive time of year?
If you're on a standard variable tariff (SVT), is the energy price cap scheduled to change soon?
Is it better for your budget to keep as much of a credit balance as possible in case you need the buffer in the future?
Credit balances can be useful tools for customers paying for their bills over the course of a year, but usage and circumstances do change, so it's important to keep an eye on how much credit we're in and see whether reclaiming it would be beneficial or not.
---
Are energy providers abusing credit balances?
There have long been claims that energy suppliers are using credit balances on energy bills to bolster their own business and fund risky business practices.
Back in 2013, British Gas caused consternation when it was revealed that they had profited by £20 million in a single year due to unclaimed credit balances being legally reclaimed by the supplier.
A year later, the six major energy companies at the time launched a campaign aimed at refunding the balances of customers who had overpaid on their energy bills.
Yet the practice hasn't gone away and has been brought into sharp focus over recent years as dozens of energy suppliers have collapsed.
Collapses and credit balance protection
The failure of 28 energy suppliers from September 2021 onwards put credit balances in the spotlight once more.
When an energy supplier fails, the credit balances their customers held with them are protected as part of Ofgem's Supplier of Last Resort (SoLR) procedures.
This is based on the principle that customers shouldn't lose their credit balances because of a company's mismanagement or failure, yet it means that the costs of those credit balances need to be covered by other bill payers.
Ofgem said in June 2022 that the spate of energy collapses the previous year had led to an additional £94 being put on to every household's bills, partly due to refunding credit balances.
Policy on credit balances
To combat the possibility that suppliers are using the credit balances of their customers to improve their own balance sheets, several solutions have been put forward in recent years.
The idea of automatically refunding credit balances once a year was raised in March 2021, yet Ofgem later said that the only suppliers who engaged with this part of their consultation were those who had subsequently collapsed.
Instead of going forward with that proposal, Ofgem wrote to energy suppliers in April 2022 proposing new rules for protecting credit balances and announced in June 2022 they plan to tweak the wording of rules around such balances.
While energy suppliers are required to take "all reasonable steps" to use the "best and most current information" when calculating customer Direct Debits, the wording on this will be changed so suppliers have an "absolute obligation" to use the most up-to-date information.
Ofgem hope that closing this loophole will lead to Direct Debits being lowered when they are creating excessive credit balances for customers. However, it remains to be seen what impact it may have.
---
Summary: Keep track of bills
Holding a credit balance on our energy bill is useful and helps us to budget for our energy usage during a year.
However, if credit balances are being built up month after month and we genuinely believe our Direct Debits are too high, there are steps we can take to reclaim that credit:
Check whether the meter readings and the bill match up
Calculate how many months of usage the current credit balance would pay for
Contact your energy supplier to request a credit balance refund
If they refuse, ask why and follow the supplier's complaints process if you're unhappy with the response
If you're still not happy, follow up with the Ombudsman Service after eight weeks
It's also worth remembering that our energy bills might be wrong sometimes, so checking whether everything is accurate there could mean the credit balance issue resolves itself.
Finally, bear in mind that credit balances help us budget and keep an eye on Ofgem rules that govern how energy providers must treat our money.