It was first introduced for standard variable tariffs in January 2019 to ensure customers were not being ripped off by energy suppliers.
However, the energy crisis caused by rising wholesale prices in 2021 and 2022 now means 22 million households are being protected from even higher bills.
Regulator Ofgem is looking to alter the way the cap is implemented, with any changes due to come into force in October 2022.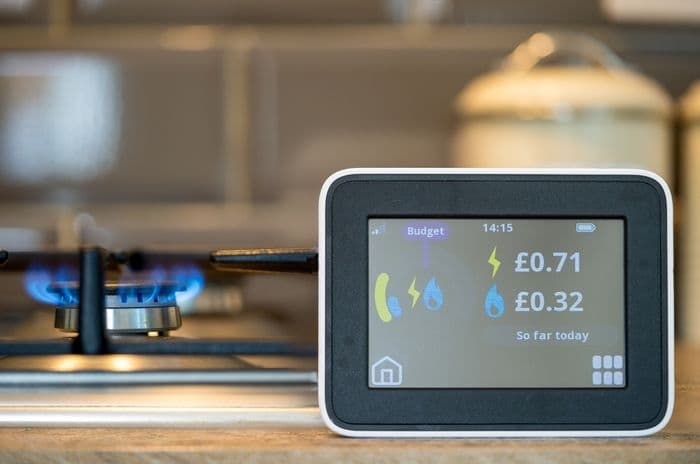 Cliff Day/Shutterstock.com
---
What is the energy price cap?
Standard variable tariffs (SVTs) are limited by the energy price cap.
The energy price cap sets a limit on how much energy companies can charge per unit of gas and electricity along with setting a maximum daily standing charge.
Even though the cap limits how much energy can be sold to customers for, Ofgem still publish an average figure to show how it will affect a typical home.
The figure is used to illustrate how much the cap is going up or down, but it is only an average - it doesn't limit the total amount a customer can be charged for their energy usage.
There are different cap limits for customers who pay for their energy through:
Direct Debit
Standard Credit
Prepayment
This is because there are extra costs associated with paying by standard credit or having a prepayment meter, so Ofgem allow suppliers to charge more in those instances.
As of 1 April 2022, the default price cap for those three groups was:
| Payment type | Cap from April 2022 |
| --- | --- |
| Direct Debit | £1,971 |
| Standard Credit | £2,100 |
| Prepayment | £2,017 |
However, we can also look at the average per unit of energy and the average daily standing charge suppliers can implement too:
| | Average price per unit | Daily standing charge |
| --- | --- | --- |
| Electricity | £0.28 per kWh | £0.45 |
| Gas | £0.07 per kWh | £0.27 |
These vary by region and payment type, as we explain in our guide to the cheapest energy supplier, so be sure to check your energy bill to understand how much you're being charged per unit of gas and electricity.
Learn more about how to read your energy bill and what to look out for.
The energy price cap is applied automatically by the majority of energy providers and Ofgem crack down on suppliers who breach it, as they did with iSupply Energy in 2019.
There are a couple of exemptions to the energy price cap, with three suppliers allowed to charge more than the cap level because they are the greenest energy providers in the UK:
Ecotricity
GEUK
Good Energy
However, these are the only suppliers able to charge more, and all other providers must adhere to the cap levels.
The energy price cap does not apply to fixed energy plans offered by suppliers. This means customers signing up to those deals can agree to pay less or more per unit of energy, depending on what the market is like at the time.
---
How the price cap is set
The price cap is reassessed every six months by regulator Ofgem. They look at how costs have changed and decide whether it is costing energy companies more or less to supply to their customers.
Ofgem calculate the energy price cap by looking at several major costs and some smaller ones that suppliers are required to pay.
This is how the different elements of the price cap looked in October 2021 and then April 2022 after it had been recalculated by the regulator.
There are a couple of things to pay attention to here:
The wholesale cost of energy was the biggest change from one cap period to the next, making up £549 (almost 80%) of the increase.
Policy and operating costs went down slightly.
Profits and VAT increased in line with inflation and the cap increase.
The adjustment allowance for bad debt due to coronavirus was removed from the cap calculation.
The significant increase in network costs is due to the costs of protecting customers from the high number of failed energy suppliers in 2021
Ofgem are transparent about the way they set the cap and publish detailed reports.
If they're going to implement something out of the ordinary (like the bad debt allowance), they will consult first - and they have recently given themselves the power to amend the cap outside the usual period in the event of extraordinary circumstances.
The regulator was criticised for not stepping in to prevent companies collapsing during the last months of 2021, so this new power is one response to that.
Changes have also been proposed for the way the cap works from October 2022.
Future of the cap
Ofgem want to improve the way they can react to problems within the energy market, so they launched a consultation in early 2022 to put forward some proposals:
Set the cap one month ahead of implementation rather than two. This would mean the cap is more suited to the conditions at the time it's brought in.
The cap could be updated every three months rather than every six months. This would give them more room to react to whatever was going on in the market.
Create a Price Cap contract for six or twelve months with no exit fees.
While consultation responses are still being analysed, Ofgem confirmed in March 2022 they are minded to implement the first proposal and set the cap one month before it's due to come into force rather than two.
This would mean the next energy price cap would be announced in September rather than August 2022.
However, it's also worth remembering that, when the price cap was first introduced, it was designed to be a temporary tool while Ofgem reformed the market and was scheduled to expire in 2023.
Given the way it has protected customers from even steeper price rises in 2021/22, it may become a fixture for longer or be removed during energy market reforms.
---
Energy price cap trends
Ofgem introduced the default energy price cap in January 2019, while the cap on prepayment meters was introduced a few years earlier in 2017.
This is how the price cap has gone up and down since the first default price cap came into force:
As we can see, the cap has dropped several times, as it did in October 2019 when Ofgem calculated it for the third time.
Yet the cap was initially introduced to stop customers being placed on SVTs that were far more costly than the cheaper fixed tariffs available at the time and this has now changed, with SVTs now cheaper than fixed deals.
Estimates say the price cap is going to increase again significantly in October 2022 when it is recalculated, with analysis suggesting the default tariff might reach £3,200.
Citizens Advice also raised concerns in March 2022, saying 14.5 million customers may be unable to afford their energy bills by the autumn.
Learn more about affordability in the energy market and what our survey said about the help the Government has provided so far.
---
Final word
The energy price cap was brought in to help protect customers from being placed on expensive variable tariffs that were far more costly than the fixed tariffs around at the time.
For now, the reality is different, and SVTs are protecting customers being forced to sign up to fixed energy deals that are rocketing in price due to the global wholesale price of energy.
It's clear that, while the energy price cap is currently higher than it has ever been, SVT prices would be much higher if Ofgem didn't regulate them and suppliers were able to set their own prices.
However, with Ofgem looking to make changes to the way the cap works, it might be that it doesn't provide the same amount of certainty for customers in the future as it does today.
A customer on an SVT in April 2022 theoretically knows what the maximum unit prices of energy should be for the next six months.
But Ofgem have diluted this confidence, first by giving themselves the power to amend the cap in the event of extraordinary circumstances and, second, by making proposals to shorten the cap period to three months or implement some sort of rolling cap system.
For customers, this may add extra confusion to the process, and it could remove the certainty that the price they are paying for energy now will remain at similar levels. With families already struggling to budget due to soaring inflation, this uncertainty could hit households hard.