EDF Energy's home energy tariffs are not among the cheapest available, but they are more competitive than some of their larger rivals.
Electric vehicle owners have the choice of three tariffs as well as being able to purchase an EV charger direct from EDF.
Their service is backed by a decent customer service record, although most of their tariffs must be managed online and this may not appeal to some customers.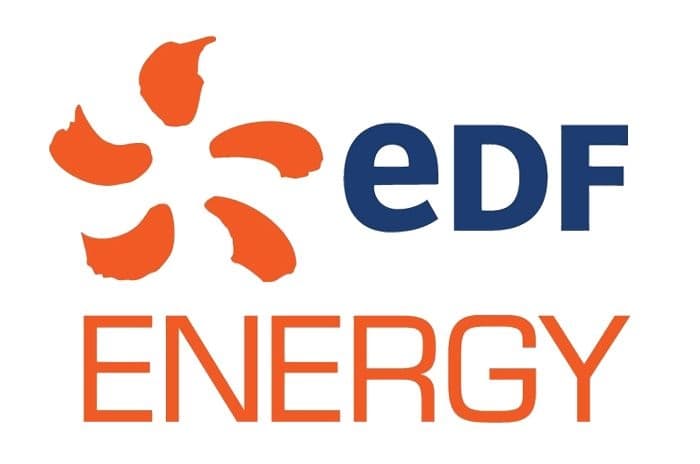 ---
At a glance
| What we like | What we don't like |
| --- | --- |
| Good range of tariffs | More expensive than some other energy suppliers |
| Excellent EV tariffs | Extra charges for access to a call centre |
| Range of other services on offer | Nuclear may not appeal to all |
| Generate their own electricity | |
| Decent customer service record | |
---
Tariffs
One thing to note when customers are checking EDF tariffs against their competitors is that EDF doesn't make it easy to get a quote - they don't prominently display their tariffs in a way that customers can access without giving over their email address.
EDF aren't alone in nudging people to pass over their email address before giving them a personalised quote, but it's one reason why comparing with our free comparison tool is an effective way of checking prices - we give all potential tariffs customers can sign up to from all major and challenger energy providers.
The household used for the below calculations is a typical 2 bedroomed property in Yorkshire with the average annual usage of 2,900kWh of electricity and 12,000kWh of gas as used in Ofgem's figures.
EDF Energy prices
| | Tariff | Electricity | Gas | Exit Fees | Total per year |
| --- | --- | --- | --- | --- | --- |
| EDF Energy | Energy Direct | £617.97 | £529.85 | None | £1,147.82 |
| EDF Energy | Easy Online 3 year fix | £670.04 | £566.05 | £15 per fuel | £1,236.09 |
| EDF Energy | Easy Online 2 year fix | £698.66 | £634.47 | £15 per fuel | £1,333.13 |
| EDF Energy | Total Service | £713.58 | £639.38 | None | £1,352.96 |
Of these tariffs, Energy Direct and Easy Online tariffs are fixed for a set period and require online account management, direct debit payment and agreement to have a smart meter fitted.
Bear in mind that signing up to one of EDF's online-only tariffs means just that: not only is the account managed online but interactions with customer service will be via webchat, WhatsApp or text message and there is no call centre.
The main difference between these tariffs and Total Service is that customer support on Total Service can be offered via call centres - customers are essentially paying a premium to speak to a human being if something goes wrong.
Customers can add extras to their energy bills in the form of boiler care, insurance and other elements. We cover those in more detail later in this review.
GoElectric
EDF has an electric car tariff called GoElectric 98 which includes 98 hours classified as off-peak per week, allowing half price charging between 9pm and 7am on a weekday and throughout the weekend backed by 100% renewable electricity.
There are two other variants of electric vehicle tariff offered by EDF: GoElectric single-rate and GoElectric 35.
As the names suggest, the single-rate tariff offers a flat rate throughout the day, while GoElectric 35 offers a low off-peak price between 12am and 5am for overnight charging.
GoElectric 35 and GoElectric 98 both require a smart meter, although customers can sign up to the single-rate tariff, get a smart meter fitted and then upgrade.
EV owners who need a charger installation can purchase a 7kW Pod Point Solo Smart Charger from EDF. Prices begin at £549.
However, customers may be able to bring those prices down if they're eligible for the Government's OLEV Grant, also known as the Electric Vehicle Homecharge Scheme (EVHS).
Learn more about saving money on electric car charging.
Variable tariff
EDF do offer a variable tariff but, as we've mentioned above, getting access to it can be a bit of a nightmare and we couldn't pull it up at all for our chosen address via the official EDF website.
Like other major providers, EDF frequently set their standard variable tariff (SVT) rates as close to the default energy price cap as possible, so customers would usually be better fixing their energy tariffs anyway.
Read more in our dedicated guide: Are fixed energy plans a good idea?.
---
Price
As one of the UK's largest energy suppliers, EDF's prices are usually higher than their challenger rivals.
A search using the Choose energy price comparison checker for the same property in Yorkshire showed a raft of cheaper energy deals.
We've shown a couple of the cheapest fixed quotes along with two other deals from big name providers E.ON and OVO.
| Tariff | Monthly Estimate | Length | Exit Fees | Total |
| --- | --- | --- | --- | --- |
| Utility Point Just Join Up | £88 | 18 months | £36 per fuel | £1,047.15 per year |
| Avro Energy Simple and Surge | £89 | 12 months | None | £1,062.47 per year |
| EDF Energy Direct | £97 | 18 months | None | £1,147.82 per year |
| E.ON Next Online | £97 | 12 months | None | £1,153.43 per year |
| OVO Energy Better Energy | £100 | 12 months | £30 per fuel | £1,196.59 per year |
We can see there is a leap between the cheapest available energy deals and the cheapest fixed tariff from EDF. Yet they do seem cheaper than their Big Five rivals - at least for this property.
Always consider which is the best energy deal for you before signing up to a new tariff.
---
Fuel mix
EDF's fuel mix statement for 2020 showed nuclear makes up the biggest share of their electricity:
| Fuel | EDF | UK average |
| --- | --- | --- |
| Coal | 3.5% | 3.9% |
| Gas | 9.3% | 39.4% |
| Nuclear | 66.6% | 16.6% |
| Renewable | 20.5% | 37.9% |
| Other | 0.1% | 2.2% |
Unlike many energy suppliers, EDF Energy operate their own generation sites and they have fossil fuel, wind and nuclear plants around the UK. They're one of the largest producers of electricity in the country.
They say they have the following generation sites:
37 onshore wind farms
2 major offshore wind farms in Scotland and Ireland
1 wind farm development in Wales
8 nuclear power stations generating around a fifth of the UK's electricity
They also have plans for the following:
Hinkley Point C and Sizewell C nuclear power stations
Their first grid-scale solar farm in Lincolnshire covering 139 hectares
A major solar farm and battery storage project in Essex
So, buying from EDF is arguably one of the best options for customers to buy from a supplier producing their own energy and it means their prices are far less dependent on the wholesale prices of electricity than their rivals.
However, customers may prefer renewable energy suppliers rather than nuclear ones - read more about green energy plans.
---
Customer service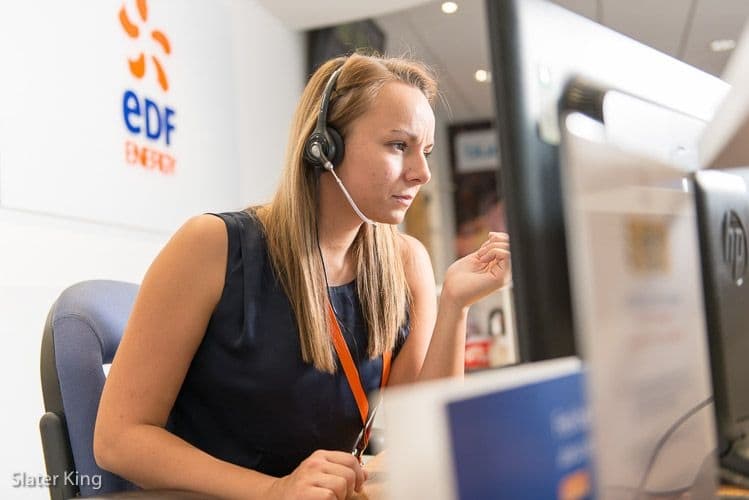 Source: EDF Energy
All energy suppliers are judged as much on their customer service reputation as on their energy provision and tariffs. Often, the customer experience is the only thing which separates one energy provider from another, and various customer service related fines have been issued to energy providers over recent years.
EDF paid £4.5m in redress to customers back in 2012 due to mis-selling of energy plans, while in 2014 they paid £3m to Citizens Advice as redress for complaints failings.
They were then were fined £350,000 in June 2018 for missing their smart meter installation targets, and were one of 18 suppliers rebuked by Ofgem for failing on price protection rules between 2013 and 2020.
Recent complaints history
The number of complaints to energy suppliers during each quarter is recorded by Ofgem and serves as a good indication of how the provider is performing.
The most recent quarter we have results for at the time of writing is Q1 2021 and show that EDF sits in the middle of the eight large suppliers for complaint levels with 1,717 per 100,000 customers during that period. It marks an uptick since the 1,262 recorded in Q2 2020, but if we look at the historic peak of 7,784 recorded in Q1 2013, it's a huge reduction.
While EDF are not the best performing supplier in terms of keeping complaint levels low, they're not the worst of the large suppliers. That dubious honour currently belongs to Bulb with 3,265 in the last quarter.
---
What else do EDF offer?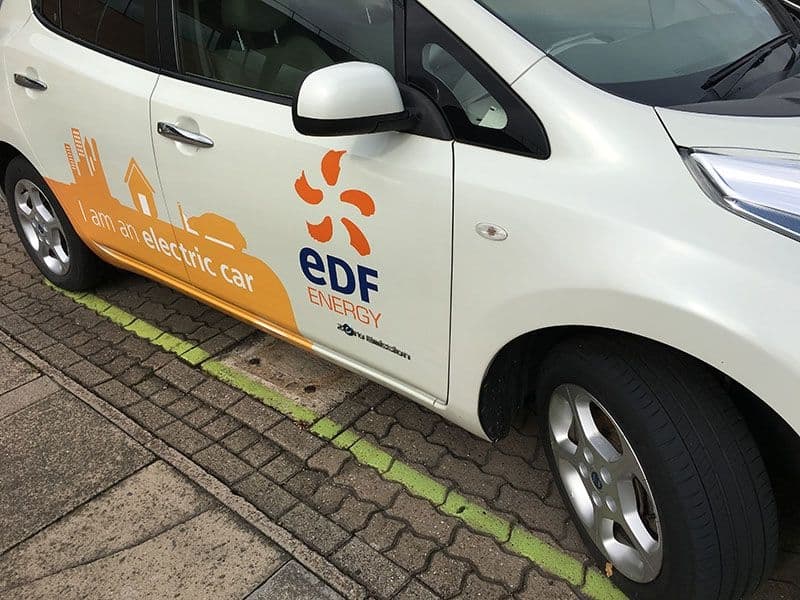 Source: EDF Energy
As a large energy company, EDF offer more than simply gas and electricity to their customers. We've looked at their EV offer above, but here are some other services they provide to their customers.
Insurance
EDF's insurance range is called Protect, and there are four separate categories: BoilerCare Value, BoilerCare Gold, BoilerCare Platinum and BoilerCare Total. It's worth bearing in mind these are all provided by EDF's insurance partner Domestic & General.
| Product | Features | Monthly price |
| --- | --- | --- |
| BoilerCare Value | Covers boiler, controls and up to £750 towards a replacement boiler | From £4.57 |
| BoilerCare Gold | Covers boiler, controls and thermostat, includes an annual boiler and up to £750 towards a replacement boiler | From £7.33 |
| BoilerCare Platinum | As above with central heating system cover | From £10.33 |
| BoilerCare Total | As above with plumbing, drainage, lockout security and dislodged roof tiles along with internal electrical wiring and pest infestations | From £13.63 |
Signing up requires an excess of up to £95 for the cheapest rates and we'd always recommend shopping around for home cover options and checking current policies to see what's included before signing up as part of an energy package deal.
Low carbon heating
EDF supply low carbon heating options for customers who can afford to invest in them.
These are their options:
Dimplex Quantum storage heaters from £2,900
Air-source heat pumps from £8,999
Hybrid heat pumps for oil and LPG boilers
EDF have been vocal about the need for Government policy to catch up with decarbonising heat in the home, so expect to hear more from them about this in the future.
Air conditioning
In partnership with BOXT, EDF offer an air conditioning system with prices from £1895 and including the costs of installation and VAT.
It comes with the following:
Fixed prices including parts, installation, labour and VAT
Monthly payment options available
Possibility for 0% deposit
5-year warranty
A++ rated energy efficient electric heating and cooling system
Energy efficiency
EDF is part of the Government ECO scheme intended to help poorer households more fuel efficient by installing new boilers and insulation. However, they are currently closed to new applications.
For reference, here is the eligibility criteria in case they reopen applications. Customers must:
Be an EDF customer
Own or privately rent a home with an EPC rating of A to E
Qualify for certain UK benefits
To learn more about these boiler and insulation schemes, visit our dedicated guides. Click here for boilers and here for insulation.
---
Verdict: Is EDF Energy any good?
EDF remains a big name in the UK energy market and has a stable share of the gas market (9.2%) and a decent share of the electricity market too (11.3%).
In the last few years, they've taken on customers from Green Network Energy, Toto Energy and Solarplicity following the collapse of those suppliers, boosting customer numbers.
Their customer service record puts them in the middle of the pack, and their most recent fine and complaint levels have significantly fallen in recent years.
Yet customers who aren't comfortable managing their energy bills completely online and would prefer to pick up the phone when there's a problem will need to pay more to access the Total Service tariff.
EDF Energy isn't the cheapest energy provider around, but they do offer extra services on top of their basic energy supply and their different EV tariffs may be attractive to electric vehicle owners.
Ultimately, EDF offers a wide range of energy services backed by their investment in power sources across the UK. For some customers who would prefer more renewables than nuclear in their fuel mix, however, EDF may not be the right choice.
Search for cheap energy deals with our free comparison tool.