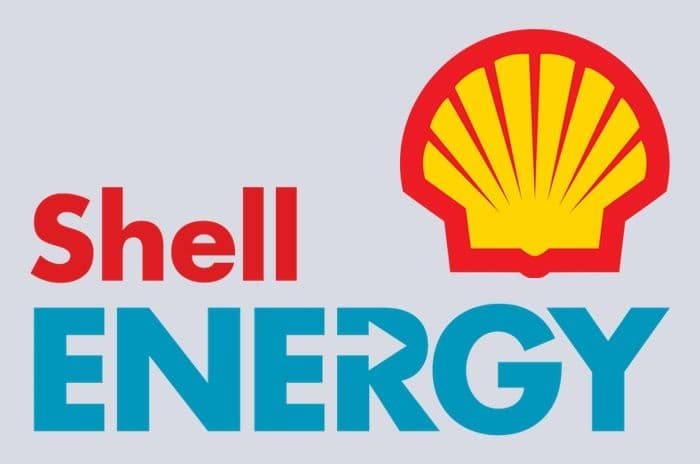 ---
At a glance
| What we like | What we don't like |
| --- | --- |
| Good range of tariffs with lengthy fixed deal available | More expensive than most energy suppliers |
| EV tariff | High exit fees |
| Rewards scheme | |
| Decent customer service record | |
---
Tariffs
To coincide with the rebrand to Shell Energy back in March 2019, the company altered their electricity supply to 100% renewable energy. All tariffs listed below are offered with 100% renewable electricity as standard.
Presently, Shell has four fixed tariffs and a flexible tariff. The estimates below are based on an average household in Yorkshire using Ofgem's typical 2,900kWh of electricity per year and 12,000kWh of gas. These figures come directly from Shell's website.
Shell Energy prices:
| | Tariff | Monthly Cost | Annual Cost |
| --- | --- | --- | --- |
| Shell Energy | Flexible 5 | £93 | £1,114 |
| Shell Energy | Energy 36 months plus Shell Energy Shop Vouchers | £112 | £1,340 |
| Shell Energy | Go Further 23 months | £112 | £1,347 |
| Shell Energy | Energy 13 months | £118 | £1,412 |
Shell's precise tariff names are matter of fact, based upon the length of the deal and the month it's due to expire. This works for the sake of clarity, signalling to customers at various stages of the sign-up procedure exactly how long their deal will last for.
The Flexible tariff is Shell's answer to a standard variable tariff (SVT). The prices on this tariff can rise when wholesale prices go up, although the amount Shell can charge per unit of energy is capped by Ofgem's SVT price cap. This changes twice a year in April and October.
Shell's 36-month fixed deal is one of the longest on the market with prices fixed for three years from the beginning of the deal. An extended fixed term deal could be beneficial for customers, ensuring they don't have to think about altering their fuel tariffs for several years. That said, they may miss out on lower prices in the years ahead if wholesale prices dip.
Is a fixed energy plan right for you? Read more about them.
It's worth noting exit fees are levied on Shell's fixed deals if customers wish to leave their tariff early.
These can be as high as £50 per fuel on Shell's longest fixed tariffs, so that's important to bear in mind when comparing energy deals.
---
EV tariff
Shell offers an electric vehicle (EV) tariff to customers who own or lease an electric vehicle.
It's called the Charge and Drive tariff and requires customers to have a SMETS2 smart meter installed - learn more about the different types of smart meter in our guide.
Customers using this tariff to charge their EV will receive a credit of up to £80 on their energy bills, amounting to around 2,000 free miles with the typical costs of charging an EV.
In conjunction with NewMotion, Shell Energy offer a discount to NewMotion's Home Fast charge point, bringing it down to £519. Installation is included and the Office for Low Emission Vehicles (OLEV) Grant is part of the offer, so customers must be eligible for that.
Shell is one of many suppliers now offering EV tariffs and are keen to increase the number of EVs in use across the country.
---
Price comparison
To see how Shell Energy's pricing compares to their rivals, here are quotes for the same property showing the cheapest estimates available via our energy comparison checker and the cheapest deals from big-name suppliers:
| Tariff | Monthly Estimate | Length | Exit Fees | Total |
| --- | --- | --- | --- | --- |
| Utility Point Just Join Up | £88 | 18 months | £36 per fuel | £1,047.15 per year |
| Avro Energy Simple and Surge | £89 | 12 months | None | £1,062.47 per year |
| EDF Energy Direct | £97 | 18 months | None | £1,147.82 per year |
| E.ON Next Online | £97 | 12 months | None | £1,153.43 per year |
| Shell Energy 36 months plus Shell Energy Shop Vouchers | £112 | 36 months | £50 per fuel | £1,340 per year |
We've compared Shell's cheapest fixed deal rather than their fluctuating variable tariff, but it's clear their fixed tariffs are more expensive than many of their rivals.
However, customers may prefer to lock in the price for that fixed energy deal for three years rather than relying on the wholesale costs of energy when taking 12-month or 24-month fixed energy deals.
---
Fuel mix
Shell Energy are one of the suppliers in the UK advertising 100% renewable electricity, a switch they made back in March 2019 when they rebranded from First Utility.
Shell back up their 100% renewable electricity pledge with Renewable Energy Guarantees of Origin (REGOs), the industry standard in confirming the origin of energy to renewable sources such as wind, solar and biomass.
REGOs are somewhat controversial as a marker of renewable electricity as we explain in our guide to green energy tariffs. The Government is reviewing these certificates and accusations of 'greenwashing' across the energy industry, so we may see more transparency about their use in the future.
Gas on Shell's normal tariffs comes from the UK's standard gas supply. Shell say 44% comes from the North Sea, 47% from European pipelines and the rest from tankers from around the world.
However, Shell also offer a more environmentally friendly option in the form of their Go Further tariffs.
Go Further
Shell launched their Go Further tariff back in June 2020 promising to offset carbon dioxide emissions from a customer's gas usage with carbon credits.
Each carbon credit represents either the avoidance of carbon going into the atmosphere or the removal of one tonne of carbon dioxide from the atmosphere. These credits are purchased from independent third parties and they list several projects they support in countries like Peru and Indonesia.
This carbon offsetting, they say, makes the tariff effectively carbon neutral as it also offsets the small amount of carbon that is generated during the production and distribution of renewable energy sources.
As the tariff table above shows, however, households may pay more every month to access the carbon neutral tariff and, again, carbon offsetting has its critics too.
---
Customer service
Due to the acquisition of First Utility, Shell's record can't be exactly conflated with First Utility's, although it's worth looking at the record of both companies to understand the customer experience in recent years.
For instance, as First Utility, the company was criticised by Ofgem for forcibly installing prepayment meters in their customers' properties, but the report by Ofgem in September 2019 confirmed that Shell had pledged to improve their performance in this area.
Shell Energy were ordered to refund and compensate 12,000 accounts (around 8,800 customers) in June 2019 after they overcharged customers on default tariffs following the introduction of the energy price cap in January 2019.
They had overcharged customers around £100,000 between January and March, with 6,200 customers on tariffs uncompliant with the price cap. They refunded the customers and paid additional compensation of £62,000.
Along with this, 5,600 customer accounts experienced delays when they requested a switch to a cheaper energy supply and were therefore paying above the default level for longer than necessary. They paid £29,000 in compensation and paid an additional £200,000 into Ofgem's voluntary redress fund.
More recently, Shell were one of 18 suppliers named by regulator Ofgem for breaching price protection rules for customers trying to switch away.
Recent complaints history
As of Q1 2021, Shell is the poorest performing of the medium sized energy providers with 1,652 complaints per 100,000 customers. However, this does represent a significant fall compared to their spike of 3,039 in Q4 2018.
Also, while Shell's complaint figures may be the highest of the medium suppliers, many larger suppliers have worse records according to most recent figures, with only British Gas and Octopus Energy posting better ones.
So, while Shell aren't the worst performing of energy suppliers when it comes to recent complaints, they're above many of their competitors.
---
What else do Shell Energy offer?
With the backing of one of the major oil and gas companies in the world, Shell Energy are in a position to offer some extras to customers. As well as this, there's Shell's broadband service which is available at a discount to energy customers.
Shell Go+
All Shell Energy customers have access to Shell Go+ which offers savings on fuel and promises personalised offers, surprises and rewards for participation. Currently, these are the offers listed on their website for redemption at Shell Go+ service stations:
Money off fuel every 10 visits
10% off food ranges
10% off hot drinks
10% off Shell Helix Motor Oil, Shell Super Shine or Quick wash
Through the rewards programme, Shell Energy customers will also save 3% on fuel at Shell service stations. This is capped up to 60 litres of fuel per month.
Boiler cover
Customers can add boiler cover from HomeServe to their Shell Energy tariff from £8 per month, with four different levels of cover available:
| Level of cover | Includes | Price per month� |
| --- | --- | --- |
| Boiler Cover | Gas boiler, gas supply pipe and a boiler service | From £8 per month |
| Boiler and Central Heating | As above plus gas central heating | From £13.50 per month |
| Heating and Electrics | As above plus electrics | From £15.00 per month |
| Heating, Electrics and Plumbing | As above plus plumbing, drainage and water supply pipe | From £16.00 per month |
These options are similar to the coverage levels offered by other energy suppliers in their boiler care products, although we would always recommend customers shop around to see if they're getting the best deal on boiler cover (and whether it's already included in home insurance policies, for example).
Battery storage
Shell also have a partnership with sonnenBatterie to help homes with solar panels integrate with intelligent energy storage systems. Solar batteries are designed to combat the problem of most energy consumption being in the hours when solar energy isn't being produced, but, as premium pieces of technology, they require a significant financial outlay.
The sonnenBatterie is installed in over 40,000 premises worldwide and is touted as a flexible and modular system. If this sounds attractive, it's worth noting it's only available to existing Shell Energy customers in the form of their pilot Solar Storage tariff.
Smart home technology
Shell have a number of smart home items on sale via their website, including the Google Nest Learning Thermostat and equipment from tado.
Again, it may be cheaper to get these items elsewhere, but Shell do run promos on these and it could be a good way of getting some smart home tech cheaply.
Find out how to make a smart home and why you might want to.
Shell Energy broadband
As First Utility, Shell were one of the first companies to offer broadband services to new and existing energy customers. This has continued under the Shell brand with discounts available on broadband deals for Shell Energy customers.
These are their current broadband deals:
Package
Broadband
Monthly price
Upfront price
Contract term
Fast Broadband
11Mb average
£17.99
Free
12 months
Offer: Money off for 12 months
Superfast Fibre
38Mb average
£21.99
Free
12 months
Offer: Money off for 12 months
Superfast Fibre Plus
67Mb average
£23.99
Free
12 months
Offer: Money off for 12 months
They also have ultrafast packages available to customers in certain areas.
All the above are 18-month contracts, and there are call packages to go along with them if customers are interested - read our full review for more information.
---
Verdict: Is Shell Energy any good?
Shell Energy remain one of the biggest challenger energy suppliers, offering a selection of simply priced deals for a variety of fixed terms. They also have the backing of the oil and gas side of the business, allowing them to offer rewards in the form of Shell Go+.
They have steadily grown over recent years, having a 3.3% electricity market share in 2021 and a 3.6% share of the domestic gas market. These figures have grown from 1.1% and 1.3% respectively when they first entered Ofgem's figures in 2014.
Shell's focus on renewable electricity will be a winner for some customers, although it isn't the full focus we see with other suppliers offering greener gas as well. In addition, the discount broadband might be enticing for some customers, but we'd always recommend shopping around for separate deals to check if prices are as good as they seem.
Ultimately, Shell Energy is becoming a strong name in the UK energy sector and, while its market share might be falling behind other challengers, it's going nowhere.
Search for a cheap energy deal using our free comparison tool.