Scottish Power offer 100% renewable electricity to customers and offer a variety of services alongside traditional energy supply including appliance cover and electric vehicle charging.
Unlike some suppliers, they generate their own renewable electricity and are vocal opponents of greenwashing.
However, Scottish Power's tariffs are some of the most expensive on the market, so they won't be for everyone.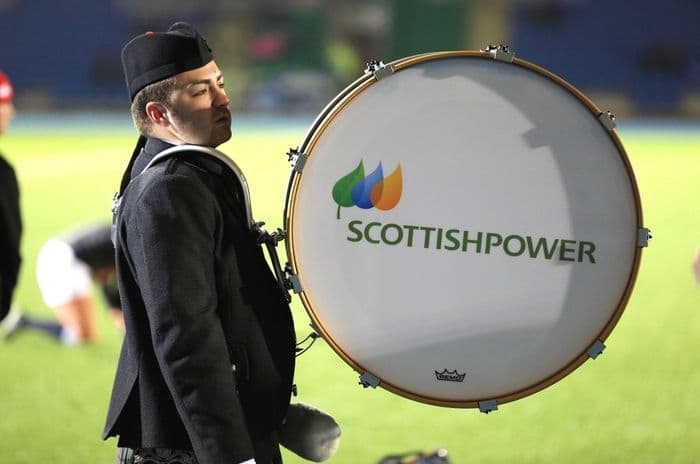 Credit: Mick Atkins/Shutterstock.com
---
At a glance
| What we like | What we don't like |
| --- | --- |
| Up to 36-month fixed tariffs available | One of the most expensive energy suppliers |
| Generate 100% of their own electricity | Uncertain customer service record |
| Good range of home cover services | Exit fees on some tariffs |
| Partnership with Cancer Research UK | |
---
Tariffs
At the time of writing, Scottish Power have three tariffs open when we run a quote: 3 Years Fixed Price Energy, 1 Year Fixed Price Energy and 2 Years Fixed Price Energy.
The 12-month and 24-month fixes can also be taken with boiler insurance - more information on this later.
Here are our quotes for a typical house in Yorkshire using Ofgem averages of electricity and gas per year:
Scottish Power prices
| | Tariff | Electricity | Gas | Exit Fees | Total per year |
| --- | --- | --- | --- | --- | --- |
| Scottish Power | 3 Years Fixed Price Energy | £714.93 | £5721.57 | None | £1,436.50 |
| Scottish Power | 1 Year Fixed Price Energy | £765.10 | £788.18 | £30 per fuel | £1,552.28 |
| Scottish Power | 2 Year Fixed Price Energy | £771.08 | £794.17 | None | £1,565.25 |
These different fixed tariffs give customers a good range of deals if they're looking to fix their tariffs - read more about fixed energy plans and whether they're a good idea.
It's also worth highlighting that signing up to the 2 Year Fixed deal means customers are supporting Cancer Research UK. To date, Scottish Power has raised £30 million for the charity. This tariff was previously known as a Help Beat Cancer tariff, but the name seems to have been scrapped for the sake of simplicity.
There's also a standard variable tariff (SVT) on offer from Scottish Power, but they seem to prefer not to advertise it and focus on fixed deals in quotes instead.
Customers taking a variable tariff from Scottish Power will usually find their prices at the top range of what is allowed under the SVT price cap administered by Ofgem. This is line with other major providers like British Gas and EDF Energy.
Why is my energy bill going up? We take a look at price hikes and why they occur.
Exit fees
Exit fees are charged by energy suppliers to stop customers switching before the end of their fixed deals. However, sometimes it's unavoidable if a customer is moving or a fantastic offer emerges from another provider.
Currently, Scottish Power charge exit fees of £30 per fuel on some tariffs, so a maximum of £60 can be levied if a customer switches to a new supplier early.
It's important to note, though, that customers can switch between Scottish Power tariffs without exit fees, offering an internal flexibility that might benefit customers.
The 2 Year Fixed Help Beat Cancer tariff doesn't have exit fees attached. Nor does the Standard Domestic variable tariff as it's a rolling commitment rather than a fixed deal.
Smart meters
Smart meters are being rolled out to all energy customers to help them control their energy usage, so Scottish Power customers can have a smart meter installed for free.
In fact, committing to have a smart meter installed is a requirement on some Scottish Power tariffs, so be sure to check the small print.
---
Price
If we look at Scottish Power in comparison to other energy providers, we see their fixed tariff prices are usually higher.
We've used the Choose energy comparison checker to see what deals we can get at our test property and here are the cheapest options available coupled with some tariffs from big name providers E.ON and OVO:
| Tariff | Monthly Estimate | Length | Exit Fees | Total |
| --- | --- | --- | --- | --- |
| Avro Energy Simple and Surge | £89 | 12 months | None | £1,062.47 per year |
| Together Energy Green Together Smart | £96 | 25 months | £40 per fuel | £1,151.72 per year |
| E.ON Next Online | £97 | 12 months | None | £1,153.43 per year |
| OVO Better Energy | £100 | 12 months | £30 per fuel | £1,196.59 per year |
| Scottish Power 3 Year Fixed Energy | £119.71 | 36 months | None | £1,436.50 per year |
From these quotes, we can see that Scottish Power's cheapest fix is more expensive than both the cheapest deals from challenger energy suppliers and bigger names.
Find out more about the cheapest energy suppliers and what tariffs they offer.
Overall, then, Scottish Power seems to be one of the most expensive suppliers around, but is there a reason for this?
Scottish Power point to their fuel mix as one of their major customer draws, so let's take a look at that next.
---
Fuel mix
Green electricity has become a cornerstone of Scottish Power's offering they now deliver 100% green electricity to customers having closed their coal-fired power stations and sold their gas plants.
As we explain in our guide to the greenest energy tariffs, generating their own green electricity means Scottish Power are a step ahead of many other providers.
They are also vocal critics of greenwashing where energy suppliers seem to inflate their green credentials - something the Government currently has under review.
However, Scottish Power are less vocal about the source of their gas, so it can be assumed they continue to use fossil fuels to serve gas customers.
In the years ahead, as the switch to electricity accelerates, Scottish Power may well be the greenest option available.
---
Customer service
Like other major energy suppliers, Scottish Power has had their fair share of customer service difficulties in over the years.
At the time of writing, Ofgem have a compliance case open with Scottish Power after expressing concern about their complaints procedures and the impact this is having on customers. They're particularly concerned about the number of complaints about the company that are being passed to consumer bodies.
While that remains ongoing, it's also worth noting Scottish Power were one of 18 energy suppliers criticised by Ofgem for breaching price protection rules in early 2021.
There is also one major historical issue to highlight too. Back in late 2014, Ofgem launched an investigation into complaints handling and late billing issues which were long running problems stemming from the implementation of a new IT system.
That resulted in a 12-day proactive sales ban in March 2015 and finally culminated in an £18m penalty following the 18-month investigation.
Scottish Power were roundly criticised by Ofgem for failing to identify and mitigate the risks of transferring their IT system and compounding the problem by dealing with the resulting disruption poorly.
Find out more about your rights as an energy customer.
Recent complaints history
Quarterly complaint figures show Scottish Power has been steadily improving their performance since they registered a peak of 3,581 complaints per 100,000 customers in Q1 2018. The most recent figures for Q2 2021 show complaints have reduced to 1,997.
This puts them in the middle of the pack for complaints among major suppliers, but far above Octopus Energy with 563 and Avro Energy, the energy provider with the lowest number of complaints in Q2 2021 with only 248.
So, customer service seems to have been moving in the right direction for Scottish Power customers, although their complaint levels are still higher than the likes of British Gas and several challenger energy providers.
Read more on which are the best and worst energy suppliers for customer service here.
---
What else do Scottish Power offer?
As a large energy provider, Scottish Power offer extra services to their customers that complement their energy supply. So, what extras can customers sign up to?
Boiler care
From £3.50 per month, Scottish Power customers can access boiler insurance policies and plans provided by Domestic & General. Customers can choose from basic Boiler Insurance or Boiler Maintenance & Support.
These are the options:
| Policy | Features | Monthly Price |
| --- | --- | --- |
| Boiler Insurance | Up to £1,500 in breakdown repairs, replacement boiler worth up to £750 if required, £99 excess, 12-month plan | From £3.50 per month |
| Boiler Maintenance & Support | All year round boiler maintenance with annual service. | From £10.50 per month |
At the time of writing, Scottish Power are including 12 months of the Boiler Insurance plan (£3.50 per month) as an extra worth £42 alongside their 1 Year and 2 Year fixed deals.
Be careful when looking at the quotes, but if the deal is genuinely free for 12 months, it's worth taking alongside a tariff. Just remember to cancel after 12 months if you're no longer interested in it.
Plumbing, drains and electrical
Scottish Power work with AXA to provide plumbing, drains and electricals. Prices start from £3 per month for the most basic Plumbing & Drains Emergency Insurance which includes emergency repairs and 5 call outs per year.
Policy alternatives include Plumbing, Drains & Electrical, Electrical only, and a Plumbing & Drains option which also includes repairs for washing machine and dishwasher pipes, leaking taps, overflow pipes and internal property stop taps.
Here are the options:
| Policy | Features | Monthly Price |
| --- | --- | --- |
| Plumbing & Drains Emergency Insurance | Emergency drainage repairs and internal plumbing repairs | From £3.25 per month |
| Plumbing, Drains & Electrical Emergency Insurance | Electrical wiring repair and emergency drainage repairs | From £6.75 per month |
| Electrical Emergency Insurance | Electrical wiring repairs | From £4.50 per month |
As with all cover of this type, it's worth checking whether it's already included in home insurance policies a household may have.
Kitchen appliance care
Scottish Power also offer a range of cover plans for kitchen appliances. These provide maintenance and support, reducing the prospect of breakdown.
These are the current price lists per month:
American style fridge freezer - £9.50
Cooker - £6.50
Dishwasher - £7.50
Fridge & freezer care - £6.50
Tumble dryer - £6.50
Washing machine - £7.50
Over a year, these fees will add up, and it's worth checking whether any of these elements are covered under existing insurance policies. However, they do offer cover options if there's a particular appliance to cover.
Electric vehicle charging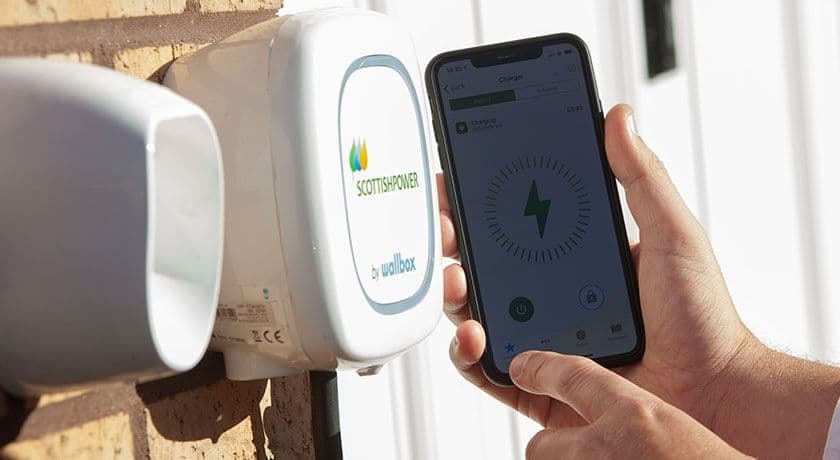 Scottish Power's electric vehicle charger outlet. Source: Scottish Power.
Scottish Power combine a Smart EV Home Charger with a Smart Power EV Tariff.
The Charger costs £899 to install but customers may be eligible for an OLEV grant which would offer a £5350 discount in England and Wales and bring the price down to £549.
Although the Charger can be purchased on its own, it also works alongside Scottish Power's Green Electric Vehicle two-year fixed tariff.
Customers must already be a Scottish Power customer to upgrade to this tariff and a range of Time of Use tariff options are available:
Evening Plan (off-peak 19:30 to 00:00)
Day Plan (off peak 07:30 to 14:30)
Overnight Plan (off peak 00:00 to 10:30)
Weekend Plan (off peak Sat and Sun)
EV Plan (00:00 to 05:00)
Find out more about how to save money on electric car charging.
---
Verdict: Are Scottish Power any good?
Scottish Power aren't the biggest of the major energy suppliers in the UK, but they've retained a strong presence in the energy market while other suppliers have seen theirs shrink.
While customer numbers took a bashing in July 2017 when households switched away due to electricity price hikes, this was counteracted by being appointed as Supplier of Last Resort (SoLR) when Extra Energy collapsed in November 2018.
At the time of writing, Scottish Power has a 9.1% share of the electricity market and a 7.8% share of the gas market in the UK.
Along with supplying energy, Scottish Power offer extras that allow customers to combine other services, and electric vehicle owners may be interested in the charger and tariff combo.
Their recent complaints record seems to have settled compared to a few years ago, though they're neither the best performing or the worst performing.
The fixed tariffs they advertise are clearer than they used to be, but it can't be denied they are one of the most expensive energy suppliers on the market.
Overall, Scottish Power is a comprehensive energy company with a focus on producing and distributing green electricity - and that may be the ultimate selling point for some.
Compare cheap energy deals with the Choose free comparison tool.