SCOTTISH Power have agreed to pay £18 million for continued customer service failings following on from the introduction of a new computer system some years back.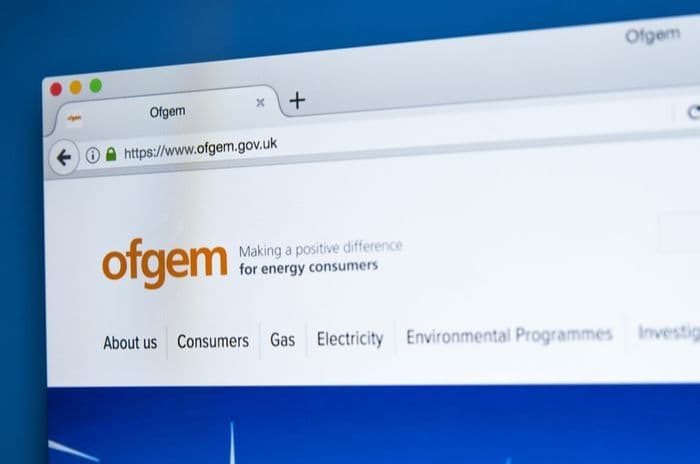 Credit: chrisdorney/Shutterstock.com
The regulator found that customers were treated unfairly, with serious billing issues being compounded by problems getting in touch with the supplier and poor handling of complaints.
The penalty is the third largest ever issued by Ofgem, reflecting the seriousness of the issues the regulator found during their 18-month investigation into the energy supplier; Npower hold the record after agreeing to pay £26 million in light of their customer service issues.
Speaking on BBC Radio 4's Today programme (from 1hr 10min), Ofgem chief executive Dermot Nolan said that since the regulator became "more active in fining companies", they'd seen the number of complaints against them beginning to drop.
Smarter billing, eventually
Scottish Power's woes have all been caused by the move to a new computer system. The £200 million upgrade was supposed to allow them to offer smarter services and other benefits, such as online refunds and payment adjustments.
"Since we have been more active in fining companies... we have seen a significant fall in total complaints for the big energy companies"
Dermot Nolan, Ofgem
However, Ofgem's investigation found that "Scottish Power did not do enough to identify and then fully mitigate the risks of disruption before they occurred" - and that the disruption that resulted was dealt with incredibly poorly.
Along with hundreds of thousands of late bills, Scottish Power also sent out numerous inaccurate bills - and in some cases, according to Citizens Advice, began debt collection proceedings for bills that were being paid, or didn't even exist.
Then when customers tried to get in touch with the company, those calling were left waiting "an unreasonable length of time", with reports of being on hold for half an hour at a time, and many callers simply giving up.
In Ofgem's official statement, Dermot Nolan is quoted as saying that energy companies are obliged to treat their customers well "at all times, including while new systems are put in place."
He was much more blunt when speaking to the BBC, saying it was a supplier's job to "get the IT right. If they produce poor service, I don't care why; we will be pursuing any company that doesn't provide quality of service."
So what of Mr Nolan's assertion that the energy companies appear to be learning from the much heavier penalties, and that complaints are dropping as a result?
Complaints down, switching up
Ofgem say that during 2015 there were around 4.7 million complaints made by customers of the six largest energy suppliers - down 24% on the number of complaints made during 2014.
It's possible that the bigger companies are indeed learning from their errors, and from seeing Ofgem levy tougher penalties when they fail to meet the standards expected of them.
But it's also possible that the number of complaints about those larger suppliers has dropped because more of us are moving to smaller energy companies.
According to the regulator, the number of people switching last year was at its highest for four years: in 2015, some 6.1 million of us changed supplier, up 15% on 2014. More than 40% of those switches were to one of the many independent companies.
This is good news of a sort - it means the switching message is getting through. Those who aren't happy with the level of service they're receiving, or with the prices they're expected to pay, are voting with their feet.
Rapid increase
The worry is that some may be going from the frying pan to the fire.
We reported in December last year how Citizens Advice had received record complaints about one of the biggest small providers, Co-operative Energy.
They're missing from Ofcom's graphs covering independent suppliers - but the next worst of the smaller companies, according to Citizens Advice, is there.
Extra Energy have gone from reporting just 153 complaints per 100,000 customer accounts in Q2 2014 to 1,372 in Q4 2015 - the third highest among the smaller companies included in Ofgem's figures, although considerably lower than the rather alarming figure quoted by Citizens Advice.
However, as Ofgem collate and report the complaints as the suppliers report them, it's possible many of those who complain to Citizens Advice manage to resolve their issue without making things formal with their supplier.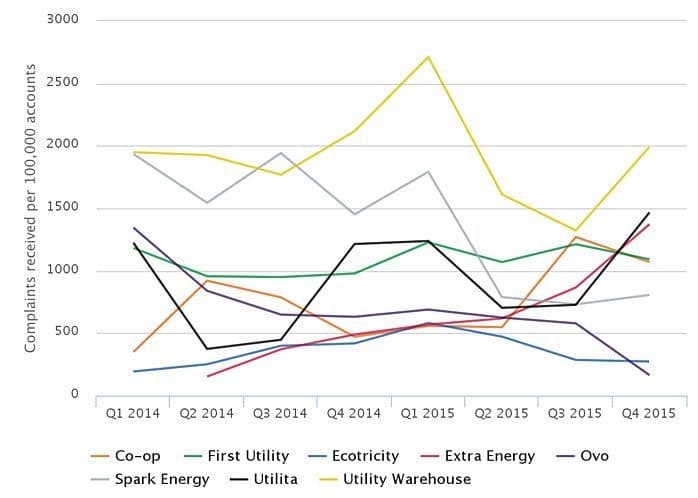 SOURCE: Ofgem
And while the number of complaints about the Big Six has dropped significantly - from more than 6.5 million in 2014 - the number of complaints about the smaller companies included in Ofgem's statistics rose by more than a third.
That said, during 2015 only one of the smaller companies came anywhere near to receiving the number of complaints their bigger rivals manage: Utility Warehouse reported an average of 1,909 complaints per 100,000 customers per quarter.
Over the same period the best of the Big Six - by their own complaints figures - was British Gas, who received an average of 2,353 complaints per quarter.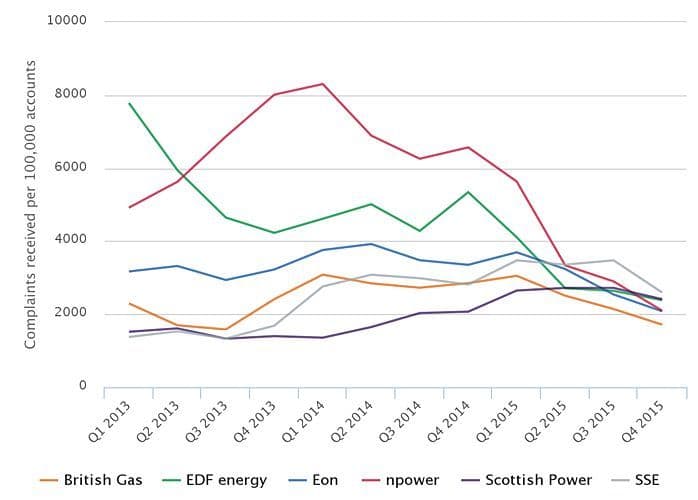 SOURCE: Ofgem
It could well be that the Big Six are learning from their previous mistakes - and in the case of Scottish Power and Npower, recovering from the issues that caused them in the first place.
But given the rapid growth of both the independent suppliers and the number of complaints being made about and to them, it's possible we're going to see a new generation of suppliers having to learn the hard way.