Installing a home charger and signing up to an EV tariff is one of the cheapest ways to charge your EV.
However, there are comparatively few EV tariffs open to new customers at the moment, so EV owners have limited choices.
Public charging points and networked chargers can offer a good alternative to home charging, although these can become costly.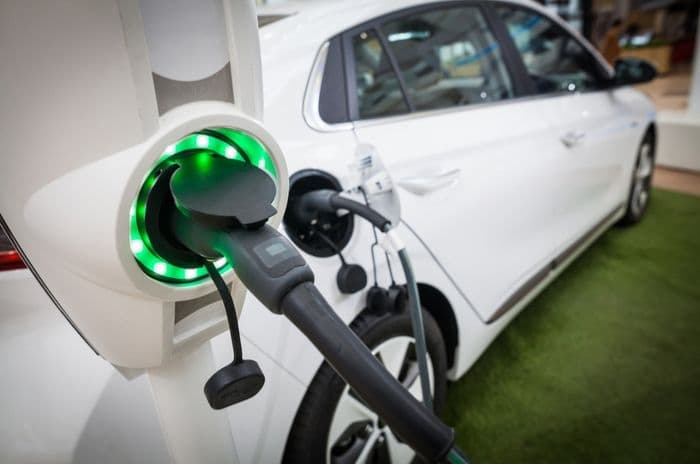 ---
Why choose an EV tariff?
In the past, the only way to save money on electric vehicle charging was by making use of the Economy 7 or Economy 10 tariffs, charging overnight when electricity was cheapest.
However, many suppliers are now introducing targeted electric vehicle tariffs (EV tariffs), to make it cheaper to top up your battery.
Most EV drivers who have an off-street parking location charge their vehicles at home. It's far more convenient to charge the vehicle overnight while it's not in use than it is to use a filling station charge point or other public connection.
While it is possible to charge your car from a standard three pin plug with an EVSE cable, this should only be used as a last resort.
A dedicated home charging point is a preferable solution, and comes with a number of key benefits, including:
Faster charging speeds
Built in safety features
Weatherproofing
Access to EV tariffs
You could potentially add value to your home by installing a home charging point too. With more households adopting EVs, the possibility of buying a home with a charger already built in could be appealing.
Where to get an EV charger
Many energy companies have their own partnerships that enable customers to buy electric car chargers directly from them and have them installed.
For some tariffs, specific chargers may need to be installed to meet the terms of the contract.
However, these chargers can vary in price, so it can be worth shopping around.
Here are some examples of chargers currently available from UK energy providers:
| | Charger name | Cost |
| --- | --- | --- |
| British Gas | Hive EV Charging | From £1,149 |
| EDF | Pod Point 7kW EV smart home charger | From £949 |
| Shell Energy | Shell Recharge | From £969 |
Other suppliers have multiple partnerships and give customers a choice of chargers to purchase from their website, sometimes with a discount or voucher included.
Until 31 March 2022, homeowners could benefit from the Electric Vehicle Homecharge Scheme (EVHS) which subsidised new installations of chargers and made them more affordable.
This has been replaced by the EV chargepoint grant which is focused on residential installations for renters and owners of flats.
There's more information about the EV chargepoint grant on the Government's website.
---
Who offers EV tariffs?
Many energy providers offer dedicated electric vehicle tariffs, although a number of them were unavailable at the time of writing due to the ongoing energy crisis.
EV tariffs are often only available to existing customers, so we may need to sign up with a supplier first and then move over to an electric vehicle tariff later.
It's important to check whether an energy company is offering an EV tariff now or plan on re-opening theirs in the future.
This will usually need to be done manually by contacting them directly.
There are currently just two open EV tariffs on the market. These are for electricity usage but customers will be expected to take a gas tariff from their supplier (if appropriate):
| Supplier | Tariff name | Cost | Other benefits |
| --- | --- | --- | --- |
| Octopus Energy | Octopus Go | Off-peak: 7.5p Peak: Regional rate | Off peak from 12:30am to 4:30am |
| OVO | OVO Drive | Anytime: Regional rate | No-off peak period |
While the Octopus Go tariff has a peak and off-peak rate, the OVO Drive tariff operates with a single rate. The actual rate depends on where a customer is in the country in the same way that Octopus's peak tariff is regional.
These variations make it difficult for customers to compare tariffs, and it will be even more complicated when tariffs from other suppliers return to the open market.
Here are some of the EV tariff names to watch out for:
British Gas - Electric Drivers
Ecotricity - Green Electricity + EV
EDF - GoElectric EV
E.ON Next - Next Drive
Good Energy - Green Driver
Scottish Power - Green Fixed + Electric Vehicle
Shell Energy have also previously had an EV tariff available, while E.ON had a renewable tariff before they migrated their customers over to the new E.ON Next platform.
If you're an existing customer with one of these suppliers, it's worth contacting them directly to see if their EV tariff is available or likely to be sometime soon.
It may also be worth pointing out that you will have to switch energy suppliers otherwise to ensure cheaper charging for your EV.
Smart meters
One pre-condition of most EV tariffs is the requirement to have a smart meter fitted in the home.
Smart meters allow energy companies to track how much electricity is being used at specific times, meaning the time-of-use tariffs utilised by EV owners need them to work properly.
So, getting a smart meter installed may be another step in the road to getting on an EV tariff.
Again, it's something to check with an energy supplier before you commit to switching to them, especially if the supplier is having any delays with their smart meter rollout plans.
Limitations
It's important to be aware that not everyone can benefit from an EV tariff. For example, none of these suppliers will offer an EV tariff to those on prepayment meters.
Also, you can only secure an EV tariff if you have a 100% electric vehicle. Plug in hybrids are not eligible.
In some cases, the EV tariff is not always the cheapest option. Depending on your energy use for other applications, non-EV fixed price deals can sometimes work out to be cheaper.
Whenever you're considering changing your tariff, it's important to shop around and compare all the offers available to you so you get the best deal for your needs.
---
Public EV charging
While the cheapest way to charge an electric vehicle is at home on a cheap EV tariff, there are other methods that drivers can use including:
Workplace charging points
Public charging points provided by councils
Supermarket and retailer charging points
Charging point networks
Charging networks are becoming more common, allowing customers to charge their EVs at any charger across the network, sometimes at a discount when a subscription fee is paid.
Zap-Map keeps track of all the EV charging points in the UK.
Their data for the first half of 2022 found the following networks had the largest footprints:
| Network | Number of chargers | Market share |
| --- | --- | --- |
| ubitricity | 5,463 | 16.7% |
| Pod Point | 4,299 | 13.2% |
| bp pulse | 2,718 | 8.3% |
| ChargePlace Scotland | 1,904 | 5.8% |
| Source London | 1,507 | 4.9% |
In total, Zap-Map found there were over 30,000 chargers in the UK as of 30 June 2022, although fewer of the fastest chargers were available:
Slow - 8,184
Fast - 18,461
Rapid - 4,215
Ultra-rapid - 1,803
Charging outside the home, then, can still be a lottery as far as finding a charger goes, and EV owners need to have a solid plan in place to charge their vehicles using public or networked chargers.
How much does electric vehicle charging cost?
The costs of charging an EV on a public or networked charger vary depending on the model of car involved.
Networked chargers are generally made up of two fees:
Connection fee per charging session
Price per kWh
Here are the current fees for the top five charging networks mentioned above using on a pay as you go basis:
| Network | Connection fee | Price per kWh | Notes |
| --- | --- | --- | --- |
| ubitricity | 35p | From 32p | |
| Pod Point | From free | From free | Many in supermarket and other retail locations |
| bp pulse | From free | From 45p | Pay 20% less with a subscription |
| ChargePlace Scotland | From free | From free | Requires app or access card |
| Source London | From free | From 59p | Cheaper as a member |
For customers in areas where there is a wide public network of chargers as in Scotland, it may be cheaper to charge an EV on the go or while out and about.
However, such networks are still hit and miss, so it's always a good idea to have a back-up plan.
---
Other tips to keep electric vehicle charging costs down
Electric vehicle owners can take steps to minimise the impact of charging your car on your finances.
Here are some top tips for cheaper electric vehicle charging:
Keep your battery cool: Most electric vehicles have a lithium-ion battery, which can be damaged if it is allowed to overheat. Avoid charging in direct sunlight if you can and store your electric car in a car port or garage if possible.
Avoid the last 20%: Like boiling water, the first 20% and last 20% take the most energy to overcome. Avoiding running your battery down past the last 20% or charging it beyond 80% full to keep costs down. The only exceptions to this rule are cars with nickel metal hydride batteries, as these types can form a 'memory'. As such, they should be fully charged every time.
Use a smart charging app: Modern batteries and electric vehicle systems are more sophisticated than simply pumping in power until its full. Use a compatible app to manage your charging the smart way, and to keep your battery in the best condition possible.
Utilise free charging points: Research where you can charge up for free. If you're lucky and your employer has installed free access points, plan your journeys to top up your battery while you're at work. Some supermarkets and car parks also allow free charging for the duration of your stay.
Consider renewable energy: Having a free source of energy can drive down your EV charging bills considerably. Installing solar PV panels or other renewable technology will be one of the greenest and cheapest solutions out there.
Maintain your vehicle: A hybrid electric vehicle with an efficiently running engine will be much less wasteful on the battery. Stick to the manufacturer's recommended servicing intervals to maintain maximum efficiency.
EVs are becoming more sophisticated with every generation of new vehicles, but the basics of having an electric car and charging it cheaply remain the same.
---
Summary: Finding the right charging options
Figures from Zap-Map show there are over 510,000 battery-electric cars in the UK, with a further 400,000 plug-in hybrids as of June 2022.
As EVs become more common in the push towards net zero, there's going to be more demand for public charging points and so more households will need to install home chargers to ensure they can charge their vehicles overnight.
The tariffs offered by energy suppliers are a crucial part of the equation, and hopefully more of these will reopen to new customers soon.
In the meantime, remember the following points about EV charging at home:
You'll need a charger installed either through your energy supplier or another party
You'll need a smart meter to monitor usage
You'll usually need to sign up to a supplier's standard tariff and transfer over
You'll need to work out whether flat-rate or two-rate EV tariffs are the best option for your usage patterns
Choosing an electric vehicle can be a good decision both for the planet and for your wallet. Make sure you get the maximum benefit from your investment by choosing the best tariff for your needs.
How much could you save on your energy bill?