The current scheme for exporting electricity is called the Smart Export Guarantee (SEG) which replaced the feed-in tariff (FIT) scheme in 2020.
Anyone who has an existing FIT agreement is guaranteed a fixed rate per kWh until the end of the contract and should be able to switch suppliers.
With the average cost of a solar PV installation around £6,500, some households may struggle to see financial benefits over the lifetime of the panels, although other environmental benefits may tip the scales.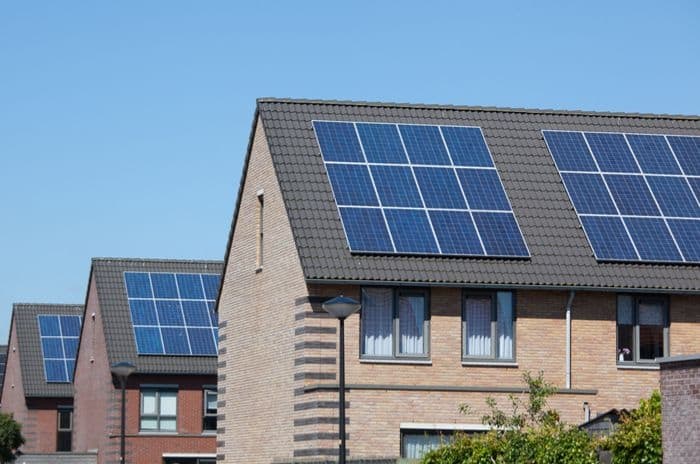 ---
Solar panels for homes
Installing solar panels on our home can help us save money on our bills as well as increasing the amount of renewable energy going into the National Grid (and earning us money for selling that excess energy).
Solar panels have been subject to two Government schemes to pay householders for energy:
The feed-in tariff (FIT) - Closed to new applicants in March 2019
The Smart Export Guarantee (SEG) - Active since January 2020
We look at these schemes and their differences below as well as asking whether installing solar panels is still worth it.
---
What was the feed-in tariff?
The feed-in tariff was introduced in April 2010 as a way of encouraging households to install renewable and low-carbon energy generators on their homes.
It included solar panels and wind turbines among other low-carbon solutions and the FIT itself is made up of two elements:
A generation tariff that provides payment for the total amount of electricity generated
An export tariff that provides payment for the units of electricity that is exported to the National Grid (assumed to be 50% of the total amount generated)
The generation tariff rate was set at 43.3p for every kWh of energy generated by domestic solar panels when the FIT first launched in 2010.
However, due to higher uptake than anticipated, degression was introduced in 2012 and the tariff rate dropped to 21p per kWh.
It meant that the length of time it would take customers to recoup their expenditure on solar panels increased from 10 years to 18 years for households installing solar panels costing between £10,000 and £12,000 on their home.
The rate was slashed repeatedly, with the tariff final rate for solar when the scheme closed to new applicants set at just 3.79p per kWh, less than 10% of the original rate.
Customers who signed up to a specific FIT rate were guaranteed to stay on that tariff for 20 years (reduced from 25 at launch), but customers who installed solar panels on their properties later continue to get a significantly lower return than those who installed them at the peak in 2010-2012.
Feed-in tariff suppliers
Electricity companies with more than 250,000 customers are required to offer a feed-in tariff.
Here were the mandatory licensees for the year to 31 March 2022:
Avro Energy (now collapsed)
British Gas
Bulb Energy
EDF Energy
E.ON
Npower (now migrated to E.ON)
Octopus Energy
People's Energy (now collapsed)
Scottish Power
Shell Energy
SSE Energy Services (including OVO)
Utilita
Utility Warehouse
These mandatory licensees are joined in Ofgem's list by voluntary licensees including some green tariff specialists like Ecotricity and Good Energy.
Switching when you have a feed-in tariff
Although the FIT has closed to new applicants, that doesn't mean households are stuck with their existing energy provider if they don't want to be.
There are two options:
Switch your energy supply and keep the FIT with the existing supplier
Switch both your energy supply and the FIT
To switch both elements, customers will need to choose a supplier who is on Ofgem's list of mandatory or voluntary licensees
There's no difference in the FIT rate when switching to one of these providers as the rates are set by Ofgem and all licensees are required to pay them.
With that in mind, customers may prefer to leave their FIT tariff where it is, but existing providers may push for customers to take their FIT tariff with them.
If a customer switches to a smaller energy provider who isn't a voluntary licensee, the existing supplier has an obligation to continue making FIT payments and customers can make a complaint against the provider if they refuse to do so.
Learn more about switching energy supplier and how to find the right energy deal for you.
Moving home with a feed-in tariff
If a customer sells their home with solar panels attached, the FIT will usually pass to the property's new owner.
They will continue to receive FIT payments based on the life of the rate (up to 20 years) in the same way that the previous homeowner did.
However, solar panels and the FIT arrangements must be flagged up at the point of sale to give the buyer a full overview of how long they can expect to be paid and what the rate is.
Some sellers may prefer to try and take their solar panels with them and try to move their FIT to a new property.
While this is theoretically possible, many contracts don't support this type of move and installing the panels on a new home may be fraught with difficulty.
---
What is the Smart Export Guarantee?
The Smart Export Guarantee (SEG) was introduced in 2020 as a replacement for the FIT.
It covers the following types of installation up to a capacity of 5MW (or 50kW for micro-CHP):
Solar PV
Wind
Micro combined heat and power (micro-CHP)
Hydro
Anaerobic digestion (AD)
The one that most homeowners are going to be interested in is solar, so we'll concentrate on that.
Installing solar panels and signing up to an SEG tariff is unlikely to be anywhere near as profitable as FIT rates were just a few years ago for two reasons:
SEG only pays for excess electricity that is put into the National Grid rather than all electricity generated as the FIT did
Each company sets their own SEG tariff, and this isn't backed by the Government, so tariffs can vary wildly
All energy suppliers with more than 150,000 customers are required to offer a Smart Export Guarantee tariff and a couple have voluntarily decided to offer them.
Here Is Ofgem's SEG supplier list as of March 2022:
British Gas
Bulb
Cilleni Energy Supply (voluntary)
E
E.ON
EDF
ESB
Octopus Energy
OVO Energy
Pozitive Energy (voluntary)
Scottish Power
Shell Energy
Smart Pay Energy (voluntary)
Utility Warehouse
Utilita
This incorporates all the big names and smaller providers who have substantial customer bases.
SEG tariffs
As SEG tariffs are set by energy companies, there can be huge differences across the industry and it's worth shopping around to find the best SEG tariff at any given time.
Customers might also find that suppliers offer better terms to existing electricity customers rather than new ones because of the set-up costs involved.
This is something that both Octopus Energy and Bulb do, for example, and at the time of writing there was a 3.4p per kWh difference in the price for existing Octopus customers compared to SEG-only customers.
Note: Some SEG tariffs seem to be better value but require a specific installation and so they might not be economical for all.
Is a SEG tariff worth it?
The benefits of a Smart Export Guarantee tariff depend on each individual household and the rate they sign up to.
Factors include:
How much electricity a household exports
The SEG tariff rate
The time of export (for time-variable tariffs)
Unfortunately, this means there isn't one simple analysis we can do to work out whether individual customers will benefit from a SEG tariff - and it also depends how much we paid for the solar installation in the first place.
It's important to remember, though, that exporting electricity to the National Grid is only one benefit of installing solar.
Many customers may find that lower electricity bills and the environmental impact of switching to renewables are more compelling reasons to install solar.
---
Are solar panels still a good investment?
The latest figures from the Energy Saving Trust suggest the average domestic solar PV installation costs around £6,500.
Several elements affect how much solar panels cost including:
Size of installation
Panels or tiles
Whether panels are integrated
Ease of installation
Access arrangements
The only way to get a clear idea of how much solar panels will cost is to get an estimate for a specific property.
Many households will understandably see £6,500 as a huge outlay, so it's worth looking more closely at whether solar panels can save you money.
Savings from solar
Regardless of the benefits of signing up to a Smart Export Guarantee tariff, there are other financial benefits to installing solar panels - the possibility of lower electricity bills.
The Energy Saving Trust have analysed the benefits for specific types of households in different parts of the country and worked out how long it would take to break even on a solar installation depending on when residents are at home using electricity.
Here are their payback calculations for a home in London with and without the SEG:
| | With SEG | Without SEG |
| --- | --- | --- |
| Home all day | 13 years | 16 years |
| Home in mornings | 15 years | 20 years |
| Home in afternoons | 16 years | 22 years |
| Out until 4pm | 20 years | None |
| Out until 6pm | 23 years | None |
So, customers who spend a lot of time outside the home and therefore aren't using much of the electricity they generate are unlikely to break even on their investment.
Estimates from the Energy Saving Trust say most households will use between 15% and 25% of the energy they generate, although this varies depending on how many people are at home during the day, whether they have an electric vehicle and the type of electrical heating the home has.
---
Summary: Solar still has benefits
The scrapping of the feed-in tariff system and the move towards Smart Export Guarantee tariffs managed by energy companies has led to a significant decrease in the level of returns customers can expect to see on their solar panel installations.
Correspondingly, fewer customers are seeing solar panels as a worthwhile investment, however looking at the combined benefits of solar installations gives a more favourable picture.
Installing solar panels can:
Generate income for households through the Smart Export Guarantee
Save money on home electricity bills
Use more renewable energy instead of non-renewables
Lower our carbon footprint
There are definite benefits to solar, yet the Government's slashing of subsidies and favourable tariffs mean that fewer households are signing up.
Small-scale domestic solar is an important way for individual homeowners and landlords to contribute towards the effort to reach net zero by 2050.
It could be that any changes of Government over the coming decade could re-incentivise solar energy and make these installations more appealing and affordable again.