As well as offering 100% renewable electricity as standard, OVO also allow customers to upgrade for extra green energy.
They also offer cashback on credit balances, allowing customers to save money while they keep their account in credit.
Although their tariffs are straightforward and competitive, it's worth noting they have had some customer service issues and their complaint levels are high.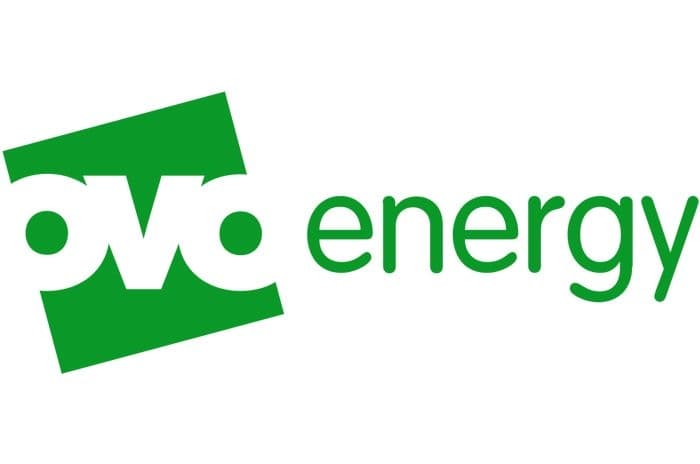 ---
Who are OVO Energy?
OVO have been around since 2009, growing their customer numbers steadily from a standing start.
Thanks to their acquisition of SSE which completed in early 2020, they leapfrogged most of the Big Six to become the UK's second biggest energy supplier behind British Gas.
As of Q2 2020, they have a 12.7% share of the gas market and a 15.3% share of the electricity market in the UK.
Along with acquiring SSE's customer base, OVO have also benefited from being appointed as Supplier of Last Resort (SoLR) by Ofgem when other energy companies collapsed.
When Spark Energy collapsed in November 2018, OVO took on around 290,000 customers. Economy Energy collapsed in January 2019 and OVO gained another 235,000 customers through the SoLR process.
This means they were a major beneficiary of the spate of energy supplier collapses in 2018 and 2019, and it brought their customer numbers to around 1.5 million, even before they moved to acquire SSE's 3.5 million customers.
---
What tariffs do OVO Energy offer?
OVO currently have three main tariffs available for customers: Better Energy, 2 Year Fixed Energy and Simpler Energy.
Better Energy is a 12-month fixed tariff that protects against price rises. Their 2 Year Fixed Energy tariff does the same for 24 months.
Simpler Energy is a rolling variable plan which OVO say is perfect for those moving home soon or those who are unwilling to commit to lengthier contracts. As expected, the rates on this tariff are higher and are subject to change depending on the gas and electricity market.
Variable tariffs are also subject to the default tariff price cap, so energy companies won't be able to charge over a set rate for a unit of energy. Here's more detail about the energy price cap.
There is another tariff on offer to new customers who don't already have a smart meter in their property: Better Smart. Households signing up to this deal must commit to having a smart meter installed within three months - learn more about smart meters.
Using the current gas and electricity charges on OVO's website, here are the estimates for a typical suburban home in Yorkshire. Calculations are based on Ofgem's average annual usage figures of 2,900 kWh for electricity and 12,000 kWh for gas:
Tariff
Electricity
Gas
Standing Charge
Total
per year
Ovo Energy
Better Smart
12 months fixed
£427.46
£301.20
£142.53
(dual fuel)
£871.19
Ovo Energy
Better Energy
12 months fixed
£455.01
£328.80
£182.68
(dual fuel)
£966.49
Ovo Energy
2 Year Fixed Energy
24 months fixed
£457.62
£345.60
£192.16
(dual fuel)
£995.38
Ovo Energy
Simpler Energy
Flexible rolling
£479.08
£376.80
£192.31
(dual fuel)
£1,018.19
Remember, these are estimates based on average usage and so shouldn't be taken as an indication of how much a household will pay. When searching for energy deals with our free comparison tool, putting in the details of your address and requirements will get you an accurate quote from suppliers in your area.
As an example, here are quotes from three other popular suppliers alongside OVO's 12-month fix for the same address:
Tariff
Electricity
Gas
Standing Charge
Total
per year
Ovo Energy
Better Energy
12 months fixed
£455.01
£328.80
£182.68
(dual fuel)
£966.49
Scottish Power
Online Exclusive 1 Year Fixed
£446.02
£339.60
£139.94
(dual fuel)
£925.56
Octopus Energy
Octopus 12M Fixed
£450.05
£335.16
£151.11
(dual fuel)
£936.33
EDF
Energy Direct
12 months fixed
£508.95
£365.42
£154.28
(dual fuel)
£1028.65
Scottish Power and Octopus Energy also offer 100% green electricity, while EDF is focused on nuclear energy.
Find out more about the fuel mix of different energy suppliers.
OVO Interest Reward
There's something else OVO offer which is unconventional among energy suppliers: they offer interest on credit balances with the OVO Interest Reward.
This is included in all their tariffs and offers 3% interest in the first year, 4% in the second year, and 5% in the third year along with every year going forward.
OVO call this a reward for sticking with them, and it could be a tempting incentive for customers who like to keep credit balances to make sure they're never in energy debt.
Exit fees
OVO's fixed contracts come with early exit fees of £30 per fuel, so leaving a dual fuel tariff before the end of the contract would cost £60. This is fairly standard across the industry, but it's something to bear in mind if your circumstances are likely to change before the end of a fixed term.
Wondering how to move home with a fixed energy plan? This guide has more information.
---
How green is OVO Energy?
All the tariffs detailed above come with 100% renewable electricity as standard.
This replaced a previous commitment to provide 50% of green electricity to all customers from October 2020, so all customers signing up after that date will receive 100% green electricity.
OVO's renewable electricity is backed by Renewable Energy Guarantee of Origin certificates (REGOs). This means they buy certificates from energy generators to prove green energy was put onto the National Grid.
Read more about green energy plans or find more information about the best green energy tariffs.
OVO Beyond
For customers who want to go even greener, OVO offer an add-on for £6 that includes extra features:
100% carbon-neutral energy (through Renewable Gas Guarantees of Origin (RGGOs) and carbon offsetting
5 extra trees planted in UK schools and communities each year
Personalised insights called Energy Spotlights that work with a smart meter to make recommendations on cutting energy usage
Protecting natural habits with carbon offsetting projects around the world
Over the course of a 24-month fixed deal, OVO Beyond would cost an extra £144. It's not a small amount but households looking for a greener alternative to carbon heavy gas consumption may be willing to part with it.
At the time of writing, OVO offer the OVO Beyond upgrade free for the first three months.
---
What is OVO's customer service like?
If you're thinking of switching energy provider, it's worth reading reviews not only of their tariffs and services but also their customer service record.
OVO suffered a couple of public mishaps 2020, partly stemming from their acquisition of SSE.
So, in August 2020, they paid a fine of £1.2m because SSE missed their smart meter installation targets in 2019.
More seriously, in January 2020, OVO agreed to pay a total of £8.9m in redress due to prolonged communications and billing problems dating back to 2015.
Several failings were identified:
Over 500,000 customers received inaccurate statements
10,000 customers were not provided with statements of their renewal terms
More than 25,000 prepayment meter customers paid above the price cap
OVO underestimated consumption of energy during a winter so some customers were either overcharged or undercharged
Ofgem were also critical of the fact that OVO knew of the issues and yet did not self-report and were slow to fix the problems.
Complaints Handling Survey 2018
OVO were one of the suppliers analysed in Ofgem's bi-yearly complaints survey as a medium-sized supplier alongside the Big Six, First Utility, Utility Warehouse, Utilita, Co-op Energy and Opus. This means we have some detailed information from that survey about OVO's performance, but remember this report was published in June 2018, so many things may have changed, especially since the acquisition of SSE was completed in early 2020.
The key takeaways from the survey are in the areas of complaints considered resolved, their satisfaction with the handling of the complaint and the ease of registering the complaint. OVO struggled on two of these measures.
When respondents were asked whether they considered their complaints to be resolved by OVO, 48% said yes while 49% said no. This was lower than the average across all the surveyed suppliers which was 58% yes and 37% no.
Only two companies had lower figures for this measure than when the survey was last undertaken in 2016 - OVO was one of them.
On the satisfaction measure, OVO again fell short of the industry averages. Only 22% were very or quite satisfied with the handling of the complaint, while 22% were quite dissatisfied and 43% were very dissatisfied. This contrasted with the 32%, 18% and 39% across the board, putting OVO below their competitors for satisfaction.
When looking at the ease of registering a complaint, however, OVO are above the industry averages with 64% finding it quite or very easy and 26% finding it quite or very difficult. This contrasted with the 57% and 34% average.
One interesting finding to come out of this survey is that OVO had more complaints about pricing (15%) than the industry average (8%).
Again, it's worth remembering these results are a little out-of-date, but they do help explain why Ofgem decided to open a compliance case against OVO which resulted in the action we've already mentioned above.
OVO's recent complaints history
As we might expect from an energy supplier who has taken on so many customers in a short space of time, there's been an uptick in complaints activity over the past few years.
Until the end of 2019, they were classified as a medium-sized supplier and were featured in Ofgem's complaints table alongside other challenger suppliers.
As the graph below shows, OVO's complaint levels steadily rose during 2019, although this was true of several energy companies.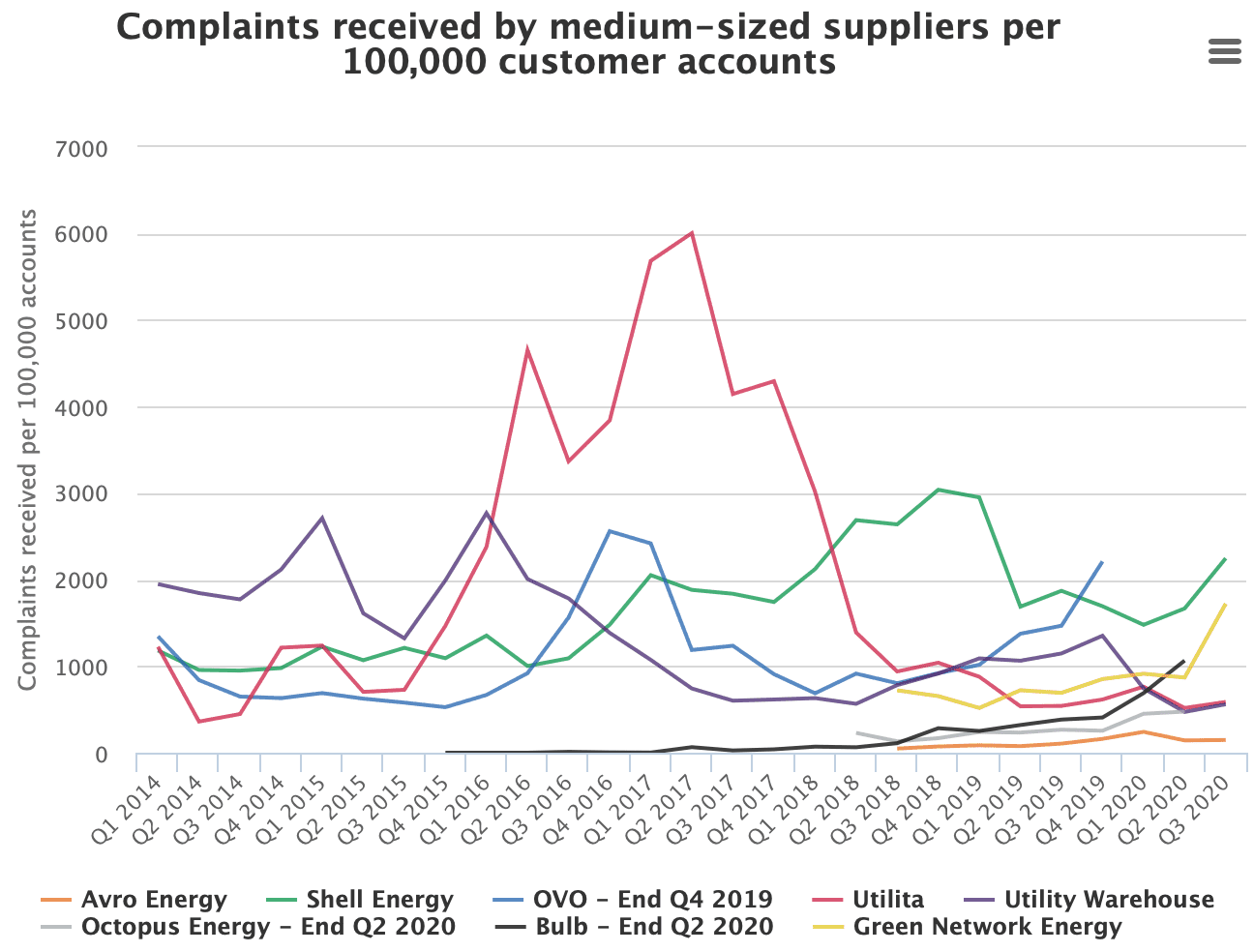 From Q1 2020, OVO have been included in the complaints table for the biggest energy suppliers, and they have had the most complaints in two of the three quarters since then.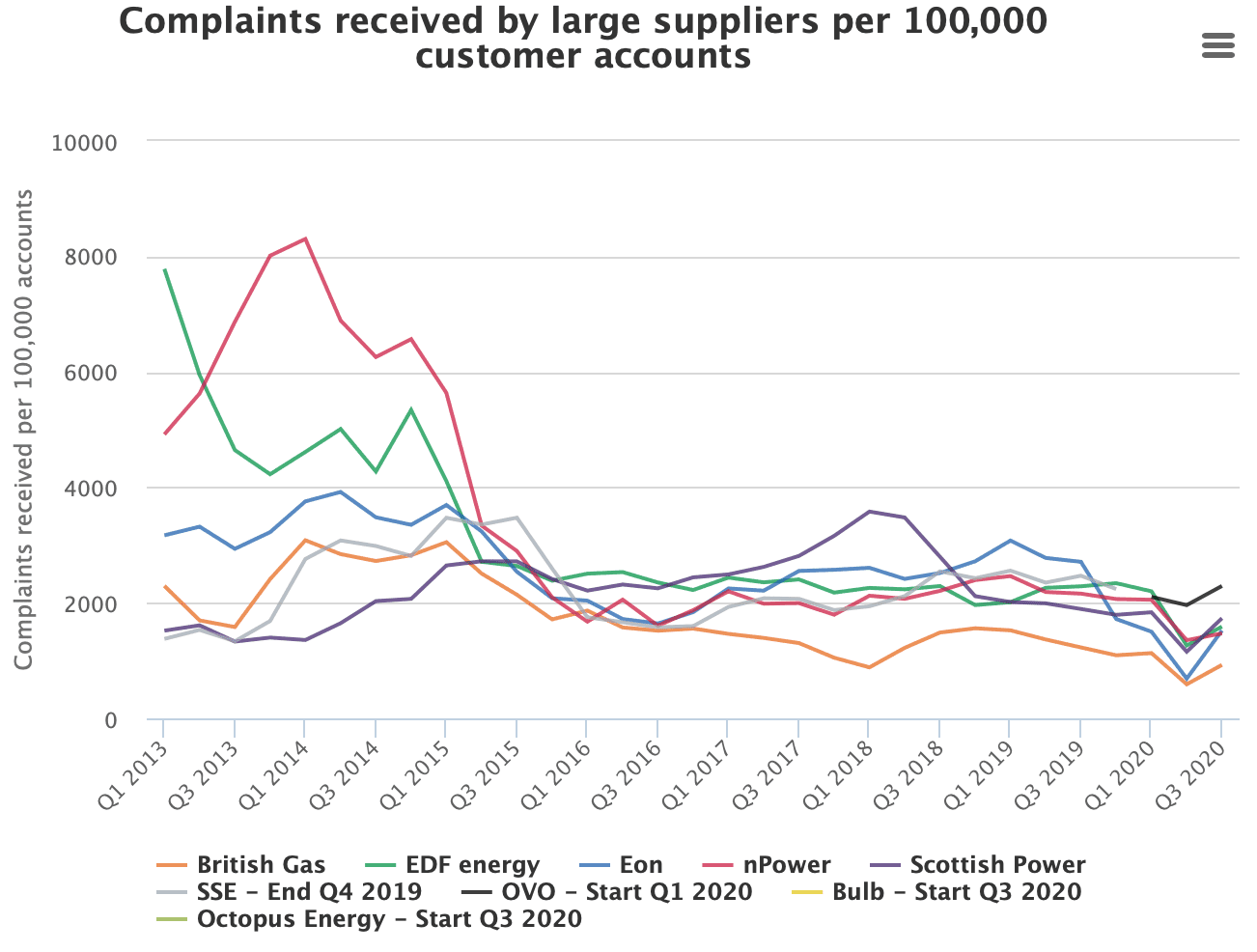 In Q3 2020, they had 2,211 complaints per 100,000 customers, several hundred more than the 1,734 registered by Scottish Power in second place.
These may be teething troubles as a result of the SSE acquisition and their rapid growth, but it's worth keeping an eye on.
Learn how to complain about an energy supplier in this guide.
---
What other services do OVO offer?
OVO offer some additional domestic energy services, many of which are focused on OVO's commitment to greener energy.
So, they offer an EV Everywhere tariff for electric vehicles that comes with the following features:
2-year fixed energy plan
100% green electricity
Works with Economy 7
Free Polar Plus membership worth almost £190 for access to thousands of charge points across the UK
Learn how to save money on electric car charging.
There are also discounts available for smart chargers for EVs available exclusively to OVO customers.
More specialist heating and smart energy devices are on offer including Dimplex Quantum heating installations and zero carbon heating.
While most of these innovations are beyond the requirements of typical energy customers, they're good to know about.
Boiler services
OVO also offer boiler and home emergency cover with OVO HomePlan from £13 per month. Plans include:
Unlimited callouts
Parts and labour
An emergency hotline
However, it's always possible households already have this cover in another insurance or maintenance product, so be sure to check before signing up.
Quotes for new boilers are available exclusively for OVO customers using a tool on their website - the actual installer is CORGI HomeHeat.
Again, looking elsewhere could save money. We've got a guide on the cheapest ways to get a new boiler.
---
Our verdict: are OVO Energy any good?
It's fair to say OVO Energy has had a few challenges over the last year, partly stemming from their acquisition of SSE and partly due to historical customer service failings.
As a green energy supplier, they offer two clear options: standard 100% green electricity or a boost to OVO Beyond for £6 per month for greener gas too.
This simplicity is in contrast to some other energy suppliers including E.ON, where searching for a specific property quote can result in an avalanche of current and expired tariff options.
Along with this, OVO also provide extra services like an EV tariff and smart home energy improvements which may prove attractive to some customers. Plus, we really like the Interest Reward scheme to save money on credit balances.
All that said, it's difficult to overlook their ongoing customer service issues, and it's important for customers to be aware of service records before signing up as these are often what make one energy supplier better than another.
Thinking about switching energy supplier? Find out about the Energy Switch Guarantee and the protections it offers.