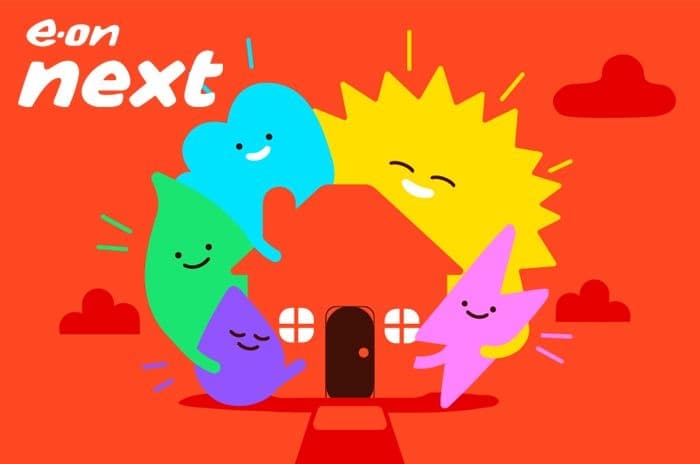 E.ON NEXT
---
E.ON Next are competitive on price, with tariffs costing less than their major rivals. Customers can also switch away without penalty.
E.ON generate much of their own renewable electricity as well as providing carbon offsetting on gas for some tariffs.
Most E.ON Next customers will be required to have a smart meter fitted and to manage their account online, so the company won't appeal to all.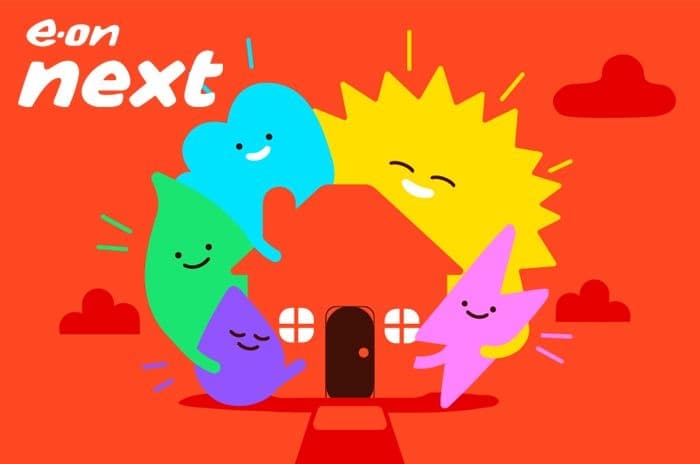 E.ON NEXT
---
At a glance
| What we like | What we don't like |
| --- | --- |
| Competitive pricing | Online account management |
| No exit fees | EV tariff is complicated |
| 100% renewable electricity and some gas offsetting | Some customer service hiccups |
| Other services offered through the main E.ON brand | |
---
Tariffs
New customers to E.ON will automatically be given quotes for E.ON Next, the newer brand all customers will eventually become part of. When nPower customers were migrated over to E.ON in 2020 and 2021, they went straight onto E.ON Next.
So, let's look at quotes for E.ON Next for an average two bedroomed home in Yorkshire. The figures are based on Ofgem's average usage guidelines of 2,900kWh for electricity and 12,000kWh for gas.
E.ON Next tariff prices
| | Tariff | Electricity | Gas | Exit Fees | Total per year |
| --- | --- | --- | --- | --- | --- |
| EON Next | Next Online (12-month fix) | £630.11 | £523.32 | None | £1,153.43 per year |
| EON Next | Climate Positive (12-month fix) | £630.11 | £528.32 | None | £1,158.43 per year |
| EON Next | Next 2 Year (24-month fix) | £655.11 | £548.32 | None | £1,203.43 per year |
| EON Next | NextFlex | £680.11 | £573.27 | None | £1,253.38 per year |
One of the first things to note here is that E.ON Next don't currently levy exit fees on these tariffs, meaning customers can leave at any time without penalty.
There are some other points to note:
Next Online and Climate Positive accounts must be managed online
Customers agree to have a smart meter installed when signing up to Next Online
NextFlex is their variable tariff, so prices on this tariff can rise and fall in line with the rules set by the default energy price cap
All tariffs include 100% renewable electricity
Go Climate Positive includes 100% carbon offset gas and the planting of five trees through a project in the Peru Rainforest
While fixing for two years under this model may seem uneconomical given the saving on the current one year fix, remember fixed tariffs offer security and there's no guarantee that in a year, renewing a 1 year fixed tariff would be cheaper. That said, there's no guarantee it wouldn't be either, so it's a personal judgement.
NextDrive
E.ON also have an electric vehicle tariff available to EV owners: NextDrive.
Electric and hybrid tariffs have been part of E.ON's offering for several years, launching their Fixed 1 Year Electric Vehicle tariff in 2017. Their latest advertised EV tariff claims to save customers up to £188 per year on the costs of charging their vehicle.
The calculations they use to decide these savings are detailed on their website, but the major point for the customer is that between midnight and 4am they will only pay 4p per kWh for vehicle charging. This will be credited back to a customer's account once a month.
NextDrive calculates savings via an app and works with the following EV chargers:
Indra Pioneer
Rolec Wallpod HomeSmart
Keba KeContact P30 X-series
Many popular models of EVs are compatible such as the Tesla Model Y, Volkswagen e-Golf and the Jaguar i-Pace.
Obviously, this structure won't work for all EV drivers, so it's worth reading our guide about how to save money on electric car charging for more information.
---
Price
E.ON Next claim customers won't want to leave them once they're signed up and that's why they don't charge exit fees on their tariffs.
So, what are their prices like in comparison to the cheapest options on the market and other major providers.
Here are quotes for that same home in Yorkshire:
| Tariff | Monthly Estimate | Length | Exit Fees | Total |
| --- | --- | --- | --- | --- |
| Avro Energy Simple and Surge | £89 | 12 months | None | £1,062.47 per year |
| Together Energy Green Together Smart | £96 | 25 months | £40 per fuel | £1,151.72 per year |
| E.ON Next Online | £97 | 12 months | None | £1,153.43 per year |
| OVO Better Energy | £100 | 12 months | £30 per fuel | £1,196.59 per year |
| EDF Energy Simply Online | £105 | 36 months | £35 per fuel | £1,288.40 per year |
E.ON's prices are not the very cheapest on the market, but their cheapest fixed deal is certainly competitive. It's also noticeably cheaper than deals from OVO Energy and EDF Energy - and no exit fees in sight.
---
Fuel mix
E.ON first launched a fixed tariff with 100% renewable energy back in 2017. The Clean Energy tariff supplied energy matched by Renewable Energy Guarantees of Origin (REGO) and the Green Gas Certification Scheme (GGCS).
In July 2019, E.ON were the first of the major providers to roll out 100% renewable electricity to all their customers, regardless of whether they were already on a green energy tariff.
E.ON were able to make this switch thanks to their longstanding investment in renewable sites. Despite their transfer of renewable assets to RWE, the energy supply from those sites is still secure and they still use REGOs to plug the gaps.
As we've already mentioned, their Climate Positive or Climate+ tariff also offers carbon offsetting for 100% of the gas a customer uses.
It isn't the greenest tariff available, but it works in tandem with their own windfarms to create an overall climate-friendly tariff.
---
Customer service
Most energy suppliers have customer service issues from time to time and E.ON's biggest problem in recent years stemmed from an IT issue at Christmas 2020.
Around 1.5 million customers had their payments taken early a few days before Christmas, with repayments not possible until after the long Christmas weekend.
E.ON refunded customers and made goodwill payments totalling around £55,000 and five months later they agreed to pay £627,000 to a voluntary redress fund. Even so, it was an embarrassing situation for E.ON and undoubtedly damaged their relationship with some customers.
Prior to the IT glitch, the biggest issue faced by E.ON in recent years came in December 2017 when their call centre staff incorrectly advised 450 customers about their rights when switching supplier.
They were also one of 18 suppliers rebuked by Ofgem for failing to protect customers from price rises during their energy switch in early 2021.
Yet the fact customers are being placed on E.ON Next tariffs when they sign up could have a bearing on the customer service they receive.
It's only anecdotal evidence but the main E.ON UK brand has an average TrustScore of 3.5 on the customer review site Trustpilot from over 30,000 reviews.
The newer E.ON Next brand has an Excellent rating of 4.3 from over 6,000 reviews.
Yet there are some issues with the fact customers are required to manage their accounts online, with several people complaining about the lack of a back-up option for those who need it. This may be a hangover from the transfer of nPower customers who didn't opt for an online only tariff, so it may level out with time.
Recent complaints history
Ofgem publish quarterly complaint figures which allow us to see how many complaints have been made per 100,000 customers. It's a useful quarterly indication of their performance, and it shows E.ON's figures are in the middle of the pack for complaints.
While they're not at their 2014 peak of 3,921 complaints, their Q2 2021 performance of 2,193 is more than double that of British Gas's 1,252 and considerably higher than Avro Energy, the best performing supplier with 238.
After dipping to a low of 688 in Q2 2020, complaints have steadily been on the rise again at E.ON, so that's one to watch out for.
---
What else do E.ON offer?
As one of the larger energy suppliers, E.ON have a range of extras for customers including new boilers and heat pumps. Along with this, they fulfil their obligation to provide home improvement grants to eligible customers.
It's notable none of these extras are listed on the E.ON Next website, yet they continue to be offered by the parent brand so it may just be a case of keeping the new website clean and tidy.
New boilers
E.ON supply and install new Worcester Bosch boilers, with four years interest-free finance available to eligible customers. Whether households required a combi, regular or system boiler, E.ON has an option.
Their boiler installation features include:
A-rated gas boiler
Installation from a Gas Safe engineer
Free removal of old boiler
Free system flush to maximise efficiency
10-year manufacturer's warranty
Pipework, filters and other connectors required
Life and Style home colour matching options
New boilers also come with smart thermostat capability to allow customers to control heating from their phone (more on those thermostats below).
HomeServe
HomeServe provide E.ON's boiler cover and additional options covering electrics, central heating and plumbing. As an incentive to sign up, a free boiler service worth £96 is included in the first year of Gas Boiler Breakdown coverage.
| Package | Features | Monthly Price |
| --- | --- | --- |
| Electrical Emergency & Breakdown Cover | Repairs to mains electrical wiring system, repairs to broken immersion heater (excludes household appliances or boiler faults, includes £30 excess) | From 99p per month in first year, rising to £7 |
| Gas Boiler Breakdown | Repairs to gas boiler and controls, replacement of heat exchanger, fixing noisy boiler (excludes faulty radiators, external pipes, tanks and cylinders and gas pipe to meter, includes £100 excess) | From £7.99 per month in first year, rising to £16.50 |
| Gas Central Heating | Repairs to gas central heating and controls, repair or replacement of standard radiators, tanks, immersion heaters and hot water cylinder, fixing noisy boiler (excludes gas pipe leading to meter and plumbing problems, includes £100 excess) | From £13.99 per month in first year, rising to £21 |
| Electrics & Heating | Repairs to gas central heating and controls, repair or replacement or standard radiators, tanks, immersion heaters and hot water cylinders, electrical wiring (excludes gas pipe leading to meter, household appliances, includes £60 excess) | From £16.99 per month in first year, rising to £26.50 |
| Plumbing, Electrics & Heating | Repairs to gas central heating and controls, radiators, tanks, immersion heaters and hot water cylinders, fixing noisy boiler, repairs to home plumbing system and water supply pipe, repairs to home drains and waste pipes, repairs to electrical wiring system (excludes household appliances, showers, guttering soakaways and the gas pipe leading to meter, includes excess of £60) | From £20.99 per month in first year, rising to £29.50 |
Choose would always recommend checking first whether any of these elements are included in any existing home insurance policies or whether they're covered in any other way. The charges above can soon add up over a year and it may be the case that shopping around could save customers a lot of money.
Equally, remember that prices rise after a year and to always check and move away from a cover provider if necessary.
Smart thermostats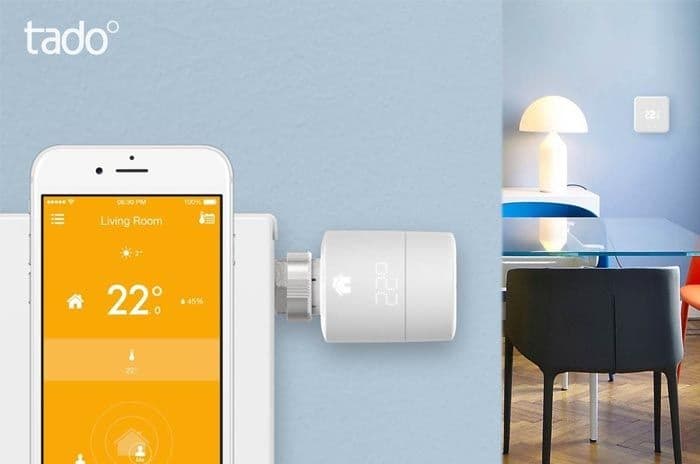 E.On offers smart thermostats by tado.
E.ON's smart thermostats are made by tado and can be controlled via a customer's phone to ensure a home is heated efficiently and conveniently.
The starter kit can be purchased from £189 with individual smart radiator thermostats available from £59 each. There are also combination offers for installation alongside a new boiler.
Integrations are available with Apple HomeKit, Siri, Alexa and Google Assistant to help smart home integrations.
Air source heat pumps
Air source heat pumps work by absorbing heat from the outside which is then used to heat radiators, underfloor heating systems, warm air convectors and hot water. They need electricity to run, so they're not completely green, but they're a comparatively environmentally friendly energy source (and E.ON do have the 100% renewable electricity backing too).
E.ON's air source heat pump installation isn't cheap, with the average cost listed on their site for a four-bed detached home as £11,000. They say it could pay for itself in seven years, but this obviously depends on fuel costs, and E.ON say these are good options for households trying to replace oil or LPG.
There's also a government scheme called the Domestic Renewable Heat Incentive that could help with some of the costs.
Affordable Warmth Scheme
Households in receipt of certain benefits can apply for grants under the Affordable Warmth Scheme. These cover cheap gas boilers, free cavity wall insulation and free loft insulation.
Under the provisions of the scheme, households don't need to be customers of E.ON to apply for the grants as all major energy providers have to offer them. As we explain in our guides to discounted ways to get new boilers and free insulation, there are different criteria available from different suppliers, so it's worth checking whether E.ON's eligibility criteria is appropriate.
Verdict: Is EON Next any good?
E.ON has been a big name in UK energy for many years and, despite major energy suppliers losing plenty of customers over the years, they have a 14.3% share of the gas market and a 17.3% share of the electricity market.
The brand switch to E.ON Next brings with it a switch to predominantly online account management, something that may not be suitable for everyone.
Yet E.ON Next competes well on price and the lack of exit fees on their tariffs generally sets them apart from their big-name rivals.
Producing much of their own renewable electricity is a good sign for those customers interested in renewable tariffs, although their gas footprint is offset rather than using any sort of green gas.
Remember, too, that shopping around could save money on energy bills (along with the extras like boiler cover E.ON offer), so search for a new energy deal using our free comparison tool to get the best quotes on the market right now.