Choose commissioned research that shows two thirds of energy customers do not believe the Government's help is enough to prevent them having to cut back on heating and other home essentials.
Bills are set to rise by 54% for 22 million customers in April 2022 following an increase in the default energy price cap.
The Government has confirmed all customers will get a £200 repayable credit on their energy bill in October 2022 while customers in England will get a Council Tax rebate of £150 in April.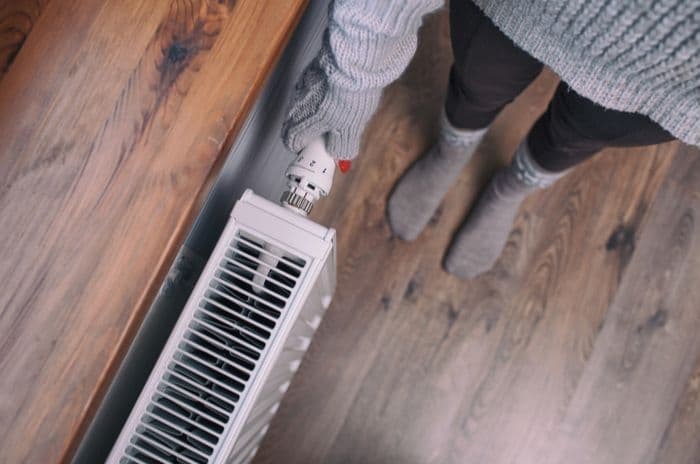 Credit: NinaMalyna/Shutterstock.com
---
Latest Choose research
Choose research in February 2022 found energy customers were already struggling to pay their energy bills and are worried about prices rising further:
36% are already struggling to afford their energy bills
4% are already in arrears on their bills
5% may have to move home due to energy costs
30% will cut back on food to keep the house warm
18% will cut back on broadband and mobile phones
Following the Government's announcement of support for energy customers (see below), we asked whether the measures help:
66% said the Government's help isn't enough to prevent cutting back on heating or other essentials
28% are already cutting back and 38% will have to cut back despite the help on offer
11% say the support will help them cover their bills and 24% they don't need the help
We also asked respondents about the changes to the Warm House Discount (WHD) scheme:
10% of customers receive the WHD to help with their winter bills
24% do not know the eligibility requirements for the WHD
18% are not aware of the WHD scheme at all
47% are not eligible for the WHD scheme
However, 33% of customers said they did not understand what has been announced or how it will help them and their energy bills.
---
Energy pricing trends
From 1 April 2022, the maximum amount customers can pay per unit of gas and electricity on variable tariffs will rise by 54%.
This applies to approximately 22 million households who are on those tariffs and it means the average household in the UK will now pay £1,971 per year for their energy, an increase of £693 compared to October 2021.
This is the highest level the price cap has been set at since it was introduced in January 2019 with the aim of ensuring customers were not overcharged for their energy.
If we look at the make-up of the price cap in October 2021 and April 2022, we can see how much of a difference the wholesale cost of energy has made to the cap: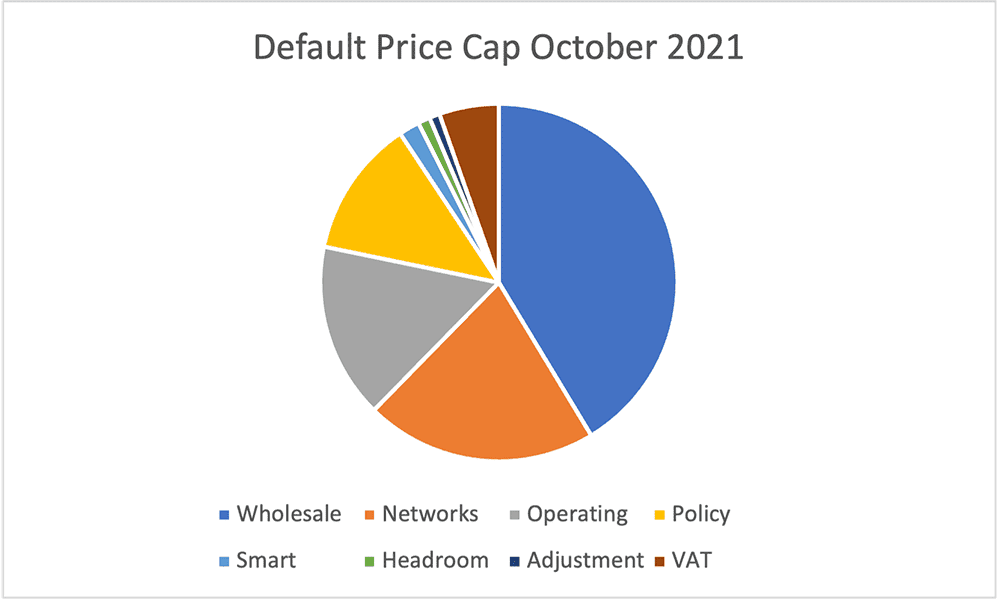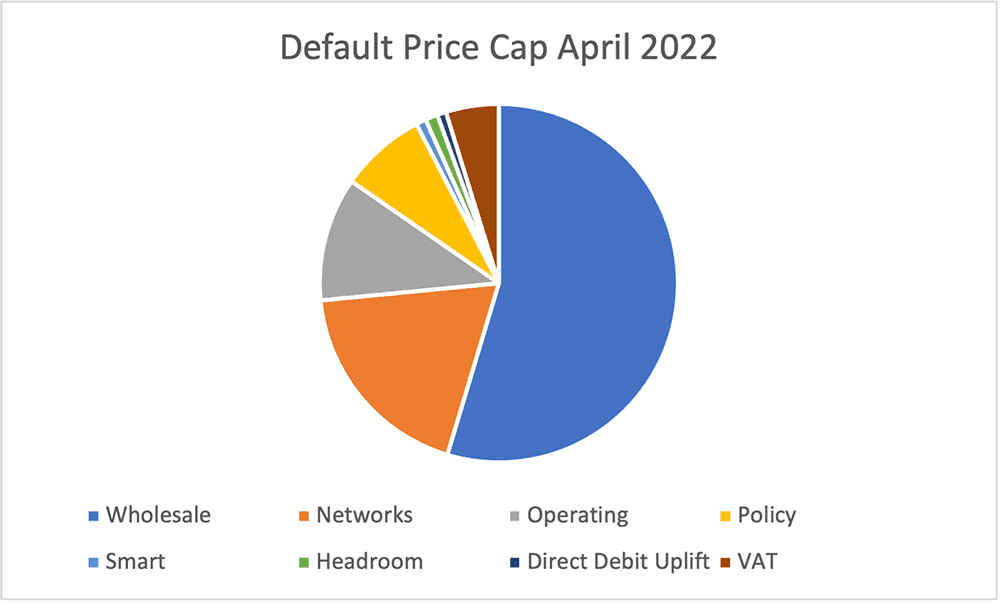 The wholesale costs included in the cap rose by 104% between the setting of the October 2021 cap (in August 2021) and the setting of the cap for April 2022 that was announced in February 2022.
Increases in network costs also rose by 39%, mainly due to the Supplier of Last Resort (SoLR) claims put forward by companies who took over the supply for the dozens of failed energy suppliers affected by the energy crisis. Ofgem say this accounted for £68 of the rise in network costs.
So, the amount it costs to purchase energy on the open market and the costs incurred by providers picking up customers from failed suppliers helped to take the default energy price cap to its highest level since its introduction in 2019 and puts customers in line to face huge bill increases from April 2022.
Prepayment meters
It's important to note that customers on prepayment meters will see prices rise to a slightly higher amount.
From April 2022, they will see an increase from £1,309 to £2,017, a rise of £708.
This is due to the extra costs of delivering energy to customers on prepay meters.
---
Government support
The Government announced a raft of support measures on 3 February 2021 to try and help customers manage rising energy costs.
Measures included:
£200 discount loan applied directly to energy bills in October 2022 for customers in England, Scotland and Wales. This will be repaid over five years at £40 per year.
The Warm Home Discount (WHD) will see an uplift of £10 to £150 from October 2022 and more customers will become eligible for the scheme.
Many households in England will receive a non-repayable £150 rebate on their Council Tax from April. This will be given to the approximately 80% of homes in Bands A-D.
Customers in England who cannot be supported through the Council Tax rebate may be eligible for part of a £144 million pot of discretionary money given to Local Authorities
Let's take a closer look at some of these policies and how they will help customers.
Energy bill credit
Customers across the UK will get a £200 credit added directly to their energy bill in October. This is designed to offset some of the extra costs faced by customers during 2022.
However, it's important to remember this £200 is only a loan and will be paid back in £40 instalments over the next five years from April 2023 onwards.
Something that was highlighted by critics after the support package was announced is that is no way of opting out of this loan.
As our February 2021 research demonstrated, 34% of customers would prefer not to take this loan and 49% feel worried about repaying it over five years.
In addition, it could be seen as a crude mechanism to fix the problem that might end up benefiting energy suppliers since every household will be charged over five years, regardless of whether they originally took the loan.
Here are some examples:
A student living with their parents would receive a £200 loan as a household but, if the student moved out, both households would be liable for £200 each.
A couple paying their energy bill together would receive £200 between them but, if they separated and moved into different homes, they would both need to repay the money separately.
The Government has yet to address these concerns, but it's clear the policy has some side-effects and might adversely affect some customers.
Council Tax rebate
Customers in England who have a property in Bands A-D will receive a £150 rebate on their Council Tax in April 2022. Around 80% of households should get this money.
The Government intends this £150 to be a more immediate form of financial support for energy customers during the period where the cost of energy is set to rise by 54%.
If customers are not eligible for the Council Tax rebate, they may be able to get support through a £144 million discretionary fund given to Local Authorities for that purpose.
Warm Home Discount
The Government has announced a permanent £10 uplift to the Warm Home Discount (WHD) scheme that gives the most vulnerable customers a lump sum to help pay for their energy bills each winter.
From October 2022, customers will get £150 as part of the scheme rather than the £140 previously available.
At the same time, the eligibility criteria for England and Wales is being widened to bring more people into it. The Government say this will help more than 780,000 more pensioners and low-income families who will now be eligible for the support.
Learn more about the support available to help customers to pay their fuel bills.
---
Summary
Energy affordability is a major problem in the UK and this is set to continue through 2022 and into 2023.
As Choose research demonstrates, 36% of customers were struggling to afford their energy bills even before the 54% price rise was announced and 33% still don't understand what support measures have been announced or how they are supposed to help.
The decision to provide a blanket loan of £200 to all households in the UK that can't be opted out of and must be repaid over five years is a bone of contention and it remains to be seen whether the policy will go ahead in its current form.
Along with this, there are more proposed changes to the Warm Home Discount scheme that haven't yet been confirmed and this would mean that customers with smaller energy providers would be able to benefit too.
Overall, energy prices in 2022 are worrying for customers and being able to access appropriate support will be crucial for many households.