What energy efficiency improvements make the most difference?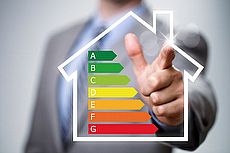 ©iStock.com/BrianAJackson
GETTING the most out of the energy we use is good for the environment and for our bank balances too.
As such, it's worth all of us taking a look at how we run our households to see what measures we can take to improve energy efficiency.
To help our readers, in this guide we take a closer look at efficiency upgrades in three areas to see what difference can be made, as well as weighing up the likely costs and savings of each. We also take a look at how all of us can change small everyday actions to help save energy.
Home insulation
Good insulation is generally agreed to be an energy efficiency must, and as such there have been more grants for this home improvement over the years than for any other energy efficiency saving.
Even those who pay for it themselves, partly or in full, are likely to get good value for money - but it will take time to see a return.
The most efficient homes will have all of the following forms of insulation:
Roof: 250mm to 270mm insulation
Walls: cavity or internal/external proofing
Windows: double glazing and draught proofing
Flooring: sealing draughts and underfloor heating
Roof or loft insulation
Approximately a quarter of all heat lost from an uninsulated house is through the roof, so it's well worth getting insulation installed to keep our homes warmer and save money on energy bills.
Roof and loft spaces are insulated with mineral wool and if a loft is easy to access and has no damp problems, it's possible for homeowners to install themselves.
The table below shows the expected costs and savings of roof insulation according to the Energy Saving Trust. The installation figures are the estimated average cost of professional work and the savings figures are based on fuel prices as of April 2017.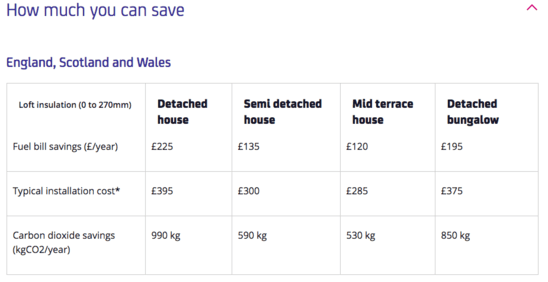 SOURCE: Energy Saving Trust.
As the table shows, the initial outlay on this type of insulation can easily be recouped by homeowners after one to three years and would therefore be worth the cost for most people.
Wall insulation
In uninsulated homes, around a third of all heat lost is through the walls.
Homes built within the past 25 years or so will already have wall insulation, but for houses older than this it's a beneficial option to consider.
There are two types of wall in most UK houses:
A cavity wall: made up of two walls with a gap in between.
A single wall: a solid brick or stone wall with no cavity - generally found in houses built before 1920.
As solid walls let out twice the heat as cavity walls, getting solid walls insulated will save a considerable amount on energy bills. However, the initial outlay for the insulation is much higher for solid walls than for cavity walls.
Take a look at the tables below from the Energy Saving Trust to see the costs and savings for both types of wall insulation (savings estimates are based on fuel prices as of May 2017 and for a home with no insulation at all being upgraded).
Cavity walls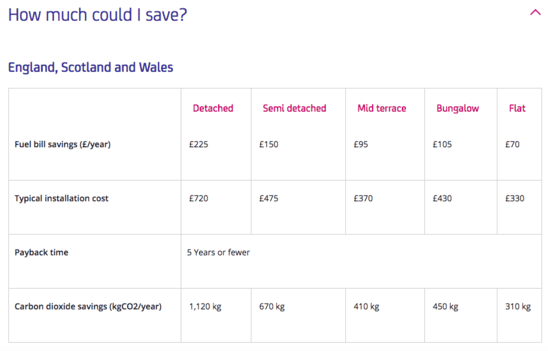 SOURCE: Energy Saving Trust.
Solid walls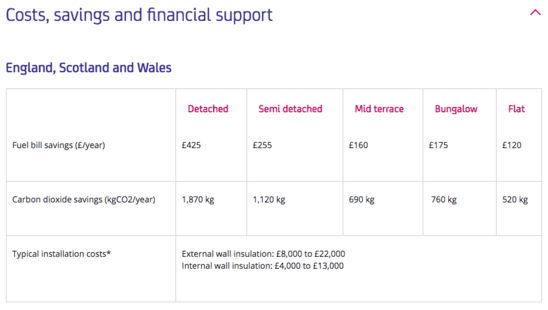 SOURCE: Energy Saving Trust.
Typically, the cost of cavity wall insulation can be recouped in around five years and so will be worth the outlay for most homeowners.
Although the cost of solid wall insulation is a lot higher, because it can save so much on heating bills annually it would provide value for homeowners who are able to afford the initial cost.
Windows
Double-glazed windows have two sheets of glass that are typically 16mm apart. This creates an insulating area of air between the two panes that helps to keep heat in.
Most modern homes are built with double-glazing as standard, but for homes that are completely single-glazed there are considerable savings to be made.
Take a look at the table below from the Energy Saving Trust for more details.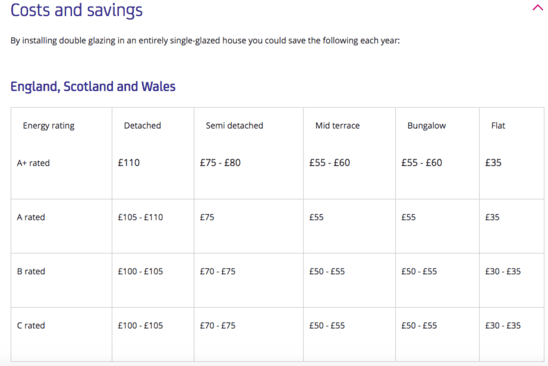 SOURCE: Energy Saving Trust.
It's hard to predict the cost of installing double-glazing as this will vary by the number and size of windows that need to be worked on.
But despite the cost, for most modern households double-glazing is seen as an absolute must in order to keep heat in and save on energy bills, particularly when we consider that it easily lasts for 20 years.
Another way to keep the heat in around windows and other openings is to take measures to draught proof our homes.
Draughts can be found around windows and any other opening or cavity through which draughts can enter the home and warm air can escape, for example around pipework and wall joints.
Getting a professional to assess and comprehensively draught proof a home can cost between £85 and £275 according to the Energy Saving Trust, with an estimated annual saving of £25.
Carrying out some DIY draught proofing jobs will reduce the initial outlay for homeowners.
However, getting a professional in may save more money in the long run. This is because professionals are more easily able to assess which areas need draught proofing and will more comprehensively draught proof a house to reduce overall heat loss.
Floor insulation
Although not the biggest cause of heat loss in the home - accounting for around 10% annually - it's still worth considering floor insulation to save an average of £40 per year on energy bills.
Gaps between skirting boards and flooring can cause draughts, but these gaps can usually be sealed fairly easily by homeowners without having to call in a professional.
As such the outlay for sealing these gaps should not be very high - essentially just the cost of buying a tube of sealant.
Underfloor insulation varies by type of flooring - most homes have floorboards or concrete floors, or a combination of both - and will cost more than DIY draught sealing, particularly if a professional is hired to do the work.
Paying for insulation
Many people can afford to insulate their homes without help, but there are grants available for wall and roof insulation through the Energy Company Obligation (ECO) scheme for those on a low income.
This Government scheme was set up in April 2013 to ensure that energy suppliers help the most vulnerable people to pay for energy efficiency measures. It replaced the Carbon Emissions Reduction Target (CERT) and Community Energy Saving Programme (CESP), which had been running since April 2008.
ECO is the main scheme that offers help with these costs, but others operate at local and regional levels. We've a full guide on the help available here, including the all important eligibility criteria.
No matter the scheme, the process of getting insulation is broadly the same:
Check the scheme's eligibility and apply
If accepted, arrange a home visit from an assessor
Discuss which home improvements will be suitable for the property
Schedule a time for installation
It should be noted at this point that not everybody believes that the value of energy efficiency measures is worth the outlay.
Paying for insulation: Insulation can be quite expensive: and unlikely to pay for itself in energy savings over a year, though it could within a few years.
Some critics have previously questioned the figures put out by the Energy Saving Trust about how much households actually save through insulation measures.
It's worth reading around the subject, including any criticism, but it's up to each individual household to decide if the costs are worth the savings depending on their circumstances.
Lighting and heating
The average UK home spends around 15% of their energy bill on lighting.
To reduce money spent on lighting most people now consider using energy saving light bulbs throughout the home.
There are two types of energy efficient bulb in the UK: compact fluorescent lamps (CFLs) and light emitting diodes (LEDs).
Changing from a traditional light bulb to one of these will save around £3 to £6 per year per bulb, and changing to LED lights throughout the home saves around £35 per year on electricity bills.
In August 2015, Ikea announced that they would only be selling LED bulbs in all their stores globally from September of that year in a show of support for energy efficiency.
However, LED bulbs are still considered to be quite expensive, retailing at around £5 per bulb compared to as little as £1 for a traditional incandescent bulb.
But when we consider that an LED bulb has a potential life of 24,000 hours - compared to an incandescent bulb's lifetime of no more than 2,000 hours - the savings are more apparent despite the initial cost.
However, for those who really want to make savings on energy and bills, it isn't lighting but heating that will help cut usage and costs.
Typically, around 60% of a household's energy bill comes from the boiler alone.
Newer boilers tend to be more efficient and have more user-friendly controls, enabling households to make further savings.
As such, for anyone with a boiler that's less than 10 years old there's not much point to replace it, as it will already be efficient and the savings won't amount to much.
Also, replacing a boiler is very expensive, with the average cost of a boiler and installation standing at around £2,500 according to the Heating and Hot Water Industry Council (HHIC).
But it can be worth the expense for households with an older, more inefficient boiler, particularly for people who have a mains gas connection to their house.
If no gas connection is present Energy Networks Association to find out who can help with getting a connection established.
The Energy Saving Trust claim that replacing a G-rated boiler with an A-rated one can save as much as £320 a year for a detached home, which is a considerable annual saving despite the initial outlay.
However, when we take the average installation cost of £2,500 into consideration it would take nearly eight years minimum for the initial cost to be recouped, and even longer for smaller houses and flats for which the annual savings are lower.
For those who would struggle to afford replacing their boiler there is help available through the ECO scheme, which obliges energy suppliers to help vulnerable and low-income households to heat their homes - and this includes boiler repair and replacement.
Until very recently there was also help available in the form of the Government's Green Deal scheme: a low interest loan to homes whose energy efficiency could be expected to significantly improve as a result of the purchase.
However, the scheme was not as popular as it was predicted or hoped, and the Government stopped funding it in July 2015.
There's more on how the Green Deal worked here.
Home appliances
Finally, appliances make up a fairly large proportion of household energy use and, consequently, efficiency differences between models are worth taking into account.
Appliances include large white goods like fridge-freezers and washing machines, as well as smaller items like televisions and computers.
These days a large number of appliances come with an EU energy rating to help consumers make an informed choice about the energy efficiency of their purchase.
The rating typically runs from A to G, although sometimes ratings can stand at A+, A++, or even A+++.
However, many smaller items that are often left plugged into sockets, like computers and tablets, do not come with an EU energy efficiency rating so it's hard for consumers to assess their energy saving potential.
Leaving items on standby costs the average household around £45 per year. As such, it's worth avoiding leaving appliances on standby if possible by turning them off at the plug. There's more on this here.
It's also worth trying to make smart choices about the products we buy in order to save energy. For example, according to the Energy Saving Trust a laptop uses a massive 85% less energy annually than a desktop PC, so replacing a desktop with a laptop is a good money and energy saving method.
Smart meters
A useful way to actively monitor energy use is with a smart meter.
Under EU rules, a smart meter for gas and electricity should be offered to all UK homes by 2020. These smart meters are supplied by energy companies and are completely free to households.
The meters have digital display panels that allow households to actively monitor their energy consumption and take measures to reduce it, if needed.
For households with a smart meter there are also no more estimated energy bills, because all energy usage is monitored in real time and the information is sent wirelessly to the energy supplier.
It is hoped that smart meters will cut British carbon dioxide emissions by 2.6 million tonnes a year and reduce day-to-day energy costs for consumers significantly.
Although it's worth remembering that this only works if households regularly check their meters and proactively take steps to reduce the energy use displayed on them.
Some suppliers have been more proactive than others in encouraging households to sign up for a smart meter.
For example, E.On have given customers with prepayment meters and those who pay on receipt of their bills the chance to access the same tariffs as those who pay by Direct Debit - but only if they choose to have a smart meter fitted.
In the meantime, meters that plug into any mains socket are available to buy, or can sometimes be requested from energy suppliers for no charge.
Changing our behaviour
Becoming more energy efficient is undoubtedly worthwhile. But it's hard to quantify the savings that can be made, because this depends not only on the measures listed above but on how far a household optimises energy efficiency in the first place.
So far we haven't discussed how changing our behaviour can save energy - except in the case of using smart meters to monitor energy use.
Some examples of simple changes that can be made to save energy include:
Washing clothes at 30 degrees rather than 40 degrees
Taking shorter showers - ideally no more than 10 minutes
Not keeping the oven or fridge door open for long periods
Drawing curtains in the evening to keep warmth in
Turning the thermostat down by one degree
It seems that a lot of people don't always think about the small changes that they can make to help save energy.
For example, when asked to name the "most effective" way to conserve energy, just 11.7% of participants in this study talked about making efficiency improvements to their homes.
It seems that modifying our own actions to save energy may come second to paying for efficient technology in the home, like a new boiler or insulation, because these larger measures have a more comprehensive effect on energy saving.
The fact is that efficient technology conserves much more energy than cutting back on the use of older technology ever could.
However, the effects of small behavioural changes do add up and some people like to feel as though they're making a difference on an individual level, rather than just the efficiency measures they've had installed in their home.
"When people think of themselves, they may tend to think of what they can do that is cheap and easy at the moment," said Shahzeen Attari, one of authors of the study cited above.
This idea has been reinforced over the years by energy companies and regulators who are keen to encourage customers to make small changes to their behaviour to conserve energy.
Although videos such as the one below do note the use of energy efficient light bulbs, for example, their central message is still that modifications to our behaviour are the most effective way of limiting energy use.
As such, Attari added that small changes in behaviour are not useless. However, she states that overall, the big energy saving actions (like insulating our walls) are more worthwhile.
"Of course we should be doing everything we can," she says. "But if we're going to do just one or two things, we should focus on the big energy saving behaviours."
Green energy tariffs
It's also worth noting, as we do in more depth in this guide that energy efficiency in the home is just one side of the story.
For those thinking of the bigger picture, green energy tariffs are something to consider.
These tariffs work by energy suppliers ensuring that a certain amount of energy used by a participating household is taken from renewable sources. Therefore, the more people that take out these tariffs, the more energy is taken from renewable sources.
At present, around 25% of the National Grid's energy supply is from renewable sources like wind and solar power.
The greenest energy tariffs tend to come from smaller suppliers, such as Good Energy, Ecotricity and Green Energy UK, as well as larger companies like Ovo and The Co-operative.
Given the standard methods of providing energy in the UK - including burning fossil fuels and nuclear power - renewable energy sources are certainly far more beneficial for the planet.
Take a look at our guide on how to switch energy supplier for those interested in changing to a green supplier.
However, Energy Saving Trust warn that green tariffs should not be seen as a substitute for energy efficiency measures in the home, and that everyone should do what they can to monitor their own behaviour in order to reduce energy consumption.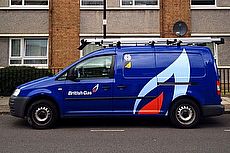 21 November 2017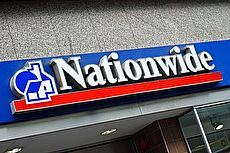 16 November 2017
13 November 2017
Follow us or subscribe for FREE updates and special offers