Customers use a key or app to top-up their energy account and use that credit until it runs out and they need to top-up again.
Energy companies will offer emergency or temporary credit in certain circumstances, although customers may need to request this directly.
Prepayment meters are often more expensive than standard energy meters and energy companies may forcibly install them to help clear a debt.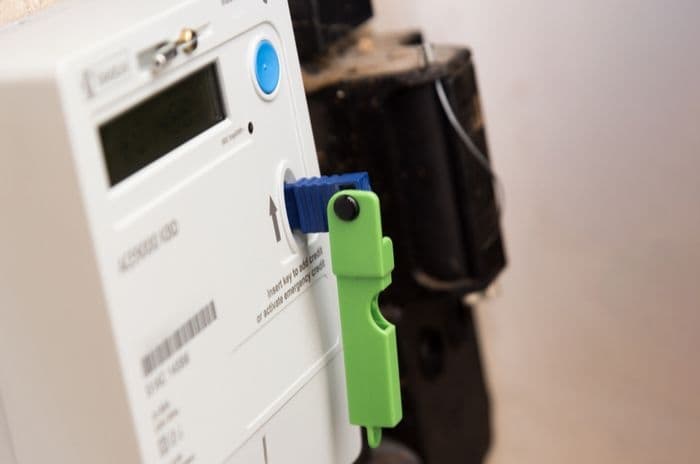 Credit: steved_np3/Shutterstock.com
---
How do energy prepayment meters work?
Prepayment energy meters allow customers to pay for their gas and electricity before using it. This type of energy meter may also be called a pay as you go meter.
A prepayment meter works like this:
Customers take their smartcard, token or key to a shop or use their smartphone app to top-up
They top-up an amount they can afford that suits their energy needs
This amount is added to the energy meter and is used up as the household uses gas and electricity
Prepayment keys, tokens and cards are only valid for the specific meter they have been assigned to, and they must be topped up in a legal way (such as at a shop with a PayPoint machine or via the company's smartphone app).
Standing charges
The money added to an electricity or gas meter will pay for the fuel consumption of the household, but it will also be used to pay the standing charge for the meters.
A standing charge is the cost of having an energy connection at home, so customers will need to ensure there is enough allowance on their meter each day to pay the standing charge - even if they're not using any energy that day because they're on holiday, for example.
While standing charges are contentious and there are frequent calls for them to be scrapped or reduced, it remains the case they are subtracted from our prepayment meter top-ups.
Emergency credit
Energy suppliers should provide their customers with emergency credit if they run out because they can't afford to top-up or they're having problems topping up.
For example, during the winter of 2020 when coronavirus restrictions were still in place, suppliers were reminded to provide emergency credit to customers who were isolating or who had mobility issues and so could not physically top-up their meter.
Other examples of issues topping-up could be:
Adverse weather conditions
Technical problems on the part of the supplier or the location where you top-up
Unexpected health issues such as a hospital stay
Some energy suppliers will automatically apply emergency credit (sometimes known as temporary credit) to meters, while others will wait for it to be requested.
If the emergency credit runs out and customers are still struggling to pay for a top-up, they should speak to their energy provider and explain the situation.
For those who have vulnerable characteristics, suppliers may provide extra temporary credit. Vulnerable characteristics include:
Having a disability or long-term health condition
Being a pensioner
Being pregnant or having a small child
If there are special circumstances for being unable to top-up or if a customer is struggling with their living costs, speaking to the supplier is important.
Any emergency credit added to the meter will need to be paid back. This usually happens the next time a customer tops-up, but if this is going to cause financial hardship, a supplier may be able to arrange a prepayment plan.
There are organisations which specialise in grants to help households with energy debt or read more about the official schemes to help vulnerable people with their fuel bills in the winter.
Friendly hours
Energy suppliers are required to offer "friendly hours" credit to customers if top-up locations are closed such as:
Overnight
At weekends
On public holidays
This type of temporary credit is useful if our energy credit runs out in the middle of the night when it would be difficult to get it topped-up, but it will need to be paid back when the customer tops-up on the next available day.
Prepayment disconnections
Some customers worry that a prepayment meter makes them more liable to being disconnected for debt.
However, there are strict rules about when a supplier can and cannot disconnect a customer. Ofgem rules state that suppliers cannot disconnect a household if:
They owe a debt to a previous energy supplier
They are bankrupt and the debt was accumulated prior to bankruptcy
They owe a debt for a service or appliance (such as a boiler) rather than the usage of gas and electricity
Plus, over the winter months (1 October to 31 March each year), they must take all reasonable steps to avoid disconnecting customers who are:
Over State Pension age
Are disabled or chronically sick
Those over State Pension age who live alone or live with children under the age of 18 cannot be disconnected during the winter months.
---
Different types of prepayment meters
Prepayment meters from different suppliers may vary, and the way they function might be slightly different too.
As we've mentioned above, there are different ways of topping up gas and electricity meters, and the type of meter will often dictate the type of top-up available.
Key or smartcard
Key meters have an electronic key with a customer's tariff information on it while a smartcard will generally send the payment information through to a customer's energy supplier when they have topped-up their meters.
These meters often require customers to go to a physical location to top-up the card, whether that's a Post Office or a local shop with a PayPoint or Payzone machine for top-ups.
Customers with these types of meters should make sure they know where they can top-up, and they should pay attention to any correspondence that suggests this might change.
For example, British Gas decided to change their prepayment meter partnership on 1 January 2020, leaving some customers without access to top-ups on a day their customer service centre was closed. They later paid £1.48 million in compensation to customers for the incident.
Smart meter
Some energy suppliers will provide smart meters that work in conjunction with pay as you go technology for a more modern prepayment solution.
These smart prepayment meters allow customers to top-up via an app or online, helping customers keep control of their energy at any time of day.
---
Are prepayment meters more expensive?
The price of energy when using a prepayment meter generally costs more than a traditional energy meter.
Suppliers are allowed to charge prepayment customers more per unit of gas and electricity to compensate for the extra costs associated with prepayment meters.
While prepayment meters have been covered by a maximum cap per unit since 2018, this cap is always more expensive than the one for traditional meters on Direct Debit as the following chart shows:
| | Prepayment meters | Direct Debit | Difference |
| --- | --- | --- | --- |
| Oct 21 - Mar 22 | £1,309 | £1,277 | £32 |
| Apr 22 - Sep 22 | £2,017 | £1,971 | £46 |
Note: These figures are based on averages and households may use more energy and pay more as we explain in our guide to the energy price cap.
The takeaway here is that Ofgem permits energy suppliers to price their prepayment tariffs slightly above their standard tariffs.
This doesn't mean customers can't find a competitive deal they're happy with, just that they may have to be prepared to pay more than those on Direct Debit.
---
Pros and cons of prepayment meters
Prepayment meters have pros and cons, with some households preferring them and others looking to switch away as soon as possible.
Let's look at little more closely at the benefits and drawbacks of prepayment energy meters.
Benefits of prepayment meters
Some customers prefer prepayment meters for the following reasons:
Allow them to manage their energy usage
Allow them to manage debts more effectively
Prevent them running up large bills
Enables them to top-up when they can afford it
For some households, then, a prepayment meter will be a credible choice and may help them manage their money and energy usage.
Downsides of prepayment meters
There are some notable drawbacks to prepayment meters that might put some customers off such as:
More expensive than traditional meters
Topping-up can be inconvenient
Standing charges can sometimes catch customers out
Cost is often the main issue for customers considering a prepayment meter. If they're able to pay by Direct Debit, many decide to switch to a traditional meter instead.
---
Why does my home have a prepayment meter?
Households may have prepayment meters for several reasons:
The current owner or tenant has decided to install one
An energy supplier has forcibly installed one on the current owner or tenant
A previous owner or tenant had one installed (either by choice or forcibly)
Prepayment meters can be used by suppliers to reclaim debt owed by customers and it is still common for companies to forcibly install these meters.
In 2018 there was frustration among consumer groups when it was revealed that 84,000 prepayment meters were forcibly installed between 2016 and 2017.
While this figure had declined to just over 67,000 by 2020, it demonstrates that energy companies will still impose prepayment meters on customers if they need to recoup a debt.
---
Switching away from a prepayment meter
Many customers will be able to switch away from a prepayment meter to a standard credit meter. However, it's important to recognise that a significant number of people will not be able to switch.
The process for switching to a standard meter is simply to:
Contact your energy supplier directly
Ask whether you would be able to switch to a credit meter
Ask how much it might cost and whether a deposit is required
If the supplier agrees to the switch, the process can be as simple as choosing a mutually convenient date and going ahead.
Yet suppliers may turn down the request if:
Households are still in debt
They haven't been customers for very long
Customers fail a credit check
On this last point, it could be worth accessing your credit report before requesting the switch (some credit agencies have free trials of their services).
If your credit score is poor, consider taking steps to repair it before making the request to switch away from a prepayment meter.
Customers can also look at switching their energy provider to one that will allow them to change their meter.
However, it's important to ask the question before the switch or households could end up on another prepayment tariff they're not happy with.
---
Summary: Useful for some
Prepayment meters have a negative reputation due to the fact they cost more and are sometimes imposed on customers who don't want them.
The reality is that they can be a useful budgeting tool for some customers who prefer to pre-pay for their energy.
Here are five things to remember about prepayment meters:
You pay for your gas and electricity before you use it
You top-up via a key, card, token or smartphone app
Prepayment tariffs usually cost more than standard tariffs
Energy suppliers may forcibly install a prepayment meter to clear a debt
Many customers will be able to switch away from a prepayment meter when their debt is cleared or they are able to pass a credit check
One issue with prepayment meters that may become more relevant during the cost of living crisis, however, is the fact that customers can essentially stop using gas and electricity in a bid to save money (even while the standing charges continue to accumulate).
Charities are concerned these self-disconnections will lead to hardship for many households, so if you find yourself in this situation, contact your energy supplier and see what support they can offer as soon as possible.
For those who have vulnerable characteristics such as being disabled or pregnant, it's important to make that explicit when you contact a provider.
It's also worth looking at how to make an energy complaint if you don't think your supplier is treating you fairly.