Most of us are familiar with the idea of a credit score - a number used by credit services agencies to denote the relative risk of lending us money.
What is less well known is that credit reference agencies can do things like tell us how we've used credit historically, or scour the internet looking for instances of our data being used nefariously.
Experian is the best in this respect, offering the broadest range of services, while also being the most widely used by lenders.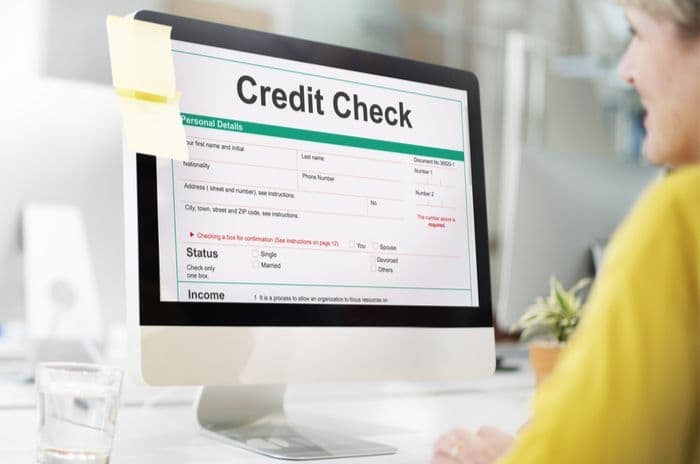 ---
Overview: Credit reference services
| | Experian | Equifax | CheckMyFile | Credit Karma |
| --- | --- | --- | --- | --- |
| Lite version available? | Yes | No | No | No |
| Monthly subscription cost | £14.99 | £7.95 | £14.99 | £0 |
| Online identity protection | Yes | Yes | No | No |
| Score improvement tools | Yes | Yes | No | Yes |
| Easy to query data? | Yes | Yes | Yes | Yes |
| Cancel online? | Yes | Yes | Yes | n/a |
---
Is it worth checking credit reports?
It's better to know what's in your credit report rather than trusting to chance whenever you make an application for credit.
Even if you don't apply for credit products such as a loan or credit card, ratings are regularly checked by businesses we deal with every day such as broadband and energy companies.
Looking at our credit reports allows us to see our circumstances from a lender's perspective, and to understand why we might have been denied credit in the past.
More importantly, viewing our credit record lets us check whether the information credit agencies have on us is correct.
If it isn't, we need to address that and get the inaccurate information removed. It could be that you're being penalised for a credit problem that isn't yours.
---
Will checking affect my score?
It's important to note that using any of the four credit agencies listed here will not affect your credit report negatively.
The process of checking your own credit score or history performs what is known as a "soft search", which is not visible to lenders.
We checked all four services ourselves and can report that it did not affect our overall credit score or history in any way.
It's also worth keeping in mind the fact that different financial and telecoms companies use different agencies when checking our credit history.
Thus, if we check our credit score with Equifax and it's fine, then we apply for a credit card with Barclays and get rejected, it may be because they used another agency who held less favourable financial information on us.
For this reason, it may be worth using more than one service.
---
Accessing your credit report for free
For a monthly fee, the three main credit reference agencies offer in-depth services, which include presenting us with our credit score as well as other useful tools to help us improve and manage our financial data.
If you don't want to subscribe, then there are various free options via statutory access, free accounts, and trial memberships.
Statutory access
Let's start with the free version that doesn't require signing up to any ongoing service, even on a trial basis: statutory access.
Previously, everyone was entitled to access their credit report from credit agencies by paying £2 to the specific agency. This would generally result in a paper copy of a credit report being issued rather than an online copy.
One of the good things to come from the switch to GDPR (General Data Protection Regulation) in 2018 is that consumers can now access their statutory reports for free, and they're delivered in a digital format for ease.
It's a legal right to check your credit report, but it's also true that it's not entirely within the credit agency's best interests to make it easy for you to access this statutory service.
They would rather you signed up for their services, so the statutory page is usually tucked away on their website.
To make things easier, here are the links to the statutory report applications offered by the three credit agencies:
Experian
Equifax
TransUnion
A statutory report doesn't come with all the bells and whistles of a subscription service, but it's a useful snapshot of your credit report at a given moment in time and will show:
Personal details including address
Electoral roll status
Financial links to others
List of credit accounts
List of missed payments and defaults in past year
For people who don't want to access free trials or sign up to a subscription service, the statutory option is a good one, and it's far quicker than it used to be.
Free accounts
Experian offers a lite version of their subscription service, and Credit Karma is totally free. Both will give you a rough idea of your credit-worthiness.
Experian's forever-free lite option gives customers access to a free version of Experian where their credit score is refreshed every 30 days and they can see the basics of which credit accounts they have.
So, if you have a bank loan, it'll show up, but very little else will.
Although it's a very basic option for checking your credit report, it can be a useful ongoing tool to see if your Experian credit score is moving in the right direction.
Experian uses the service to allow customers to search for credit cards, loans and other deals which they'll get a commission on.
As with all credit products, check out the options yourself before you commit to anything, as it might not be the best choice for your circumstances.
Credit Karma used to be known as Noddle until the middle of 2019, and it's the only ongoing free credit report service available.
It utilises the power of the TransUnion credit agency to create its reports. It's worth noting, though, that TransUnion is the least widely used agency by businesses, so the rating you see may not be the one that lenders see.
Credit Karma doesn't give as much explanatory information as you get from an Experian or Equifax subscription, but as a free option that doesn't require any credit card details to start a free trial, it will be useful for many.
Trial memberships
Thirty-day free trials are a great way of accessing the full features of a credit subscription service without paying for the privilege.
Beware, though - if you don't cancel the free trial, you'll pay at least the first month of a subscription you might not want.
The free trials from Experian and Equifax give access to the credit information held with them. As these are the two agencies most widely used, checking both can be useful.
CheckMyFile works a little differently. It isn't a credit agency itself, but it sources information from Experian, Equifax and TransUnion to give what they call a more detailed and independent look at a person's credit score.
We have a full guide to the free trials offered by Experian, Equifax and CheckMyFile here.
---
Experian
Experian is one of the most widely known and used credit report services, both in the UK and internationally.
In addition to providing credit scores and credit reports, Experian also provides a number of useful tools to help us improve and manage our financial statuses.
There are two account options. The first is a free account that enables users to check their credit score every 30 days.
The second, requiring a monthly subscription, provides a more comprehensive service, which in addition to the above includes:
Daily credit score updates
A detailed credit report, which shows your credit history over the past six years
Emails and text alerts about changes to your credit report
A list of factors are affecting your credit score and tips on how to improve it
Web monitoring service, which scans the internet to see if users' personal details are being used by fraudulent parties
Support for the victims of fraud. Experian's fraud team will contact lenders for you and ensure their credit record is fixed
It's free to try for a period of 30-days and then available for the cost of £14.99 per month for those who wish to continue with the service.
How we rate Experian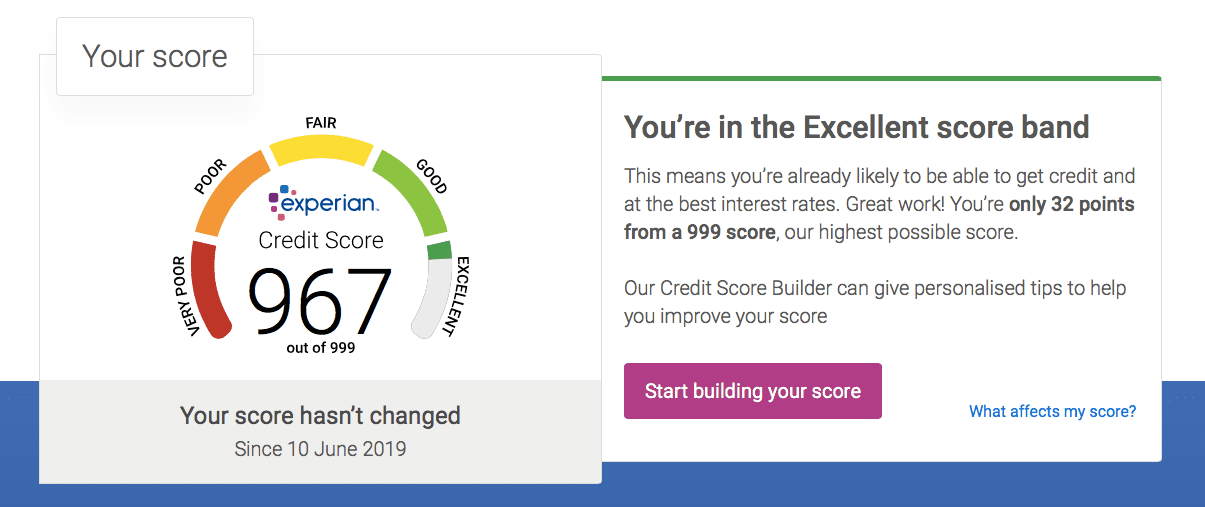 Experian's credit score reading
Experian offers the most comprehensive overall service, with online identity protection and tools to improve your credit score.
Other advantages include a simple and quick sign up process. It took just a few minutes and required basic information, such as name, address and DOB and asked some financial questions such as "who is your current bank account with" in order to locate our credit score.
We particularly liked the Credit Score Builder tool, which provided actionable tips on how to improve your personal credit score, rather than generalised information.
It also offers a projection of how that score will improve over time.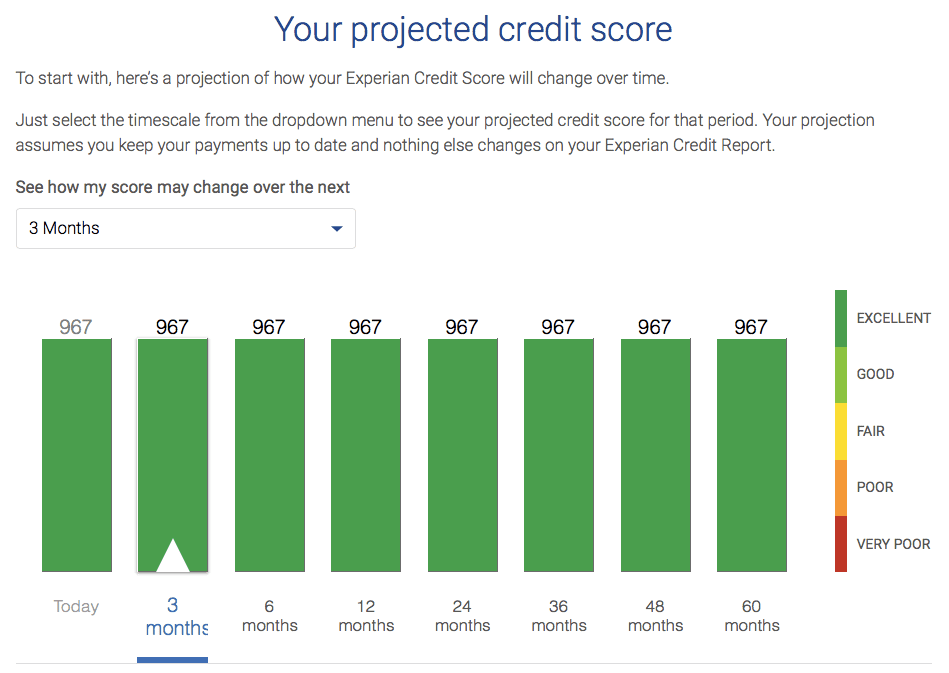 Experian's projected credit score
Although we didn't use it during our trial, we can see how the identity theft and fraud alert tool could be useful.
It notifies us by text or email of any recent uses of our credit information it thinks may be suspicious and has a dedicated advice line for those concerned about fraud or identity theft issues.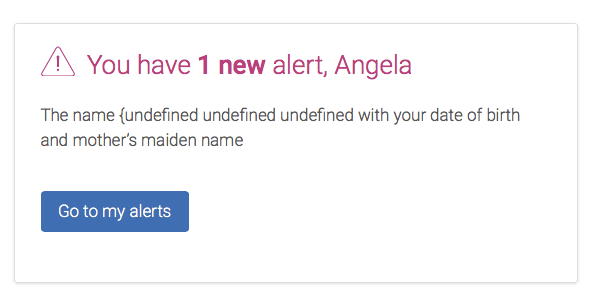 Experian identity theft alert
We found the Experian website and app to be incredibly user-friendly. It explains the credit report and credit score services in depth, even offering dummy reports where it explains how each section works.
---
Equifax
Equifax is another tried and tested name when it comes to credit report services.
However, unlike Experian, Equifax only offers one account option. The service requires a paid monthly subscription, though you can trial it for 30 days without paying.
Signing up gives you access to a free credit report and score. The report is broken down into sections and annotated using a traffic light system to make it easy to see which parts of your credit profile most need addressing.
You can sign up to receive alerts when any significant changes occur to our credit report, which is a useful feature.
There's also an identity protection service that notifies users if their personal details are shared on fraudulent websites. These include credit and debit card numbers, email addresses, bank account numbers, driving license numbers and telephone numbers.
How we rated Equifax
The monthly service may be cheaper than Experian's premium account but it comes with slightly less features.
There's no dedicated tool for improving your credit score, though there are recommendations for how to do it.
There's also no mobile app so it's not possible to check our account via phone or receive text updates.
However, the monthly charge for the account is cheaper than Experian's premium service, which might be enough to sway those who are working on improving their score but want to save money in the meantime.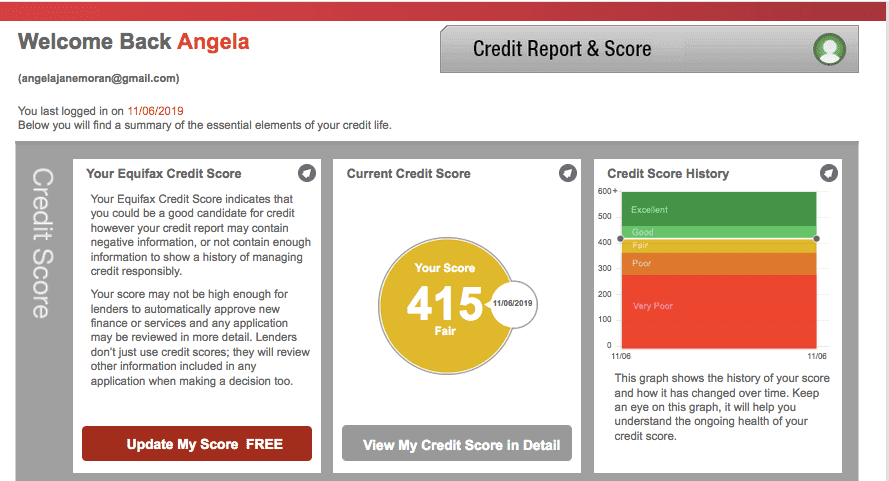 Equifax desktop dashboard
---
CheckMyFile
CheckMyFile is a little different from the other agencies covered in our review. It takes a multi-agency approach, using data from Equifax, Experian, TransUnion and Crediva, to compile a credit report that provides an independent view of our credit score.
CheckMyFile say this process is more akin to that used by lenders since most use their own credit systems to calculate individual credit scores and are likely to take information from more than one credit reference agency.
In addition to a credit report, CheckMyFile's full service includes:
Credit score check
Tips on how to improve our credit rating
See who we're financially associated with
Fraud warnings
Like Experian and Equifax it offers a free 30-day trial. The monthly price for those who wish to continue using the service is £14.99; the same price as Experian's premium service.
How we rated CheckMyFile
CheckMyFile provides the most comprehensive credit history overview, drawing together information from Equifax, Experian, TransUnion and Crediva.
We found it useful to compare the information held on us by different agencies side-by-side as it made it easy to identify discrepancies.
We could then use this information to correct inaccurate information and hopefully improve our credit rating (we've been told the results will take time).
As previously mentioned, different financial and telecoms companies use different credit check agencies when we apply for products with them.
The multi-agency view CheckMyFile provides means we can see which agency scores us the highest and opt for a lender that uses that credit check service. Thus increasing our chances of approval.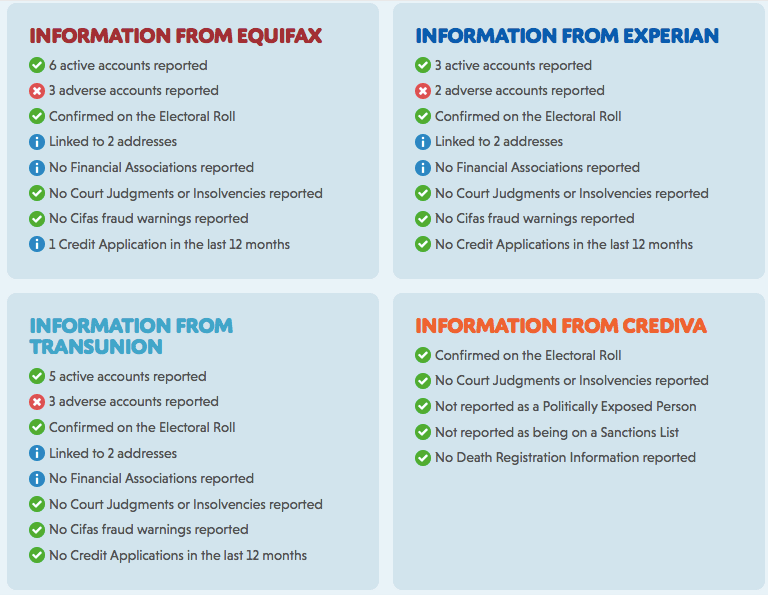 CheckMyFile compiles information from four credit reference agencies
Although each agency scores credit ratings slightly differently, we noted that CheckMyCredit reported our lowest credit score, which could be a result of its independent, multi-agency approach.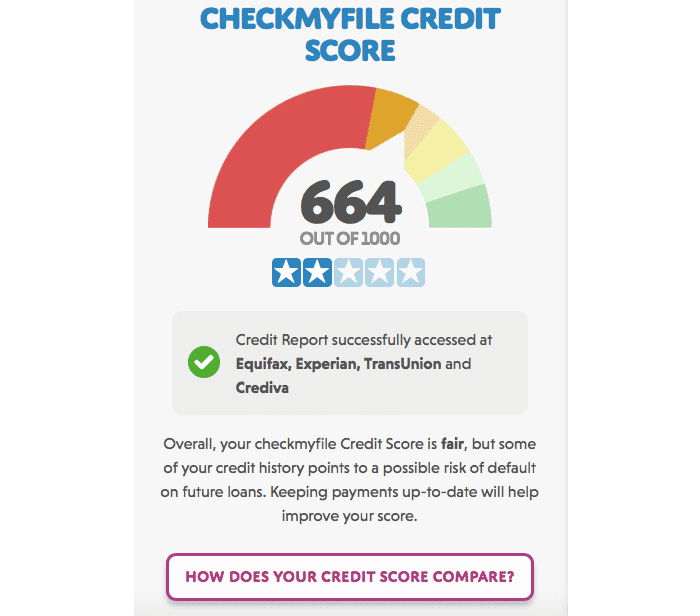 CheckMyFile's credit score display
While CheckMyFile was more information-heavy than the others it was relatively easy to digest. The site used bullet-pointed lists and graphs to make this information more user-friendly.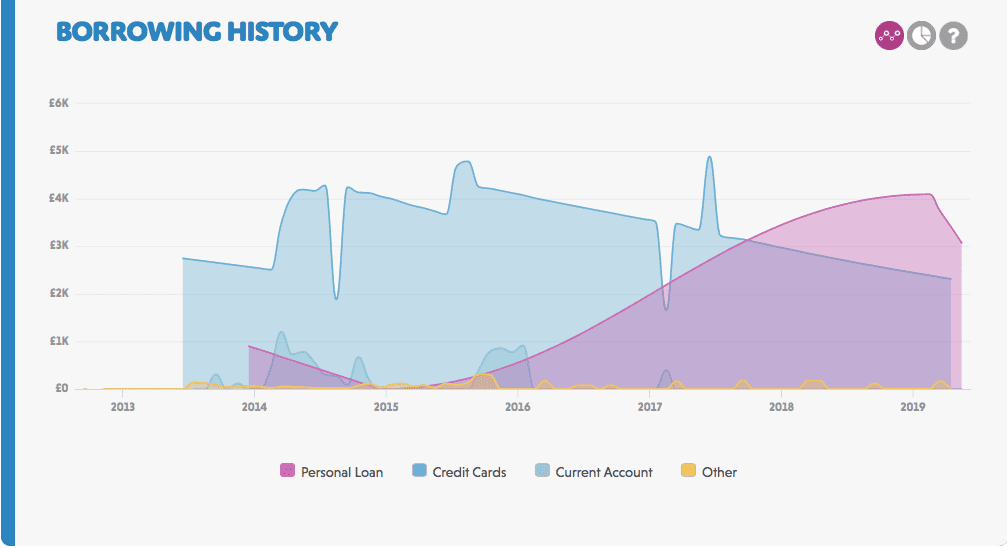 CheckMyFile's borrowing history
It also offered explanations next to each section so we could see where the information had come from and why it was useful.
CheckMyFile search history and explanations
Despite the fact the service accesses information from four different agencies to compile its report, it took no more than a few minutes to sign up and retrieve the relevant financial data.
Again there's no permanently free account like those with Experian and Credit Karma, even for those looking to just access their credit score, so customers hoping to use the site long term will need to pay.
Another downside is the lack of an accompanying mobile app.
---
Credit Karma (formerly Noddle)
Credit Karma uses TransUnion credit reporting services, so the score you see is actually that compiled by TransUnion.
The full services offered by Credit Karma include:
A current credit score, which can be rechecked every month
A credit report detailing six years of financial history
A list of lenders that have accessed our credit file in the last two years
Details of those we are financially linked to (like joint account holders)
Unlike the other credit reference services, Credit Karma offers free access to both credit scores and reports.
How we rated Credit Karma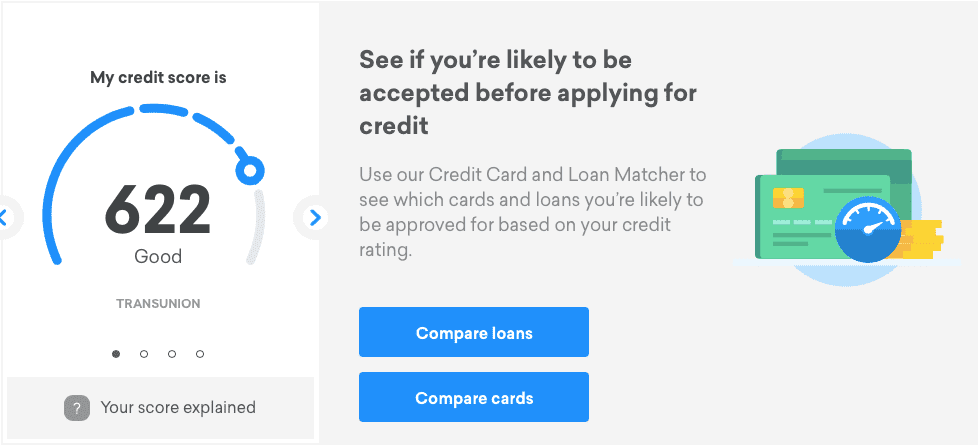 Credit Karma's credit score reading
Credit Karma is undoubtedly a good deal - it's completely free and can give you a lot of good data on your credit standing, albeit through the lens of TransUnion.
The credit report provides information about electoral roll registration, search histories, notices of correction and more.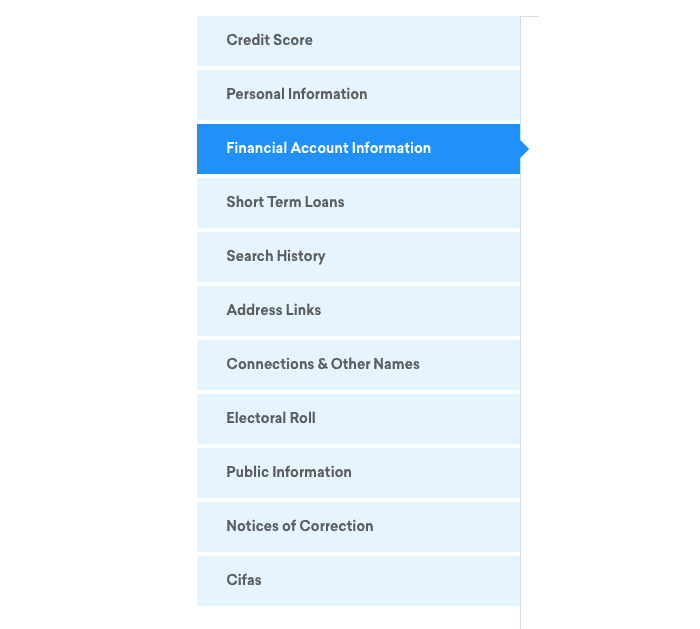 The Credit Karma service offers a comprehensive range of features
There's also information on what factors may be affecting your score and tips on how to improve it as well as credit monitoring tools to assess how your credit rating changes over time.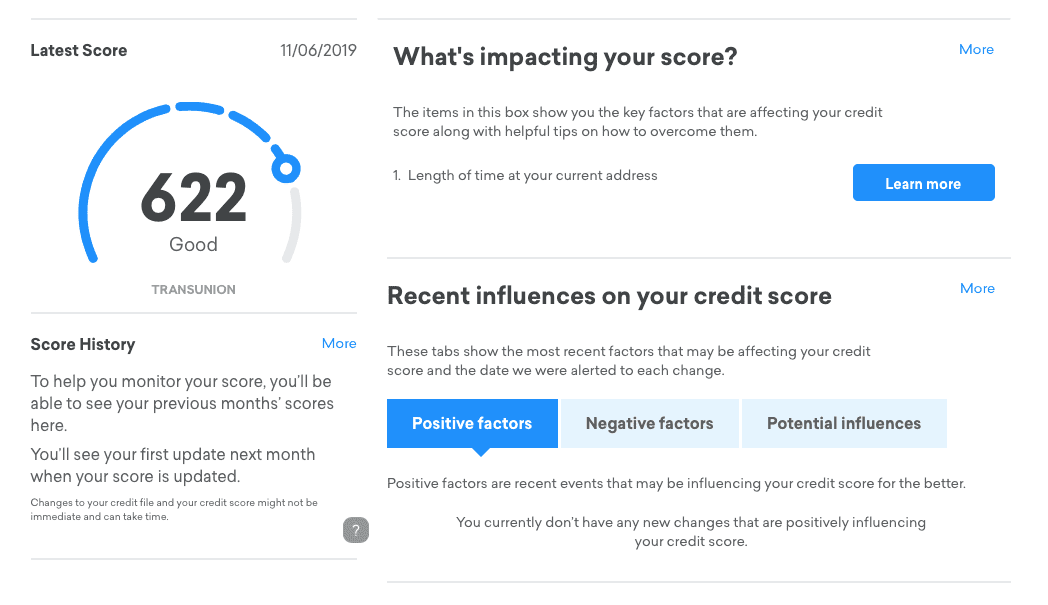 Credit Karma's credit rating factors and influences
Financial information is presented clearly and includes accompanying explanations, yet it's not as detailed as those given by CheckMyFile.
Like with Experian the sign-up process was quick and easy, taking just a few minutes. You can also download the compatible mobile app to check your credit score on the go and receive updates if significant changes occur.
One of the main downsides of Credit Karma is that it doesn't offer data protection features so anyone interested in this aspect of service will need to consider another agency.
---
Verdict: Which credit service is best?
Experian is the best overall credit check service for several reasons.
It is used by the greatest number of lenders, so it makes sense to use it as the basis for building your credit score.
It has dedicated tools to help you do this and projections of how your changes will change your score in the future.
Signing up for the free 30-day trial means you also create an account, which will provide you with ongoing access to your credit score, even when the trial period ends.
However, the downside is that it's relatively expensive. Equifax, by comparison, is almost half the monthly cost.
Although not as good feature-wise, Equifax is held to be the second-most consulted credit check service, making it a good foundation for improving your credit score.
If it's the details you want, then CheckMyFile is bursting with data for you to pour over. It's a great place to begin sorting out a complicated credit history.
For a free option, Credit Karma is undoubtedly useful - particularly if you don't have a credit or debit card to trial a membership elsewhere.
It gives you the details held on you by TransUnion which, although not the most popular with lenders, does allow you to make a start on working out where you need to make improvements.