Credit reports are used by lenders to gauge whether you're a reliable person to lend money to.
It's a good idea to check whether the details held by the agencies are correct - particularly if you're about to apply for a mortgage or some other form of credit.
The best way to do this is by making use of their free trials - or finding one that is free from the outset. Experian is the best option overall as it offers the most comprehensive service as well as being the most widely consulted by lenders.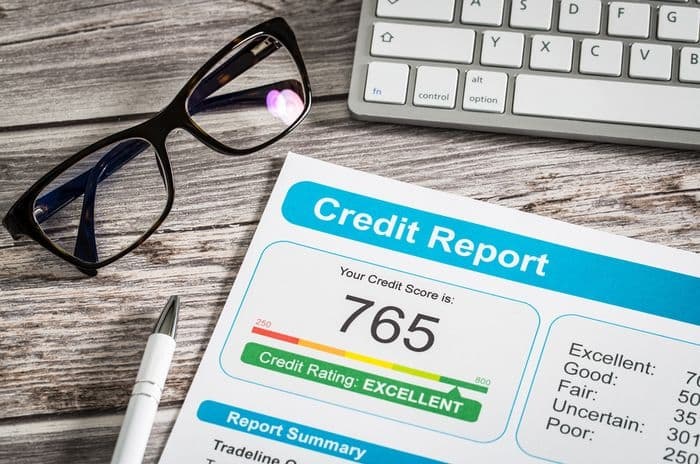 ---
What credit reference agencies do
Credit reference agencies are independent organisations that securely hold data about your credit agreements, rent agreements, county court judgments (CCJs) and electoral roll information.
They combine this data to produce an overall credit score, which lenders can use when deciding whether to offer you credit.
Even if you're not applying for credit, it's worth checking if the information they hold about you is accurate.
The most widely used agencies require a paid subscription for you to regularly view this information, though this can be sidestepped by making use of their 30-day free trials or lite versions.
---
Which credit agency free trial should I choose?
Experian is the UK's most widely used credit checking company used by lenders, followed by Equifax.
CheckMyFile uses a combination of data from Equifax, Experian, TransUnion and Crediva.
Credit Karma isn't as widely used as the three above, though it's free from the outset. This makes it worth checking in on if you've already used up your free trials.
| | Experian | Equifax | CheckMyFile | Credit Karma |
| --- | --- | --- | --- | --- |
| Free trial period length | 30 days | 30 days | 30 days | Always free |
| Cancel online? | Yes | Yes | Yes | n/a |
| Monthly subscription cost | £14.99 | £7.95 | £14.99 | £0 |
Verdict: Experian
Experian is the best option for a free trial, primarily because it's the agency most lenders turn to for information about your credit history.
It also has a free account option that allows you to get your credit score, but not much else. You automatically get this account if you subscribe to the free trial, so it still makes sense to sign up and then cancel.
However, if you're looking to sign up to a paid subscription, you can get many of the same services - such as dark web monitoring - from Equifax for almost half the monthly cost.
For more information see our full guide to the full services of all four credit agencies.
---
Experian
Experian is used most regularly by lenders checking the credit scores of potential customers.
They offer a permanently free lite version that is refreshed every 30 days and provides a basic credit score with little surrounding information.
However, Experian will provide far more detail for £14.99 per month. This includes access to information about your credit and residential history, as well as future predictions on how your score will change.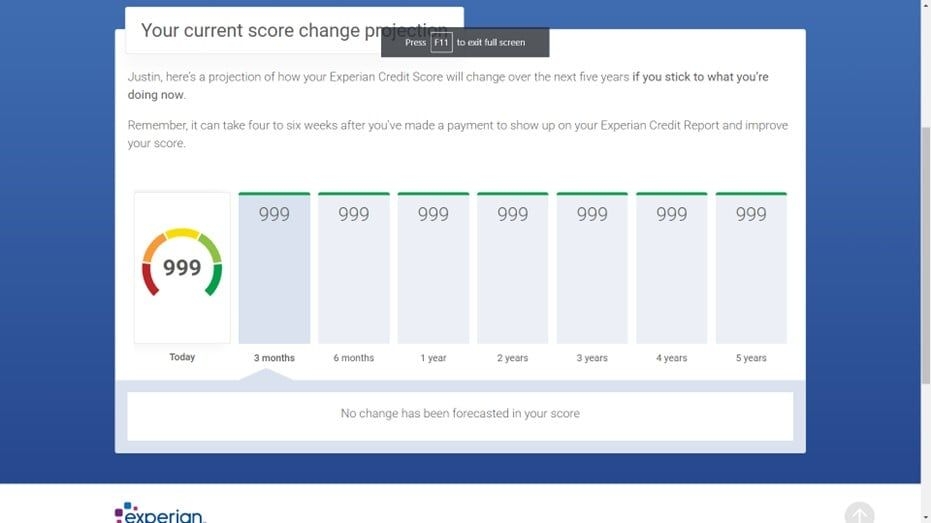 Users can get a 30-day free trial though, giving an opportunity to road test the service.
How much information do you get in the trial?
Experian give you a full report for the month you're applying for free plus their score out of 999.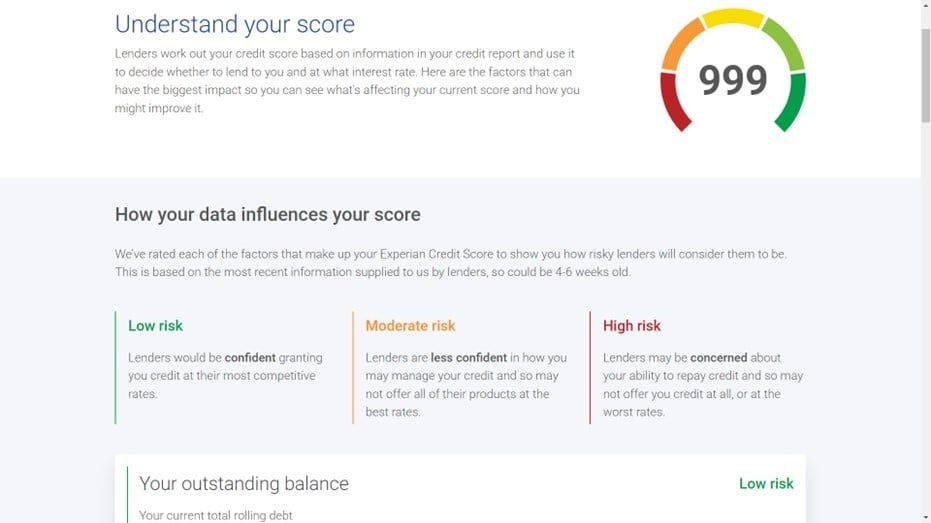 The interface is comprehensive, showing balance and monthly payments for every open debt, as well as a history of your credit scores and positive and negative influencers.
There's also a useful identity theft and fraud tool that monitors your credit report, internet and dark web as well as things like social media and public registers for your information. If anything is found, you'll receive a notification.
It is possible to make changes, like adding a note of disassociation, and see that change come on the report without paying for the privilege.
This is accessed via the "Queries and Disputes" section of the credit report drop down menu. Here you'll also find the addresses of organisations which you hold credit with.
How useful is the information?
For a 30-day free trial, the information in the report is very useful and will help customers get a handle on their credit rating. It will also help identify steps they can take to improve it in the future.
The Credit Score Builder Tool provides tips on improving a customer's credit score, allowing them to anticipate how their score will change over the months ahead. As part of a free trial, this is a useful tool.
If you're looking at a report and wondering what the different elements mean and why they're important, Experian also provides dummy reports with explanations - that makes navigating a free trial a lot simpler.
The report itself is very useful. It's very comprehensive but the main points - like potential issues, though strangely not all of them - are also clearly highlighted as below.
How easy is the service to use?
Both the website and the app are user-friendly, building on their reputation as one of the UK's favourite credit rating agencies. This simplicity may encourage people to subscribe, but it also ensures free trial customers don't get lost.
Daily credit score updates may seem like overload (especially if you're disappointed with your credit rating) but they definitely fulfil the criteria of a comprehensive credit report.
How easy is it to cancel without paying?
Clicking on "My Account", then selecting "My Subscription" from the drop down menu takes you to a summary of your subscription.
At the bottom of the screen there's an option to "Close Your Experian Account", which is easy enough to do.
Summary
| Help with improving rating? | Yes |
| --- | --- |
| Easy to cancel? | Yes |
| External monitoring services | Yes |
| Dispute section | Yes |
---
Equifax
Equifax is the UK's second largest agency, meaning it's another agency that lenders will often consult before deciding whether to extend credit to customers or not.
Unlike Experian, however, it's subscription or nothing - there is no permanently free "lite" option with Equifax. Fortunately, they do offer a 30-day free trial, although it's £7.95 per month after that.
Compared with Experian, it's more effort to sign up - there are a stream of questions relating to when and with whom you've taken credit with. It's worth having this information to hand before getting started.
How much information does the trial give you?
Equifax doesn't supply as much information to users as Experian does, which accounts for the higher monthly subscription fee for Experian in comparison to Equifax.
Even so, it provides more than the basics; for example, it will tell you which of your data is positively or negatively affecting your score.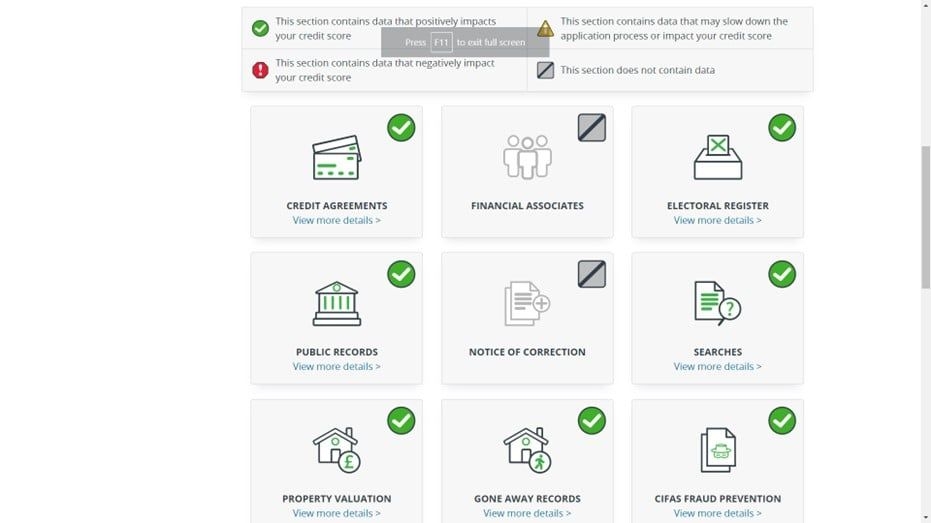 A customer's Equifax credit score is available as part of the free trial, though it's worth noting that it won't necessarily give you the same number.
The differences in figures doesn't necessarily mean a credit rating is worse, so be sure to pay attention to the explanatory notes.
However, it may be that checking multiple agencies will show different credit ratings with each - this explains why some lenders may think you're an acceptable customer to have and why others might turn you down.
As well as the credit rating, an Equifax report will provide alerts when significant changes are made to a credit report.
There is also an identity protection feature. You can choose which information you'd like Equifax to search for - for example, identity number, credit and debit cards, email addresses, and bank accounts.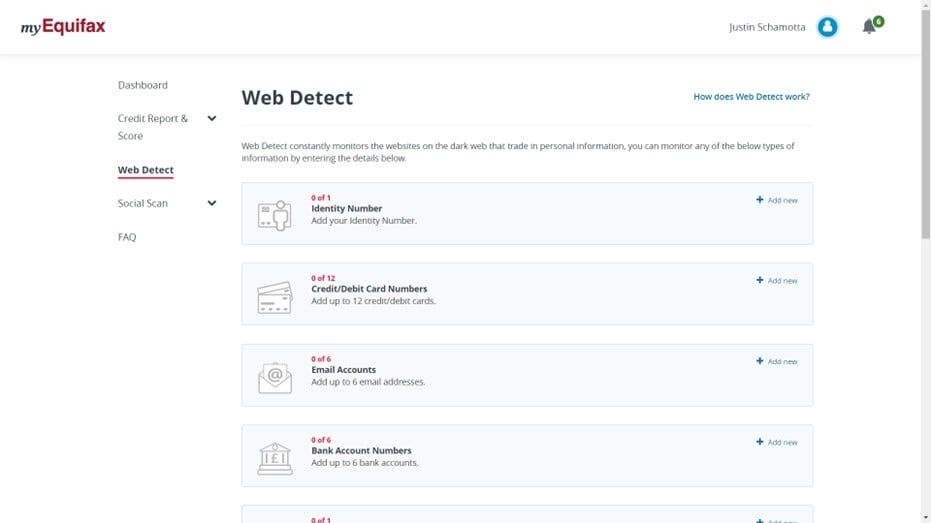 You'll then receive a notification if any of the information you've entered appears on fraudulent internet trading sites.
How useful does the information seem?
The main thing to note about an Equifax report is that it's slightly more basic than Experian with fewer features and an interface that doesn't feel as sleek.
Alerts to highlight when something significant has changed on a customer's credit report is a good feature, but only if you subscribe for long enough to make use of it.
How easy is the service to use?
Equifax isn't the most user-friendly of the credit report providers discussed in this guide, meaning that customers only looking for a quick and comprehensive look at their credit score might find the service tricky to use.
In addition, the only way to access Equifax is via the web. There is no dedicated app to help check and manage a credit score on the move and no function to receive text message alerts if something changes on the account.
For a free trial, these deficiencies may not matter, but it might be off-putting for anyone testing the service with the real intention of taking out a subscription.
How easy is it to cancel the free trial?
Clicking on "My Account" takes you to the "Account Management" page and straight to a big button that will cancel your subscription.
Summary
| Help with improving rating? | Yes |
| --- | --- |
| Easy to cancel? | Yes |
| External monitoring services | Yes |
| Dispute section | Yes |
---
CheckMyFile
CheckMyFile is slightly different to the other agencies in this guide as it compiles data from four credit agencies to create what it claims is a more detailed and independent analysis of a customer's credit score.
It offers a free 30-day trial like Experian and Equifax, but its monthly subscription fee is in line with Experian's at £14.99 rather than the lower fee charged by Equifax.
As with Equifax, though, there's no lite version of CheckMyFile, so you'll have to cancel completely after your subscription if you don't want to be charged.
How much information do you get in the trial?
As CheckMyFile uses information from four different credit agencies, it looks at first glance as though it has much more information than the other options in this guide.
The credit score given by CheckMyFile is worked out by compiling information from Equifax, Experian, TransUnion and Crediva, meaning that it can look lower or at least slightly different to those scores accessed via individual agencies.
If the system hasn't been able to access a credit report from one of the sources, it'll say so underneath the credit rating, ensuring users know which reports are being factored in at just a glance.
There's also a lot of other information to digest, so CheckMyFile can look like it says far more than other agencies, even if that data is simply transferred across from the other agencies into their interface.
How useful is the information?
The credit rating offered by CheckMyFile is not only accompanied by a colour coded wheel, it also has a star rating so it's simple to decipher.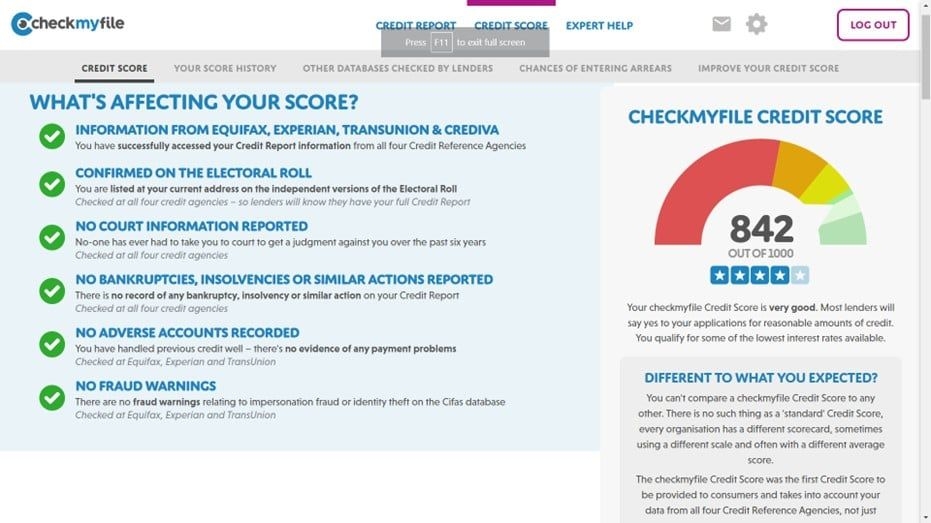 All the information gathered from the credit agencies is listed with a straightforward tick, cross and information key. This allows users to zone in on the problematic areas, such as whether any fraud warnings or court judgements have been reported.
One element that is particularly useful is the ability to look at the information pulled from the individual credit agencies alongside each other. So, if one agency says a customer has six active accounts but another says there are four, it's a discrepancy you might want to correct.
To dispute inaccurate information, you need to use the "Messages" tool. As part of the subscription you can send the details to CheckMyFile who will dispute the information on your behalf with the Credit Reference Agencies in question.
Another benefit of seeing information from all UK credit agencies laid out like this is that it can help you decide which lenders you start a better chance of getting accepted by - as long as you check which credit rating agency they use to check your history, and this is usually available in the small print of their websites.
CheckMyFile doesn't offer any external monitoring. You'll have to look to Equifax or Experian if you want to keep an eye on where your information is being used online.
How easy is the service to use?
It was very easy to navigate the site. It has a good layout, although there can be a lot of information on the page at one time, but helpful summaries and graphs showing things like how your borrowing patterns have changed over the past five years offset this somewhat.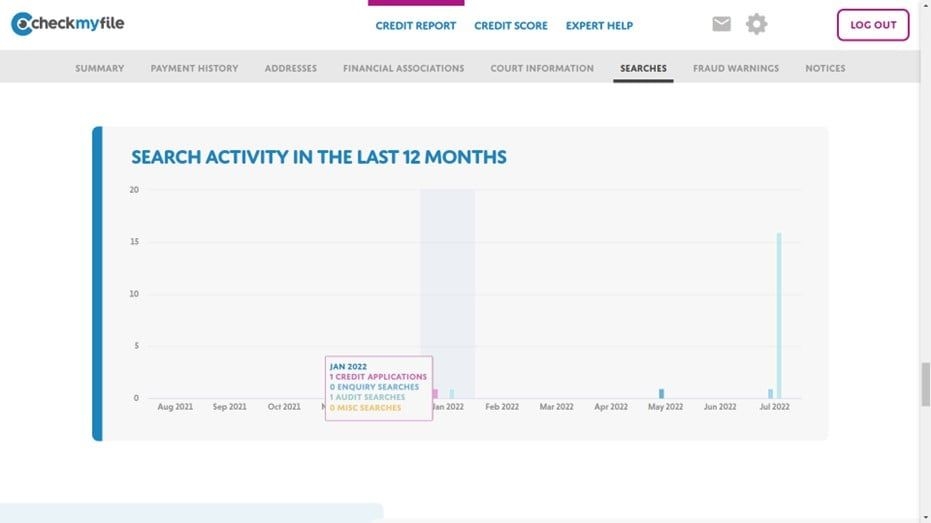 In addition, there's a decent amount of explanation about the different elements of the report and what they mean, so a user accessing a free trial won't be too confused - it's a service that's easy to pick up and use immediately.
One downside is that, like Equifax, CheckMyFile doesn't have a mobile app for checking credit scores while on the move. This dilutes the ability to decipher which lenders are more likely to accept you while, for example, you're in a car showroom looking at prospective vehicles.
How easy is it to cancel the free trial?
Clicking on the settings icon and then "Need help with your account?" produces a drop down menu with the option to manage, and then cancel, your subscription.
Summary
| Help with improving rating? | No |
| --- | --- |
| Easy to cancel? | Yes |
| External monitoring services | No |
| Dispute section | Yes |
---
Credit Karma
Credit Karma used to be known as Noddle until mid-2019 when they were acquired by Credit Karma. Nothing substantially changed during the changeover apart from the addition of more features. Best of all, it kept what was arguably its most important element - it's still free.
So, when you sign up for Credit Karma, you're getting access permanently for free. This is an immediate selling point, but is Credit Karma as good as its paid rivals?
How much information do you get
You get a credit score and associated information, which is drawn from another credit agency - TransUnion.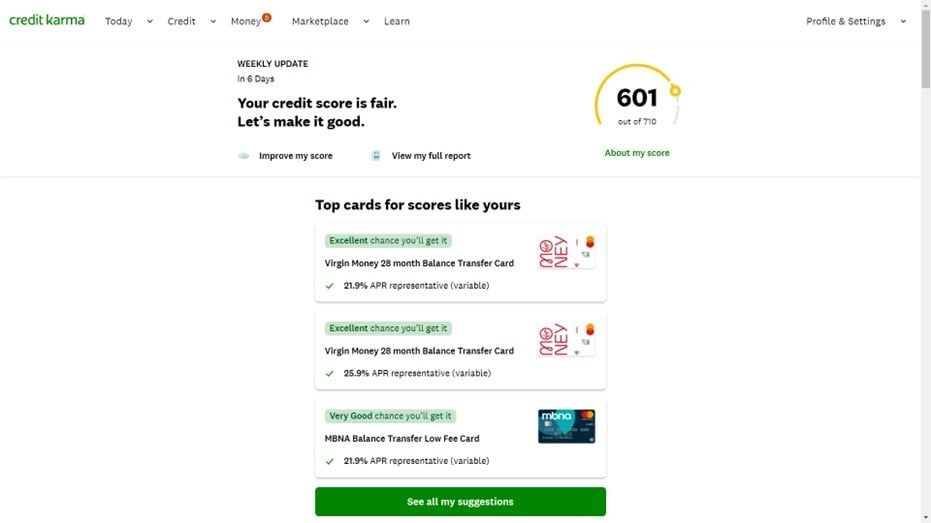 The site provides a list of credit factors and suggests how to improve them, if needed.
There's also a list of credit accounts such as bank accounts, loans, mortgages and credit cards, along with payment history details going back six years to check for any late or missed repayments.
Having checked my own information, I discovered TransUnion had associated me with two addresses that I'd never heard of. Usefully, credit Karma allows you to raise a dispute with TranUnion from their own site.
If you're seeking credit, the site also provides suggestions for products you may be eligible for, based on your credit score.
How useful does the information seem?
The rating from Credit Karma may not necessarily be the one seen by lenders when they're checking a potential customer's credit worthiness.
This is because TransUnion is the least widely used of the three credit agencies in the UK.
That said, if it's plain information you're looking for about your credit history, Credit Karma's interface can deliver that.
One issue seems to be that the detailed explanations you get with paid credit agencies are missing from Credit Karma - perhaps that's understandable as a free option.
Summary
| Help with improving rating? | Yes |
| --- | --- |
| Easy to cancel? | n/a |
| External monitoring services | No |
| Dispute section | Yes |
---
Summary: Which credit service free trial is best?
The best option for a free trial is Experian.
Its data is the most widely used by lenders, so it is here that you should aim to make any changes to improve your score.
Experian tells you what you ought to change and, if you make these changes, how your score will improve with time.
We also like that you get a free account even if you cancel after the trial period. This free account gives you access to your credit score, so you can check in when necessary.
Equifax also provides a comprehensive range of information to help you manage your credit score. More importantly, it's the second-most consulted credit agency and therefore worth checking over.
We like that CheckMyFile summarises the data held by four agencies side-by-side, enabling you to scan it for errors.
Credit Karma is free and can provide useful information about your credit history, though it's debatable how useful the overall credit score is.