It takes the final deadline of the end of 2024 and moves it into 2025, adding six months due to the restrictions placed on energy suppliers since March.
The Government has also warned there will be strict and ambitious supplier targets set from July 2021 to encourage installations as rapidly as possible.
Smart meters were supposed to be installed to over 85% of a supplier's customers by the end of 2020 but it was confirmed last year that the deadline would not be met.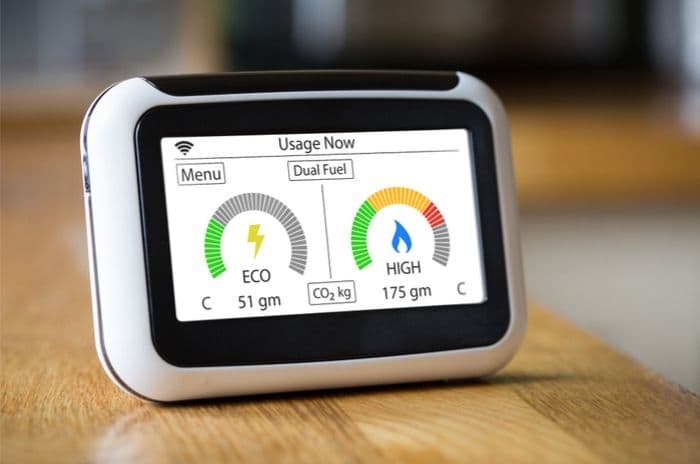 Credit: Shutterstock.com
Deadline extension
The revised deadline for the roll out of smart meters was supposed to be December 2024, although energy suppliers objected to the date when the government consulted on the issue late last year.
Now, though, it's been pushed back further to June 2025 as a direct result of the coronavirus outbreak.
Energy suppliers were unable to install smart meters after the coronavirus lockdown came into force in March as entry into homes was limited to only essential work.
As restrictions have eased, suppliers have begun installations again, and Ofgem confirmed earlier this week that normal work would be expected to resume from 1 July.
Yet the Government has acknowledged the reduced contact suppliers have had with customers in recent months has slowed the roll out, not only in terms of installing the meters themselves but also affecting customer engagement on the subject of smart meters too.
Difficult roll out
The roll out of smart meters has been beset with issues, not least the four years added to the initial deadline when the Government had previously been firm they wanted to reach the December 2020 target.
However, problems with a delayed IT system in 2016 were followed in 2018 by issues with meters going "dumb" if a customer switched supplier.
By April 2019 only 13.5 million smart meters had been installed when the initial target had been to install 50 million between 2011 and 2020.
The Government's latest announcement estimated 19,000 installations were taking place every day until early March when the coronavirus outbreak began to affect the industry.
Taken over a year, that would mean upwards of six million installations if work was only completed on weekdays and closer to eight million if work took place seven days a week.
Ambitious targets for installations will be introduced no later than July 2021 and fines may be levied on energy suppliers who fail to meet them.
Learn more about the pros and cons of smart meters in this guide.
Switch for more savings
Smart meters have been promoted as one of the ways the UK can meet its emissions target of net zero by 2050, so there is a conscious drive by both Government and energy suppliers to encourage customers to adopt them.
A second strand of their argument revolves around costs, with the Government currently stating customers could save up to £250 by installing a smart meter.
While the cost benefits of installation have been hotly debated over the years, it still remains a fact that the best way to save money on energy bills is by switching to a new supplier, especially if a household is on a pricey standard variable (SVT) or default tariff.
Comparing cheap energy deals with the Choose comparison tool is free and easy - see if there's a better energy waiting for any dual or single fuel home in the UK.