The potential for 5G speeds to reach over 10Gbps is real, although networks are averaging around 150Mbps to 200Mbps as the technology continues to find its feet.
All four major UK networks are rolling out 5G services in towns and cities across the UK, with some MVNOs also offering 5G-ready plans.
So far, though, coverage within areas is limited, and 5G has yet to take off as a mainstream option.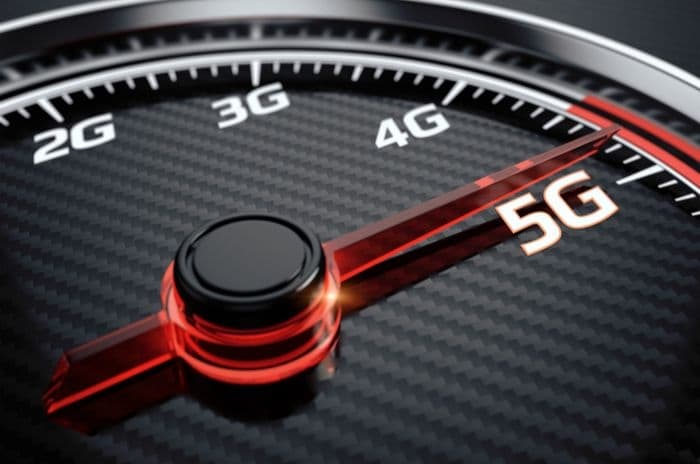 ---
What is 5G?
5G is the fifth generation of mobile technology. In the same way the move from 3G to 4G delivered faster connections for mobile users, the leap from 4G to 5G promises faster speeds, greater capacity and more.
One of the most important features of the 5G network is that it allows more devices to access mobile internet at the same time. This doesn't only affect our smartphones and tablets, but it also impacts other aspects of our lives such as smart technology, smart traffic monitoring, and smart energy networks.
5G services began to roll out in the UK in 2019, and the four UK networks are continuing to expand.
However, 5G hasn't yet reached its full potential, so there is plenty to look forward to as the network grows and evolves.
What are the benefits of 5G?
Faster speeds are a major benefit of 5G, and we cover those in more detail below. However, there are also some other benefits from the network upgrade that have a huge impact on how well our tech works and what it can do.
Latency refers to how long a network takes to respond to a request. So, if we click to open a webpage on our mobile browser, a network with high latency will take longer to respond than one with low latency.
As the table below shows, latency on 5G networks is lower than its predecessors:
| Type of network | Approximate latency (ms) |
| --- | --- |
| 3G | 65ms |
| 4G | 35-50ms |
| 5G | 21-26ms |
Theoretically, 5G latency could go as low as 1ms, although we should be careful when thinking about theoretical possibilities as the best results are often found in test settings and don't necessarily translate to the real world.
Capacity is another major improvement for 5G networks over the previous 4G technology.
More 5G spectrum is available than 4G spectrum, essentially meaning there is more capacity for end users. To us, that means more devices can be connected at high speeds and those connections will be more reliable than they were on 4G.
Beyond our smartphones, this improved reliability will make it easier for tech around us to work, allowing more reliable delivery drones and self-driving cars, for instance.
How fast is 5G?
5G could theoretically reach top speeds of over 10Gbps, more than a hundred times faster than the theoretical top speed of 4G.
These are average and theoretical speeds of the different mobile technologies based on Ofcom data and independent data from validated tests:
| Type of network | Average download speeds | Theoretical maximum download speeds |
| --- | --- | --- |
| 3G | 7.4Mbps | 42Mbps |
| 4G | 36.4Mbps | 300Mbps |
| 5G | 100Mbps to 200Mbps | 10Gbps to 50Gbps |
As users of 4G technology will be aware, the average speeds received are far below the theoretical speeds listed in the table above.
EE are routinely named as the fastest 4G provider, with Opensignal research published in October 2020 showing EE's average download speeds of 35.0Mbps compared to second-placed Vodafone's 20.4Mbps.
With this in mind, the expectations for 5G technology shouldn't rely on the theoretical 10GBps+, but we do have some real-world testing now to show how fast 5G really is at the moment.
Research from RootMetrics published in September 2020 looked at how 5G performed in real-world tests in 16 cities.
Although it's very much a snapshot rather than a full-blown analysis, it found Three delivered the highest single speed in a test, providing speeds of 478.1Mbps in one test in Liverpool.
Median download speeds were lower than this across all networks:
| | Three | Vodafone | EE | O2 |
| --- | --- | --- | --- | --- |
| Fastest median download speed | 193.7Mbps | 181.8Mbps | 145.9Mbps | 121.3Mbps |
| Location recorded | Leicester | London | Newcastle | Belfast |
Data from Ookla (operator of popular speed checking website Speedtest.net) for Q3 2020 shows similar median speeds:
| | Three | Vodafone | EE | O2 |
| --- | --- | --- | --- | --- |
| Median download speed | 201.12Mbps | 176.90Mbps | 152.17Mbps | 134.76Mbps |
These averages for 5G speeds are around five or six times faster than the top 4G speeds registered by EE in the Opensignal report mentioned above.
Three's highest single test of 478.1Mbps shows how 5G can rival the fastest home broadband, although it isn't yet at the heights of fixed line broadband from the likes of Virgin Media or Hyperoptic, and other gigabit-capable fixed networks.
Three, Vodafone and EE all offer mains powered 5G routers as alternatives to fixed line broadband. While O2 offers a 5G pocket hotspot which could still be used at home.
---
How much does 5G cost?
5G services can only be accessed using smartphones or other devices with 5G modems.
More 5G-capable devices are emerging all the time, with Apple finally bringing out 5G-ready phones in 2020 with their iPhone 12 range.
While networks aren't necessarily charging a premium for access to the 5G network, the devices themselves are generally more expensive, and this increases the monthly costs.
Google released their Google Pixel 5 in October 2020, offering 5G capability at a more competitive price point than some of their rivals.
This is how the pricing stacks up for the Google Pixel 5 across all four major networks:
| | Handset | Minutes | Data | Monthly price | Initial price | Contract term |
| --- | --- | --- | --- | --- | --- | --- |
| | Google Pixel 5 | Unlimited | Unlimited | £53 | Free | 24 months |
| | Google Pixel 5 | Unlimited | Unlimited | £58 | £19 | 24 months |
| | Google Pixel 5 | Unlimited | Unlimited | £58.71 | £30 | 24 months |
| | Google Pixel 5 | Unlimited | Unlimited | £60 | £10 | 24 months |
As a point of comparison, the Google Pixel 4a, the 4G predecessor to the Google Pixel 5, doesn't cost more than £49 per month across any of the networks.
This doesn't necessarily mean the 5G premium is a specific amount as the Pixel 5 was obviously an updated device.
Even so, as 5G devices are currently made by high-end smartphone manufacturers, customers should expect to pay more for them.
Search for 5G-ready devices using the Choose comparison checker for free.

---
Where is 5G available?
All four mobile networks have started to roll out 5G, and some mobile virtual network operators (MVNOs) are offering it too.
Although we list the locations reached by the different networks and their 5G services below, it's important to note that just because a provider is operational in a specific town or city, it doesn't mean their 5G coverage is wide.
So, when EE announced they had rolled out 5G services to 12 more locations in October 2020, they were also keen to confirm they had doubled the number of 5G sites they had across key locations such as Edinburgh, Cardiff, Belfast and Birmingham.
Reaching a location is only one part of the 5G puzzle, and anyone thinking about switching to 5G should consider whether it's available in multiple locations they visit regularly.
There's more detail on which network is best for 5G broadband in this guide.
5G on EE
EE were the first to launch 5G services in May 2016, switching on the technology in six cities.
These are the 28 cities covered by EE to date:
| | | | |
| --- | --- | --- | --- |
| Aberdeen | Birmingham | Belfast | Bath |
| Bristol | Cardiff | Chelmsford | Coventry |
| Edinburgh | Glasgow | Hull | Leicester |
| Liverpool | London | Leeds | Lichfield |
| Lisburn | Manchester | Newcastle | Nottingham |
| Oxford | Plymouth | Salford | Sheffield |
| Stirling | Sunderland | Wakefield | Wolverhampton |
64 towns are also covered to some extent by EE:
| | | | |
| --- | --- | --- | --- |
| Aldershot | Altrincham | Ashford | Ashton-under-Lyne |
| Barrhead | Belshill | Birkenhead | Blackpool |
| Borehamwood | Bransholme | Brentwood | Bury |
| Castleford | Castlereagh | Chatham | Cheshunt |
| Chesterfield | Chester-le-Street | Chorley | Clevedon |
| Clifton (Notts) | Clydebank | Crawley | Cumbernauld |
| Dartford | Dinnington | Doncaster | Dudley |
| Epsom | Grays | Gillingham | Guildford |
| Ilkeston | Hamilton | Hoddesdon | Harlow |
| Huddersfield | Inchinnan | Jarrow | Kimberley |
| Kingston-upon-Thames | Loughborough | Loughton | Maidstone |
| Milnrow | Minster | Mirfield | Motherwell |
| Newton-le-Willows | Northampton | North Shields | Nuneaton |
| Oldham | Paisley | Pontefract | Porthcawl |
| Potters Bar | Rochdale | Rochester | Romford |
| Rotherham | Rugeley (West Midlands) | Shpley | Solihull |
| Southend-on-Sea | South Shields | Staines-upon-Thames | Stafford |
| Stevenage | Sutton Coldfield | Swadlincote | Sydenham |
| Walsall | Waltham Abbey | Waltham Cross | Walton-on-Thames |
| Warwick | Washington | Watford | West Bromwich |
| Westhoughton | Weston-Super-Mare | Weybridge | Wickford |
Learn more in our EE mobile provider review about what they offer.
5G on Three
Three launched a 5G home broadband service in August 2019 before finally rolling out services for mobile customers from February 2020 onwards.
There are over 150 locations with some level of 5G coverage from Three:
Aberdeen
Abingdon-on-Thames
Adlington
Aldershot
Aldridge
Balloch
Barnsley
Barrow-in-Furness
Basildon
Bath
Bedford
Belfast
Billericay
Billingham
Birkenhead
Birmingham
Blackburn
Blackpool
Borehamwood
Bradford
Brighton
Brimington
Bristol
Bromsgrove
Brookmans Park
Broughton Astley
Burton upon Trent
Cannock
Cardiff
Castlereagh
Chatham
Chelmsford
Cheltenham
Chesham
Christleton
Clayton-le-Woods
Clifton
Colchester
Copmanthorpe
Corringham
Coventry
Crawley
Crook
Cullingworth
Danderhall
Denholme
Derby
Dewsbury
Doncaster
Dundee
East Kilbride
Edinburgh
Ellesmere Port
Exmouth
Glasgow
Gorebridge
Grays
Greenock
Grimsby
Guildford
Hamilton
Hartley
Heanor
Heathcote
Hedge End
Hemel Hempstead
Hertford
Heswall
Horley
Horwich
Huddersfield
Hull
Huntingdon
Inchinnan
Ingleby Barwick
Ipswich
Irlam
Iver
Kings Hill
Kings Langley
Kirkheaton
Leeds
Leicester
Leyland
Lincoln
Liverpool
London
Lower Stondon
Luton
Maidenhead
Maidstone
Manchester
Mansfield
Marlow Bottom
Milton Keynes
Motherwell
Neston
Newcastle
Newhall
Newport
Newquay
Newton Aycliffe
Newton-le-Willows
Newtownabbey
Normanton
Northampton
Nottingham
Nuneaton
Ottershaw
Oxford
Peterborough
Plymouth
Porthcawl
Portsmouth
Preston
Reading
Redcar
Royston (Yorks)
Sheffield
Shelly Green
Slough
South Heighton
South Normanton
Southampton
Southend-on-Sea
Southport
St Albans
St Blazey
St Columb Road
Stevenage
Stockton-on-Tees
Stoke-on-Trent
Sunderland
Sunninghill
Sutton-in-Ashfield
Swadlincote
Swindon
Tamworth
Telford
Thornaby-on-Tees
Wakefield
Walton-on-Thames
Warrington
Washington
Westhoughton
Weybridge
Wickford
Wigan
Winterbourne
Worcester
Worksop
Writtle
York
Read our Three mobile network review.
5G on Vodafone
Vodafone were the first mobile network to confirm their 5G launch date, and they switched on their first cities in July 2019.
So far, their rollout hasn't reached the level of their competitors, but they are live in the following locations:
| | | | |
| --- | --- | --- | --- |
| Ambleside | Bebington | Belfast | Birkenhead |
| Birmingham | Bishopbriggs | Bolton | Bootle |
| Bournemouth | Bristol | Cardiff | Cheadle |
| Cheltenham | Clitheroe | Crosby | Droylsden |
| Eccles | Edinburgh | Gatwick | Glasgow |
| Great Shelford | Guildford | Horwich | Huyton-with-Roby |
| Isle of Scilly | Kingswood | Lancaster | Leeds |
| Liverpool | Llandudno | London | Manchester |
| Mangotsfield | Newbury | Oldbury | Paisley |
| Penarth | Rochdale | Salford | Solihull |
| Southampton | Stockport | Stoke-on-Trent | Stranraer |
| Stretford | Sutton Coldfield | Swansea | Swinton |
| Urmston | Wallasey | Warrington | Wolverhampton |
Read our full review of Vodafone's mobile network.
5G on O2
O2 rolled out its 5G service in October 2019 across six cities initially. Now this has expanded to over 100 towns and cities:
Aberdeen
Ashford
Aughton
Aylesbury
Banstead
Basildon
Beaconsfield
Bedford
Belfast
Birmingham
Blaydon
Bradford
Bridge of Don
Brighton
Bristol
Bury St Edmunds
Byfleet
Cambridge
Cardiff
Chadwell St Mary
Chatham
Chelmsford
Chesterfield
Chipstead
Colchester
Coventry
Dartford
Derby
Dewsbury
Doncaster
Dundee
Durham
Dyce
Eastbourne
Edinburgh
Epsom
Esher
Eton
Gateshead
Gatton Bottom
Gillingham
Glasgow
Gravesend
Grays
Great Yarmouth
Halifax
Harlington
Harlow
Hemel Hempstead
Hextable
High Wycombe
Hove
How Wood
Huddersfield
Hull
Ipswich
Jarrow
Leeds
Leicester
Lincoln
Lisburn
Liverpool
London
Longford
Loughborough
Lowestoft
Luton
Manchester
Mansfield
Middlesbrough
Milton Keynes
Morley
Newcastle
Newtownabbey
North Shields
Northampton
Norwich
Nottingham
Nuneaton
Orpington
Oxford
Peterborough
Plymouth
Rainham
Redhill
Rotherham
Royal Tunbridge Wells
Rugby
Sheffield
Shepperton Green
Slough
South Shields
Southend-on-Sea
Staines-upon-Thames
Stevenage
Stockton-on-Tees
Stoke-on-Trent
Sunbury
Sunderland
Thundersley
Tynemouth
Warrington
Washington
Weybridge
Whickham
Whitley Bay
Windsor
Worthing
York
Our guide to O2's mobile network goes into more detail about their services.
Other networks offering 5G
There are four other networks offering 5G services at the moment:
BT, as the owner of EE, have access to EE's 5G sites, although BT Mobile has not confirmed all the individual locations themselves. They do offer a coverage checker, however, which allows customers to check if it's available in their area.
One thing to note: BT Mobile doesn't yet sell 5G-ready handsets, but customers can purchase 5G-ready SIM cards from them.
Sky Mobile uses the O2 network to deliver their 5G services, as do Tesco Mobile. Their roll out timetables may vary but they are using the O2 infrastructure to provide 5G.
Finally, VOXI are a sub-brand of Vodafone and use their network to deliver mobile services. That means they are able to access Vodafone's 5G network in up to 57 locations.
---
Verdict: Is 5G worth it?
5G coverage has drastically increased over the last year and, with the launch of an Apple iPhone with 5G capabilities, more customers are likely to switch to 5G-capable handsets in the near future.
Speed tests show the potential of 5G to deliver speeds of up to 480Mbps as things stand, and these speeds will become more common and even increase as the technology improves.
There are definitely some roadblocks in the way, however. Chief among them is the fact that mobile networks have been banned from using Huawei kit in any of their 5G networks and no new Huawei equipment can be installed after September 2021.
So far, it's unclear how much of a delay removing this equipment will cause to the 5G roll out, but it will have some impact.
There has even been concern raised over the safety of 5G, though all available research points to it being safe.
Equally, 5G coverage is mostly confined to urban areas, meaning the benefits of it as a replacement for fixed line home broadband are limited right now.
5G is proving to be a game-change, but it's a slow revolution rather than one that matches its speedy mobile services.
Read more on the best mobile networks for 5G or compare 5G mobile phones.