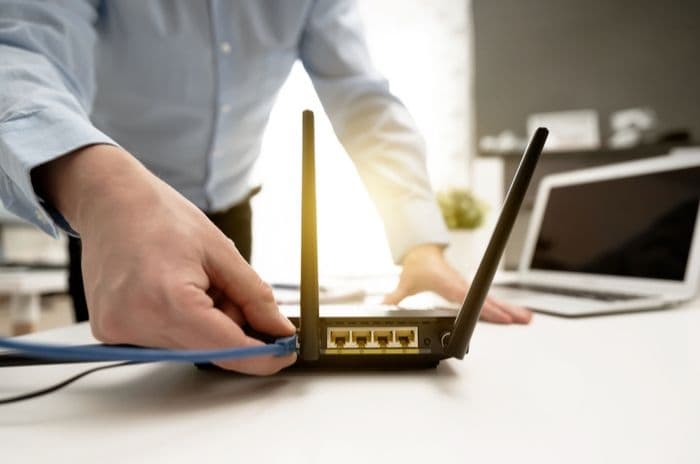 Credit: Proxima Studio/Shutterstock.com
---
At a glance
| What we like | What we don't like |
| --- | --- |
| 4G option for rural broadband customers | More expensive than fixed-line broadband |
| Truly unlimited data | Antenna is expensive (if needed) |
| 12-month contracts | Speeds are unpredictable |
| Choice of two mobile networks | |
| Satisfied customers | |
Broadband plan
| | Unlimited data |
| --- | --- |
| Price | £39.99 |
| Set-up costs | From Free |
| Download speed | 25Mb average |
| Router | Included |
| Call packages | None |
| Available TV | None |
| Contract length | 12 months |
---
Broadband package
4G Internet only offer one home broadband plan to customers:
| | Package | Broadband | Monthly price | Upfront price | Contract term |
| --- | --- | --- | --- | --- | --- |
| | Unlimited data | 25Mb average | £39.99 | Free | 12 months |
It's worth noting the 25Mb average is based on what their customers across the UK can access, and it's very much dependent on local conditions. We go into more detail on that below.
Customers are only committed to a 12-month contract so, if broadband circumstances in their local area change and they want to move away from 4G Internet, that's a little more straightforward.
4G Internet offer unlimited data as standard. This sets them apart from some other providers offering internet services to rural areas which sometimes have monthly usage caps attached to their contracts.
How does it work?
As their name suggests, 4G Internet provide home internet via the 4G mobile network. This means they're a viable alternative to fixed-line broadband in areas where those services are patchy.
It is, of course, dependent on a decent 4G signal, and some customers may immediately think the 4G signal in their area is too weak for this to work. If the home router provided by 4G Internet isn't sufficient, customers can pay for an external antenna installation - there's more information on this option below.
However, 4G Internet use the Vodafone and O2 mobile networks for their services, and they will assess the best network for a household at sign-up based on signal strength in that area.
If they choose the wrong one (something they say is a rare event), they will simply swap a customer to the other network. Equally, if a customer has a preference between the two networks, they will first take that into account.
As we explore in more depth in our guide to mobile coverage, Vodafone and O2 have decent coverage in some rural areas in Scotland especially, but local signal strength will be pivotal for customers deciding whether 4G Internet is right for them.
Further good news comes in the form of the Shared Rural Network (SRN) that UK mobile operators are working towards.
This will improve the 4G signal in some of the hardest-to-reach premises across the UK, and O2 and Vodafone have already joined forces with Three to commit to an additional 222 masts covering 280,000 more properties by 2024.
Mobile networks are committed to reaching coverage targets too, meaning that more rural households will be covered by at least one network. In practice, thanks to the SRN and shared infrastructure agreements, customers will likely have more of a choice than that.
The Government is also hoping to clear the way for taller masts to send mobile signals further, something that could benefit potential 4G Internet customers too.
---
How do they compare?
It's difficult to compare 4G Internet with other providers as the service they offer is quite different to fixed-line broadband providers.
This is what their services look like compared to some of the cheapest copper and fibre deals on the market right now:
Package
Broadband
Monthly price
Upfront price
Contract term
Unlimited data
25Mb average
£39.99
Free
12 months
Fast Broadband
11Mb average
£17.99
Free
12 months
Offer: Money off for 12 months
Brilliant Broadband
11Mb average
£20
£10
12 months
Offer: Now TV membership at reduced price for 12 months. Price may change again during the minimum term.
Fibre 1
35Mb average
£24
Free
24 months
Fibre 35
38Mb average
£28
Free
18 months
Offer: Free Setup (worth £15)
The difficulty is that the reason many customers will turn to 4G Internet is because the speeds offered by fixed-line broadband are so low or even unavailable.
This means that, while 4G Internet pricing is double that of fixed-line services, it will be the better option for some rural customers, regardless of price.
What about other dedicated mobile broadband for the home options from network operators?
We cover those in more detail in this guide to mobile broadband for the home, but here are some of the best deals available on Three, Vodafone and EE:
| | Device | Data | Monthly price | Initial price | Contract term |
| --- | --- | --- | --- | --- | --- |
| | 4G home router | Unlimited 4G | £39.99 | Free | 12 months |
| | 4G Hub | Unlimited 4G | £22 | Free | 24 months |
| | GigaCube | 300GB on 4G | £50 | Free | 24 months |
| | 4GEE Home Router 2 | Unlimited data on 4G | £55 | £50 | 18 months |
As we can see, while Three might be cheaper than 4G Internet for unlimited data, both Vodafone and EE are markedly more expensive.
Plus, with Three, it's worth remembering their coverage levels are often the lowest of all four operators, so unless customers are certain their 4G signal is effective, it might not be an option for many rural households.
Vodafone doesn't offer unlimited data on their 4G GigaCube, so customers would be paying more direct to Vodafone for a capped data plan when they could theoretically access that same signal more cheaply through 4G Internet.
Read more in our reviews of EE mobile broadband, Three mobile broadband and Vodafone mobile broadband.
Alternative to satellite
4G Internet's home broadband offers a viable alternative to the satellite broadband packages often touted at the last resort when we look at rural broadband options.
Satellite broadband is costly and may come with data caps attached. Here is 4G Internet's plan set alongside similar packages from two of the biggest names in satellite broadband for the home:
Package
Broadband
Monthly price
Upfront price
Contract term
Unlimited data
25Mb average
£39.99
Free
12 months
Konnect
Easy
22Mb average
Unlimited
£29.99
Free
12 months
Freedomsat
Home 75
15Mb average
75GB cap
£105
Free
12 months
Konnect's package is more palatable than Freedomsat's, and they do offer faster packages, but customers may still be put off by the technology involved in going the satellite broadband route - while 4G Internet do offer customers the option of paying for an external antenna, it's a comparatively discreet piece of equipment.
---
Broadband speeds
4G Internet's speeds are necessarily limited by the 4G mobile speeds of their partners O2 and Vodafone.
This results in disparate speeds across the country, and a glance at the reviews on their Trustpilot page bears that out. If a household is within sight of a 4G mast, for example, it stands to reason their signal will be better than one who is at a distance with immovable geographical features in the way too.
4G Internet's estimated average is 25Mb, above the 10Mb the Government calls 'decent' broadband in the UK, yet it's important to remember local issues will be the defining factor in how fast household speeds are going to be.
Because 4G Internet has two networks to choose from, the chances that there will be a strong signal from one is increased, yet the signal itself is beyond their control.
For many customers in the frustrating position of sub-10Mb home broadband, however, the chance of speeds around 25Mb will be an enticing prospect.
Find out more about speeds on O2's mobile network and Vodafone's mobile network.
---
Equipment
4G Internet provides a 4G home router to customers, although an external antenna may be necessary in some cases.
In the first instance, customers will receive the 4G router with a SIM. Many customers will find this router is good enough to harness the 4G signal in their area, but some households may need extra help. That's where the external antenna comes in.
Customers will have to pay for the antenna installation, and this costs £399 followed by the ongoing commitment of a 12-month contract at the prices detailed earlier in this guide.
The installation is backed by a full money-back guarantee, which should give customers some peace of mind when agreeing to an install like this.
Extending the signal
While 4G Internet don't provide equipment for customers to extend the wi-fi signal in their home in the way some fixed-line broadband providers do, they do recommend a specific extender if customers are interested.
The TP Link Deco E4 Mesh WiFi system comes in a two or three set, with the twin pack suitable for up to 2400 sq ft coverage and the trio suitable for up to 4000 sq ft.
4G Internet say they're happy to provide more information about the Deco units if customers get in contact with them.
---
Customer service
As a niche provider, 4G Internet aren't included in official customer service results, so the best place to find information about their services is Trustpilot where they have an impressive overall score of 4.7 out of 5 (albeit based on only around 300 reviews).
81% of reviewers rank 4G Internet as Excellent with a further 13% saying they are Great.
One thing that stands out when we read through the reviews on Trustpilot is how eager the 4G Internet team are to help when things go wrong. This has resulted in more than a couple of reviewers changing their score to reflect an improved service.
So, from the level of genuine engagement on Trustpilot, we think 4G Internet's attitude towards customer service is an excellent one.
Find out about the customer service offered by bigger broadband providers and the mobile networks.
---
Our verdict: 4G Internet is great for rural homes
Customers in rural areas often feel as though they're being left behind and that the gap between them and the ultrafast broadband networks being rolled out in other areas seems to grow by the year.
The latest Connected Nations update from Ofcom found 2% of households are still unable to receive speeds of 10Mb or more, and it is those customers who will be most attracted to the idea of running their home internet over an unlimited 4G network.
It's true there are barriers and downsides to signing up to 4G Internet, however, including:
Speeds limited by 4G signal from O2/Vodafone
Pricey compared to fixed-line alternatives
External antenna can be an expensive extra (if required)
Yet customers considering 4G Internet are likely doing so because fixed-line broadband has failed them. Under those circumstances, we think 4G Internet are well worth a little investigation.
Customers can find out which broadband deals are available in their area or compare mobile broadband options for the home.