EE offers 4G and 5G mobile broadband, with unlimited data deals finally available.
Customers can choose from a data SIM only deal for their tablet or take a mobile wi-fi device designed for 4G or 5G networks.
EE's speed and coverage is fantastic and their mobile broadband deals are now keeping pace with the quality deals offered on their pay monthly mobile plans.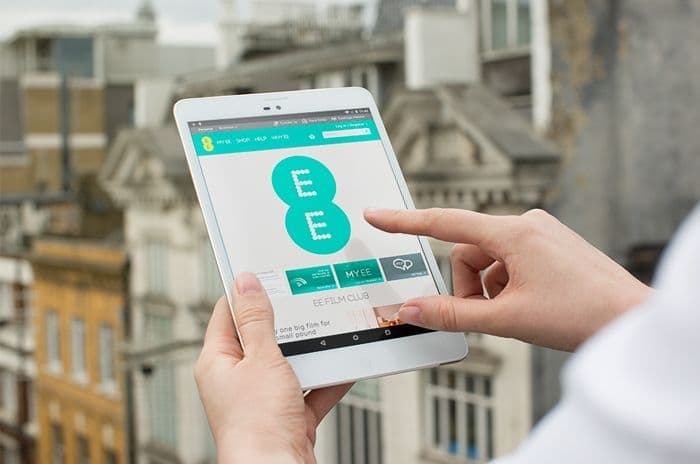 © EE
---
At a glance
| | |
| --- | --- |
| 4G indoor coverage | 93% |
| 4G landmass coverage | 85% |
| RootMetrics speed | 58.8Mbps |
| Price from | £8 per month |
| Minimum term | 1-month, 18 months, 24 months |
| Device | Data SIM, mobile wi-fi, home router |
| What we like | What we don't like |
| --- | --- |
| Good range of data deals | High upfront costs for some devices |
| 4G and 5G devices available | No consistent pricing |
| Some 1-month contracts | Not the cheapest |
| Great speed and coverage | |
---
EE mobile broadband tariffs
There are two types of mobile broadband tariffs from EE: SIM only mobile broadband deals designed to be used in tablets or pre-owned mobile broadband devices, and deals that come bundled with a mobile broadband device like a 4G mi-fi device.
EE also offer mobile broadband for the home and we look at those tariffs too.
SIM only
Data SIM deals from EE mobile broadband go from 4GB data all the way up to unlimited data.
They can be taken on 24-month contracts or on a 1-month rolling deal for a little extra per month.
Here are a couple of examples for each contract length:
| | Device | Data | Monthly price | Initial price | Contract term |
| --- | --- | --- | --- | --- | --- |
| | Data SIM | 10GB | £13 | Free | 24 months |
| | Data SIM | 10GB | £22 | Free | 1 month |
| | Data SIM | Unlimited | £38 | Free | 24 months |
| | Data SIM | Unlimited | £43 | Free | 1 month |
As this demonstrates, there's no clear step-up in price when it comes to taking a 1-month deal instead of a 24-month one, so customers should compare all options to see what's right for them.
It's also possible to take a swappable benefit from EE on some SIM only tariffs, so customers can add a benefit like Apple Music or BT Sport Ultimate to their mobile broadband SIM deal.
Find out how SIM only deals work.
Mobile broadband devices
The second way of taking EE mobile broadband is by taking a mobile broadband device and SIM from EE.
These pocket-sized devices come with a data SIM and act as a personal hotspot, broadcasting a wi-fi signal using a customer's data allowance.
EE has two options currently available:
4GEE WiFi Mini 2020
5GEE WiFi
Again, customers can choose from a range of 1-month and 24-month deals.
Here are some current options:
| | Device | Data | Monthly price | Initial price | Contract term |
| --- | --- | --- | --- | --- | --- |
| | 4GEE Wifi Mini 2020 | 40GB | £20 | Free | 24 months |
| | 4GEE Wifi Mini 2020 | 40GB | £22 | £40 | 1 month |
| | 5GEE WiFi | 100GB | £40 | £100 | 24 months |
| | 5GEE WiFi | 100GB | £45 | £275 | 1 month |
As the table demonstrates, upfront prices for 5G mobile broadband from EE can be very high, especially if customers want the convenience of 1-month deals.
However, because customers are buying a mi-fi device from EE, there will usually be upfront costs if they want a 1-month deal anyway.
Read more about how mobile wi-fi hotspots work.
Mobile broadband for the home
EE also offer two mobile broadband for the home options:
4GEE Home Router 3
5GEE Router 2021
As the names suggest, one only works on the 4G network while the more expensive home router is able to use the EE 5G network as well.
There is one major difference between the two mobile broadband for the home devices from EE: the 4G router is available on a rolling 1-month contract (with £150 upfront) as well as an 18-month plan while the 5G hub must be taken on an 18-month deal.
Here are some tariff examples:
| | Device | Data | Monthly price | Initial price | Contract term |
| --- | --- | --- | --- | --- | --- |
| | 4GEE Home Router 3 | 200GB | £40 | £50 | 18 months |
| | 4GEE Home Router 3 | 200GB | £40 | £150 | 1 month |
| | 5GEE Router 2021 | 500GB | £50 | £100 | 18 months |
It's important to remember these deals have data limits every month. See how much usage you might need.
While some unlimited deals are available, they often come with prohibitive monthly or upfront costs, and they may not be an economic way of getting home broadband. Find out more about using mobile broadband for the home.
---
Coverage
According to official Ofcom figures from December 2019, EE offers the best 4G geographical (landmass) coverage of any mobile network.
In other categories, they're never lower than third:
| Type of coverage | EE's coverage | Place (of four networks) |
| --- | --- | --- |
| Landmass | 85% | 1st |
| Indoor premises | 93% | 2nd |
| Major roads | 88% | 2nd |
| All roads | 81% | 2nd |
Looking at these figures, though, it's clear EE's mobile broadband won't be available in every location across the UK, especially outdoors. However, they do have good coverage in comparison to other networks, and their placing in Ofcom's rankings is solid.
Since mobile broadband is designed to be used on the move, it's worth thinking about the places we expect to access it and checking coverage in those areas.
Visit this page to access EE's own coverage checker.
5G coverage
EE's coverage checker can also show if 5G services are available in a given location.
EE were the first mobile network to switch on 5G, launching in six cities back in May 2019.
Since then, they have expanded to over 112 locations across the UK, with an October 2020 announcement confirming 5G services in Aberdeen, Crawley and elsewhere, as well as confirming 5G capacity had been doubled in key UK locations.
This last point is important - adding locations to the 5G network doesn't necessarily mean many customers in those areas can actually access 5G services.
Mobile networks need to expand their 5G sites within towns and cities to bring 5G connectivity to a greater area. Only then will paying for 5G-ready devices and connectivity really be worth it.
EE are definitely taking steps in the right direction by increasing their 5G sites in existing locations and they aim to cover 90% of the UK landmass by 2028, but customers should always run checks on local 5G coverage to be sure it'll work for them.
Find out more 5G mobile broadband or read more about how safe 5G is.
---
Speed
EE are often crowned as the leader in network speed tests, not only in terms of their download speeds but also responsiveness and other metrics.
As an example, Opensignal's latest Mobile Experience Awards released in September 2021 name EE as the winner in all six relevant categories:
Video Experience
Games Experience
Download Speed Experience
Upload Speed Experience
4G Availability
4G Coverage Experience
Their analysis showed average download speeds on the EE network were 44Mbps, more than double the 17.1Mbps recorded by O2.
Nor is Opensignal the only report to show EE in the lead. RootMetrics review of the first half of 2021 put EE's aggregate median download speeds at 58.8Mbps, more than three times O2's 15.6Mbps.
They also labelled EE as the top performer in six out of seven categories including:
Overall
Reliability
Speed
Data
Finally, Tutela's most recent analysis in their October 2021 State of Mobile Experience report crowns EE's as the winner in five of six categories:
Excellent Consistent Quality
Core Consistent Quality
Coverage score
Video experience
5G Coverage
From looking at this collection of industry insights, it's clear EE's network is currently the fastest and most reliable in the UK for 4G services.
On the 5G side of things, data from RootMetrics shows EE's median 5G download speeds ranged from 102.2Mb to 162.9Mb in the 16 cities tested.
For EE mobile broadband customers, all this means the 4G speeds they will receive whether they have a data SIM or a mobile broadband device should be some of the fastest available in the UK.
---
Customer service
EE are high in the rankings when it comes to low complaint figures. The most recent figures for Q2 2021 show they had 1 complaint per 100,000 customers, comparable to Tesco Mobile, BT Mobile and Sky Mobile.
Over the longer term, EE's customer service record on pay monthly mobile is solid too.
During 2020, they had 6 complaints per 100,000 customers, the second lowest figure behind Tesco Mobile. They also performed well in some other categories analysed in the Comparing Service Quality 2020 report published by Ofcom:
| Measure | EE's performance | Place in rankings |
| --- | --- | --- |
| Satisfaction with service overall | 92% | 2nd |
| Percentage of customers with reason to complain | 9% | 7th |
| Overall satisfaction with complaints handling | 56% | 3rd |
| Average call waiting time | 2 minutes 9 seconds | 3rd |
Overall, then, EE's customer service performance is good, and their recent complaints figures (on both mobile and home broadband) are a positive sign.
It marks a definite improvement on their performance a few years ago when they were first fined £1m in 2015 for failing to follow the rules on handling customer complaints then, £6.3m in 2018, for overcharging customers who were trying to leave their contracts early.
---
Our verdict: Is EE good for mobile broadband?
EE is an excellent mobile broadband network, although their range of mobile broadband deals can be a little expensive in some cases.
EE's focus on pay monthly mobile and fixed line home broadband means their options for both 4G and 5G mobile broadband are sometimes more costly than we find with the offers from Three, Vodafone and O2.
It's good to see their data SIM only plans available on 1-month rolling deals as well as longer contracts, even if their 1-month device plans are prohibitively expensive for many. It's hard to see, for example, why a customer would pay £275 upfront for a 5GEE device on a 1-month contract.
EE have the following in their favour:
They invariably win awards for speed
Their coverage is very good
They offer good customer service
They're rolling out 5G services and increasing capacity in existing locations
All this is positive, but it's important to shop around for mobile wi-fi deals to check whether EE is the best option for you.
For more read our EE mobile network review and EE home broadband review.