EE fined £1 million over complaints handling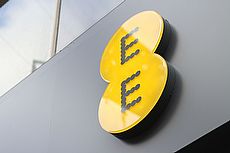 OFCOM have fined EE, the UK's largest mobile phone operator, £1 million for failing to follow rules on customer complaint handling.
It follows an investigation into the operator's dealings with customers between July 2011 and April 2014, during which they were found not to have given customers correct information about the complaints process.
Customers weren't given "accurate or adequate information" about their right to take their issues to an independent body.
In some cases it was found that EE also failed to tell customers about their right to request a letter of deadlock, or denied that such letters could be issued.
The investigation is part of a wider Ofcom monitoring and inspection programme looking at how telecoms providers deal with customer complaints.
Step by step
Under Ofcom rules, there are three steps to making a complaint, each escalating it a little further up the chain.
The first port of call should be the provider's customer service line; for the majority of cases this is as far as a complaint will ever go.
Should that not be enough to fix the issue, or a customer isn't happy with the way they were dealt with, the next step is to make a formal complaint to the company.
Most companies have a dedicated department for this, the details of which should be printed on any paper correspondence, or easily found on their website.
If the problem still can't be resolved satisfactorily, customers are entitled to seek assistance from an "alternative dispute resolution" scheme, or ADR.
This can be done if the dispute has been going on for longer than eight weeks, or if the customer and provider agree they've reached a stalemate.
Independent adjudication
It's how EE dealt with customers who reached the second and third stages that's earned them the £1 million fine.
Ofcom says EE failed to send numerous customers written notification of their right to access an ADR should the complaint still be open after eight weeks.
But it was also found that when customers had requested letters of deadlock - agreeing they had reached a stalemate with EE - EE failed to send them, and in some cases told the people asking for them that they didn't issue such documents.
Ofcom also found that from July 2011 to February 2014, EE sent out bills and other correspondence that failed to tell customers they could refer any complaint to the ADR free of charge.
"It's vital that customers can access all the information they need when they're pursuing a complaint," says Ofcom's Claudio Pollack.
He adds that the size of the fine, which must be paid within 20 days, reflects the "serious failings that occurred" and the extended period over which they happened.
Getting better
The fine comes just days after Ofcom released data showing they received more complaints about EE's broadband and landline services than they did about any other provider's.
But while they're the most complained about fixed line service provider, Ofcom's figures do at least show complaints about EE's mobile service have dropped substantially in the past few years.
Pay monthly mobile complaints per 1000 customers, 2013 - 2015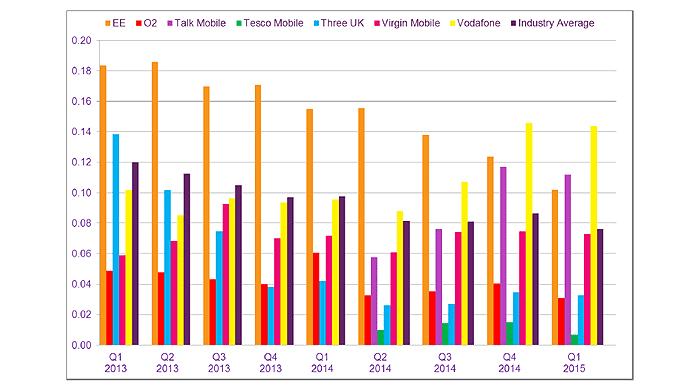 SOURCE: Ofcom, June 2015.
Compared to their peak in the last quarter of 2012, the number of complaints Ofcom are receiving about EE has dropped by almost half.
But even now they receive more than the industry average, and well into 2014 they were the most complained about mobile service provider.
It's also worth remembering that the complaints Ofcom use to compile their reports are those made directly to the regulator.
Some people do complain to Ofcom when they reach the point of making a formal complaint to their provider, but Ofcom's figures are generally lower than those received by the operators themselves.
The majority of complaints Ofcom receive are about billing, pricing and complaints handling, or service issues such as faults and general provision.
Meanwhile, as mentioned above, the action against EE is part of Ofcom's industry wide monitoring and compliance investigation.
It's this investigation which led to Three being fined £250,000 last October - and under which Vodafone are being investigated.
Moving forward
Regardless of the broad scope of Ofcom's enquiries, the fine has taken a little of the shine off EE's recent exploits.
It was only earlier this year that they finally closed the door on the brands that merged to create the network in the first place, Orange and T-Mobile.
Since being the first to provide 4G back in 2012, they've launched a seriously connected TV service, and have started to offer mobile data connections of up to 90Mb as standard in certain cities via 4G+.
Then there's the trials of 4G Broadcast, used to stream video to a small group of football fans during the FA Cup final - and the launch of the EE 4G Action Cam.
And of course, there's that takeover deal with BT. Last month the Competition and Markets Authority agreed to fast track their investigation into the merger, despite concern from their rivals.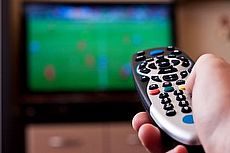 15 November 2017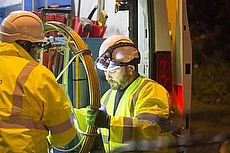 10 November 2017
9 November 2017
Follow us or subscribe for FREE updates and special offers