Those looking for SIM only plans will find various plans on offer, including some 30-day deals for flexibility.
With 95% indoor coverage across the UK, Vodafone are one of the best networks when it comes to getting a signal.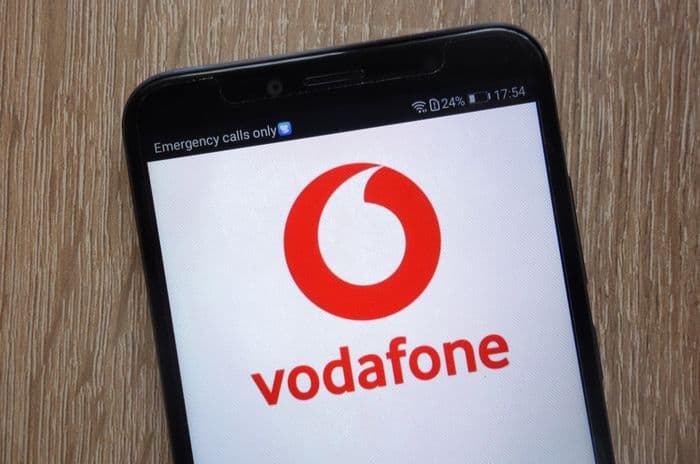 Credit: Piotr Swat/Shutterstock.com
---
At a glance
What Vodafone offers
Mobile plans
Handset, SIM only
4G landmass coverage
82%
4G indoor coverage
95%
5G coverage
At least 141 towns and cities
Average speed
Around 22 Mbps
Customer satisfaction
92%
| Pros | Cons |
| --- | --- |
| Top network for indoor 4G coverage | Expensive plans |
| Flexible mobile handset plans | Some unlimited plans have speed restrictions |
| Entertainment and Xtra benefits available | Too many plan options |
| Discounts for Vodafone Pro broadband customers | |
---
Overview: Is Vodafone a good mobile network?
Vodafone is a major UK mobile network with an extensive range of pay monthly handset plans and SIM only deals.
Here are some important things to note about Vodafone mobile:
They have the joint highest 4G coverage inside prremises across the UK with 95%
While Vodafone are not the fastest network around, they routinely come in third place for 4G speeds
Customers can access discounts by taking mobile plans alongside Vodafone Pro broadband deals
Vodafone have unlimited deals with different maximum speeds, so customers should be careful when purchasing unlimited plans
Vodafone works with a wide selection of device partners including the following manufacturers:
| | | |
| --- | --- | --- |
| Apple | Samsung | Google |
| Sony | Xiaomi | Motorola |
| Oppo | Honor | Nokia |
| Alcatel | TCL | Fairphone |
| Doro | Mobiwire | |
This range includes major names like Apple and Samsung alongside budget providers such as Alcatel and TCL, meaning there should be something for everything.
Overall, Vodafone has a variety of handsets and plans on offer, yet they are one of the more expensive networks when it comes to data.
---
Mobile plans
The handset and airtime plan (Xtra Plan) from Vodafone are calculated separately.
Customers can choose a data allowance that suits them from 2GB upwards, plus they can add Xtra benefits or Entertainment - more on these below.
However, customers looking at unlimited mobile plans from Vodafone should be aware that Vodafone have different tiers of unlimited deals:
| Plan name | Maximum download speed |
| --- | --- |
| Unlimited Lite | 2 Mbps |
| Unlimited | 10 Mbps |
| Unlimited Max | Fastest available |
With Unlimited Lite and Unlimited plans, customers are restricted on the speeds they can access.
Given that Vodafone customers routinely receive speeds of more than 20 Mbps, the 2 Mbps and 10 Mbps limitations can seem overly restrictive.
Vodafone have previously been rebuked by the Advertising Standards Authority (ASA) for misleading adverts about the speeds that customers were able to receive on unlimited plans.
So, it's important to be aware that "unlimited" doesn't mean unlimited speeds on all Vodafone plans and customers should factor this into any comparison on the costs of mobile plans.
Xtra benefits
Vodafone plans usually come with two Xtra benefits as standard:
Device Care (free device health checks for battery, storage and software)
Unlimited Picture Messages
While these may certainly be considered to be benefits by some customers, others won't get much use out of them.
Customers who choose plans with four Xtra benefits will receive the above plus:
6x Unlimited Data Boosters
£3.50 per month off Smartwatch Connectivity
Inclusive roaming in 51 European destinations (up to fair use policy of 25GB per month)
These benefits are arguably more interesting for customers, with Unlimited Data Boosters allowing those on limited data plans to boost their data to unlimited for 30 days. This can be triggered up to six times on a 24-month Xtra Plan (up to three times on a 12-month deal).
Equally, Vodafone began charging for European roaming in early 2022 but customers can circumvent this by choosing a plan with four Xtra benefits.
Be sure to read the small print on which destinations are included in these roaming deals and which will still require a £6 per day roaming fee.
Entertainment plans
Customers taking 24-month or 12-month Xtra plans with Vodafone can choose to take Entertainment perks alongside their tariff for an additional fee.
An Entertainment tariff allows customers to take a subscription alongside their mobile deal, usually saving a few pounds per month on the costs of taking them separately.
The perks available frequently change depending on who Vodafone have struck deals with, but the current three options are:
YouTube Premium
Spotify Premium
One key thing to note is that an Entertainment extra cannot be changed once it's been activated.
VeryMe Rewards
VeryMe Rewards are available to all pay monthly mobile customers.
It provides personalised offers to customers based on their interests as well as a weekly treat on a Friday to perk up the end of the week, as they put it.
These offers change all the time, so there's always a wide selection including discounts, giveaways and prize draws to enter.
Vodafone Together
Vodafone Together is Vodafone's way of drawing their home broadband service together with their mobile deals.
Customers taking Pro broadband alongside a mobile deal will receive a monthly discount. This will be applied automatically so customers don't need to do anything apart from sign up for both broadband and mobile.
The discount will either be £2 or £3 per month depending on which combination customers take.
Households will also receive:
30% discount on additional SIMs
Monthly family VeryMe rewards
For customers eager to take multiple services from the same provider, these discounts may make it worth it and it could be a good way of managing a family's mobile needs.
SIM only plans
Customers who already have a handset but want a Vodafone SIM only deal have various options to choose from:
| Plan type | Amount of data | Speeds | Xtra benefits | Entertainment |
| --- | --- | --- | --- | --- |
| Red | From 1GB | Fastest available | No | No |
| Red + Entertainment | From 5GB | Fastest available | No | Yes |
| GB + Xtra benefits | From 2GB | Fastest available | Yes | No |
| Unlimited | Unlimited | Depends on plan | No | No |
| Unlimited + Entertainment | Unlimited | Depends on plan | No | Yes |
| Unlimited + Xtra benefits | Unlimited | Depends on plan | Yes | No |
| Unlimited + Xtra benefits + Entertainment | Unlimited | Depends on plan | Yes | Yes |
This is almost a bewildering array of options so SIM only Vodafone customers should ask themselves a few questions to work out which plan is right for them:
Do you want the most basic SIM only plan available? Vodafone Red plans are the most straightforward option.
Do you want Xtra benefits or an Entertainment add-on?
Do you need unlimited data and what speeds do you want?
Contract length may also play a part in decisions.
Vodafone offer 30-day SIM only contracts but these are only available on Red or Unlimited plans without Xtra benefits or Entertainment options. There are fewer 30-day plans available with limited options.
As an example, here are some SIM only plans from Vodafone with 60GB of data:
| | Package | Minutes | Data | Monthly price | Contract term |
| --- | --- | --- | --- | --- | --- |
| | Red 60GB | Unlimited | 60GB | £18 | 24 months |
| | 65GB + 4 Xtra benefits | Unlimited | 65GB | £25 | 24 months |
| | Red 60GB + Entertainment | Unlimited | 60GB | £25 | 24 months |
As we'd expect, the most basic Vodafone SIM only plan is the cheapest, although it's worth keeping an eye out for offers.
---
Price comparison
While Vodafone's pricing structure can be complex, it's still possible to compare handset deals using our free comparison tool.
Here are some deals on the Sony Xperia 10 IV from Vodafone, O2 and EE:
| | Handset | Minutes | Data | Monthly price | Initial price | Contract |
| --- | --- | --- | --- | --- | --- | --- |
| | Sony Xperia 10 IV (128GB) on Pay Monthly 25GB + 2 Xtra Benefits | Unlimited | 25GB | £32 | £9 | 36 months |
| | Sony Xperia 10 IV (128GB) on Refresh Flex | Unlimited | 20GB | £35.50 | £10 | 36 months |
| | Sony Xperia 10 IV (128GB) on 5G Essential | Unlimited | 25GB | £37 | £10 | 24 months |
While Vodafone are the cheapest per month based on this specific handset, it's worth pointing out that EE's contract is only 24 months long, so that may make a difference to how much customers pay overall.
Equally, once we click through to the Vodafone website, we can use the customisation options detailed above to create a plan that's suited to our requirements.
Boosting the amount we pay upfront will decrease the monthly costs or we could opt to bring the Vodafone deal down to a 24-month contract if we're more comfortable with two year deals.
Meanwhile, if we look at 5GB data options on SIM only deals from Vodafone alongside the cheapest providers, we can see some differences:
| | Package | Minutes | Data | Monthly price | Contract term |
| --- | --- | --- | --- | --- | --- |
| | 5GB data | Unlimited | 5GB | £6 | 24 months |
| | 5GB data | Unlimited | 5GB | £7 | 1 month |
| | 5GB data | Unlimited | 5GB | £8 | 1 month |
| | Red 5G | Unlimited | 5GB | £15 | 24 months |
These are exact matches for 5GB data and many providers have different offers on to encourage customers to take SIM only plans with varying levels of data, so it's important to compare plans using the button above.
However, it's clear from this table that Vodafone's basic SIM only plans are significantly more expensive than the cheapest options on the market.
That said, customers may prefer a SIM only deal from a major network like Vodafone.
---
Coverage
Vodafone has the joint highest 4G coverage for indoor premises along with O2.
This means homes across the UK are more likely to get a Vodafone 4G signal than one from EE or Three.
Figures from the 2021 Connected Nations report from Ofcom show the different levels of Vodafone coverage across the four nations:
| Nation | Level of Vodafone indoor premises 4G coverage | Rank (out of four networks) |
| --- | --- | --- |
| England | 95% | Joint 1st |
| Northern Ireland | 92% | 1st |
| Scotland | 95% | Joint 1st |
| Wales | 89% | 3rd |
| Overall | 95% | Joint 1st |
As the table demonstrates, Vodafone is a strong network for indoor 4G coverage across three of the four nations, especially in Northern Ireland where they lead all operators.
Like their rivals, Vodafone also cover 99% of outdoor premises, although their geographic (landmass) coverage lags slightly behind EE:
| Network | Overall UK | Urban | Rural |
| --- | --- | --- | --- |
| Vodafone | 82% | 99% | 80% |
| EE | 86% | 99% | 84% |
| O2 | 80% | 99% | 78% |
| Three | 79% | 99% | 77% |
As we can see, Vodafone's rural coverage is several percentage points behind EE, but they are still ahead of the other two networks.
Landmass coverage is set to increase over the coming years, with Vodafone joining forces with O2 and Three to install new masts in areas currently covered by just EE.
That agreement will see 222 new sites added to Vodafone's 4G network by 2024. Over 50% of those masts will be in Scotland.
For Vodafone customers, then, that means the excellent coverage already offered by the operator will be extended even further in the coming years.
What about 5G coverage on Vodafone?
Vodafone was the first operator to announce their 5G switch-on back in 2019, but they were pipped to the launch post by EE.
Since then, Vodafone have expanded their 5G and now cover:
141 towns and cities across the UK (according to their own March 2022 figures)
In line with other mobile operators, Vodafone are planning to retire their 3G network in 2023 to strengthen 4G and 5G coverage.
While there isn't much independent analysis of 5G coverage just yet, we can look at RootMetrics' bi-annual reports which examine 5G availability in 16 major cities across the UK.
Their 5G analysis for H2 2021 shows high levels of 5G availability in the following locations:
Liverpool (59.6%)
Bristol (58.4%)
Cardiff (47.4%)
It's important to remember that 5G coverage and availability varies from location to location, with busy urban areas more likely to benefit from fast 5G speeds.
For example, while Vodafone had 33.6% availability in the Greater London area in RootMetrics' data, their availability the London Central Activities Zone (CAZ) was the highest of any operator in H2 2021 at 71.1%.
So, users in the busiest urban centre in the UK are more likely to be able to get a 5G signal than those on the outskirts, demonstrating the concentration of 5G services so far.
Vodafone have an infrastructure agreement with O2, meaning some of their masts are shared and, theoretically, coverage will increase more quickly than it otherwise would.
---
Speed
Vodafone's 4G speeds are often ranked as the third fastest out of the four UK mobile networks.
Here are two pieces of recent speed research comparing Vodafone's speeds with their rivals':
| Network | Opensignal Apr 2022 | RootMetrics H1 2022 |
| --- | --- | --- |
| Vodafone | 22.0 Mbps | 23.8 Mbps |
| EE | 45.0 Mbps | 66.2 Mbps |
| Three | 28.1 Mbps | 29.9 Mbps |
| O2 | 17.1 Mbps | 16.4 Mbps |
While the specific speed tests vary based on methodology, Vodafone is solidly in third place, some way behind the leaders but ahead of O2 at the foot of the table.
This is marked out again in research published by nPerf in August 2022.
Their data is based on more than 100,000 user-initiated tests, so it represents how customers are experiencing combined 4G and 5G technology across the four networks.
In this analysis, Vodafone is once more in third place but showing faster speeds:
| Ranking | Network | Download bitrate |
| --- | --- | --- |
| 1 | Three | 85.6 Mbps |
| 2 | EE | 79.2 Mbps |
| 3 | Vodafone | 51.7 Mbps |
| 4 | O2 | 25.0 Mbps |
So, while Vodafone isn't the fastest network in any of these reports, they are not the slowest either - that unfortunate accolade belongs to O2.
As usual, it's important to note that customers in different areas will receive different top speeds depending on coverage and signal strength, so it's worth checking coverage in your area, especially if 5G speeds are a major consideration.
---
Customer service
Vodafone have a reasonable customer service record, with many metrics in 2021 and 2022 situating them around the industry average.
While Vodafone's mobile complaint levels are higher than the average of 10 per 100,000 customers, they were still comparatively low in 2021 at 14 per 100,000.
There's more detail on Vodafone's customer service performance in the annual Comparing Service Quality reports published by Ofcom.
Here are the key metrics from the most recent report alongside the industry averages:
| Customer service measure | Vodafone's performance | Compared to industry average |
| --- | --- | --- |
| Satisfaction with overall service | 92% | 1% above average |
| Satisfaction with value for money | 83% | 2% below average |
| Number of customers with a reason to complain | 12% | 3% above average |
| Overall satisfaction with complaint handling | 52% | 1% below average |
| Complaints completely resolved on first contact | 42% | 1% below average |
| Average call waiting time | 2 minutes 30 seconds | 15 seconds slower than average |
| Number of calls abandoned before speaking to an operator | 9% | 1% above average |
Vodafone's performance here is decidedly mixed, and they don't reach the heights of market leader Tesco Mobile when it comes to overall satisfaction and value for money.
There are more Vodafone customers with a reason to complain than with any other mobile network apart from Three.
Yet there are some definite positives to be aware of.
For example, Vodafone's customers are slightly more satisfied overall than the industry average and satisfaction with complaints handling and the number of complaints resolved on first contact are only slightly above average.
Customers looking at Vodafone as a potential mobile network will be pleased to note there haven't been any major regulatory fines against them in recent years.
While Vodafone were rebuked by Ofcom in 2016 and fined £4.6 million for breaking rules on billing and customer complaints, we haven't seen anything of that magnitude since.
---
Special offers
Offer
Terms

Get this offer

Get the iPhone 13 with 6 months free on your Airtime plan on a 24 month Unlimited Airtime Plan

36 month phone plan, 24 month airtime plan. Prices from £16/mth with £30 upfront fee.

Get this offer

Get this offer

Red 200GB, with unlimited minutes and texts half price for 6 months just £13/mth

Hurry! Offer ends 19 December 2023

24 month contract. SIM only for mobile. £26/mth after 6 months.

Get this offer
---
Verdict: Is Vodafone any good?
Vodafone are one of the biggest names in the UK mobile industry, and they certainly have a lot going for them.
Thanks to their high levels of 4G coverage indoors, customers are more likely to get a signal from Vodafone at home than with some other networks, plus their 5G availability is performing well in urban locations too.
We like Vodafone because:
They have strong coverage across the UK
Their 5G rollout so far is promising
VeryMe Rewards are a nice extra
However, on the flip side, there are some important things to note:
Speed tests show them behind both EE and Three
Their array of plan options may feel overwhelming
The trio of unlimited data tariffs are confusing and could be misleading
The Entertainment extra is rigid and limited
Pricing is a little high on some data tariffs
Perhaps those most likely to benefit from Vodafone's pricing structures are the households who are willing to combine Vodafone mobile plans with Vodafone Pro broadband, adding extra SIMs on for the rest of the family as necessary.
Similarly, the Xtra benefits options are useful for some customers, especially those who travel in Europe and would like some inclusive roaming. Yet it's always worth checking whether the extra perks on deals like this will be used enough to justify the extra costs.
On balance, we like the flexibility of Vodafone's plans and their customisable way of doing things will be appealing to many customers.