Handset plans and SIM only deals are available from EE, with several options to suit different budgets.
EE 4G is frequently named as the fastest around, plus they are setting a good standard for 5G services too.
EE has the most comprehensive 4G coverage across the landmass of the UK, and they are fastest for 4G in both England and Wales.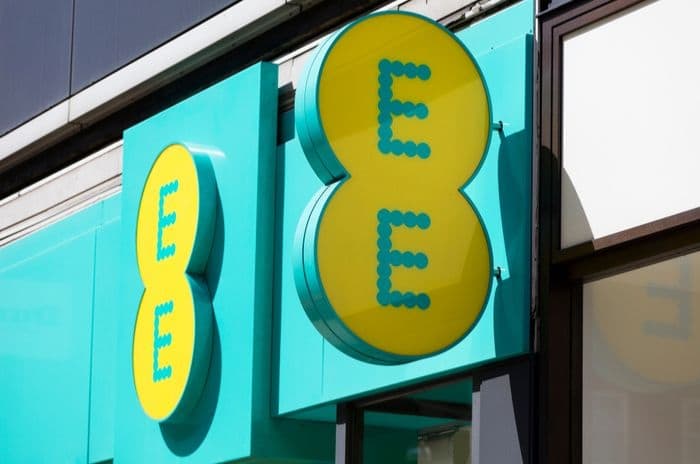 Credit: Ink Drop/Shutterstock.com
---
At a glance
What EE offers
Mobile plans
Handset, SIM only
4G landmass coverage
86%
4G indoor coverage
93%
5G coverage
Over 50% of population
Average speed
Around 45 Mbps
Customer satisfaction
92%
| Pros | Cons |
| --- | --- |
| Fastest 4G network | Expensive network |
| High levels of 4G geographic coverage | Essential plans are speed limited |
| Different plans for different budgets | Roaming fees |
| Discounts for EE broadband customers | |
---
Overview: Is EE any good?
EE is one of the UK's major mobile networks offering a full range of pay monthly mobile and SIM only services.
Here are some key things to know about EE mobile:
They are the best network for coverage across the whole of the UK's landmass with 86% coverage
They have the best 4G coverage in both England and Wales
More than 50% of the UK population can access 5G from EE
EE remain the fastest network in the UK for 4G speeds while their combined 4G and 5G speeds are proving market-leading as well
They split their handset plans into Essential, Smart and Full Works to offer something for everyone
EE offers many of the latest handsets from major manufacturers and smaller names including:
| | | |
| --- | --- | --- |
| Apple | Samsung | Google |
| Oppo | Sony | Motorola |
| TCL | Fairphone | Doro |
The range of phones available from EE mean there is usually something for every budget, although different devices may be found on cheaper plans from other providers.
Overall, EE is a quality UK mobile network but it certainly isn't the cheapest.
---
Mobile plans
EE offer three distinct types of mobile plan for handsets:
Full Works
All Rounder
Essential
As the names suggest, these are targeted at different types of customers, with Essential aimed at those on a tighter budget who want a basic experience.
Here are some key things to note about the different kind of mobile plans offered by EE:
| | Stay Connected | Gift data to family | Smart Benefits | Maximum speeds |
| --- | --- | --- | --- | --- |
| Full Works | Yes | Yes | 3 Smart Benefits (Android) or Apple One + Roam Abroad (Apple) | Fastest available |
| All Rounder | Yes | Yes | 1 Smart Benefit | Fastest available |
| Essential | Yes | Yes | None | 100Mbps |
Note: Some plans may vary slightly, so be sure to read exactly what's included during the sign-up stage.
The most important thing to remember about EE Essential is that it limits the speeds customers can access to 100Mbps, no matter how fast the service is in their area.
For some customers who aren't bothered about having the fastest mobile speeds or aren't in an EE 5G area yet, the cheaper prices of Essential could be a good trade.
However, with EE 5G easily surpassing 100Mbps, it could mean missing out on some significant speed boosts.
EE perks
Some perks are available to all EE mobile customers while others are specific to customers on certain plans.
All customers receive:
Seamless access to 150,000 wi-fi hotspots across the UK as part of WiFi Coverage Boost
Access to the Stay Connected promise (previously known as Reserve Data) which provides all customers with speeds of 0.5 Mbps even if their data runs out
The ability to gift data to other family members as part of an EE family account
Customers with handsets purchased through EE also receive a Device Care Extras pack which offers:
Extended warranty for lifetime of plan
An Annual Device Check-up
£10 discount for protective equipment such as cases or screen covers
Plus, as we've mentioned above, those taking All Rounder or Full Works plans can add Smart Benefits to their mobile plan at no extra cost,
These are the current Smart Benefit choices:
Netflix
Apple Music
BT Sport
Roam Abroad Pass
Entertainment Data Pass
Xbox Game Pass Unlimited
Microsoft 365
Note that Full Works for iPhone plan doesn't have the choice of Benefits. Instead, customers receive the Roam Abroad Pass and the Apple One bundle which contains Apple Music, Apple TV+, Apple Arcade and iCloud+ (50GB storage) which EE say is worth around £15 per month.
Bear in mind that EE have reintroduced roaming charges, meaning customers need to pay £2 per day to use their phone while abroad or pay for the Roam Abroad Pass to lower the overall costs.
Finally, all EE pay monthly mobile customers who also take EE broadband will get a monthly data boost of up to 20GB to their mobile account and 10% off their broadband bill.
SIM only plans
EE customers can choose from a range of SIM only plans that come with contract lengths of:
24 months
12 months
30 days
As we'd expect, it's cheaper to take SIM only plans on 24-month contracts:
| | Package | Minutes | Data | Monthly price | Contract term |
| --- | --- | --- | --- | --- | --- |
| | 5GB data | Unlimited | 5GB | £18 | 24 months |
| | 5GB data | Unlimited | 5GB | £20 | 12 months |
| | 5GB data | Unlimited | 5GB | £25 | 1 month |
Again, some of the cheapest EE SIM only deals will come with maximum speeds of 100Mbps as we've discussed above.
---
Price comparison
If we look at EE's mobile handset pricing alongside their rivals for one of the most popular recent models, we can see how they compare.
Here are some unlimited deals for the Samsung Galaxy S22 Plus from EE, O2, Three and Vodafone:
| | Handset | Minutes | Data | Monthly price | Initial price | Contract |
| --- | --- | --- | --- | --- | --- | --- |
| | Samsung Galaxy S22 Plus (128GB) on Refresh Flex | Unlimited | Unlimited | £49.61 | £30 | 36 months |
| | Samsung Galaxy S22 Plus (128GB) on Advanced Unlimited Data | Unlimited | Unlimited | £51 | £50 | 24 months |
| | Samsung Galaxy S22 Plus (128GB) on Pay Monthly Unlimited + 2 Xtra Benefits | Unlimited | Unlimited | £54 | £29 | 36 months |
| | Samsung Galaxy S22 Plus (128GB) on 5G Essential | Unlimited | Unlimited | £54 | £30 | 24 months |
EE are clearly the more expensive option for this handset, although it's important to note that both O2 and Vodafone favour 36-month contracts when advertising their plans, so it's difficult to compare like with like.
However, it's also important to note here that the EE plan is the 5G Essential deal - the one with a maximum speed of 100 Mbps.
While customers on the plans from other networks highlighted in the table above will get the fastest speeds available, EE customers will need to upgrade to Smart or Full Works plans for that privilege.
Meanwhile, if we look at SIM only plans from EE alongside the cheapest available from other networks, we can see they are one of the pricier options when looking at 25GB-30GB deals:
| | Package | Minutes | Data | Monthly price | Contract term |
| --- | --- | --- | --- | --- | --- |
| | 30GB data | Unlimited | 30GB | £8 | 24 months |
| | 30GB data | Unlimited | 30GB | £5 for 3 months, then £10 | 1 month |
| | 30GB data | Unlimited | 30GB | £10 | 24 months |
| | 25GB data | Unlimited | 25GB | £21 | 24 months |
The price difference between EE and the cheapest options on the market is stark, although it should be remembered that speeds and coverage will vary across different networks, so let's take a closer look at those elements.
---
Coverage
EE's 4G coverage across the UK is very good, although it doesn't match the high coverage reached by rivals O2 and Vodafone in some areas.
EE is the best network for:
4G Geographic coverage across the four nations (86%)
4G rural geographic coverage (84%)
4G coverage in England
4G coverage in Wales
These are the headline figures for EE's UK coverage at the time of Ofcom's most recent Connected Nations study published in December 2021:
| Coverage type | EE's coverage | Rank (out of four networks) |
| --- | --- | --- |
| Indoor premises | 93% | 3rd |
| Outdoor premises | 99% | Joint 1st |
| Geographic | 86% | 1st |
While EE's coverage of the UK's landmass is the highest of all networks, it still falls some way short of nationwide coverage, and they haven't reached the targets they set themselves in 2016 when they pledged 4G would reach 95% of the UK's landmass by 2020.
The good news is that, like all networks, EE have signed up to a Shared Rural Network (SRN) agreement to improve coverage across hard-to-reach areas over the next five years.
It means EE will need to boost their geographic coverage up to 88% by 2024 and then to 90% by 2026. They are the network closest to this goal already with their 86% coverage, while Three languish furthest away with 79%.
Unsurprisingly, there is still an urban/rural divide for customers across all mobile networks, although EE are in second place behind O2 for reaching rural indoor premises:
| Network | Rural coverage (premises indoors) | Urban coverage (premises indoors) |
| --- | --- | --- |
| EE | 79% | 96% |
| O2 | 80% | 97% |
| Three | 69% | 94% |
| Vodafone | 76% | 98% |
As the table shows, EE provide indoor 4G coverage to around 79% of rural premises, ahead of both Vodafone and Three. On urban indoor coverage, though, they are behind both Vodafone and O2.
What all this means for customers is that it's important to check EE's coverage in the areas they visit most and consider whether EE's the right network for them.
Check coverage on the EE website or learn more about mobile coverage from all networks.
EE and 5G coverage
For many customers, growing 5G coverage is an important reason to choose a network, and there many things to like about EE's 5G expansion.
Here are some key stats:
EE 5G is present in at least 193 towns and cities across the UK
Over 50% of the UK population is covered by EE 5G
EE plan to reach 90% of the UK's landmass with 5G by 2028
As the first operator to launch 5G services back in May 2019, EE have been working to try and stay ahead of the pack and they continue to expand 5G to more locations and enhance services in others.
We've seen positive independent analysis of their coverage too.
Research from RootMetrics published in January 2021 showed EE had the highest level of coverage in any of the 16 cities tested, with 57% availability in Nottingham. A year later, this had increased to 59.4%.
Other urban areas with high availability on EE 5G in January 2022 included:
Birmingham (53.3%)
Liverpool (48.4%)
Leicester (46.4%)
These figures are great, but it must be remembered 5G coverage varies significantly from location to location.
Like all operators, they have focused their efforts on busy urban areas so far, meaning customers in more rural locations may have a wait on their hands before they can benefit from 5G mobile broadband.
---
Speed
EE's 4G mobile speeds are consistently the best in the business.
They have been winning speed awards for years, and EE's performance now still sets them apart.
Research from Opensignal published in April 2022 covering combined 4G and 5G found EE's average download speeds were around 17 Mbps faster than their nearest rival's:
| Ranking | Network | Average download speeds |
| --- | --- | --- |
| 1 | EE | 45.0 Mbps |
| 2 | Three | 28.1 Mbps |
| 3 | Vodafone | 22.0 Mbps |
| 4 | O2 | 17.1 Mbps |
This is a slight improvement from October 2020 when their services were 15 Mbps faster than their closest competitor.
Opensignal have also started isolating the speeds received by customers able to access the 5G network. Once more, EE came out on top in April 2022:
| Ranking | Network | Average download speeds |
| --- | --- | --- |
| 1 | EE | 60.5 Mbps |
| 2 | Three | 43.9 Mbps |
| 3 | Vodafone | 31.7 Mbps |
| 4 | O2 | 24.6 Mbps |
So, 5G services from EE are proving to be significantly faster according to this Opensignal data.
Meanwhile, RootMetrics latest data for H1 2022 (mentioned above) combines 4G and 5G speeds together to give median download speeds that work as an overall indication of speeds across the UK:
| Ranking | Network | Average download speeds |
| --- | --- | --- |
| 1 | EE | 66.2 Mbps |
| 2 | Three | 29.9 Mbps |
| 3 | Vodafone | 23.8 Mbps |
| 4 | O2 | 16.4 Mbps |
As RootMetrics are focused on in-depth studies in 16 cities, these results don't show the wider picture across the UK, but they do show the differences between providers in busy urban centres. On that measure, EE perform very well.
Overall, EE remains the network to beat when it comes to 4G speeds and they seem to be setting the pace for 5G as well.
---
Customer service
EE have a decent record when it comes to customer service.
They have consistently low levels of complaints, plus Ofcom's annual data demonstrates that they resolve more complaints the first time a customer gets in touch than any other mobile provider in 2021.
If we look more closely at Ofcom's most recent Comparing Service Quality report, we can see how EE compare to the industry average:
| Measure | EE's performance | Compared to industry average |
| --- | --- | --- |
| Satisfaction with overall service | 92% | 1% below average |
| Satisfaction with value for money | 82% | 3% below average |
| Customers with a reason to complain | 7% | 2% below average |
| Overall satisfaction with complaint handling | 55% | 2% above average |
| Complaints completely resolved on first contact | 43% | 3% above average |
| Average call waiting time | 2 minutes 25 seconds | 10 seconds slower than average |
| Customer calls abandoned | 9% | 1% above average |
So, EE are around the average for many metrics, although customer satisfaction with value for money is the lowest of all providers apart from Three.
As we've discussed above, EE are considered to be one of the more expensive mobile providers, meaning it's no surprise some customers believe they offer less value for money.
Yet EE's overall satisfaction is slightly above the industry average compared to Three who are 5% below.
This suggests that, while some customers might believe EE are a more expensive option than Three, they have a more positive experience as customers of EE than with their rival.
Our full analysis of mobile customer service looks at how EE compares to other mobile providers and where their strengths and weaknesses are.
It's true EE have had their fair share of fines and customer service hiccups in the same way other networks have.
Their most recent admonishment came in March 2020 when owner BT was hit with a £245,000 fine for EE overcharging customers trying to make calls to 118 numbers, while they were also fined £100,000 by the Information Commissioner's Office (ICO) in June 2019 for sending over 2.5 million unwanted direct marketing messages to customers.
This is nothing compared to the £1m fine levied on them back in 2015 for failing to follow rules on customer complaint handling, so EE have a comparatively good modern record.
---
Verdict: Is it worth joining EE?
EE are rightly praised for their 4G performance, and their 5G performance seems to be heading in the same direction too.
Although some customers may struggle to get coverage in remote areas with EE, the same is true of every network, and EE are actually further ahead than their rivals in reaching those rural not-spots.
These are our favourite things about EE:
Their 4G speeds are beyond compare
Their 5G speeds show excellent promise in big cities
Recent customer complaints are among the lowest around
Their plans come with innovative features and perks
Boost deals with EE broadband make taking both services attractive
On the other hand, we have some reservations:
They are one of the more expensive networks
The two-tier speed system could be confusing and the 100Mbps speed cap on Essential plans could soon become limiting
They have reintroduced fees for roaming
The gradual introduction of Essential, Smart and Full Works deals in recent years has resulted in a roster of plans that might become confusing for customers and risks making some customers feel as though they're on second-rate deals.
On the other hand, these slightly cheaper plans make the EE network more accessible for those who want a basic service without hugely fast speeds or extra perks.
In our review of EE's mobile broadband deals, we explain we're a little disappointed by the limitations of mobile broadband and mi-fi deals, yet that's counter-balanced by the choices they offer to pay monthly mobile customers.
However, as an option for pay monthly mobile deals, we wouldn't hesitate to recommend EE.