Mobile network was originally scheduled to bring in new roaming charges from January 2022 but this date has been pushed back.
Existing roaming rules will apply to EE customers using their phones abroad until Thursday 3 March 2022.
After that, customers will need to pay £2 per day to access mobile services while travelling or take the Roam Abroad add-on.
Vodafone will charge for roaming on most plans from 6 January while Three are bringing in roaming charges from May 2022.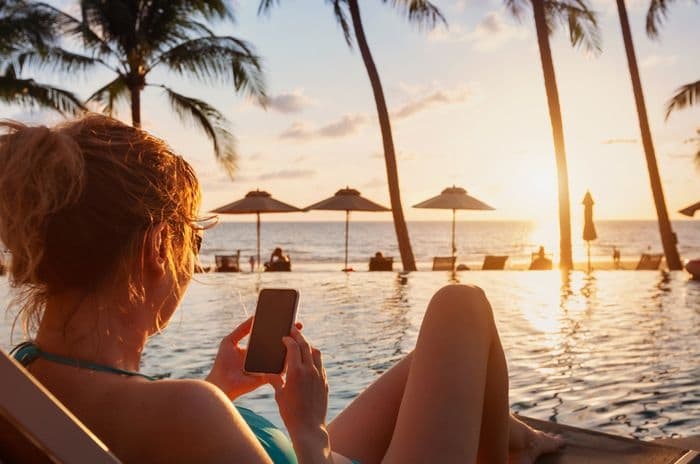 EE delay
No reason has been given by EE for the decision to delay the re-introduction of roaming charges by two months. In fact, they haven't made an announcement of any sort and some customers may still believe the rules are changing this month rather than in March.
It's good news for customers who want to enjoy inclusive roaming in 47 European destinations for another couple of months, but it's only delaying the inevitable.
From 3 March 2022, EE customers who started their contracts after 7 July 2021 will be subject to the new rules on roaming:
They will need to pay £2 per day to use their data, calls and texts while abroad
Customers on Smart Plans can choose Roam Abroad as a Smart Benefit to avoid the £2 charge
Other customers can add Roam Abroad as an add-on for £10 per month on a rolling contract
Customers travelling to the Republic of Ireland are unaffected by the rule changes and can use their allowance in the country.
Anyone who started their EE mobile phone contract before 7 July 2021 (or their tablet, laptop or mobile broadband plan before 18 August 2021) will not have to pay these new charges yet but they will be forced to when they upgrade or sign a new contract.
Other networks
EE were the first to jump on reintroducing roaming charges following the UK's exit from the European Union but they weren't the only network to make changes.
Vodafone are bringing back roaming fees from 6 January 2022 for most customers who started their plans before 11 August 2021. As with EE's changes, customers who started contracts before that time are exempt until they upgrade or change their plan.
Vodafone customers will pay:
£2 for a single day pass in the Europe Zone
£8 for an eight-day pass or £15 for a 15-day pass in the Europe Zone
£6 per day for 107 worldwide destinations
The main exception to this is customers on Vodafone plans with 4 Xtra benefits. Those customers can use their allowance in the Europe Zone without extra charges and unlimited data customers on those plans can use their allowance in selected other destinations too.
Meanwhile, Three customers will pay roaming charges from 23 May 2022 if they joined or upgraded after 1 October 2021.
Roaming inside the EU will cost £2 per day and roaming outside the EU will cost £5 per day under the new rules.
Roaming changes
The only major network that won't be charging for EU roaming by the middle of 2022 will be O2. However, they have already tightened their roaming fair use policy, capping it at 25GB, and they may yet decide to re-impose charges at some point.
Inclusive roaming was a benefit of EU membership yet mobile networks initially said there would be no changes after the Brexit transition period ended at the beginning of 2021.
Within a few months, these policies had changed and customers will now pay at least £1 per day to use their Vodafone allowance abroad and £2 per day for EE and Three services.
Customers are frustrated by the changes in policy but, as much as this, the confusion about the different rules and ways of accessing cheaper roaming are adding an extra layer of complexity to the situation - something EE's unexpected two-month delay won't have helped.
For most customers going on holiday for a fortnight, the costs of signing up to a pricier deal from EE and Vodafone don't match up with the extra roaming benefits, so check the figures before signing up to a deal that includes inclusive EU roaming simply because it's a perk you've had before.