Customers with Sky Mobile can choose to swap their device after as little as 12 months even though the contract terms are 36 months.
Extra features available with Sky Mobile include data rollover, free streaming for Sky TV customers and the ability to change a data plan mid-contract.
However, Sky relies on O2's mobile network which doesn't have the fastest speeds even though indoor 4G coverage is some of the best around.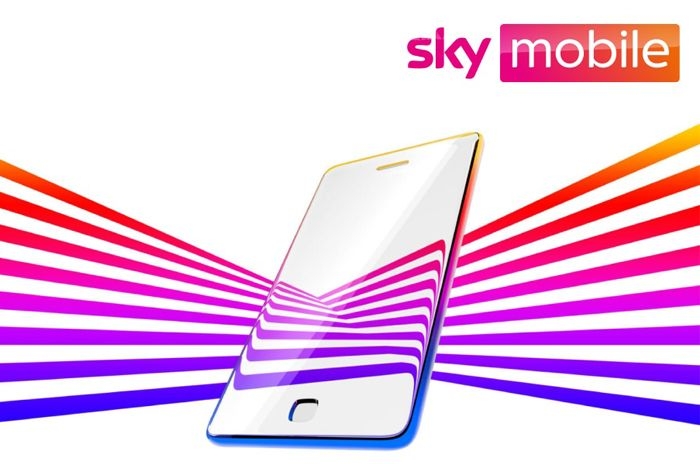 ---
At a glance
What Sky Mobile offers
Mobile plans
Handset, SIM only
4G landmass coverage
80%
4G indoor coverage
95%
5G coverage
At least 200 towns and cities
Average speed
Around 16 Mbps
Customer complaints
6 per 100,000 customers in 2021
| Pros | Cons |
| --- | --- |
| Data rolls over for three years | Limited range of handsets available |
| Fixed prices for data | No unlimited data plans |
| Free streaming for Sky TV customers | Roaming charges |
| Ability to upgrade handset after two years | 4G speeds are comparatively low |
---
Overview: Is Sky Mobile a good network?
Sky Mobile is a mobile virtual network operator (MVNO) using the O2 mobile network to provide services to customers.
They offer both handset plans and SIM only deals with up to 50GB data.
Here are some key facts about Sky Mobile:
Customers can swap their device after 24 months (or 12 months for an extra fee)
Data plans can be changed during a contract
Unused data rolls over automatically for up to three years
Data plan prices are fixed and won't rise mid-contract
Sky TV customers can access free streaming on Sky Mobile
The O2 network has excellent 4G coverage indoors across the UK
The range of handsets available on Sky Mobile is not as extensive as on other networks and focuses on the following manufacturers:
| | | |
| --- | --- | --- |
| Apple | Samsung | Oppo |
| Doro | Nokia | Fairphone |
This is a decent range of handsets and all the latest releases from Apple and Samsung are available, yet customers hoping for more mid-range devices may struggle to find the right device for them.
---
Mobile plans
Sky Mobile handset deals work by splitting the device costs from the SIM plan. This is similar to the way O2 and Tesco Mobile offer mobile device deals.
So, customers choose a handset deal and then add a SIM with up to 50GB data to it for a 36-month contract.
However, at check-out they can choose whether they want the option to swap their phone:
Every 12 months (Swap12)
Every 24 months (Swap24)
Depending on the option a customer chooses, they can upgrade to a new phone for free after either 12 or 24 months.
Alternatively, they can pay to upgrade just 31 days after taking delivery of their handset. Any costs will be what is left after the existing device has been valued and set against the remaining contract.
This is how those deals look in plainer terms:
| | Contract length | Swap for free | Paid upgrade | Costs |
| --- | --- | --- | --- | --- |
| Swap12 | 36 months | 12 months | After 31 days | Extra upfront and monthly fees |
| Swap24 | 36 months | 24 months | After 31 days | Standard device cost |
This flexibility offsets the concerns some customers have about committing to a 36-month device plan and means they can get a new phone after two years or even just a year.
Yet it's worth pointing out there will be price differences for this flexibility.
We looked at the example of the Apple iPhone 13 (128GB) to get an idea of these extra costs:
| | Upfront price | Monthly price |
| --- | --- | --- |
| Swap12 | £48 | £40 |
| Swap24 | £0 | £24 |
So, customers may pay considerably more each month for the privilege of being able to switch their handset out each year. Yet a subset of customers may value the option of upgrading to the latest device.
Finally, it's worth reiterating that Sky Mobile only offers limited data allowances up to 50GB - there are no unlimited data plans available.
Fixed data plans
Sky Mobile is one of the few networks to offer any sort of fixed term mobile promise.
Customers on a fixed-term mobile plan with Sky will see no increases in their data plan costs during the minimum term.
There is a caveat to this - other costs such as call charges may rise during the contract, with Sky warning customers before any such changes take effect.
Even so, with many networks increasing all their costs annually, Sky's stance is a welcome one and customers will know how much they will pay for their data plan during their contract.
Data rollover
Another benefit of Sky Mobile is the data rollover feature.
As we've already mentioned, Sky don't offer unlimited data plans. However, customers are able to roll their spare data over each month into their Sky Piggybank.
This data can then be:
Withdrawn in 1GB increments if a customer is running low
Shared with up to 7 SIMs on the same account
Cashed in to contribute towards rewards such as money off new phones, tablets or accessories
The most important thing to know about Sky Piggybank is that it rolls data over for three years - this is market leading and one of Sky Mobile's USPs.
Mix
Sky allow customers to change their mobile plan each month via the Mix feature.
This can easily be done via the My Sky app, enabling customers to save money one month by upgrading or downgrading.
There are a couple of things to be aware of about this:
Upgrading to a bigger data plan will take effect immediately, so customers can access their allowance straight away
Downgrading will take effect on the next billing date
It might not always be possible to switch back to the same data plan as Sky regularly refreshes their deals
Again, Mix is a good feature that sets Sky Mobile apart from the competition, and it also gives customers a bit of flexibility each month during their fixed term contract.
Sky Mobile and Sky TV
There's a bonus for customers who take Sky Mobile along with Sky TV - free streaming of subscription content.
Sky Watch was launched in 2019 and allows customers to stream certain Sky apps without using their data.
These Sky apps include:
Sky Go
Sky News
My Sky
Sky Kids
Sky Sports
Using these apps on a customer's phone while on 4G or 5G data won't eat into their monthly data allowance.
This is an excellent feature for customers taking Sky TV services and may be a good reason for those subscribers to opt for Sky Mobile.
Learn more about free streaming on Sky Mobile and other networks.
Roaming
Like many mobile networks, Sky Mobile have reintroduced roaming fees.
Customers who wish to use their phone abroad will need to purchase the Roaming Passport Plus pass for £2 per day.
This pass allows customers to use their data, calls and text allowance in more than 55 destinations including the EU and the USA.
SIM only plans
Sky offers a range of SIM only deals with limited data allowances up to 50GB.
All these plans come with unlimited minutes and texts on a 12-month contract as the following table of examples demonstrates:
| | Package | Minutes | Data | Monthly price | Contract term |
| --- | --- | --- | --- | --- | --- |
| | 2GB Data | Unlimited | 2GB | £6 | 12 months |
| | 12GB Data | Unlimited | 12GB | £12 | 12 months |
| | 50GB Data | Unlimited | 50GB | £30 | 12 months |
While customers can't get more than 50GB per month with a Sky SIM only deal, it's important to remember that customers will still benefit from the perks we've discussed above including:
Data rollover with Sky Piggybank
Unlimited Sky TV streaming with Sky Watch
Sky's range of SIM only plans is refreshingly simple, although some customers may be frustrated by the lack of no-contract options.
---
Price comparison
Using the Oppo Find X5 Pro as an example, we can look at how Sky Mobile's pricing ranks among their rivals.
The table below compares four networks who offer 36-month contracts as standard (Sky Mobile, Vodafone, Virgin Mobile and O2), although some of these contracts can be made more flexible:
| | Handset | Minutes | Data | Monthly price | Initial price | Contract |
| --- | --- | --- | --- | --- | --- | --- |
| | Oppo Find X5 Pro on Pay Monthly 6GB + 2 Xtra Benefits | Unlimited | 6GB | £36 | £29 | 36 months |
| | Oppo Find X5 Pro (256GB) on Unlimited Calls and Texts 6GB | Unlimited | 6GB | £44 | Free | 36 months |
| | Oppo Find X5 Pro (256GB) on Freestyle 5GB | Unlimited | 5GB | £44 | Free | 36 months |
| | Oppo Find X5 Pro (256GB) on Refresh Flex | Unlimited | 5GB | £49.95 | £30 | 36 months |
Sky isn't the cheapest option in this particular example, but they are cheaper than major network O2 and arguably offer more valuable benefits than Vodafone.
For instance, while Vodafone offer two Xtra benefits, these are Unlimited Picture Messages and a Device Care plan.
Conversely, with the above deal Sky Mobile customers will pay no upfront costs and get data rollover and free streaming if they're a Sky TV customer, plus the option to switch their device for free after two years.
If we look at an example of a SIM only plan from Sky Mobile alongside SIM only deals from major networks who offer 12-month contracts, we can see how they compare:
| | Package | Minutes | Data | Monthly price | Contract term |
| --- | --- | --- | --- | --- | --- |
| | 6GB Data | Unlimited | 6GB | £8 | 12 months |
| | 4GB data | Unlimited | 4GB | £10 | 12 months |
| | 5GB data | Unlimited | 5GB | £15 | 12 months |
| | 5GB data | Unlimited | 5GB | £20 | 12 months |
In this example, Sky Mobile is a clear winner, even offering more data per month than the major networks as well as the option to roll data over for up to three years in the Sky Piggybank.
---
Network operator
Sky Mobile uses the O2 mobile network to deliver their services, so the coverage and speeds provided to Sky's mobile customers will depend on how O2 performs.
Coverage
Sky Mobile has excellent indoor 4G coverage across the UK thanks to O2's network expansion.
On average, they have 95% indoor coverage with slight variations across the four nations:
| | 4G indoor coverage |
| --- | --- |
| England | 95% |
| Northern Ireland | 91% |
| Scotland | 95% |
| Wales | 91% |
| Overall | 95% |
O2's network is joint top with Vodafone when it comes to 4G coverage across the UK, although they don't have as much geographic (landmass) coverage as their competitors.
In 2021, O2's 4G geographic coverage stood at 80%, putting them third out of four networks.
However, this is set to improve over the next few years due to the Shared Rural Network (SRN) agreement, meaning Sky Mobile customers will benefit from future O2 deployment too.
As for 5G mobile coverage, O2 have been rolling out their network steadily in recent years. Their most recent update confirms:
They have 5G coverage in parts of 200 towns and cities across the UK
They intend to reach over 50% of the population by 2023
On this second point, it's important to point out this is population rather than geographic area, yet it's still good news that over 50% of Sky Mobile customers should be able to access 5G services from next year.
Find out which network is winning in the race for 5G.
Speed
Sky Mobile speeds are again dependent on O2's mobile network performance, and it's fair to say they are not the fastest network around.
Most independent speed testing data puts O2 in fourth position behind EE or Three and Vodafone. There is usually a significant gap between O2 and the other networks.
We can look at several recent speed test reports to see how Sky Mobile's host network compares to the market-leading networks:
| | O2 speeds | Difference to No 1 |
| --- | --- | --- |
| Opensignal (April 2022) | 17.1 Mbps | 27.9 Mbps slower |
| RootMetrics (H1 2022) | 16.4 Mbps | 49.8 Mbps slower |
| nPerf (2022) | 25.0 Mbps | 60.6 Mbps slower |
These combined 4G/5G figures demonstrate that O2's network is struggling to keep up, and that means Sky Mobile customers won't have access to the fastest speeds around.
That said, most customers are going to find that 4G speeds of around 20 Mbps are suitable for their needs, so it can be worth weighing that up alongside the other benefits of Sky Mobile.
---
Customer service
Customer service can set mobile networks apart from each other, and the data we have for Sky Mobile is mostly positive.
Their quarterly complaint figures have never risen above the industry average since their entry into the datasets in 2018.
The most recent figures for Q1 2022 show only 1 complaint per 100,000 customers for Sky Mobile, putting them joint top.
Although many metrics in Ofcom's Comparing Service Quality annual reports don't yet cover Sky Mobile, the information it does provide is positive for Sky:
| | Sky Mobile's performance | Industry average |
| --- | --- | --- |
| Customers with a reason to complain | 7% | 9% |
| Complaints per 100,000 subscribers (2021) | 6 | 10 |
| Average call waiting time | 1 minute 50 seconds | 2 minutes 15 seconds |
| Calls abandoned | 4% | 8% |
On each of the metrics, Sky Mobile performs better than the industry average.
This bodes well for Sky customers and correlates with data we have for other services provided by Sky such as broadband and pay TV.
It's important to remember Sky Mobile has only been around since 2017, so more data on their customer service performance will emerge in time. So far, though, the signs are good.
---
Verdict: Should you sign up to Sky Mobile?
Sky Mobile has plenty of things going for it, but perhaps the most unique element of their mobile offer is the ability to link with a customer's Sky TV subscription and stream without incurring data charges on the go.
As well as this, there are a couple of things to note in the services offered by Sky Mobile:
Genuine data rollover feature with Piggybank or rewards available
Ability to upgrade early with the Swap12 and Swap24 features
Decent range of SIM only deals available
Quality handsets on offer
Encouraging customer service record
O2's network has good indoor 4G coverage
That said, there are a couple of things to be aware of:
Contract types may complicate matters for people who just want a straightforward mobile contract
There aren't a huge range of handsets on offer
In 2020, Sky announced they were bringing shops to the UK high street for the first time, enabling them to showcase their services and products in one place.
This marks a change in direction for Sky, and perhaps signals their intention to further push their mobile services, especially with some locations hosting iSmash tech repair specialists to help customers repair their devices.
Ultimately, Sky Mobile will currently appeal most to Sky TV customers, but the MVNO has features that go far beyond that tie-in.
Learn more about Sky Q, Sky's innovative TV box, or search for a new mobile handset plan with deals from Sky and other networks.