| Category | Winner |
| --- | --- |
| Overall best 5G network | Three |
| Best 5G coverage | EE |
| Fastest 5G speeds | Three |
| Cheapest 5G network | Three |
EE and Three both offer good 5G mobile services with EE providing some of the best 5G availability in key areas and Three delivering some of the fastest 5G speeds.
Vodafone and O2 also have plenty going for them, and mobile virtual network operators like giffgaff and VOXI offer good 5G deals too.
Ultimately, 5G services are still evolving rapidly and all four mobile networks are showing positive signs as 5G coverage expands.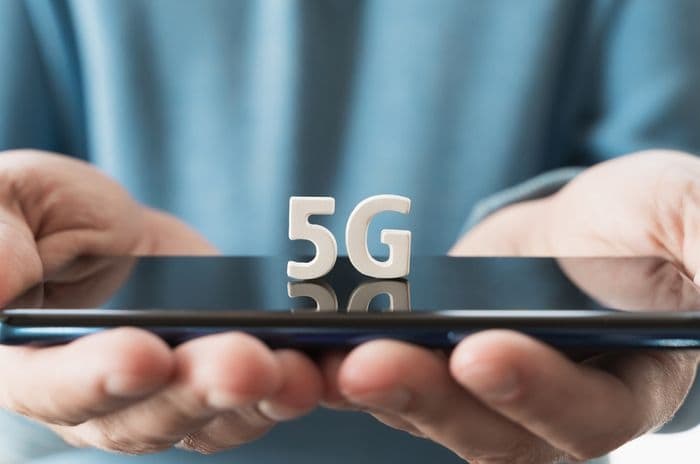 Credit: Ira Lichi/Shutterstock.com
---
Which network has the best 5G coverage?
Winner: EE might not have 5G in as many locations as some rivals, yet their availability where 5G is switched on is superior.
5G coverage is still patchy, and even when a network has switched on 5G services in a city or town, that doesn't mean the whole area is covered.
At the time of writing, the four UK mobile networks have different levels of 5G coverage:
| Network | Number of 5G towns and cities |
| --- | --- |
| EE | 160 |
| O2 | 183 |
| Three | 193 |
| Vodafone | 124 |
Bear in mind these figures are just the publicly reported ones and may not reflect recent switch-ons. Mobile operators often only mention their coverage increases in passing rather than giving regular firm updates.
All networks have been working to increase 5G network coverage with Vodafone more than doubling their 5G footprint during 2021. That said, they are still noticeably behind in the table above, despite being the first network to announce their 5G launch back in 2019.
Three were a late comer to the mobile 5G network after originally launching their 5G services for home broadband just in London.
Their rollout finally got going properly in February 2020 when 5G was switched on in 65 towns and cities. Since then, the rollout has gathered pace and they are keeping pace with their rivals in the number of areas capable of accessing 5G mobile broadband.
However, we should be cautious when headline figures pop up since Three's August 2021 announcement they had switched on 5G in 300 locations related to sites rather than entire towns - let's take a closer look at how that works.
Limited coverage
While switching on 5G services in different locations grabs the headlines, it's important to look beyond the numbers and take a look at the actual coverage in our area.
As an example, here is the coverage in Leicester from Three and O2: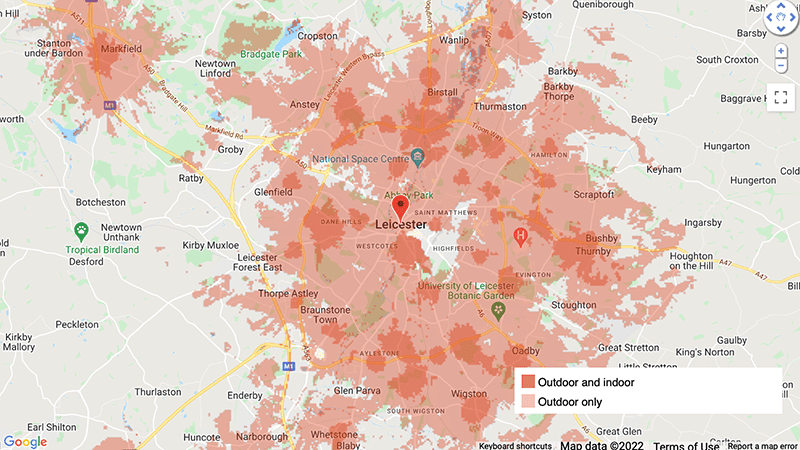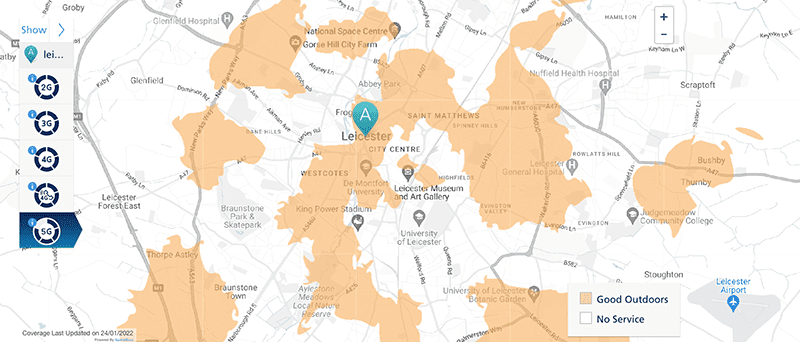 We can see that coverage is spreading across the city but there are still notable gaps from both providers.
Plus, it's important to understand the difference between outdoor and indoor coverage, with outdoor coverage easier for operators to roll out.
O2 warn on their coverage checker for Leicester that they have good outdoor coverage for 5G but they don't pretend they have good indoor coverage.
The darker areas on the Three screenshot are areas where indoor coverage is present as well as outdoor coverage. As the map shows, there are far more areas where outdoor 5G coverage is available but indoor coverage isn't there yet.
What this means for customers is that their signal will be moving between 5G and 4G networks, so speeds will fluctuate a little. We look more at speed below.
EE announced in July 2021 they plan to expand 5G to 90% of the UK's landmass by 2028, with an ambition to reach at least 50% of the population by early 2023.
This was followed in February 2022 by the Government committing to the expansion of 5G mobile broadband to the majority of the UK population by 2027.
However, no detail has yet been provided on how the Government is going to encourage this or how much of a majority can be expected to be covered by 2027 - the wording doesn't currently make any promises.
5G availability
We can also get a snapshot of how availability looks on the ground thanks to data from RootMetrics.
Their focus on coverage in major cities allows us to see how rollouts across huge urban areas affect the availability of 5G services to everyday customers.
They walk and drive around locations at various times of day to get a more accurate understanding of how extensive coverage actually is.
These are their most recent figures published in January 2022 as part of their H2 2021 analysis looking at six cities and the 5G availability offered by all four networks:
| | EE | O2 | Three | Vodafone | Winner |
| --- | --- | --- | --- | --- | --- |
| Glasgow | 31.6% | 13.0% | 30.0% | 28.9% | EE |
| Manchester | 46.5% | 23.6% | 45.6% | 43.6% | EE |
| Liverpool | 48.4% | 40.0% | 33.7% | 59.6% | Vodafone |
| Bristol | 30.5% | 34.5% | 30.9% | 58.4% | Vodafone |
| Cardiff | 45.4% | 26.3% | 35.5% | 47.4% | Vodafone |
| London | 42.4% | 19.3% | 36.6% | 33.6% | EE |
| Edinburgh | 33.2% | 46.7% | 25.0% | 19.9% | O2 |
| Belfast | 41.3% | 36.1% | 15.2% | 31.8% | EE |
| Newcastle | 46.0% | 40.6% | 26.2% | 29.9% | EE |
| Leeds and Bradford | 31.2% | 25.6% | 33.4% | 18.7% | Three |
| Hull | 32.1% | 47.2% | 52.6% | 39.8% | Three |
| Sheffield | 40.5% | 21.5% | 28.4% | 15.4% | EE |
| Nottingham | 59.4% | 21.9% | 46.9% | 0.5% | EE |
| Leicester | 46.4% | 39.4% | 43.9% | 3.3% | EE |
| Birmingham | 53.3% | 22.9% | 47.9% | 40.4% | EE |
| Coventry | 24.6% | 23.2% | 20.9% | 9.9% | EE |
So, availability in major cities is generally better for EE and Vodafone customers, although there are areas where Three and O2 have better coverage than their rivals.
This is just guidance, of course, but it does serve to show how different the 5G experience can be for customers on the ground.
There's more information on national 5G coverage in our guide to 5G mobile broadband.
---
Which network has the fastest 5G?
Winner: Vodafone has the fastest network in more cities but Three triumph on user-initiated speed tests.
Vodafone recorded the fastest median download speeds in RootMetrics' full report looking at H2 2021. They recorded average speeds of 255.6Mbps in Nottingham, an increase on the top speed of 192.2Mbps they recorded in Glasgow in the previous report.
However, it's worth noting that this top speed was achieved in testing in Nottingham - the location where Vodafone recorded the lowest availability.
Here are the four networks and their top test cities in H1 2021:
| Network | Fastest median download speed | City |
| --- | --- | --- |
| EE | 187.8Mbps | Bristol |
| O2 | 169.2Mbps | Glasgow |
| Three | 223.5Mbps | Leicester |
| Vodafone | 255.6Mbps | Nottingham |
The fact that different operators are recording their fastest speeds in different cities demonstrates that rollouts are progressing at different paces - good if you're with an operator recording good speeds in your area but frustrating if their fastest speeds are elsewhere.
RootMetrics also looked at what maximum median speeds networks were achieving in all 16 test cities:
| Network | 50-100Mbps | 100-150Mbps | 150-200Mbps | 200Mbps+ |
| --- | --- | --- | --- | --- |
| EE | 0 | 10 | 6 | 0 |
| O2 | 2 | 13 | 1 | 0 |
| Three | 5 | 8 | 1 | 2 |
| Vodafone | 0 | 13 | 2 | 1 |
This is already an improvement on the last report for H1 2021 when no operators posted average speeds of more than 200Mbps.
As the table shows, Three registered speeds of more than 200Mbps in two cities compared to Vodafone's 200Mbps+ speeds in one location.
This might add credence to Three's claims in 2020 that they were building the fastest 5G network (they were later rebuked by the Advertising Standards Authority (ASA) for those claims), but the fact that they post sub-100Mbps speeds in five locations suggests those speeds are patchy.
Overall, Vodafone provide the most solid performance, registering speeds of more than 100Mbps in all test cities.
We've also got data from Ookla who operate Speedtest.net, one of the most popular sites for checking mobile and fixed line broadband speeds and they show Three in a positive light.
Their analysis for the second half of 2021 shows Three in the lead:
| Network | Fastest median download speed | Number of speed tests |
| --- | --- | --- |
| EE | 158.30Mbps | 303,913 |
| O2 | 127.97Mbps | 109,461 |
| Three | 246.65Mbps | 255,842 |
| Vodafone | 159.40Mbps | 164,670 |
The data from Ookla and RootMetrics is collected in different ways, even though RootMetrics was acquired by Ookla in 2021.
While Ookla use the speed test results generated by their own users, RootMetrics performs a deep dive into the speeds in specific cities. So, customers with 5G-enabled devices who initiate speed tests are the ones who contribute to Ookla's results.
The sample size for EE was the largest of all networks while O2 had a sample almost a third of the size. This could affect the reliability of data.
Overall, research on real-world 5G speeds is still in its infancy, as we explain in our guide to the fastest UK mobile provider.
---
Who is the cheapest network for 5G?
Winner: Three have good deals on handsets but various networks have good 5G SIM only plans.
With most new smartphones now capable of 5G, customers are likely to find their new handset is 5G-ready, although it's still worth checking before signing up as the cheapest mobile phones might not be 5G.
Pricing varies depending on the handset, but using the example of the Apple iPhone 13 Mini on a 5G-ready plan with low upfront costs, we can see the differences between networks:
| | Handset | Minutes | Data | Monthly price | Initial price | Contract term |
| --- | --- | --- | --- | --- | --- | --- |
| | Apple iPhone 13 Mini (128GB) | Unlimited | 100GB on 5G | £39 | £29 | 24 months |
| | Apple iPhone 13 Mini (128GB) | Unlimited | 30GB on 5G | £40.21 | £30 | 36 months |
| | Apple iPhone 13 Mini (128GB) | Unlimited | 25GB on 5G | £42 | £29 | 36 months |
| | Apple iPhone 13 Mini (128GB) | Unlimited | 40GB on 5G | £49 | £50 | 24 months |
The contract lengths here vary with EE and Three offering 24-month deals as standard while O2 and Virgin favour 36-month plans (although these can be lowered for higher monthly or upfront costs).
Three are the cheapest for this handset, fitting with their ethos of being the cheapest major network on many devices.
It's important to check which network is cheapest for the specific handset you're looking at as deals vary from provider to provider. Compare mobile phone deals here.
SIM only 5G deals
With all networks, it's possible to get a 5G-ready SIM only deal, just as long as customers have a 5G-capable device that they have purchased outright.
Here are some of the cheapest SIM only deals for 5G phones around right now with a medium amount of data:
| | Package | Minutes | Data | Monthly price | Contract term |
| --- | --- | --- | --- | --- | --- |
| | 30GB data | Unlimited | 30GB | £8 | 12 months |
| | 20GB data | Unlimited | 20GB | £9 | 24 months |
| | 60GB Data | Unlimited | 60GB | £10 | 1 month |
| | 30GB data | Unlimited | 30GB | £10 | 1 month |
These are just four of the cheapest options right now, but they demonstrate the differences on 5G SIM only deals can be slight, so customers should compare SIM only plans with different providers to find the best option for them.
---
Which network offers the best 5G deals?
Winner: EE's Smart Plans add value to tariffs, even if they're not just for 5G customers.
Customers looking for extra value with their 5G mobile deal might be disappointed that mobile networks have yet to offer 5G-specific bundles to their customers.
If we look at the extras offered by different networks on their SIM only plans, O2 offer some good deals with their O2 Refresh deals including an Extra for up to six months and double data if they're also Virgin Media broadband customers.
VOXI's inclusion of Endless Social Media & Video in their mid-range plans puts them ahead of many of their competitors while Vodafone's Xtra plans include a range of extras for customers.
EE's version of this are their higher data Smart Plans where customers can choose a Smart Benefit that can be swapped each month throughout a contract.
| | Package | Minutes | Data | Monthly price | Contract term |
| --- | --- | --- | --- | --- | --- |
| | 60GB data | Unlimited | 60GB | £18 | 24 months |
| | Endless Social Media & Video 60GB | Unlimited | 60GB | £20 | 1 month |
| | 25GB + 4 Xtra benefits | Unlimited | 25GB | £24 | 24 months |
| | 150GB (5G data) + Smart Benefit | Unlimited | 150GB | £25 | 24 months |
These are examples of SIM only deals but offers are also available with handsets for customers who prefer more value in their mobile deals.
---
Which other networks offer 5G?
The four major networks operate the 5G infrastructure but, just like 4G mobile services, mobile virtual network operators (MVNOs) can run services on the infrastructure too.
Here are some of the MVNOs currently offering 5G deals to their customers.
BT Mobile
As the parent company of EE, it's no surprise BT Mobile offer 5G-ready SIM only deals.
Since September 2020, all new BT Mobile SIMs are 5G-capable, although customers looking for the latest 5G devices may have to shop via EE instead.
The highest data package available with BT Mobile is 100GB, so it isn't one for unlimited data fans.
Because BT own EE, BT's 5G services run on the EE network, so all the details about coverage and speed mentioned above for EE are also true of BT Mobile.
Sky Mobile
Sky Mobile operate on O2's network and have 5G live in the same locations.

Sky used to charge customers extra for 5G by requiring them to sign up to Sky VIP for £5 extra per month to use it. That charge has now been dropped.
However, like BT Mobile, Sky doesn't have unlimited mobile data plans, so customers opting for Sky will have to take capped deals.
Tesco Mobile
Tesco Mobile first launched their 5G services in 24 locations in March 2020, again using O2's network.
Parts of Tesco's website suggest that customers must still take a special 5G-tariff for their SIM only deals, yet when you search for deals, the tariffs that appear are both 4G and 5G-ready.
We speculated that Tesco would likely scrap their special 5G-only tariff as the technology became more widespread and that seems to be what happened.
VOXI
VOXI is the youth-orientated sub-brand of Vodafone, although they removed their age restrictions in 2019 so all customers can now access their deals.
Their tariffs are 5G-ready, so as long as a customer has a 5G device they can access the Vodafone 5G network.
All limited VOXI SIM only plans come with Endless Social Media and their mid-range tariffs come with Endless Video streaming as well, meaning they take the crown in our best mobile network for streaming comparison.
Plus, VOXI offer an unlimited plan for customers who want all the data they can get.
giffgaff
giffgaff offer their SIM only goodybags to customers using the O2 network, so coverage and speeds for O2 will be relevant to giffgaff as well.
Although they used to separate their 5G plans from their 4G plans using their golden goodybags system, they no longer do this and all tariffs are now 5G-ready as standard. A golden goodybag is simply one that has more data in it than a standard one.
There's no long-term commitment for giffgaff customers, so the flexibility of their 5G network may appeal to many customers.
iD Mobile
iD Mobile were late to the 5G game, only beginning to offer 5G tariffs to their SIM only customers in April 2021.
However, it's worth noting that only select devices are compatible with iD Mobile 5G. This includes handsets from big names like Apple and Samsung, but some smaller names may not be represented, so customers should check first.
iD Mobile uses the Three mobile network to deliver services.
SMARTY
5G launched on SMARTY in January 2022.
With SMARTY a subsidiary of Three, they operate on the Three network and offer 1-month rolling SIM-only contracts to customers with an emphasis on value.
---
The future of the 5G roll out
It's clear mobile networks are working to roll out 5G services, yet coverage right now is confined to urban areas where operators can reach more customers.
For many, then, 5G is still in the future, but it's important to remember mobile contracts with handsets are often at least 24 months long, so upgrading to a 5G-ready device and a 5G-capable contract could be the right choice.
The speeds of 5G are beyond 4G and will rival many people's fixed home broadband lines too. There's plenty of talk about 5G becoming a viable replacement for fixed broadband in the coming years, and several networks already have devices available for that.
As 5G is a new technology, the price of accessing it can seem high, especially if we're looking at top handsets. Yet we've already seen prices coming down as more competition has been brought into the 5G market and all networks have started competing for customers in more areas.
In a study on mobile pricing published in July 2021, Ofcom said the pricing premium for taking 5G instead of 4G had been brought down from £21 to £3, showing that customers are already getting better 5G deals.
There are also still questions about the technology's safety, all of which have been debunked by experts. We look at that more closely in our guide to the safety of 5G and all four mobile networks have joined a campaign to improve public knowledge around 5G safety.
It's also important for operators to improve public knowledge about 5G itself - 21% of UK respondents had heard nothing about the technology in research undertaken by YouGov and published in August 2021.
---
Verdict: Who's best for 5G?
Overall winner: EE and Three are performing well on on 5G mobile services.
EE and Three both have major strengths when it comes to their 5G services.
EE is performing well on coverage, offering good 5G availability compared to their rivals as well as providing good value for customers who take one of their Smart Plans. They also offer some surprisingly cheap deals - if customers land on the right handset.
As for Three, they register some of the fastest 5G speeds around in certain locations, but they also have a large range of speeds in key cities and their availability varies too.
Vodafone registered the fastest speed in RootMetrics' most recent report, although that was in the city where they had the lowest coverage. However, it demonstrates the potential of their rollout and other signs are good too.
Finally, O2 are performing solidly, and their Extra options make them a good choice for customers looking for a little more value with their mobile deal.
Mobile virtual network operators (MVNOs) like VOXI, Sky Mobile and giffgaff are improving choice for customers, especially those looking for SIM only deals, so it's always worth keeping them in mind when searching for deals.
However, as things stand, we're inclined to put EE and Three at the top of our comparison list for 5G mobile services.
When you compare mobile phone deals using our free comparison tool, remember to select 5G from the filter menu to see only the best 5G deals.