With handsets available from many manufacturers, Three offers high data mobile plans on 24-month contracts.
In addition, SIM only plans are available on 1-month, 12-month or 24-month deals for customer flexibility.
Three does not have the extensive 4G coverage that their rivals do but their 5G is available to over half the UK population and is performing well in speed tests.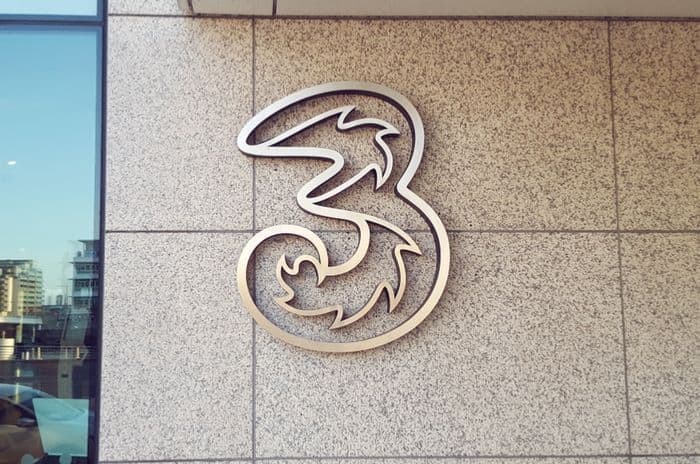 Credit: Lloyd Carr/Shutterstock.com
---
At a glance
What Three offers
Mobile plans
Handset, SIM only
4G landmass coverage
79%
4G indoor coverage
90%
5G coverage
Over 54% of population
Average speed
Around 28 Mbps
Customer satisfaction
86%
| Pros | Cons |
| --- | --- |
| Cheap mobile network | Coverage is patchy |
| 5G speeds performing well | Customer service record is poor |
| Multiple SIM only contract options | Roaming charges |
| 24-month handset contracts | |
---
Overview: Is Three any good?
Three is a major UK mobile network offering handset plans and SIM only deals to customers.
Here are some important points about Three's mobile services:
They are often the cheapest network for handset or SIM only plans
Three 5G services cover more than 54% of the UK population
They have one of the highest levels of 4G mobile coverage in Northern Ireland, especially in rural areas
All pay monthly customers have access to the Three+ rewards app as standard
Three stocks handsets from the biggest smartphone manufacturers as well as other popular names such as:
| | | |
| --- | --- | --- |
| Apple | Samsung | Google |
| OnePlus | OPPO | Nokia |
| Xiaomi | Nokia | Alcatel |
Combined with Three's value-based approach to contracts, this range of handsets means most customers will be able to find one that suits their needs.
Ultimately, Three is a major mobile provider that aims to put value at the heart of their deals, although they do struggle in some areas for coverage.
---
Mobile plans
Three's mobile plans are refreshingly simple, with their Advanced plans now the default for customers signing up to a new deal.
Mobile handset plans are 24 months in length and may come with small upfront costs depending on the specific model chosen.
| | Contract length | Maximum speeds | 5G included | Three+ app |
| --- | --- | --- | --- | --- |
| Advanced | 24 months | Fastest available | Yes | Yes |
All Three mobile customers receive:
The fastest speeds available in their area
Access to the 5G network at no extra cost
Access to the Three+ rewards app
Three mobile plans are simple and don't come with many frills. While this may be a downside for customers who want loads of extras, those in search of a simple and affordable mobile network may appreciate it.
Three+ app
All pay monthly mobile customers receive free access to the Three+ rewards app.
First launched in November 2021, Three+ provides exclusive offers from brands such as:
Cineworld
Uber Eats
Caffe Nero
Readly
The app is regularly refreshed with new offers.
While all pay monthly customers are eligible for Three+, it's a separate to My3 which helps customers manage their mobile accounts - so, customers will need to register for Three+ separately after they sign up to Three.
Roaming with Three
Roaming charges were introduced by Three in May 2022, putting an end to the inclusive roaming that had previously been offered by the network.
Instead, customers will need to pay the following charges as part of Go Roam:
£2 per day in Go Roam in Europe destinations
£5 per day in Go Roam Around the World destinations
There is a maximum fair use policy of 12GB per month, so customers cannot use more data than that while abroad, no matter how big their data allowance usually is.
Three's roaming policies are now in line with rivals like EE and Vodafone, although this is a frustration for customers who previously chose Three for their inclusive roaming deals.
SIM only plans
The SIM only mobile plans offered by Three can be taken with one of the following contract lengths:
24 months
12 months
1 month
As we'd expect, the deals where customers commit for a longer period are cheaper, although the amount of the discount depends on the offers Three has on at the time.
For instance, it isn't uncommon to find deals offering a set amount of data on a 12-month contract for the same price customers would usually pay on a 24-month deal.
Plus, Three frequently run deals where the first three or six months at a discounted rate, so watch out for those.
All Three mobile pay monthly SIM only plans come with unlimited minutes and texts. They are available with data allowances from 1GB all the way up to unlimited mobile plans.
Here's an example of a SIM only plan from Three covering the different contract lengths:
| | Package | Minutes | Data | Monthly price | Contract term |
| --- | --- | --- | --- | --- | --- |
| | 4GB data | Unlimited | 4GB | £4.50 for 6 months, then £9 | 24 months |
| | 4GB data | Unlimited | 4GB | £10 | 12 months |
| | 4GB data | Unlimited | 4GB | £19 | 1 month |
As we can see, it's much cheaper to take a contract with Three rather than choosing a rolling deal, although some customers may prefer the flexibility of a 1-month rolling mobile plan.
---
Price comparison
If we compare Three on price for a recent mid-range handset, we can see how they match up to their competitors.
Here are the four major networks with deals on the Google Pixel 6 with around 100GB of data included:
| | Handset | Minutes | Data | Monthly price | Initial price | Contract |
| --- | --- | --- | --- | --- | --- | --- |
| | Google Pixel 6 (128GB) on Advanced 100GB | Unlimited | 100GB | £40 | £29 | 24 months |
| | Google Pixel 6 (128GB) on Pay Monthly 100GB + 2 Xtra Benefits | Unlimited | 100GB | £42 | £9 | 36 months |
| | Google Pixel 6 (128GB) on 5G Essential | Unlimited | 125GB | £43 | £30 | 24 months |
| | Google Pixel 6 (128GB) on Refresh Flex | Unlimited | 100GB | £43.72 | £30 | 36 months |
While Three are the cheapest option for this handset, it's important to pay attention to the differences between networks.
For instance, while Three and EE offer 24-month deals, O2 and Vodafone advertise 36-month plans, meaning customers will pay more over the length of the contract than they would with Three.
Yet Vodafone do offer Xtra Benefits with their plans and have slightly lower upfront costs, so bear that in mind when comparing mobile handset deals.
If we compare a SIM only deal from Three with unlimited data to the cheapest available from other networks, they compare favourably with some of the cheapest mobile virtual network operators (MVNOs):
| | Package | Minutes | Data | Monthly price | Contract term |
| --- | --- | --- | --- | --- | --- |
| | Unlimited data | Unlimited | Unlimited | £12 for 6 months, then £24 | 24 months |
| | Unlimited data | Unlimited | Unlimited | £16 | 1 month |
| | Unlimited data | Unlimited | Unlimited | £16 | 24 months |
| | Unlimited Data | Unlimited | Unlimited | £20 | 1 month |
Three is the cheapest of the four major networks and competes well with smaller networks too.
As we've discussed above, customers will need to take a 24-month contract to get the best deals on Three SIM only plans, while some MNVO deals are available on 1-month contracts at cheap rates.
---
Coverage
Three's 4G mobile coverage is the weakest of all four mobile networks, although they are taking steps to improve it.
The best coverage for Three can be found in:
Outside premises such as gardens or yards (99%)
Across urban areas (99%)
Across the geographic area of Northern Ireland (92%) and especially in rural areas (92%) where they are the provider with the highest level of 4G coverage
Here are the major metrics to be aware of when it comes to Three's 4G mobile coverage:
| Coverage type | Three's coverage | Rank (out of four networks) |
| --- | --- | --- |
| Indoor premises | 90% | 4th |
| Outdoor premises | 99% | Joint 2nd |
| Geographic | 79% | 4th |
In terms of geographic (landmass) coverage and indoor premises coverage, Three is in last place.
While local coverage will vary, this could be a deterrent for customers who travel a lot and want the reliability of a strong signal across the UK.
It's also important to point out that the urban/rural divide for 4G coverage is even more pronounced with Three than it is for other networks. Here are the landmass (geographic) figures for each operator:
| | Three | EE | O2 | Vodafone |
| --- | --- | --- | --- | --- |
| Urban | 99% | 99% | 99% | 99% |
| Rural | 77% | 84% | 78% | 80% |
However, while Three's rural geographic coverage has stayed almost the same in percentage terms for several years, there is hope for future users.
All mobile network operators have committed to investing a combined £532m in a Shared Rural Network (SRN) agreement to deliver 95% mobile coverage nationwide by the end of 2025.
Three will be expected to improve their geographic coverage in Scotland and Wales from 57% and 77% respectively up to 74% and 80%.
The best way to check Three's current coverage in any area is to use their official coverage checker.
Three and 5G coverage
Three have expanded their 5G coverage significantly since its launch for smartphones in February 2020.
Their May 2022 rollout update noted:
5G from Three is available in more than 400 locations with over 3,000 active sites
54% of the UK population is covered by Three's 5G
On this last point, it's important to highlight that this is the percentage of people covered by Three's 5G rather than coverage of landmass, but it still means that more than half of people have access to their 5G services around their homes.
Independent analysis from RootMetrics shows growing availability in major cities across the UK.
Their 5G report for H2 2021 demonstrated that Three had improved their 5G availability in 12 out of 16 test cities with particularly high levels of availability in:
Hull (52.6%)
Birmingham (47.9%)
Nottingham (46.9%)
Three's 5G expansion follows the pattern of other operators, with urban areas the primary focus for now.
Nevertheless, from a standing start in August 2019 when they launched 5G in London as a home broadband solution, Three have significantly improved to become one of the best networks for 5G.
---
Speed
Three have consistently improved their speeds in recent years, thanks mainly to the rollout of their 5G network.
For example, while Opensignal's research published in October 2020 put Three in third place, they had leapfrogged Vodafone by April 2022:
| Ranking | Network | Average download speeds |
| --- | --- | --- |
| 1 | EE | 45.0 Mbps |
| 2 | Three | 28.1 Mbps |
| 3 | Vodafone | 22.0 Mbps |
| 4 | O2 | 17.1 Mbps |
Three's speeds are still much lower than EE's in this analysis but they continue to improve.
Other research shows Three ahead of EE on combined 4G and 5G speeds.
User-initiated speed test data collated by nPerf and published in August 2022 indicate Three are providing faster real-world speeds than EE:
| Ranking | Network | Download bitrate |
| --- | --- | --- |
| 1 | Three | 85.6 Mbps |
| 2 | EE | 79.2 Mbps |
| 3 | Vodafone | 51.7 Mbps |
| 4 | O2 | 25.0 Mbps |
While Three fell behind EE on other key metrics and therefore only ranked second in nPerf's overall analysis, it's clear their speeds are rivalling EE's in many cases.
Three have long claimed their 5G network is technically faster than rival 5G networks, something that has got them into trouble with the Advertising Standards Authority (ASA) in the past.
Nevertheless, the 5G rollout seems to be boosting Three's credentials as one of the UK's faster mobile networks.
---
Customer service
Three have a comparatively poor customer service record, with the most recent Ofcom annual report naming them as one of the networks least likely to be recommended.
Along with complaint levels that are consistently above the industry average, Three post worrying figures in other areas too.
Ofcom's Comparing Service Quality report offers more detail on Three's performance and how they compare to other mobile operators:
| Measure | Three's performance | Compared to industry average |
| --- | --- | --- |
| Satisfaction with overall service | 86% | 5% below average |
| Satisfaction with value for money | 81% | 4% below average |
| Customers with a reason to complain | 16% | 7% above average |
| Overall satisfaction with complaint handling | 52% | 1% below average |
| Complaints completely resolved on first contact | 41% | 2% below average |
| Average call waiting time | 16 seconds | 1 minute 59 seconds faster than average |
The measure where Three perform well is answering the phone quickly, yet they are significantly below the industry average on several key metrics.
More of their customers have a reason to complain than those with any other network. In fact, their 16% pushes the industry average upwards, with their closest competitor (Vodafone) on 12%.
Lower than average satisfaction with value for money is an interesting statistic for Three since one of their major selling points is their cheaper price point.
Overall satisfaction with Three mobile is the second lowest of all mobile networks, suggesting that a combination of the points above are impacting their customer satisfaction levels.
Finally, however, it's worth noting complaint levels for pay monthly mobile operators are much lower than those for broadband and landline providers.
So, while Three may be performing poorly in comparison to their rivals, customer complaints across the pay monthly mobile sector are generally low.
---
Verdict: should you sign up to Three?
Three is usually the cheapest of the major mobile networks, prioritising value for customers over frills.
Thanks to their 5G rollout, Three's speeds are improving across the board and they often rank as the second fastest mobile provider in combined 4G and 5G speed tests.
There are some key things to like about Three:
Unlimited data deals are cheap
24-month contracts on handsets are standard
Choice of contract options for rolling deals
Great 5G performance so far
However, there are some caveats too:
Three's coverage is comparatively poor in places
Their generous inclusive roaming deals have been cut
Their recent customer service record isn't great
Overall, Three have a well-earned record as a network offering cheap unlimited data to customers, and many will prefer them for that alone.
That said, checking the coverage in your area after comparing mobile deals is crucial. There's no point in having cheap unlimited data if you can't get a good signal to use it.