Go Roam in Europe and Go Roam Around the World are both subject to a 12GB fair use limit, although other restrictions between the two services vary.
There are also limits on prolonged roaming, so customers should not see Go Roam as an option when spending more than two months abroad at a time.
The Data Passport from Three costs £5 per day and comes with fewer restrictions than the basic Go Roam service.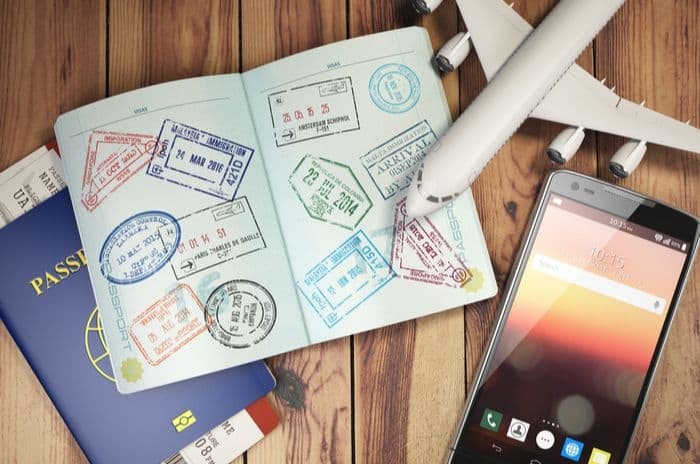 ---
---
How does Go Roam work?
Go Roam allows Three customers to use their plan allowances or any add-on allowances in 71 destinations across the world.
The service used to be separated into Go Roam in Europe and Go Roam Around the World, with the former available with Essential plans and above, while the worldwide version was available to customers on Advanced plans only. Since Three scrapped Essential plans, Go Roam Around the World is the default on new plans, even if the official website still mentions the different tiers.
It's important to note there are fair usage restrictions on the amount of data customers can use while abroad and we go into more detail about this and other restrictions below.
However, the basics are this: Go Roam allows customers to use calls, texts and data in the same way they would at home.
No set up required
It used to be that customers needed to contact Three directly to activate international roaming on their phones, but this is no longer the case.
Go Roam will automatically work when a customer arrives in one of the 71 Go Roam destinations listed in the next section. Customers should make sure roaming is turned on within their phone's settings for the service to work.
Pay As You Go customers can access Go Roam but they'll need to have activated their SIM card in the UK and have made a chargeable event (i.e. sent a text or made a call) before travelling.
The main thing to remember for customers using Go Roam is that they'll need to replace the first 0 in any UK landline or mobile they text or call with +44.
---
Which countries does Go Roam cover?
As we've mentioned, Go Roam has expanded over the years, growing tenfold since its launch in 2013. Now there are 71 destinations covered by Go Roam Around the World:
| | | | | | |
| --- | --- | --- | --- | --- | --- |
| Aland Islands | Australia | Austria | Azores | Balearic Islands | Belgium |
| Brazil | Bulgaria | Canary Islands | Chile | Colombia | Costa Rica |
| Croatia | Cyprus | Czech Republic | Denmark | El Salvador | Estonia |
| Finland | France (including Corsica, Mayotte & Reunion) | French Guiana | Germany | Gibraltar | Greece (including Crete & Rhodes) |
| Guadeloupe | Guatemala | Guernsey | Hong Kong | Hungary | Iceland |
| Indonesia | Ireland | Isle of Man | Israel | Italy (including Sardinia & Sicily) | Jersey |
| Latvia | Liechtenstein | Lithuania | Luxembourg | Macau | Madeira |
| Malta | Marie-Galante | Martinique | Mayotte | Netherlands | New Zealand |
| Nicaragua | Norway | Panama | Peru | Poland | Portugal |
| Puerto Rico | Republic of Ireland | Reunion | Romania | Saint Barthelemy | Saint Martin |
| San Marino | Singapore | Slovakia | Slovenia | Spain | Sri Lanka |
| Sweden | Switzerland | United States (inc Florida Keys) | Uruguay | US Virgin Islands | Vatican City |
| Vietnam | | | | | |
Beyond these destinations, there are 18 others covered by Three's Data Passport - there's more information on this below.
---
Are there any restrictions?
Since Go Roam Around the World was made the default, there are fewer restrictions on roaming for Three customers, but there are still some things to remember.
Fair usage policies
Three's fair usage limits ensure customers are fairly using calls, texts and data as they travel, and they're fairly generous. This is one of the only elements where there are distinctions between Go Roam in Europe destinations and Go Roam Around the World destinations.
In Go Roam in Europe destinations, there are no limits to the number of text messages customers can send or the number of minutes they can use to call with. The only limit customers need to be aware of is the 12GB per month data limit (as long as their data allowance covers this). Going over 12GB will result in a surcharge.
This fair use limited used to be 20GB but was quietly lowered by Three after the UK left the European Union.
In Go Roam Around the World destinations, it's slightly more complicated:
If a customer has unlimited texts on their plan, they can send up to 5000 texts back to the UK per month
If a customer has a Pay As You Go plan, they can send up to 3000 texts back to the UK per month
If a customer has 3000 or more minutes on their plan, they can use up to 3000 minutes on calls back to the UK
If a customer has a data allowance of up to 12GB, up to this amount of data can be used per month but no data above this amount will be permitted
So, essentially, when travelling beyond the Go Roam in Europe destinations, there's a cap of 12GB, whether a customer would be willing to pay extra for it or not.
Prolonged roaming
Go Roam is designed for periodic travel like holidays or short breaks abroad. If Three believe customers are taking advantage of the roaming facility to use it for prolonged periods, they'll apply a surcharge (in Europe) or cut off access (beyond Europe.
Since Brexit, the rules have simplified so customers using Go Roam anywhere can more clearly understand what counts as prolonged roaming.
If Three identify that a customer has spent two complete months in one or more destinations over a 12-month rolling period, they have the right to suspend roaming services and a customer will no longer be able to use their allowance abroad. Customers will be alerted before this happens.
If a customer has had their services suspended but subsequently returns to the UK, they can then contact Three to unblock their roaming services.
Out of allowance surcharges for customers exceeding the 12GB threshold in Go Roam destinations are:
2p per text
3p per minute
1p per MB
These prices have increased in the last year and may well increase again, so customers are advised to check if this is going to be an issue.
Tethering
If a customer travelling to a Go Roam in Europe destination has unlimited data on their plan can use their device a personal hotspot (even though they're not allowed to use all that data, just a maximum of 12GB).
This seems an odd hangover from the days of higher fair use policies and we wouldn't be surprised if it's removed or altered at some point.
Tethering other devices to your phone to use its data while travelling abroad is not permitted under Go Roam Around the World, so this isn't a shortcut to using the internet on other devices like laptops.
To use tethering while in one of these destinations, customers will need to purchase a Data Passport - there's more detail on these below.
Calling/texting restrictions
For Go Roam in Europe destinations, customers can call/text back to the UK and also use their allowance (up to the fair use limits detailed above) to make calls and send texts to other Go Roam in Europe destinations.
However, Go Roam Around the World shouldn't be confused with any packages which allow customers to make calls abroad as though they're a local - it is about texting and calling home, along with using data.
---
Data Passport
The Data Passport from Three can be used at home or abroad. It covers 89 destinations, incorporating the Go Roam Around the World destinations along with the following:
| Azerbaijan | Canada | Malaysia | Mexico | Moldova | Montenegro |
| --- | --- | --- | --- | --- | --- |
| Myanmar | Pakistan | Russian Federation | Saudi Arabia | Serbia | South Korea |
| Taiwan | Thailand | Tunisia | Turkey | Ukraine | United Arab Emirates |
To use the Data Passport, customers must be a pay monthly customer and it costs £5 per day for unlimited usage. Beware, though, this runs out at midnight UK time rather than midnight in the destination.
The benefits of Data Passports in comparison to Go Roam is that it can be used for tethering to other devices and to connect to Virtual Private Networks (VPNs), plus music and video can be streamed at unrestricted speeds.
Three warn that customers in a Go Roam destination using their allowance through Go Roam may be subject to traffic management measures which don't apply to Data Passport users.
The inference is clear - use a Data Passport to do anything data-heavy, even though it costs £5 per day while Go Roam comes out of a customer's standard allowance.
---
Troubleshooting with Go Roam
As with all services, some customers can have issues and Three points out specifically where problems may occur.
They reiterate that roaming must be switched on in a phone's device settings and international roaming must be enabled within a customer's My3 account.
Beyond that, they also highlight the following:
Go Roam utilises other operators' networks and customers will automatically roam onto the correct network when they enter a country. However, the coverage and signal may not be the same as back home so that doesn't necessarily mean there's a problem.
Being connected to a maritime or airline network such as that on a cruise ship or aeroplane doesn't count as being connected to Go Roam and customers will be charged roaming rates when they use those networks. Being close to a port could result in a customer accidentally connecting to a ship's network, so it is the responsibility of the customer to ensure they're connected to a national network.
Being close to the border of another country might result in network confusion. If a customer strays onto a non-Go Roam network, they will be sent a message to inform them of local roaming rates.
There are certain numbers which can't be called from abroad using Go Roam - those beginning with 070, 09 or 118 directory services. 08 numbers can be called but the costs will come out of a customer's allowance. If customers don't have an allowance, the cost to call 08 numbers can be up to £1.40 per minute.
Ideally, customers won't experience issues and can manage all their problems within the My3 app.
---
easyJet partnership
Following a brief two-year partnership with easyJet launched with priority travel in July 2018 and boosted with holiday rewards later that year, Three confirmed they had ended the arrangement in 2020.
Their rationale for ending the partnership came from the coronavirus crisis and the fact the service wasn't meeting the combined needs of Three and easyJet customers.
However, given that Three also scrapped their Go Binge service in 2020, it seems as likely that they were trying to simplify things and the easyJet partnership was a layer of extras they could trim in a bid to keep prices low for everyone.
---
Feel at Home to Go Roam
Go Roam was originally launched by Three back in 2013 as Feel at Home, offering roaming to seven countries around the world.
Since then, the service has evolved to cover 71 destinations and undergone a name change which better suits Three's branding - it matched their Go Binge data offer which launched in 2017 and was scrapped three years later.
Sometimes Three's Go Roam is referred to as Feel at Home across the internet, but it's the same service, just rebranded and bigger than ever.
---
Verdict: is it worth roaming with Three?
Three's Go Roam has evolved over the years to become a comprehensive roaming option for customers travelling in Europe and beyond.
Yet the reduction of the Go Roam in Europe fair usage limit from 20GB to 12GB was a quiet indication that even Three were willing to tweak their generous plans in the wake of the UK's exit from the European Union.
We've seen other EE and Vodafone bring in extra charges for European roaming from 2022, with EE charging customers £2 a day and Vodafone imposing similar charges.
Like Three, O2 has tightened their roaming limit, although theirs is arguably much more generous at 25GB.
Even so, with the regulations on cost-free roaming in Europe now a thing of the past for UK mobile users, and Three customers should be mindful of this when using Go Roam.
The Data Passport offers an alternative to this, but at £5 per day, the costs can soon stack up over even a short holiday.
As roaming is a cornerstone of Three's mobile model and one of the few areas where they stand out from their competitors, they're unlikely to sacrifice it completely.
To compare mobile deals on Three and other networks, visit this page. To see just those cheap mobile deals offered by Three, filter to see only offers from that network.