Three's pricing structure is simple to understand, and they offer many data options on 1-month, 12-month and 24-month contracts for flexibility.
Yet they are repeatedly trumped by their rivals when it comes to coverage and sometimes speed, so customers may have to weigh up the pros and cons.
As well as 4G mobile broadband, Three have also expanded into 4G and 5G home broadband with optional extras, adding more variety to their packages.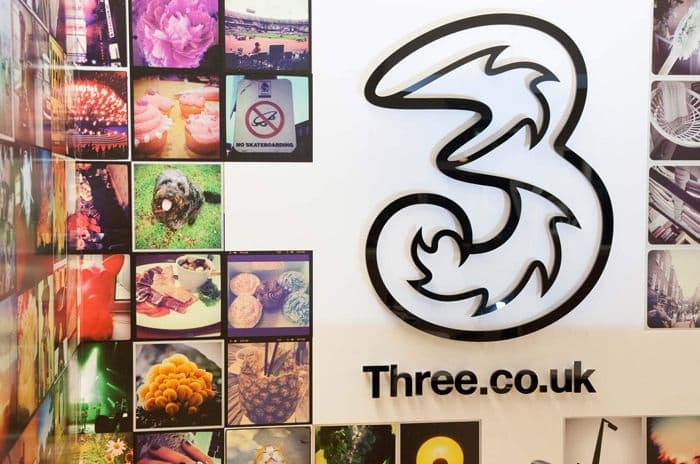 ---
At a glance
| | |
| --- | --- |
| 4G indoor coverage | 90% |
| 4G landmass coverage | 79% |
| RootMetrics speed | 19.1Mbps |
| Price from | £7.50 per month |
| Minimum term | 1-month, 12 months, 24 months |
| Device | Data SIM, mobile wi-fi, home router |
| What we like | What we don't like |
| --- | --- |
| Cheap mobile broadband deals | Coverage is low |
| Range of contract options | Poor customer service record |
| 4G and 5G hub options | Too many options for data SIMs |
| Decent speeds | |
---
Three mobile broadband tariffs
Three mobile broadband deals are available via SIM only mobile broadband plans that can be used in tablets or pre-owned mobile broadband devices.
It's also possible to buy a bundle with a SIM and mobile broadband device like a personal hotspot or customers looking for a mobile broadband plan for the home can also find mobile broadband hubs too.
Three don't offer much in the way of extras since their Go Roam became a paid roaming service, although they have recently launched a rewards app called Three+.
The app isn't yet available to mobile broadband customers, but they're looking at ways of rolling it out to them so that's one to keep an eye on.
SIM only
Three offer a wide range of data SIM deals that can be put into a tablet or a mobile broadband device that a customer already owns.
Contract lengths of 12 months and 24 months are available if customers want to sign up for a longer period at a cheaper rate, but it's also possible to take a 1-month rolling mobile broadband plan with Three.
Here are two examples of Three data SIM deals:
| | Device | Data | Monthly price | Initial price | Contract term |
| --- | --- | --- | --- | --- | --- |
| | Data SIM | 15GB | £14 | Free | 24 months |
| | Data SIM | 15GB | £16 | Free | 12 months |
| | Data SIM | 15GB | £20 | Free | 1 month |
| | Data SIM | Unlimited | £22 | Free | 24 months |
| | Data SIM | Unlimited | £24 | Free | 12 months |
| | Data SIM | Unlimited | £26 | Free | 1 month |
The pricing step-up between the different contract lengths is uniform, so customers know they will be paying a couple of pounds more per month to take a shorter contract.
One thing to bear in mind is that not all data packages are available on all contract lengths, so customers might have to compromise to get the right amount of data on the type of contract they want.
We've more information on how SIM only deals work in our dedicated guide.
Mobile broadband devices
If a customer wants a mobile broadband device to go along with a data SIM from Three, they can sign up to one of their mobile broadband bundles.
These include a pocket-sized personal hotspot combined with a data SIM and, again, these can be taken on 1-month, 12-month or 24-month deals.
Here is how the unlimited data deal looks with the Huawei 4G hotspot offered by Three:
| | Device | Data | Monthly price | Initial price | Contract term |
| --- | --- | --- | --- | --- | --- |
| | Huawei E5783B 4G Plus | Unlimited | £12 | Free | 24 months |
| | Huawei E5783B 4G Plus | Unlimited | £26 | Free | 12 months |
| | Huawei E5783B 4G Plus | Unlimited | £27 | £29 | 1 month |
The pricing differences from tier to tier aren't as straightforward, but it's still cheaper by a few pounds per month to take a Three mobile broadband device on a longer contract.
Plus, if a customer wants a 1-month deal, they will need to pay the equivalent of an extra month upfront for the privilege.
There aren't many tariff options when it comes to Three mobile wi-fi device plans, so customers won't have as much choice as if they were going for the data SIM deals mentioned above.
In some cases, it may be more economical to buy the mobile broadband device independently of Three and combine it with a cheap data SIM deal to get the right amount of data.
Read more about the best mobile wi-fi deals in the UK.
Mobile broadband for the home
Three offer a trio of devices that provide mobile broadband for the home:
4G Hub
4G Hub Plus
5G Hub
They first launched their unlimited 4G home broadband plan in February 2019 and followed that up in April 2020 by adding a rolling contract option for flexibility.
Here are the options for the 4G Hub:
| | Device | Data | Monthly price | Initial price | Contract term |
| --- | --- | --- | --- | --- | --- |
| | 4G Hub | Unlimited | £14 | Free | 24 months |
| | 4G Hub | Unlimited | £17 | Free | 12 month |
| | 4G Hub | Unlimited | £30 | £29 | 1 month |
Taking the 4G Hub on a 1-month deal costs a fair amount more per month and it has upfront costs, so most customers will see the longer contracts as a more attractive option.
Three also have hub bundles with Apple TV HD, an Amazon Echo Show 5 or a Google Nest if customers want to get something a little extra.
---
Coverage
Three have some of the lowest 4G coverage levels of all four mobile networks, although they do still cover vast areas of the UK.
As the following table demonstrates, Three come fourth in four different categories:
| Type of coverage | Three's coverage percentage |
| --- | --- |
| Indoor | 90% (4th place) |
| Geographical | 79% (4th place) |
| Major roads | 81% (4th place) |
| All roads | 77% (4th place) |
These coverage levels mean customers in rural areas may have to discount Three as a mobile broadband option. Equally, if one of the primary reasons for choosing 4G mobile broadband is to take it on days out into the countryside, Three may not be the best option.
However, 4G coverage from all mobile networks varies depending on local factors, so check the areas where you spend most time to see if mobile broadband coverage from Three is good in those areas.
5G coverage
Three's 5G network isn't as widespread as their 4G network, so customers looking at 5G mobile broadband options may be more limited.
Along with the other mobile networks, Three launched their 5G services in 2019, switching their first 5G masts on in London in August.
Three originally chose to focus on the possibilities of 5G as an alternative to fixed line broadband, so they first launched 5G home broadband before expanding smartphone connectivity properly from February 2020 onwards.
Since then, the 5G rollout has continued, with the network confirming they had reached 29% of the UK population in an update published in August 2021.
One important thing to note is that this is population rather than landmass, so there will be much lower coverage across the UK and those in rural areas will definitely miss out for the time being.
---
Speed
Three often come in the middle of the pack in mobile network speed research. Recent data from Tutela, Opensignal and RootMetrics backs this up:
| Research source | Average download speeds | Place (out of four networks) |
| --- | --- | --- |
| Tutela (Oct 2021) | 15.6Mbps | 2nd |
| Opensignal (Sept 2021) | 25.2Mbps | 2nd |
| RootMetrics (H1 2021) | 19.1Mbps | 3rd |
Although the methodology for these reports differs, the fact that Three is second or third in each of them suggests accuracy.
This is an improvement on where they were a year ago when they came in third or fourth, but there's a definite gap between the performance in difference areas.
In the RootMetrics report, for example, the fastest median download speed was found in Birmingham with 38.9Mbps while the slowest was in Belfast with 12.0Mbps.
So, while Three's network has fast speeds in some cities, this doesn't necessarily mean the good performance will be replicated everywhere and, since RootMetrics' research focuses on cities, it doesn't give any indication of rural mobile broadband performance.
---
Customer service
Although Three have moved on from their customer service troubles in 2014 when they were fined for their handling of customer complaints, their current quarterly complaint figures are the worst of all the major pay monthly mobile customers.
In Q2 2021, they registered 7 complaints per 100,000 customers, almost double the industry average of 4. Over the course of 2020, they registered 23 complaints per 100,000 customers, still above the industry average of 13 but not the poorest thanks to Virgin Media's performance.
Other metrics in Ofcom's Comparing Service Quality report for 2020 were also concerning:
Their 86% overall customer service satisfaction was the lowest of all providers
13% of their customers had a reason to complain, 3% above the industry average
However, calls were answered in an average of 1 minute and 3 seconds, half the average for the industry.
So, Three's record on customer service may not be the best of all mobile providers, but it's worth remembering standards have improved dramatically across the board in recent years.
Read more detail in our best network for customer services guide.
---
Our verdict: Is Three good for mobile broadband?
Three stand out among their mobile broadband rivals for providing lots of data at low prices - just what we want when we're looking at taking broadband on the road.
When we're comparing mobile broadband deals, Three's offers look complicated because there are so many options, but they're split neatly into 1-month, 12-month and 24-month contracts.
It's refreshing to see a mostly straightforward pricing structure, and the jumps between different data levels aren't too high. With that in mind, customers are as likely to take more data every month, essentially getting more with Three than they would elsewhere.
There are a few caveats, though, with Three's customer service record not completely matching their competitors', and their coverage struggling in comparison too.
Yet on speed they're often now battling with Vodafone for second place regularly, meaning customers who can access decent coverage may be in luck with decent speeds too.
Just like with their unlimited data pay monthly mobile plans, Three have carved a niche as a no-frills mobile broadband provider with an emphasis on cheap unlimited data - for many customers, that's a big attraction.
For more read our Three mobile network review, or see how Three compares to Vodafone, Three vs EE or Three vs O2 in these guides.