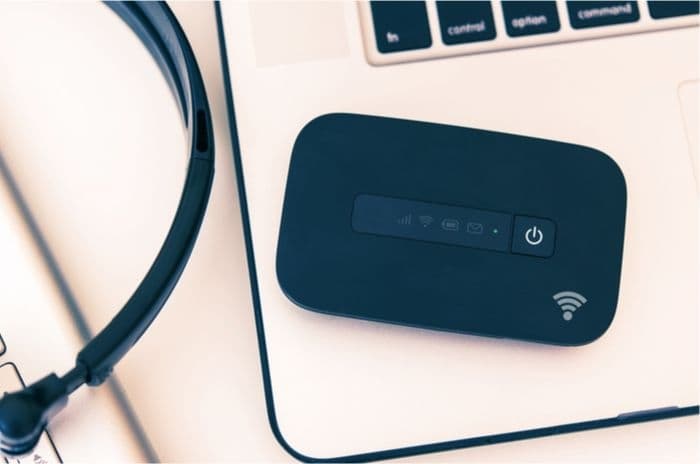 ---
---
What mobile wi-fi deals are available?
Mobile wi-fi deals are offered by the major networks, although the type of device on offer and the contract lengths differ.
These are the cheapest contract options for mobile broadband devices in the UK from each major network, ranked by the lowest cost:
| | Device | Data | Monthly price | Initial price | Contract term |
| --- | --- | --- | --- | --- | --- |
| | 4G Mobile Hotspot | 4GB | £10 | Free | 24 months |
| | Alcatel Pocket Hotspot 4G | 5GB | £11 | Free | 24 months |
| | Huawei 4G Plus MiFi | 10GB | £14 | Free | 24 months |
And these are the best priced deals with the largest data allowances:
| | Device | Data | Monthly price | Initial price | Contract term |
| --- | --- | --- | --- | --- | --- |
| | Alcatel Pocket Hotspot 4G | 150GB | £23 | Free | 24 months |
| | Huawei 4G Plus MiFi | Unlimited | £24 | Free | 24 months |
| | 4G Mobile Hotspot | Unlimited | £30 | Free | 24 months |
So, although only a few providers offer mobile wi-fi devices, there are a good number of plans and data choices which can make choosing a deal difficult. We dive further into what customers should look for below.
There are certain other options of the same plans which include upfront costs or different contract lengths. Search all mobile broadband deals using our free checker.
As we can see in the table, Vodafone offer two versions of the Unlimited data plan on both their dongle and their mobile wi-fi router devices.
This is because they have Unlimited plans capped at 10Mb and Unlimited Max plans with the fastest available speeds - unsurprisingly, the fastest unlimited data option is the more expensive one.
Contract free mobile wi-fi deals
Some mobile wi-fi packages are on rolling monthly contracts, although these usually come with upfront fees and heftier monthly costs.
Here are some of the major options:
| | Device | Data | Monthly price | Initial price | Contract term |
| --- | --- | --- | --- | --- | --- |
| | 4G Mobile Hotspot | 4GB | £15 | £49 | 1 month |
| | Huawei 4G Plus MiFi | 10GB | £19 | £39 | 1 month |
The upfront costs of the devices are roughly the same, so it will likely come down to network preference and the amount of data a customer wants.
Note: O2 don't currently offer rolling contracts but they do offer mobile wi-fi devices on pay as you go - as do other providers.
---
What to consider when choosing a mobile wi-fi device
There are three major considerations when we're looking at mobile wi-fi devices: the network it's on, the amount of data, the type of wi-fi device and the contract length.
Let's look at each of these in turn.
Which network to choose
While the right network for your mobile wi-fi device may be related to the points below, it's worth looking at it in its own right first.
Some networks have better coverage in different areas and there are always blackspots that seem to linger even when local improvement works are being done.
The latest Ofcom Connected Nations update published in September 2020 shows 97% of UK premises can receive a 4G signal indoors from all operators.
There are differences within the four regions of the UK - England has the highest figure with 98% while Scotland has 96%. Northern Ireland and Wales both have 93% coverage from all network operators.
Bear in mind, though, that outdoor coverage isn't always great, especially coverage along the UK's roads.
5% of UK roads aren't covered by any operator while 9% of the UK's geographic area isn't covered either. This might not make a difference to most people, but it's worth thinking about if the aim is to take mobile wi-fi out when you're camping, for example.
Networks offer a coverage search facility, so be sure to check a couple of postcodes where you're likely to be using the device - workplace, favourite leisure locations or family addresses, for instance.
We may also have network preferences because we're already with a network - although that could work the other way too if we're eager to get away from them.
How much data to choose
Data use is increasing every year, but that doesn't necessarily mean we should choose the most data intensive plans available if the data allowance is just going to be wasted.
There are a few questions to ask before selecting a data option:
How often will the mobile wi-fi device be used?
Will it be used for streaming or other data-heavy activities?
How many people will want to use the device?
Is this amount of data going to be sufficient throughout the contract term?
A mobile wi-fi device intended as a day-to-day replacement for home broadband (i.e. the unlimited options in the tables above) will be the most expensive, but for those travel occasionally and want data with them when they do, a 10GB option might be right. People who just want to occasionally check their email on the move could get away with less.
It's tempting to choose either the cheapest options or the one with the biggest data allowance. However, looking at your existing data usage (on a smartphone, for example) can give a ballpark figure on how much is used every month on there - it can help you make some decisions about how much data is required for the mobile wi-fi device.
Should I get a dongle or a mi-fi? device
Dongles and mi-fi devices are very similar, but there are a few differences.
Dongles are USB sticks that plug into computers and allow that computer access to the internet. That means they're a great individual device, though they can't usually be used to allow more than one person to access the internet. Plus, these devices are suitable only for computers, so smartphones and tablets can't be connected.
Mi-fi devices, also known as personal hotspots, are pocket-sized devices that allow multiple phones, tablets and computers to connect at once. They're a combined modem and wi-fi router which routes for data traffic from several sources.
Straight away, it's easy to see why mi-fi devices are generally more popular than dongles - the option to get multiple people online from their smartphones at once is a definite plus.
That said, the fact that dongles connect to a single computer means they may be more practical (and more secure) for work purposes.
It can come down to whether the device will be used to serve one computer or multiple phones.
Choosing the right contract length
As the tables above show, there are various contract lengths to choose from for mobile wi-fi devices. This allows for choice and flexibility, but it also complicates matters too as we have another decision to make.
Some people want the flexibility of a mobile wi-fi device on a rolling contract - they're willing to pay more money upfront and a little extra per month for the power to end the contract when they want to.
For others, a wi-fi device is something they're going to use every day from now on. For instance, commuters may want a mi-fi to go into their pocket for their daily train journeys, allowing them to stream their favourite programmes while on the move. Or a parent who spends a lot of time at the side of a chilly football pitch may want something to help them pass the time.
The reasons for buying a mobile wi-fi device and the use it's put to are very individual, so it's as tricky to say what the ideal contract length is as it is to tell you how much data you require.
There's another option, however, if you want to try a mobile wi-fi device but aren't sure about signing up to a lengthy contract: find a data SIM only deal once you've tried the mi-fi on a rolling contract and decided it's going to work well for you.
---
Does it matter which mobile wi-fi device I choose?
Mobile wi-fi devices are more like home routers than mobile phones - networks only have one or two and they don't vary as much as they would like us to believe.
The price table above shows the major networks stick to certain types of device, so the choices we have are limited and based on the network rather than the device itself.
To illustrate, here are some of the specs for three mi-fi devices:
Provider
Device
Battery
Standby time
Weight
Size
EE
4GEE WiFi Mini 2020
2150.0mAh
288 hours
85g
13.3mm depth
62.5mm height
92mm width
Three
Huawei E5783B-230
1500mAh
350 hours
95g
16mm depth
62mm height
108mm width
Vodafone
R219
1500mAh
350 hours
95g
13.7mm depth
58mm height
100mm width
It's unsurprising to find that both the Three and Vodafone mobile wi-fi devices are version of the same Huawei model - the weight and battery size are exactly the same.
The point is, dongles and mi-fi devices aren't a competitive area, so there's little substantial difference between devices offered by different networks. Often, it's simply the same kit with a different label on it.
---
Can mobile wi-fi devices replace home broadband?
Mobile wi-fi devices aren't really a replacement for fixed line home broadband - unless we only use a small amount of data every month.
For instance, as the table above shows, Vodafone's truly unlimited mobile wi-fi with no speed restrictions is £33 per month, but their fixed line fibre broadband begins at just £23.
Homes in the few pockets of the UK where decent (10Mb or more) broadband speeds have yet to reach may want to choose a mobile wi-fi device, but it's unlikely the speeds offered by the devices will be fast enough to make the extra costs viable.
Other options include dedicated 4G home broadband from the likes of Three which offer a more substantial 4G router which can cope with lots of traffic.
Read our comparison of the EE 4GEE Home Router and the Three HomeFi 4G.
The caveat here, of course, is that these aren't mobile wi-fi devices - they're a replacement or a supplement to home broadband.
Equally, 5G home broadband is likely to prove a replacement for home broadband, as well as offering faster speeds for compatible mobile wi-fi devices used outside the home.
Learn more about the potential of 5G.
---
Alternatives to mobile wi-fi devices
Mobile wi-fi devices haven't become mainstream thanks to two major factors: the ability to tether to our mobile phones and the proliferation of public wi-fi.
Let's briefly look at both of these.
Tethering
Most smartphones and networks allow customers to use their phone as a modem in a process known as tethering.
For customers who already have a huge data allowance on their smartphone, this could be the ideal solution because it doesn't require them to buy either an extra device or add more data to their monthly bill.
One thing to note, though, is that some mobile tariffs (especially cheaper ones) don't allow tethering or strictly limit it.
Also, tethering is known to be a great drain on a phone's battery power, so charging at the same time as tethering or limiting the time spent tethered to the device may be useful.
Public wi-fi
More public wi-fi is available than ever before, whether that's through council schemes, network schemes or just because the local coffee shop wants to attract more customers.
The good thing about public wi-fi is that it's often free or cheap, sometimes it requires buying a drink to sit in the coffee shop or pub but that's usually little hardship.
However, it's important to remember the security of public wi-fi isn't always guaranteed, and there are plenty of horror stories about how easy it is to hack other users over public networks.
If you're using public wi-fi (or even semi-private wi-fi in a trusted coffee shop), don't do anything that requires you to enter your personal details and disconnect at the first sign of anything unusual or strange.
---
Conclusion: which mobile wi-fi deal is best?
The choice between mobile wi-fi deals comes down to a few factors: price, network, contract length and device type.
Some of these factors will influence the others. For example, choosing O2 may increase your bills while choosing Three could keep them low.
Our top tips are:
Choose Three if you want lots of data and different contract length options
Choose O2 if you don't mind lengthy contracts with the most comprehensive UK coverage
Ultimately, mobile wi-fi devices still have a place for modern users, but they have definitely been superseded by the use of tethering and the availability of public wi-fi.
It remains to be seen whether the emergence of 5G can revitalise the mobile hotspot and make it a fixture in our pockets again.