Some free wi-fi networks like BT Wi-Fi and Virgin Media Connect require users to be an existing customer, although BT does offer a subscription model too.
O2 Wifi and Sky WiFi are also available in thousands of locations nationwide.
However, free wi-fi from EE, giffgaff and Three is only available on the London Underground through the Virgin Media network.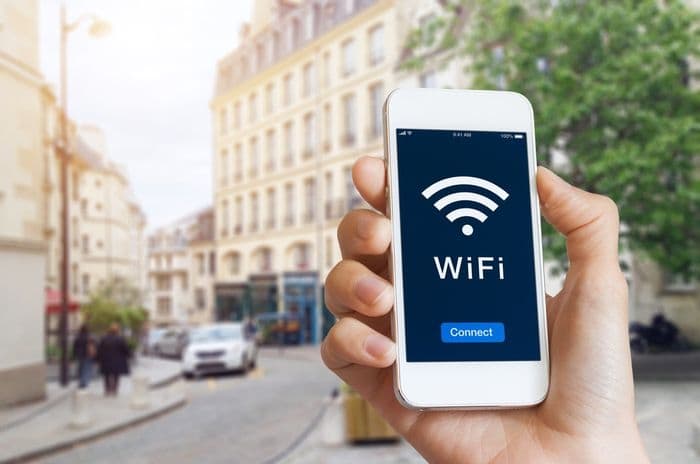 ---
At a glance
| Wi-fi access | Provider |
| --- | --- |
| Free | O2, Sky |
| Customer only | BT, Virgin Media |
| Subscription | BT |
| London Underground | EE, giffgaff, Three, Virgin Media |
---
Mobile networks offering free wi-fi
Several mobile networks offer access to huge free wi-fi networks across the country. Some of them are free, but others require users to already be a customer.
In total, there are almost 10 million wi-fi hotspots available in the UK, so what are the rules for accessing them?
BT
The biggest provider of free wi-fi hotspots in the UK is BT.
5 million wi-fi hotspots are available via the BT network - but only customers of BT can access them for free. Other customers need to pay.
The BT Wi-Fi network has over 5 million hotspots across the UK, making it likely there will be one near to a customer's location.
Almost 9,500 of these UK hotspots are Premium ones that are in dedicated places like high street shops and there are 5.4 million BT Hub hotspots at the time of writing.
| | Locations |
| --- | --- |
| Premium hotspots | Dedicated network of hotspots via StreetHubs, shops, hotels, banks, gyms and public buildings |
| BT Hub hotspots | Network of home hubs and business hubs that customers can use to connect |
As we mentioned above, customers of BT Broadband, BT Business Broadband and BT Mobile can access BT Wi-Fi for free.
They can download the BT Wi-Fi app from the Apple App Store or the Google Play Store and this will allow mobile phones and tablets to connect automatically when they are in range of a hotspot. It will also give directions to a customer's nearest hotspot if they need to quickly log on and access something.
Search for BT Wi-Fi hotspots near you.
Non-BT customers can still pay to access the BT Wi-Fi network if they want to. These are the on-demand prices for access:
| Duration | Price |
| --- | --- |
| 1 hour | £4.99 |
| 1 day | £7.99 |
| 5 days | £19.99 |
| 30 days | £39 |
The price for an hour is rather steep and many potential users may find the daily price overly expensive too.
To sign on to these, customers will need to buy access via the website and register with their email address. There is no way of signing on anonymously.
There are also 3-month and 12-month subscription plans that allow them to access BT Wi-Fi hotspots over a longer period for a lower monthly cost.
| Subscription | Price |
| --- | --- |
| 3 Month | £90 |
| 12 Month | £180 |
These prices are based on a 3-month subscription costing £30 per month and a 12-month subscription costing £15 per month. Subscription customers can use the BT Wi-Fi app mentioned above.
It's clear these subscription deals are expensive and unlikely to be economical for many customers who may want to consider an unlimited mobile wi-fi deal instead for cheaper access to unrestricted data.
For existing BT customers, however, the free wi-fi access is a definite perk and it could be the deciding factor when you sign up to a new broadband deal.
EE
EE mobile customers can only connect to wi-fi hotspots on the London Underground. This is provided by Virgin Media, so we'll look at the coverage in more detail below.
To be eligible for access, customers must be:
An EE pay monthly customer with a wi-fi ready device such as a phone or tablet. Customers who are in arrears or have been classified as having bad debt will not be able to access the wi-fi.
An EE pay as you go customer with a wi-fi ready device. Customers must have topped up their account with at least £5 within the last 30 days (top-ups may take two days to update on a customer's account).
It seems strange that EE mobile customers are unable to benefit from the millions of hotspots provided by their owner BT, yet this is one way of separating out the two brands.
The inference is clear: if you want premium features like access to wi-fi hotspots, you choose BT broadband and mobile while EE mobile customers can only access some hotspots in London.
It's also worth noting that EE extended their Stay Connected policy in August 2021 meaning that all data SIM customers can access speeds of 0.5Mbps when their data runs out. It's not very fast, but it's fast enough to check emails and navigate via Google Maps, for example.
This applies to both EE pay monthly mobile and EE mobile broadband plans, so customers could use a personal hotspot device at very low speeds even if their monthly allowance has run out.
giffgaff
Free wi-fi is offered to giffgaff customers on the London Underground via the Virgin Media network.
There are also 8,000 other WiFi Extra hotspots across the country provided by O2, although this isn't the entire network of O2 hotspots available so customers may want to read the section below before considering giffgaff.
To use WiFi Extra hotspots, customers will need to download a special WiFi Extra app via the official giffgaff app. Android users will also need to set some extra security settings.
All giffgaff customers are eligible as long as they have an active giffgaff SIM and the WiFi Extra settings installed on their mobile device.
O2
O2 is one of the biggest providers of free wi-fi hotspots in the UK with over 16,000 hotspots available at places like fast food restaurants, shops and public venues. Coverage is also available on the London Underground.
O2 Wifi hotspots can be used by anybody - you don't have to be an O2 customer.
Users simply need to select the O2 network in the list of available nearby networks and register with their phone number to gain immediate free access to the hotspot.
There is one major benefit to being an O2 customer with an O2 SIM card:
At around 7,000 hotspot locations O2 handsets will connect automatically when they're in range (but only when the wi-fi signal is stronger than the 4G signal). This allows automatic connections to other hotspots without registering too.
The fact that O2 SIM cards will connect automatically to O2 Wifi Extra hotspots makes using O2 mobile broadband devices seamless for customers.
With the number of hotspots available, O2 Wifi is the best option for using mobile broadband devices and it's also a great option for customers who want to have a data SIM in their tablet or iPad but don't want to take an unlimited data plan.
Search for nearby O2 Wifi hotspots over on their website.
Sky
Sky provides a network of 20,000 free hotspots across the country called Sky WiFi or '_The Cloud'.
They can be found in various places such as pubs, fast food outlets, health clubs and other similar locations in the same way that BT Wi-Fi and O2 Wifi are. Again, however, there are no Sky hotspots on the London Underground.
Customers of all mobile networks can access these networks, not just those on Sky Mobile.
The only difference between using Sky hotspots as a Sky customer is that users don't have to create a separate account, but this is a small thing and the inconvenience of creating a new account to use with Sky WiFi hotspots is minor in the grand scheme of things.
Sky WiFi is an excellent hotspot resource that allows customers of any network to access free wi-fi.
Find nearby Sky WiFi hotspots by visiting this page and checking the Sky WiFi box at the bottom after searching for a postcode or town.
Three
Three customers can access free wi-fi from Virgin Media on the London Underground in the same way that EE mobile customers can.
All Three mobile customers with a personal account can access the free wi-fi. The criteria is the same as for EE customers:
Three pay monthly customers must have all their bills paid up to date.
Three pay as you go customers must have used their account to make a call, send a text or use data within the last 30 days.
This free wi-fi from Three is useful for Londoners who regularly use the Underground, but it's the only wi-fi Three offer to their customers and so it isn't useful for many.
Virgin Media
Virgin Media operates the second largest wi-fi hotspot network in the country with 4.3 million hotspots in the UK and up to 20 million available worldwide.
It includes major airports, shops and restaurants along with some street phone booths and cable cabinets. It also includes Glasgow Subway stations and over 250 London Underground stations, although coverage does not stretch to the trains themselves yet.
These 4.3 million hotspots are free to use - just as long as users are Virgin Media customers, whether that's Virgin Mobile or Virgin broadband.
To access the hotspots, Virgin Media customers should download the Virgin Media Connect app. This is the all-purpose app that allows customers to manage their home broadband network and it also gives Virgin customers access to the millions of hotspots around the country.
One frustrating point is that Virgin don't publish an accessible hotspot checker on their website. All searching must be done via the app which customers can only access when they are already signed up to Virgin Media. Essentially, this means signing up without knowing if the hotspots are going to be useful or not.
There is also anecdotal evidence that the Virgin Media Connect app doesn't always function correctly with a rating lower than 3 stars on the Google Play Store and a 3.6 rating on the Apple App Store.
Even so, millions of inclusive wi-fi hotspots is a major perk for Virgin Media customers, making them a great option for customers who want to access free data while out and about.
---
Other ways to get online
Free wi-fi from a mobile network can be incredibly useful for customers to get online but it isn't the only option available.
Let's look briefly at three other options: free public wi-fi, tethering and mobile wi-fi devices.
Free public wi-fi
Several of the options we've discussed above can be considered free public wi-fi, with O2 Wifi and Sky WiFi available for free to anyone who's in range of one of their hotspots.
However, many businesses operate their own guest wi-fi networks, allowing customers to log on while they're in store or having a coffee.
Some of these are operated under the schemes already mentioned and you'll find Sky hotspots in some KFC restaurants, for example, but others are just independent hotspots that you'll only know about if you pay attention to the signage in store.
More venues are seeing the advantages of making wi-fi available to customers, so keep an eye out for notices in the venues you visit regularly.
Tethering
Another popular way of accessing the internet while on the move is for customers to tether to their phone. This means using their mobile phone data to get other devices online.
Tethering is available across mobile networks, although some may have limits on how data can be used for tethering each month.
The main thing to note about tethering is that it isn't free data: customers are using their mobile allowance on their tablet, laptop or other devices they connect. This can lead to it running down quickly, leaving customers without enough data to last the month or forcing them to buy expensive data add-ons.
However, for customers with unlimited data, tethering can be a good option.
Read more about using your mobile phone as a hotspot.
Mobile wi-fi devices
Mobile wi-fi devices such as pocket 4G devices and dongles can also be used to access the internet while on the move.
Again, these can be expensive because the data isn't free and a customer will need a data SIM deal to use them - unless they can connect to a free wi-fi hotspot.
Most of the free wi-fi options we've mentioned above don't really accommodate this because they require customers to sign in each time they want to use a hotspot or use an app to manage their usage. This isn't usually possible on wi-fi hotspots as they don't have a screen to manage external connections.
However, as we discussed earlier, O2 SIMs can be automatically detected by O2 Wifi hotspots, making them a straightforward option for customers looking to move between using the data on their data SIM and using a free wi-fi hotspot if one is available.
---
Conclusion: Free wi-fi is everywhere
Connecting to free wi-fi while we're out of the house is easier than it has ever been thanks to the growth of provider hotspots and public wi-fi points.
Yet it isn't a case of simply going to a location and switching on - there are some rules about which customers can access which hotspots and that can make things confusing for customers who just want to get online quickly.
Here's a recap:
BT Wi-Fi is only available to BT customers for free, although other customers can sign up for (somewhat expensive) access to 5.4 million hotspots
The Virgin Media Connect app gives Virgin customers access to 4.3 million hotspots across the country and millions more across the world
O2 Wifi offers over 16,000 hotspots across the country available for free to all, although customers can auto-connect for simplicity's sake
Sky WiFi operate '_The Cloud', a free network of 20,000 hotspots that are available to all customers as long as they create an account
There's one big name missing from this list: Vodafone. While they used to offer London Underground access via Virgin Media, this agreement has now ended and they don't offer any type of free wi-fi across the UK.
Ultimately, mobile phone customers and those with data SIMs in tablets have several options to get online, although it does help to be a BT or Virgin Media customer.
For those who want to use their mobile broadband device for free while out and about, the auto-connect option offered by O2 is the best available.
Remember to stay safe while browsing and shopping online. Find out more in our guide.