Although UK residents are using more data per month than ever before, the number of subscribers to mobile broadband deals has remained stagnant.
Tethering is a convenient and generally unlimited way of connecting devices to a mobile, yet customers should beware of their battery running low.
Plus, mobile wi-fi devices come with other benefits too such as their ability to connect up to 32 devices at once and the option to take the deals on rolling contracts instead of being tied into a pay monthly deal.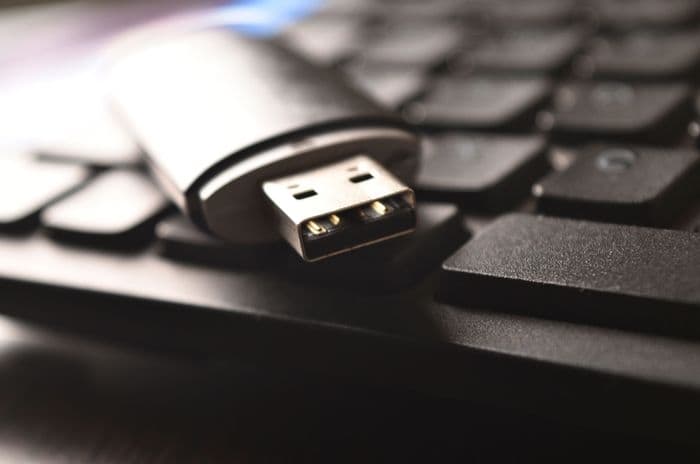 ---
What is the difference between tethering and a dongle?
Tethering and dongles are two different ways of accessing the internet using the mobile data network.
As we explain in our full guide on tethering, mobile users can tether their other devices such as laptops and tablets to their handset then use the mobile's data allowance on those devices.
Dongles or mobile wi-fi devices are external devices that have their own data allowance as part of a separate contract. Mobiles, tablets and laptops can be connected to them, but they are separate from the user's mobile handset.
Specifically, a dongle is a USB modem plugged directly into a computer while a mobile wi-fi device is a small pocket-sized device that isn't directly connected to the devices it is providing a signal to.
Note: while dongles in the past were exclusively linked to the device they were plugged into, some now allow multiple devices to be connected.
A note on names
The range of ways tethering and mobile wi-fi devices are referred to can cause confusion.
Tethering can also be called:
Mobile hotspot
Personal hotspot
Portable hotspot
Wi-fi hotspot
Meanwhile, dongles or mobile wi-fi devices may also be referred to as:
Mobile broadband device
Mi-fi
Portable hotspot
Pocket wi-fi
As we can see, there's a lot of crossover between the two types of connection. For the avoidance of doubt, we'll refer to tethering and dongles or mobile wi-fi devices throughout this guide.
---
Has tethering replaced the dongle?
Dongles were once heralded as the best way for customers to access broadband on the move.
Portable modems became must-have accessories, reaching the peak of their popularity around 2008 when a YouGov poll called DongleTrack found around 20% of people in the UK were planning to buy a USB modem to get online.
However, interest had started to wane by 2011 when YouGov found only 7% of people expected to purchase a dongle in the future.
At the same time, the option of tethering to a mobile phone became a viable one and several mobile networks allowed unlimited tethering for a short time in 2012 before withdrawing unlimited plans. In fact, Three stopped many customers using tethering at all unless they were on certain tariffs.
Gradually, networks began offering unlimited tethering again, although some smaller providers still retain limits on how much of their data allowance a customer can use on tethering every month.
Three were the last of the four mobile networks to fall into line on tethering following an investigation from regulator Ofcom in early 2018 which drew on tethering allowance issues dating back to 2014 and earlier. They removed their 30GB cap on UK tethering later that year.
So, tethering has gone mainstream and, across the main networks and beyond, customers can use their entire data allowance for tethering.
EE, O2, Vodafone and Three all allow unlimited tethering on pay monthly, as do giffgaff and Virgin Mobile.
However, BT Mobile and Tesco Mobile only allow tethering for up to 100GB of a customer's data allowance, while the figure for Sky Mobile is 25GB and Plusnet Mobile's tethering allowance is only 22GB per month.
How much data are we using?
Official data shows the amount of data UK mobile customers use has risen year by year, yet the number of customers using dedicated mobile data devices (dongles or mobile wi-fi devices) has remained stagnant.
This graphic shows the Ofcom breakdown from 2012 to 2019, the last year we have full data for at the time of writing: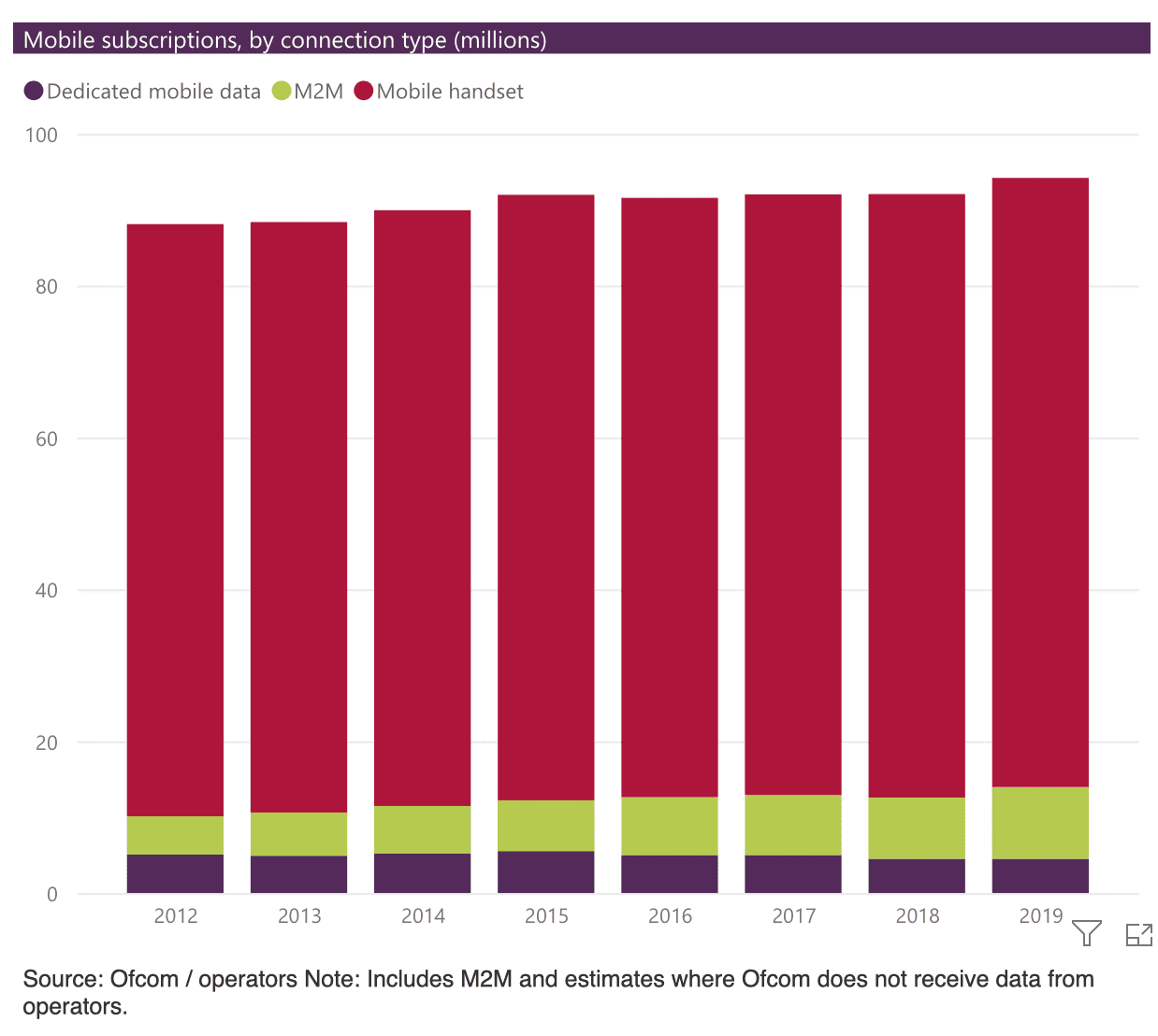 While the number of mobile handset subscriptions has steadily increased from 77.98 million in 2012 to 80.22 million in 2019, the number of dedicated mobile data subscriptions has actually decreased from 5.07 million in 2012 to 4.50 million in 2019.
Here's a closer look at those figures:
| Year | Mobile handset subscribers | Dedicated mobile data subscribers |
| --- | --- | --- |
| 2012 | 77.98 million | 5.07 million |
| 2013 | 77.76 million | 4.91 million |
| 2014 | 78.46 million | 5.20 million |
| 2015 | 79.74 million | 5.52 million |
| 2016 | 78.93 million | 4.98 million |
| 2017 | 79.10 million | 5.00 million |
| 2018 | 79.47 million | 4.51 million |
| 2019 | 80.22 million | 4.50 million |
Although there are minor fluctuations, the number of subscribers with dedicated mobile broadband devices has now dropped below 5 million for a sustained period.
Meanwhile, if we look at the amount of data mobile customers are using, we can see a remarkable increase since 2013: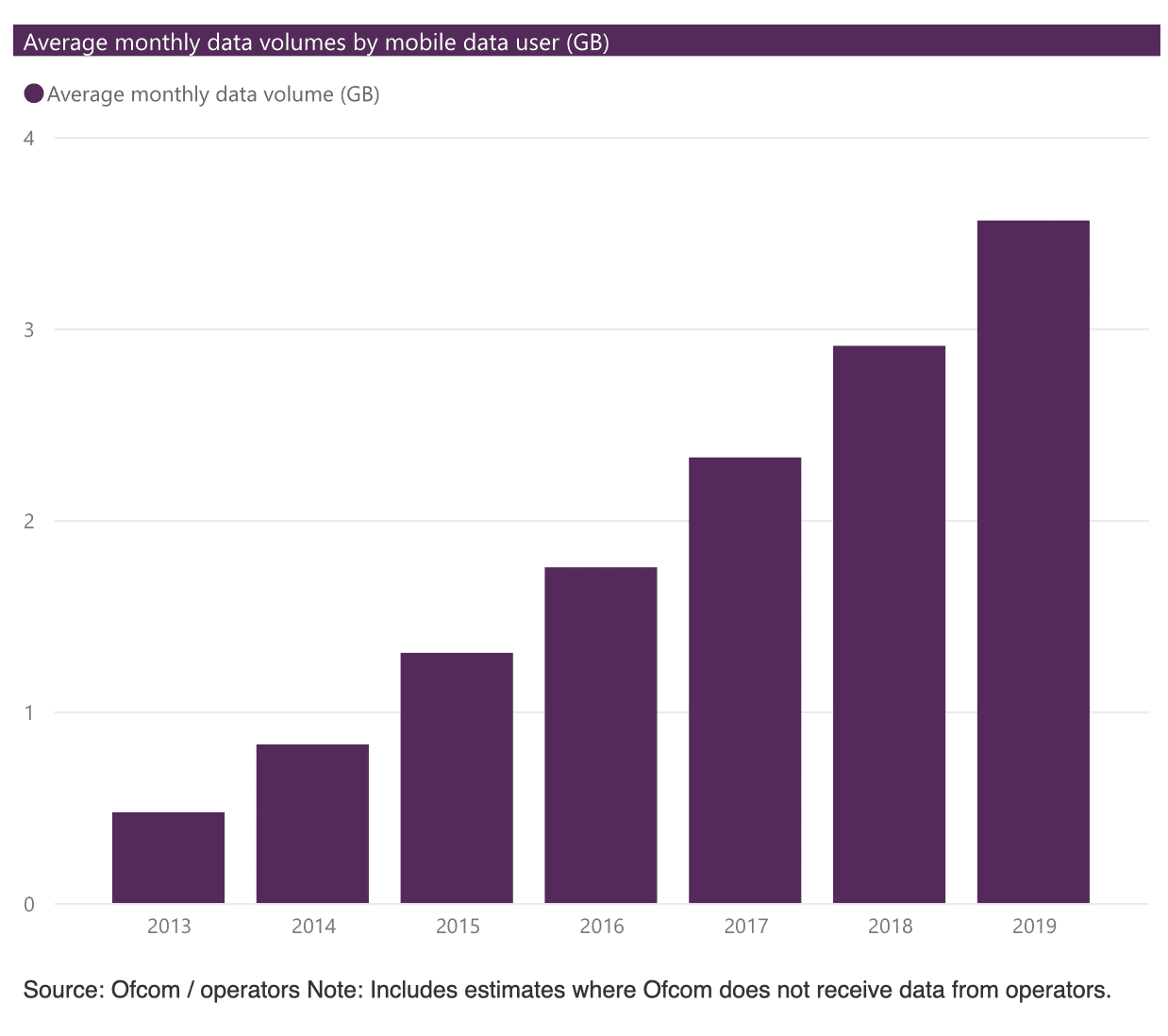 Customers were using an average of 0.47 GB of data in 2013, but this had jumped to 3.56 GB per month by 2019. The leap between 2018 and 2019 alone was 22%, suggesting increased data use is accelerating.
So, UK customers are using more data, but the number of them using dedicated mobile data devices is in decline.
The figures don't specifically say whether customers are tethering more from their mobile phones, but it's probable many are using the tethering abilities of their mobiles to, for example, stream content on another device while away from home.
Why do mobile customers use tethering?
Tethering is appealing to mobile customers for several reasons, not least because it doesn't require taking out a separate contract or rolling deal as mobile wi-fi deals do.
A customer with an unlimited or high data allowance on their pay monthly mobile contract can therefore use the data they're already paying for rather than adding more costs to their monthly payments.
Tethering is also convenient since there is no extra device to carry around. Most mobile users have their handset on them at all times, so it's straightforward to tether other devices to it.
However, on the flip side, there are some downsides to tethering:
It takes a toll on a mobile's battery life
The more devices attached to the tether, the more rapidly battery depletes
Some networks will throttle data after a certain amount is used every month, slowing down the hotspot even further
For many customers, the benefits of tethering outweigh the negatives, yet the 4.5 million subscribers to dedicated data devices like dongles and mobile wi-fi devices evidently find value there too.
Buying a dongle or mobile wi-fi device
Dongles and mobile wi-fi deals aren't as common as they used to be, but all four major mobile networks offer them, along with a couple of smaller networks.
Our guide to the best mobile wi-fi deals goes into more detail about the mobile broadband deals offered by mobile providers, although it's worth pointing some quirks to their various offers:
While BT Mobile and Virgin Mobile also offer mobile wi-fi devices, the allowances are much lower with BT's 4G Mini Hub coming with 30GB per month and Virgin's Huawei E5576-320 bringing 15GB with it.
If a customer opts for a dedicated mobile broadband device, there are some things to bear in mind:
Some deals are on 24-month contracts while others last for 12 months and there are even rolling contracts (albeit at a premium) for those who don't want to make a long-term commitment
Coverage matters, so ensure the network has a good signal in areas such as workplaces or cafes where a lot of time will be spent
Some mobile wi-fi devices have larger batteries than others
Networks offer similar devices from the same manufacturers, cutting down on choice somewhat
Mobile wi-fi devices may provide faster speeds than tethering to a mobile handset simply because the signal isn't having to go through a handset undertaking other tasks at the same time.
These devices can also connect up to 32 devices at once in some cases. This is a huge increase on the maximum of 10 able to be tethered on a typical Android phone and the five connections recent iPhones can accommodate.
---
Conclusion: Is there a future for the dongle?
Tethering has certainly become the default option for many customers over recent years. As data usage soars, the number of subscriptions for dedicated mobile broadband devices has remained stubbornly stagnant.
It doesn't help that networks offering mobile broadband deals are more likely to want fully fledged mobile phone or SIM only sign ups instead of (or as well as) mobile broadband customers. This means they save most of their network goodies for mobile phone customers rather than mobile broadband ones.
For instance, customers taking a dongle from Vodafone don't receive the same access to their VeryMe reward programme as pay monthly mobile customers do.
The emphasis from networks seems to be towards encouraging tethering with cheap unlimited data deals rather than marketing an array of mobile broadband devices, and this trend seems likely to continue.