With O2's mobile network to back them up, giffgaff offer 4G and 5G plans to customers across the UK using a simple goodybag structure.
Their customer service record is very good, and their customers rate them highly for their value for money especially.
Customers who don't want a long-term commitment and are looking for a flexible SIM only deal will find giffgaff a good choice.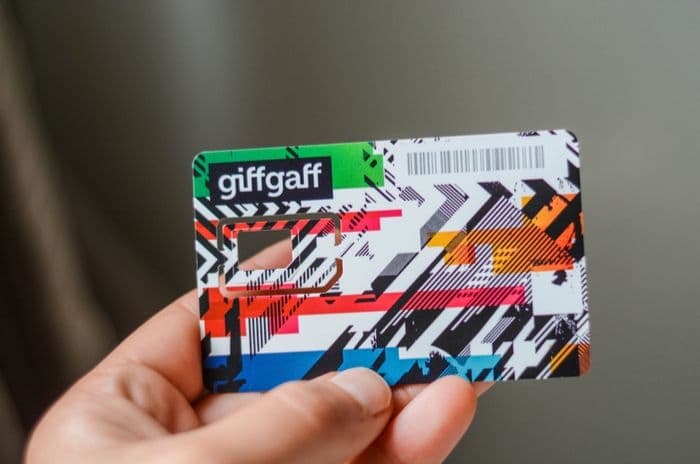 Credit: olesea vetrila/Shutterstock.com
---
Best mobile deals on giffgaff
giffgaff offer goodybags to their customers, with regular and golden ones on offer. Here are the headline deals to be aware of:
| | Package | Minutes | Data | Contract term | Monthly price | |
| --- | --- | --- | --- | --- | --- | --- |
| giffgaff | £25 goodybag | Unlimited | Always On data | 1 month | £25 | Get deal |
| giffgaff | £35 golden goodybag | Unlimited | Unlimited data | 1 month | £35 | Get deal |
---
Does giffgaff have good coverage?
Since giffgaff uses O2's mobile network, customers can expect the same level of coverage from the mobile virtual network operator (MVNO) as customers on O2's main network would receive.
O2 have a good record on 4G indoor coverage, delivering signal to 95% of indoor premises across the UK.
This is skewed slightly by 95% coverage in England and Scotland while Northern Ireland and Wales lag behind slightly with 91%. Even so, O2's network still ranks as the second-best network for coverage in those areas, behind Vodafone in Northern Ireland and EE in Wales.
O2's network only has 80% of geographic coverage across the UK, meaning the network doesn't reach many of the more remote areas in the country. That said, EE are the best performing network on this coverage metric and they only reach 85% of the UK.
For customers stuck in those not-spots, it can be frustrating, but there's hope ahead for customers who have struggled to get an O2 signal or a signal from one of the other networks courtesy of the Shared Rural Network (SRN) commitments agreed by all four operators.
Prospective giffgaff customers in more rural areas may be reached by 2024 when the O2 network is set to reach 88% of the UK's landmass or 2026 when 90% of the country will be reached.
For now, the best way to check their 4G and 5G coverage is to visit giffgaff's website or read more about mobile coverage in the UK.
What about giffgaff's 5G coverage?
All four mobile networks are gradually rolling out 5G services, and O2 have switched on services in over 150 towns and cities so far.
Again, giffgaff benefit from the areas where O2 have switched their 5G services on but, even if O2's 5G has been activated in a town, that doesn't mean giffgaff's customers are going to benefit.
It takes time for 5G coverage to embed itself properly within a location. Multiple sites need to be assembled and switched on, and this means even if giffgaff customers are in a 5G location confirmed to be active, it might not have reached specific areas or suburbs yet.
---
How fast is giffgaff?
The underlying O2 network isn't the fastest 4G network in the UK, although data does vary about whether they are the second, third or fourth fastest network.
Research from Opensignal published in October 2020, for example, put O2's network in last place with average download speeds of 16.8 Mbps. This is less than half EE's 35.0 Mbps and several Mbps below the 19.0 Mbps offered by Three.
On other measures in that report, though, O2's network performs slightly more favourably, ranking second to EE in the Video Experience category with a score of 69.1 out of 100.
Their Games Experience score was 67.6 points out of 100, five points behind leader EE. This is significant for giffgaff customers looking to use their data for gameplay and other tasks relying on a stable 4G connection.
For that metric, Opensignal analysed the latency, packet loss and jitter of each mobile network and how it impacted on multiplayer mobile gameplay. Even EE's score of 72.3 wasn't enough to merit a rating as Good, so it will be interesting to see how networks improve that in future.
If customers are looking at a gaming-friendly network, though, giffgaff seems to be a good choice.
5G speeds on giffgaff
The research so far on 5G speeds across O2's network is sparse, but early analysis shows giffgaff customers upgrading from 4G to 5G can expect speeds to be five times faster.
Research from RootMetrics published in January 2021 shows O2's network reaching median speeds of 178.9 Mbps in Belfast, although their range across the 16 test cities showed a wide range of results from 117.6 Mbps upwards.
It's worth noting, though, that O2's lowest recorded median speed of 117.6 Mbps was the highest of all networks' lowest results: in other words, their worst performance was better than their competitors' worst performances. This is positive for giffgaff customers looking to enjoy 5G speeds.
Read our full guide on 5G broadband and how the four UK networks are performing so far.
---
What tariffs do giffgaff offer?
giffgaff's network works by offering goodybags to customers, all on a rolling basis with no fixed term contract.
There are seven regular goodybags suitable for customers with 4G phones:
| | Package | Minutes | Data | Contract term | Monthly price | |
| --- | --- | --- | --- | --- | --- | --- |
| giffgaff | £6 goodybag | Unlimited | 100Mb | 1 month | £6 | Get deal |
| giffgaff | £8 goodybag | Unlimited | 2GB | 1 month | £8 | Get deal |
| giffgaff | £10 goodybag | Unlimited | 6GB | 1 month | £10 | Get deal |
| giffgaff | £12 goodybag | Unlimited | 10GB | 1 month | £12 | Get deal |
| giffgaff | £15 goodybag | Unlimited | 15GB | 1 month | £15 | Get deal |
| giffgaff | £20 goodybag | Unlimited | 80GB | 1 month | £20 | Get deal |
| giffgaff | £25 goodybag | Unlimited | Always On data | 1 month | £25 | Get deal |
One thing to note about the £25 goodybag is that "Always On" comes with a caveat: after using 80GB of data in a month, customers will be find their maximum data speeds reduced to 384kbps between the hours of 8am and midnight.
This is quite a caveat, and many customers may reasonably question whether data slowed down to that level for 16 hours per day is worth an extra £5 per month.
Another thing to note about all these deals is that EU roaming is included, but only up to 20GB, even if a customer is on a higher data package.
Let's look at giffgaff's 15GB goodybag in comparison to recurring from other networks:
| | Package | Minutes | Data | Contract term | Monthly price | |
| --- | --- | --- | --- | --- | --- | --- |
| giffgaff | £15 goodybag | Unlimited | 15GB | 1 month | £15 | Get deal |
| EE | £10 Jam-packed PAYG | 100 | 8GB | PAYG | £10 | Get deal |
| Tesco Mobile | 15GB data PAYG | 5000 | 15GB | PAYG | £12.50 | Get deal |
| O2 | 15GB data Big Bundle | Unlimited | 15GB | PAYG | £15 | Get deal |
Even though giffgaff's deal is a recurring one, it's worth making the comparisons above because PAYG deals from the likes of EE have moved to recurring deals rather than traditional top-up PAYG.
When comparing SIM only mobile deals, be sure to check both the Pay Monthly and Pay As You Go filters to ensure all the rolling deals are viewed.
We've got a detailed guide to the best unlimited data SIM only deals or click here to read about the cheapest SIM only deals.
5G SIMs with giffgaff
If customers have a 5G-capable device and want to use the 5G network offered by giffgaff, they will need to purchase a golden goodybag:
| | Package | Minutes | Data | Contract term | Monthly price | |
| --- | --- | --- | --- | --- | --- | --- |
| giffgaff | £10 golden goodybag | Unlimited | 9GB | 1 month | £10 | Get deal |
| giffgaff | £15 golden goodybag | Unlimited | 25GB | 1 month | £15 | Get deal |
| giffgaff | £20 golden goodybag | Unlimited | 100GB | 1 month | £20 | Get deal |
| giffgaff | £35 golden goodybag | Unlimited | Unlimited data | 1 month | £35 | Get deal |
While there are no speed restrictions on the unlimited data golden goodybag, a fair usage policy does apply as with the majority of mobile deals.
Out of allowance pricing
The giffgaff system works by customers putting money on to their account and selecting a goodybag. If there is leftover credit on their account that isn't enough to pay for a recurring goodybag, the customer will start to use what's left of their credit on a PAYG basis instead.
In January 2021, giffgaff confirmed their out of allowance data prices were doubling. It now costs 10p per 1Mb of data instead of 5p.
Out of allowance texts cost 10p per message, while PAYG calls cost 25p per minute.
Once the credit is gone, though, that's it, and there's no chance of a customer running into debt through expensive out of allowance prices.
Do giffgaff sell phones?
Although there are handsets on giffgaff's website, these are primarily designed to be purchased outright and then used with one of giffgaff's SIMs.
Even though they advertise a monthly price, that credit agreement is with buy now pay later (BNPL) giant Klarna rather than giffgaff themselves. So, it comes with an interest rate and some serious consequences if customers find themselves struggling to make payments.
This isn't the first time giffgaff have used an unusual way of supply handsets to their customers. In 2013, they partnered with RateSetter to offer a peer to peer (P2P) lending solution for customers looking to buy a handset.
However, we'd recommend searching for a traditional mobile handset deal with a pay monthly mobile provider or buying a phone outright instead.
---
Is giffgaff's customer service record positive?
giffgaff were a runner up in our most recent analysis of the best customer service in the mobile industry.
Part of this was due to their enviable results in the 2019 edition of Ofcom's Comparing Service Quality report. Here are some of the highlights from that report:
| Measure | giffgaff's performance | Industry average |
| --- | --- | --- |
| Satisfaction with overall service | 95% | 93% |
| Satisfaction with signal strength or reception | 86% | 85% |
| Satisfaction with value for money | 96% | 87% |
| Customers with a reason to complain | 2% | 3% |
| Overall satisfaction with complaint handling | 65% | 58% |
| Complaints completely resolved on first contact | 49% | 45% |
While many of these results are around industry average levels, it's notable that a whopping 96% of customers think giffgaff represent good value for money. They also have a higher percentage of customers satisfied with their complaints handling if things go wrong.
There are missing elements to Ofcom's data when it comes to giffgaff, so we don't have a picture on their call waiting times or their quarterly complaint figures.
However, Ofcom also asked customers whether they would recommend giffgaff to a friend. They were one of two providers reported to be most likely recommended.
giffgaff were named in the UK Consumer Satisfaction Index (UKCSI) as the 47th best brand for customer service in the UK during the year up to July 2020.
They were only one of three telecoms companies to make the top 50, although their score had fallen by 2.4 points from the previous year.
There is one major blot on giffgaff's record, but it's some way in the past now.
In August 2019, giffgaff were fined £1.4m for historic failings dating back to between May 2011 and June 2018.
As we mentioned above, giffgaff's out of allowance pricing should only kick in when no goodybag is active on the account, but this didn't happen straight away in many cases and cost customers up to £2.9m in extra charges.
giffgaff accepted the findings and their overall fine was slashed by 30% for rapidly acknowledging their failings and agreeing with Ofcom's report.
---
Our verdict: should you join giffgaff?
giffgaff is one of the best known MVNOs in the UK, sitting alongside the likes of Virgin Mobile, BT Mobile and Tesco Mobile for those customers eager to look beyond what the four major providers have to offer.
We like giffgaff because:
Their goodybags provide a simple structure for data
There's no long term commitment
They use O2's network with good coverage and reasonable 4G speeds
They're rolling out 5G services
They have a great recent customer service record
However, there are a few things to note:
Their "Always On" data option slows down after 80GB
They split their 4G and 5G deals into two separate goodybags, although it's likely they will harmonise these as they did with 4G back in 2015
They sell phones outright, but their credit options are provided by a third party
Overall, though, giffgaff are a great SIM only network for customers looking to move away from the likes of Vodafone and Three to a simpler network. If you've got your own handset, giffgaff should be a serious consideration.