BT Mobile review: EE's 4G and a lot more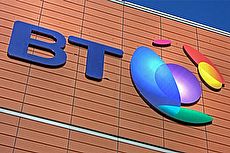 THOSE with long memories might recall that for a short while from 1999 to 2002, there was a mobile network operator called BT Cellnet.
In 2002, however, they seemed to have tired of the mobile game, hiving off BT Cellnet into a holding company that would evolve into O2.
Over the course of the next decade, mobile phones and how we use them changed almost beyond recognition, and BT Cellnet's old rivals Orange and T-Mobile merged to form the UK's biggest mobile network, EE.
There's something almost Game of Thrones-like, then, about the way BT have made their mobile comeback, first announcing that they'd be doing so as an MNVO with the help of EE, and then that they'd be buying EE outright.
Cell phone soap opera aside, though, what are BT Mobile offering now they're back with us, and are they any good?
SIM-only plans
BT Mobile dipped their toes back in the water with a small selection of SIM-only plans; some of the details have changed a little since they were launched in March 2015, but these three plans form the basis of everything BT Mobile have to offer.
Because they're better known as the UK's biggest broadband and landline provider, they offer a solid incentive for those millions of customers to add mobile to their bundles - a £5 a month discount on the cost of any of their SIM plans:
Data
Calls and texts
Price per month
...with BT Broadband
...without BT Broadband
500MB
200 minutes, unlimited texts
£5
£10
2GB
500 minutes, unlimited texts
£10
£15
15GB
Unlimited
£20
£25
Keep an eye out for offers: just as BT sometimes offer prepaid MasterCards with their Broadband, they offer gift cards for Amazon.co.uk or iTunes, with higher value vouchers being offered with the more expensive plans.
Each SIM is offered on 12-month terms, and the discount lasts as long as we live in a house with BT Broadband - giving us a small but significant reason to stay put after the first year's special deals have expired.
It's not just the broadband account holder that benefits either: everyone else in a house with BT Broadband is eligible for the £5 discount.
Another option for multiple mobile households is the Family SIM plan.
Customers who want either the 2GB or 15GB SIM can choose to add up to four more on the same tariff, with each additional SIM costing less per month than the last.
The first SIM comes with the usual 12-month contract, but the extras are provided on rolling 30-day terms.
The discounts available with the 2GB Family SIM plan look like this:
2GB Family SIM
Price per month, one SIM
Additional price per month
Second SIM
Third SIM
Fourth SIM
Fifth SIM
With BT Broadband
£10
£8
£7
£6
£5
Without BT Broadband
£15
Those who think everyone would benefit from the 15GB allowances can add more for the following prices:
15GB Family SIM
Price per month, one SIM
Additional price per month
Second SIM
Third SIM
Fourth SIM
Fifth SIM
With BT Broadband
£20
£15
£13
£11
£10
Without BT Broadband
£25
There are a few issues with the Family SIM - the two biggest are the fact that they all have to have the same allowance, and that anyone looking at getting more than one SIM will miss out on any of the special offers BT run on their individual SIMs.
But there are also a few perks - such as being able to use the extra SIM in any kind of mobile device, not just in a phone.
People who have BT Broadband should also note that the discount for even one extra SIM is greater than we'd get if we were buying it individually - so as long as each additional user can get by with the same allowance, there are big savings available.
Handsets from BT Mobile
BT Mobile only started selling mobile phones on contract a year after the launch of their SIM plans, and the range is somewhat limited.
Samsung handsets from BT Mobile
Galaxy A3 (2016)
Galaxy A5 (2016)
Galaxy S6
Galaxy S7
Galaxy S7 Edge
Customers looking to get a handset plan from BT have a choice of iPhones dating back to the 5S, five Samsung Galaxy models (listed to the right), or the Sony Xperia X or XA, and that's it.
They all come with 24-month contracts and a choice of three usage plans, which take their cue from the SIM-only deals but tend to offer more minutes and/or more data.
The prices we've listed below are for the plan plus one of the handsets with no upfront cost - the Samsung Galaxy A models and the Sony Xperia XA - and without the discount for having BT Broadband:
| | Data | Calls and texts | Contract term | Price per month | |
| --- | --- | --- | --- | --- | --- |
| | 500MB | 400 minutes, unlimited texts | 24 months | From £22 | |
| | 3GB | 1,000 minutes, unlimited texts | 24 months | From £27 | |
| | 15GB | Unlimited | 24 months | From £37 | |
For the more expensive handsets, expect to factor in upfront costs ranging from £10 to £120, depending on the device and the usage plan; those looking at getting an iPhone 7 Plus on the 500MB plan will pay £120 upfront, for example.
Again, there are sometimes special deals to be snapped up: as well as the Amazon or iTunes vouchers, BT will occasionally offer a particular handset and data plan for half price for a number of months.
Finally, note that it's possible to make the SIM that comes with the handset the main one in the Family plan, and get more of the same at a discounted rate, as outlined above.
Other handsets from BT
Those looking for a new phone but not enthralled by the range available with BT Mobile do have another option available to them: the BT Shop.
SIM-only customers can get up to £50 off selected handsets if they take this route.
Alongside the Apple iPhones and Samsung Galaxies are a couple of familiar other choices such as the LG K4 and G5, the Microsoft Lumia 650 - but there are no Sony devices or HTCs, for example.
Extras
Because they're part of EE, all BT Mobile SIMs and handset plans are set to operate on 4G as standard - but customers can also get a boost to EE's 4G+ (up to 60Mb) speeds for another £4 a month.
There are a variety of other extras available too, ranging from bolt-ons to use in the UK to European and US data allowances:
Add-on
Cost per month
Unlimited minutes
£5
500MB data
£4
1GB data
£6
European data
100MB
£4
300MB
£10
US data
20MB
£3
100MB
£15
Each of these add-ons lasts 30 days or until used; the foreign data bundles can be bought multiple times per month if needs be.
Out of allowance costs
A nice touch is that all users get unlimited inclusive voicemail calls; BT also include 0500 numbers in their definition of "freephone", which isn't the case with some mobile operators.
BT also point out that while texts that fall outside our allowance (i.e. those to shortcodes rather than standard mobile numbers) cost 12p each, those that contain an emoji will count as an MMS message, and be charged accordingly.
| Usage | Cost |
| --- | --- |
| Calls to UK landlines and UK mobiles | 35p/minute |
| Voicemail | Inclusive, unlimited |
| Calls to 0800, 0808, 0500 | Free |
| Calls to 084, 087, 09, and 118 numbers | Access charge of 30p/minute |
| Texts | 12p each |
| Picture messages (MMS) | 40p each |
| UK data | 10p/MB |
| Video calls | Not supported |
Coverage
As mentioned above, BT use EE's network to provide their service - so that means customers have access to the biggest 4G network in the UK.
There's more on how EE's coverage breaks down across the UK in our deeper review of their mobile network, but basically, they cover pretty much all of the UK in terms of population, and they're aiming to get all of it covered in geographic terms by 2020.
Here's how EE rated in percentage terms at the end of 2015, according to Ofcom:
Combined 2G and 3G
Combined 3G and 4G
Outdoors
Premises
99%
98%
Geographical
78%
75%
Indoor / in car
Premises
94%
94%
Motorways
99%
99%
A and B roads
81%
79%
SOURCE: Ofcom Connected Nations Report 2015. Available here [pdf].
Where the mobile signal may not be so good, BT's public wi-fi network may come into play: customers have free access to all five million BT wi-fi hotspots if they wish.
BT's other services
As mentioned above, BT are the UK's biggest broadband and landline provider, with more than nine million broadband customers at the end of September 2016.
BT Broadband
It helps that they can now count EE's home broadband customers among that number, but as EE only accounted for around 8% of the UK broadband market at the end of 2015, the vast majority have one of BT's own deals:
Package
Broadband
Contract term
Upfront price
Monthly price
Broadband + Weekend calls
Up to 17Mb
12GB usage
12 months
£9.99
£24.99
for 12 mths,
then £35.99
Unlimited Broadband + Weekend calls
Up to 17Mb
Unlimited
18 months
£9.99
£23.99
for 18 mths,
then £40.99
Infinity 1 + Weekend calls
Up to 52Mb
25GB usage
12 months
£59.99
£29.99
for 12 mths,
then £42.49
Unlimited Infinity 1 + Weekend calls
Up to 52Mb
Unlimited
18 months
£9.99
£29.99
for 18 mths,
then £47.49
Unlimited Infinity 2 + Weekend calls
Up to 76Mb
Unlimited
18 months
£9.99
£39.99
for 18 mths,
then £53.99
About half of BT's customers have some form of BT Infinity, reviewed in more depth here - and since April 2016 their entry level version has offered "up to" speeds to match those of Virgin Media's.
Whether the speed boost delivers or not - we'll find out when Ofcom release their next set of independent test results - taking BT Infinity also gives users more choice when it comes to BT TV.
BT TV
It would be a little unfair of us to say that BT TV is best known for being the home of BT Sport, but the premium channel pack has done a lot to bring in subscribers.
It helps that it comes free of charge with each of BT's five TV packages:
Package
What you get
Contract term
Upfront price
Monthly price
Starter
Up to 80 Freeview channels plus seven-day catch-up
Youview box
12 months
£49
Free
for 12 mths,
then £4
Essential
Up to 80 Freeview channels plus seven-day catch-up
Youview+ box
12 months
£49
£6
Entertainment Starter
Up to 100 Freeview channels plus seven-day catch-up
Youview+ box
12 months
£49
Free
for 18 mths,
then £3.50
Entertainment Plus
Up to 108 Freeview channels plus seven-day catch-up
Youview+ box
12 months
Free
£10
Total Entertainment
Up to 139 channels including 21 in HD and 1 UHD, seven-day catch-up
Youview+ Ultra HD box
12 months
Free
£15
for 18 mths,
then £20
It's not possible to get BT TV without having some form of BT Broadband, although the exact options available depend on which TV deal, or which broadband package we have.
As a general rule, though, those with BT's standard broadband can only get Starter or Essentials; those with Infinity can also get Starter, or any of the three "Entertainment" packages.
Fibre is also required if we want extra HD channels (including BT Sport), with our Entertainment Starter and Plus packages, or to get Sky Sports, and the live Sky Cinema channels (rather than paying the same price for just the on demand service).
There's more detail on what the packages include, and how much the extras cost, in our full review of BT TV, available here.
BT Sport
As already mentioned, everyone who gets BT TV gets BT Sport the channel pack free of charge - compared to paying from £5 to £22 a month, depending on provider or platform.
Even BT Broadband and BT Mobile customers have to pay £5 a month for access to the app and online viewer.
For that they get exclusive coverage of UEFA league football, plus a decent selection of Barclays Premier League fixtures, Aviva Premiership rugby union, UFC, Major League baseball, MotoGP and the World Rally Championships, and various other sports.
Customer service
It's probably too soon to tell how well BT Mobile's customer service is compared with that of the other mobile networks, but it doesn't look great if we go by their customer service record for their other products, or, more specifically, their broadband.
They, EE and TalkTalk seem to take it in turns to be the ISP provoking the most complaints to Ofcom - and at the time of writing, it seems to be BT's turn again:
Fixed broadband complaints per 100,000 customers, Q3 2014 - Q2 2016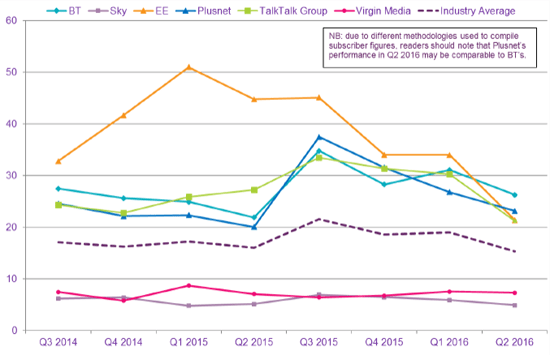 SOURCE: Ofcom. Available here.
The good news is that they know this is an issue, and, like EE before them, they've made a concerted effort to bring customer support roles back to the UK and improve standards. We'll be keeping an eye on how they progress.
In conclusion
BT may only offer a handful of tariffs, but they seem to have pegged them at about the right levels to appeal to a broad range of users, and even without the £5 discount for having BT Broadband they're quite competitively priced.
Obviously being able to use the EE network gives them a considerable edge over their biggest rivals - but while EE provide the network for the majority of the UK's MVNOs, BT have the advantage of owning their network provider.
They don't offer the same kind of extras and bolt-ons as some of their rivals, but then they almost don't need to - they have plenty of other services and perks to tempt us with instead.
For a straightforward mobile service, they tick a lot of the right boxes - particularly for existing BT customers.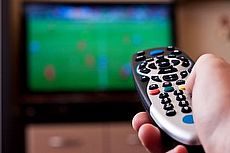 15 November 2017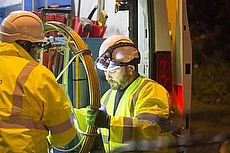 10 November 2017
9 November 2017
Follow us or subscribe for FREE updates and special offers