Mobile broadband hubs for the home and mi-fi devices can both be used to connect a smart TV to the internet.
Unlimited tariffs or those with high data allowances are best with streaming in standard definition using up to 1GB of data per hour.
Customers should also consider the speed of the mobile network they choose and how good their coverage is.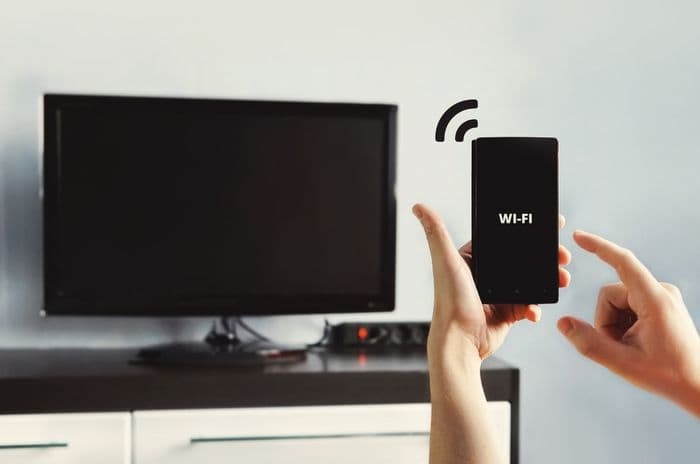 ---
Best unlimited mobile broadband deals
| | Device | Data | Monthly price | Initial price | Contract term |
| --- | --- | --- | --- | --- | --- |
| | 4G Plus Hub | Unlimited data on 4G | £17 | Free | 24 months |
| | 4G Mobile Hotspot | Unlimited data on 4G | £30 | Free | 24 months |
| | Huawei 4G Pocket Hotspot 2020 | Unlimited data on 4G | £36.38 | Free | 24 months |
| | 4GEE Wifi Mini 2020 | Unlimited data on 4G | £50 | Free | 24 months |
---
How do I connect mobile internet to a smart TV?
Mobile broadband hubs can be used to connect smart TVs to the internet.
Whether a customer uses a dedicated mobile broadband home hub or chooses a mi-fi device instead, it's possible to connect a TV to the internet using wi-fi. With some mobile broadband home routers, the TV can be connected via an Ethernet cable for a more reliable connection.
Let's look at the ways to connect mobile internet to a smart TV.
Mobile home router
A mobile home router designed as a replacement for fixed line broadband can be used to connect to a smart TV via wi-fi in the same way that traditional broadband can.
Customers simply need to:
Navigate to the wi-fi connection settings on their TV
Select the name of the mobile broadband home router option in the list
Connect to the wi-fi
This should usually only need to be done once and will allow the TV to connect automatically to the mobile broadband hub when both are switched on.
Alternatively, it may be possible to connect the hub to the TV via an Ethernet cable for a more stable internet connection.
Some higher-end mobile broadband routers such as the Three 5G Hub and the EE 5GEE Router have Ethernet ports that mean they can be directly connected to a device such as a TV.
An Ethernet connection is a more reliable way of connecting a smart TV to mobile broadband but it isn't always possible, especially if a customer has a 4G mobile broadband router.
Here are a couple of examples of home hub pricing:
| | Device | Data | Monthly price | Initial price | Contract term |
| --- | --- | --- | --- | --- | --- |
| | 4G Plus Hub | Unlimited data on 4G | £17 | Free | 24 months |
| | 4GEE Home Router 3 | Unlimited data on 4G | £55 | £50 | 18 months |
Mi-fi device
A mi-fi device can also be called a personal hotspot or mobile wi-fi device. It's a pocket-sized device that allows users to connect multiple devices to the internet - including TVs.
Connecting a mi-fi device to a TV is much the same as connecting a mobile home router discussed above.
However, there are a few more limitations of using a pocket hotspot device like this compared to a home hub.
Mi-fi devices usually have a battery life of around six hours, so they need to be regularly recharged to work effectively. While many personal hotspots can be charged at the same time as being used, this may not always be practical.
The signal strength on a pocket device isn't as good as a home hub because it isn't designed to serve a whole house as those hubs are. Plus, since there are usually no Ethernet ports on mobile hotspot devices, a wired connection to improve the speed isn't an option.
Mi-fis are often much cheaper than home hubs, so if price is a consideration, using a mi-fi to connect is a more economical way of connecting a TV to mobile broadband.
Here are some mobile broadband tariffs with unlimited data:
| | Device | Data | Monthly price | Initial price | Contract term |
| --- | --- | --- | --- | --- | --- |
| | Huawei 4G Plus MiFi | Unlimited data on 4G | £22 | Free | 24 months |
| | 4G Mobile Hotspot | Unlimited data on 4G | £30 | Free | 24 months |
USB dongle
Some mobile broadband deals come with a USB dongle to connect a single device like a laptop or desktop to the internet.
Theoretically, it should be easy for a customer to connect their TV to the internet using a dongle but that isn't the case. Dongles aren't recommended for use with TVs.
The main problem is compatibility. Dongles are usually compatible with a number of common computer platforms but not designed with smart TVs in mind, possibly because it isn't a common use case.
If we look at the specifications for Vodafone's K5161 Dongle, for example, it lists the platforms it's compatible with: Windows 7, Windows 8, Windows 8.1, Win10, and Mac OS x 10.19 to 10.15 with latest updates.
So, this specific dongle is explicit that it has been designed to work with Windows and Mac operating systems.
Some forum posts about dongles and TVs do suggest giving it a go and seeing if it works, but we wouldn't advise signing up to a dongle contract or paying money upfront for something that might not even connect your TV to streaming services.
---
Things to consider
So far in this guide to using a mobile broadband device to stream TV we've concentrated on which devices will work but there are other considerations too.
We're going to look at four of the main issues customers should think about when connecting their TV to a mobile broadband device: speed, coverage/signal strength, data limits and everything else that might be going on around the home.
Speed
The minimum recommended speed for streaming standard definition (SD) content on Netflix is 3Mbps. For HD content it's 5Mb and for UHD content it's 25Mbps.
In reality, customers will want their mobile broadband speeds to be as fast as possible to ensure there are no jittery streams or buffering problems.
Mobile broadband uses the 4G network and occasionally the 5G network to provide access to the internet for devices connected to home hubs and mi-fi devices.
Yet the speed of mobile broadband often doesn't match up to the experience customers will be used with fixed line broadband.
As an example, the average fixed broadband speed as of March 2021 was 50.4Mbps while our analysis of mobile speeds show the fastest mobile network EE has real-world test results between 30Mbps and 60Mbps. The faster speeds are only possible where the 4G and 5G networks are working together.
5G mobile broadband speeds are proving to be much faster when looked at independently of 4G, but that isn't how many customers connecting their mobile broadband device to a TV are going to experience the network just yet.
So, poor mobile broadband speeds may affect how easy it is to stream TV and customers may experience buffering as the mobile broadband struggles to keep up.
This is more likely to affect mi-fi devices as they are less powerful than home routers.
As we mentioned earlier, it's also possible to connect some hubs straight to the TV with an Ethernet cable. If this is an option, it could improve matters, yet speed may still be an issue for some customers.
Coverage and signal strength
Mobile coverage and signal strength can both affect how easy it is to stream TV via a mobile broadband device.
4G coverage from all mobile networks has increased to record levels and 99% of UK premises can now access an indoor 4G signal from at least one mobile provider according to Ofcom's data for 2020.
However, only 80% of premises can access coverage from all four operators, meaning there are plenty of homes where coverage for a specific network will be non-existent or patchy.
For customers who want to watch a smart TV using a mobile broadband connection, it's important to check operator coverage around the home before signing up to a deal.
Each mobile network has a signal checker on their website to give customers an idea of how good the coverage is in their area.
Read more about mobile coverage in the UK including the rollout of 5G and what to expect in the future.
Signal strength is related to coverage because the quality of mobile broadband coverage in an area will determine the strength of the wi-fi signal going to the TV for streaming purposes.
However, it's also worth remembering signal strength doesn't only relate to the signal getting to the mobile broadband device - it's also about the signal getting from the device to the smart TV (if connected via wi-fi).
Some of the principles we've mentioned in our guide to improving home broadband speeds apply here:
A mobile broadband router should be placed in a central location to improve signal strength around the home. In the case of streaming on a smart TV, it makes sense for the router to be in the same room with a direct line of sight if possible.
Improve the signal strength by putting the home hub on a shelf or table instead of the floor.
Don't surround the router with clutter as this can impede the signal.
Move other electronics away from the router to stop the signal being disrupted by things like cordless phones, stereos and fairy lights. This is also a reason why putting a router too close to the TV isn't always a good idea.
Test the signal strength of a mobile broadband device by putting a speed test on a phone or tablet. That should help customers get the device in the right location in the home for maximum benefit for streaming to the TV.
Data limits
The deals we've highlighted in the tables above all come with unlimited data, but not all mobile broadband tariffs have unlimited data. Some providers don't even offer unlimited data mobile broadband as an option.
All four main network operators have unlimited mobile broadband plans, yet those with devices included (like EE's 5G home hub) can come with hefty set-up fees or high monthly costs.
However, going with a limited mobile broadband deal for streaming TV content may lead to frustration if the amount of content they can watch is limited.
To again use Netflix as an example, they cite the following guidance for data use per hour of streaming:
Quality
Data used per hour
Low
0.3GB
Medium
0.7GB
High
1GB (standard definition)
3GB (high definition)
7GB (ultra high definition)
The Low and Medium settings are below SD so, in reality, customers are looking at 1GB per hour minimum.
Even a customer with a 30GB mobile broadband allowance will soon see that eaten up in 30 hours of TV streaming.
For customers who just want to stream a few hours of content here and there, a limited plan may be sufficient. However, it's worth looking at bigger data deals where possible, especially if you're planning on using mobile broadband regularly to stream.
Other usage
One final point to be aware of is that streaming to the TV is often only one activity that's going on with a mobile broadband hub or hotspot.
If customers are using mobile broadband as a replacement for fixed line broadband or even if they just have a mobile phone attached to the hotspot while they're using it, this can affect how good the TV streaming experience is.
This won't apply to all customers but those who plan on connecting multiple devices at once should look closely at home hubs rather than mi-fi devices and consider whether 5G is a better option than 4G.
---
Summary: TV streaming on mobile broadband
Connecting a smart TV to mobile broadband is simple as long as a customer has a mobile broadband hub for the home or a personal hotspot.
There are plenty of deals available on mobile broadband devices across many networks, with all four major UK mobile operators having some unlimited tariffs with their mi-fi devices.
Connecting the TV to the mobile broadband device is only one half of the battle, though, and customers should be aware of all the little elements such as speed, coverage, signal strength and nearby electrical interference that can impact how smooth a streaming experience is.
4G gives customers the chance to stream using mobile broadband instead of relying on fixed line broadband connections. With 5G networks becoming more commonplace, TV streaming via mobile broadband could pick up the pace even further.