The service is available from all four major mobile network operators and many smaller networks at no extra cost.
Meanwhile, 4G Calling enables calls to be made over the 4G network instead of the 3G network used previously. This provides greater call quality and should work seamlessly with Wi-Fi Calling when moving between networks.
However, some networks do not offer these services yet and there are compatibility issues when it comes to devices and moving between networks.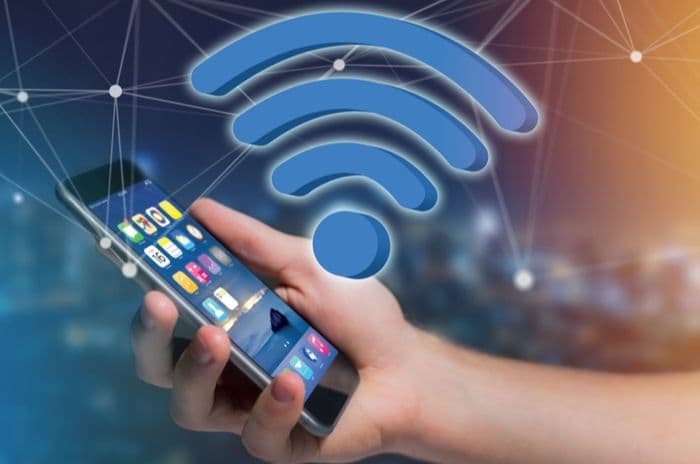 ---
At a glance
| Who offers Wi-Fi Calling | Who doesn't offer Wi-Fi Calling |
| --- | --- |
| Asda Mobile | giffgaff |
| BT Mobile | Lebara Mobile |
| EE | Lycamobile |
| FreedomPop | Plusnet Mobile |
| iD Mobile | Talkmobile |
| O2 | Tesco Mobile |
| Sky Mobile | |
| SMARTY | |
| Three | |
| Virgin Mobile | |
| Vodafone | |
| VOXI | |
---
What is Wi-Fi Calling?
Wi-Fi Calling allows mobile users to make calls and send texts using a wi-fi network rather than a mobile network.
It's designed to ensure smartphone users can still make calls if their mobile network coverage is poor, just as long as they're within range of a wi-fi network.
The major benefit of Wi-Fi Calling is that it improves the options for making calls and sending texts in mobile not-spots and areas of poor mobile coverage.
If there's a fixed line broadband and wi-fi network nearby, users can simply connect to that and make a call as if they were connected to a mobile mast.
So, as a back-up when there is no phone signal available such as when travelling on the London Underground or in a rural hotel, it could be very useful.
Wi-Fi Calling is available on all major networks and many smaller ones (we look more at those below), but it's worth noting the service will need to be enabled on a handset to make it work.
Some devices are incompatible with Wi-Fi Calling or a particular network might not support that handset on Wi-Fi Calling. If the service is a deal-breaker, be sure to check on a provider's website after choosing a new mobile phone and getting ready to sign up for a plan.
Plus, it might only be possible to use Wi-Fi Calling with the network a customer bought the device from, so watch out for the small print when signing up.
In addition, not all mobile network plans include Wi-Fi Calling as standard. For example, EE launched the service for some pay monthly customers in 2015 but only rolled it out to pay as you go customers in the middle of 2021.
How does it work?
If a customer is connected to a trusted wi-fi network, that wi-fi service can be used to make a call instead of a customer's 4G or 5G mobile signal. Customers can also use the network to send or receive text messages.
Moving out of range of the wi-fi network doesn't necessarily mean the call will come to an abrupt halt either.
Some networks will even try to move seamlessly between Wi-Fi Calling and 4G Calling (more on this below), allowing the call to continue without interruption.
Bear in mind, though, that if no 4G network is available, the call will drop out and a customer will need to use Wi-Fi Calling or their mobile coverage to call the number again.
Drawbacks
Wi-Fi Calling has been around in the UK for several years now. However, it still has some downsides that users need to be aware of.
We've mentioned some of them above but here's a more detailed list of potential drawbacks:
The signal strength of the wi-fi network will dictate the quality of the call. Public wi-fi networks may also have a lot of people using them at the same time which could affect the quality of Wi-Fi Calling.
Customers need a smartphone to use it. Despite smartphones being very popular, some people only have basic devices and don't want to upgrade to something more complicated.
Some devices don't support Wi-Fi Calling and restrictions on using the same device over different networks could be frustrating for customers looking to switch.
The switch between Wi-Fi Calling and 4G Calling isn't always seamless and customers have reported issues of poor-quality calls see-sawing back and forth between wi-fi and 4G.
It's usually only available in the UK.
It's best to make calls to emergency services over a mobile network as this allows the service to pinpoint a location. Wi-Fi Calling can get in the way of that at the most critical of times.
Overall, Wi-Fi Calling is a great option for making calls even when mobile coverage is difficult to come by, yet it's not an entirely perfect solution.
---
Who offers Wi-Fi Calling
Wi-Fi Calling is offered by the four mobile network operators (MNOs) along with many mobile virtual network operators (MVNOs).
Let's take a look at the four big names and some of the MVNOs.
BT Mobile
BT Mobile allows customers to use Wi-Fi Calling on compatible devices and doesn't require any extra apps to use - customers just need to enable the right settings on their phone.
There's a detailed breakdown on the process for enabling settings on the BT Mobile website, so customers with any device can follow step-by-step instructions.
One of the great things about using Wi-Fi Calling with BT Mobile is the sheer number of wi-fi hotspots they have across the UK.
BT Mobile customers can access around 5.4 million wi-fi hotspots and hubs, meaning they are more frequently in range of a public wi-fi hotspot than customers of any other mobile network.
This means there should be plenty of options for connecting to wi-fi even when mobile signals are poor. On the flip side of this, customers may move between Wi-Fi Calling and 4G Calling more regularly and could run into the type of issues we've discussed above.
EE
EE is one of the biggest names in UK mobile and allows customers on all plans including pay as you go and Flex plans to use Wi-Fi Calling.
Once again, there are detailed instructions on their website to enable the feature on different devices and they have useful how-to and troubleshooting guides to help customers having issues with the service.
iD Mobile
Wi-Fi Calling has been available on iD Mobile for several years now.
As with other mobile providers, iD Mobile provide a list of compatible handsets on their website and it's an extensive list including devices from Apple and Samsung alongside smaller names like Honor, Motorola and Alcatel.
O2
O2 is another of the UK's mobile network operators and they offer Wi-Fi Calling to customers with compatible handsets.
Like BT, O2 have a big network of wi-fi hotspots across the UK (16,000 at last count), so customers are likely to find O2 public wi-fi available in shops and restaurants if they want to use Wi-Fi Calling.
The good thing about O2 Wi-Fi hotspots is that you don't need to be an O2 customer to use them, although an O2 handset will connect automatically at around 7,000 locations so customers would be able to switch seamlessly between Wi-Fi Calling and 4G Calling if necessary.
Sky Mobile
Sky Mobile offer Wi-Fi Calling on a select number of handsets.
One thing to note is that their list of compatible devices is much smaller than the lists provided by other networks.
This is partly due to the fact that Sky say Wi-Fi Calling might not be available if a customer didn't get the device from them - Sky's range of mobile devices is smaller than their MNO rivals.
Like BT and O2, Sky have a network of wi-fi hotspots across the UK known as '_The Cloud'.
SMARTY
SMARTY introduced Wi-Fi Calling in November 2020.
Their website states that if a device isn't listed in their compatibility table it's because the device doesn't support it rather than SMARTY failing to support Wi-Fi Calling on that device. So, if a device is able to work with Wi-Fi Calling, it'll work on SMARTY.
The brand is a subsidiary of Three and operates on their mobile network.
Three
Three offers Wi-Fi Calling on some devices but it's currently limited to handsets from Apple, Samsung and LG according to their website.
As with other networks, it's easy to activate Wi-Fi Calling, yet it is a little frustrating that one of the major mobile networks in the UK doesn't have the same blanket coverage as other smaller rivals.
Virgin Mobile
Virgin Mobile supports Wi-Fi Calling across a range of devices from Apple, Samsung and Huawei.
However, it's worth noting the device compatibility list on their website is out of date, so it's likely the service is offered on more handsets than currently listed.
Vodafone
Vodafone are one of the biggest mobile networks in the UK and offer Wi-Fi Calling to customers using dozens of different devices.
Once more, there's a distinction between the devices sold by Vodafone themselves and devices sold by other networks which Vodafone say probably won't work.
VOXI
VOXI is a sub-brand of Vodafone and offers Wi-Fi Calling in the same way their bigger sibling does.
The compatibility guidelines on VOXI are the same as Vodafone's and the VOXI website directs customers back to the Vodafone website to check their handset and demonstrate how to turn Wi-Fi Calling on.
Who doesn't offer Wi-Fi Calling
The mobile networks listed above make up a huge piece of the UK mobile market but, at the time of writing, there are some popular MVNOs that have yet to introduce the service:
Lebara Mobile
Lycamobile
Talkmobile
Things can change and we wouldn't be surprised to see some of these networks introduce Wi-Fi Calling at some point but, for now, they're more focused on providing budget services than more premium features.
---
What is 4G Calling?
4G Calling works in a similar way to Wi-Fi Calling but it uses the 4G network to make a call rather than a wi-fi network. This service can also be called Voice-over-LTE (VoLTE).
It's a common misconception that phones automatically use 4G networks to make calls - this was something that was highlighted as tricky as far back as 2014 and it's only in the last few years that 4G Calling has become mainstream among providers.
Using 4G Calling means that calls go over the 4G network instead of the old 3G network, but it also means that data won't slow down while you're using 4G to make a call. It's straightforward to make a call using 4G and check social media too, for example.
As we've mentioned above, 4G Calling is also used to help customers shift seamlessly from Wi-Fi Calling without the call dropping out.
It might not be perfect just yet, but it is another step towards improving the quality and consistency of a customer's mobile phone service.
With 3G set to be phased out over the coming years, it's important that 4G calling is up to the job and used by networks to allow customers to make calls and send texts.
Who offers 4G Calling?
Networks who offer Wi-Fi Calling will generally offer 4G Calling too. The features usually go hand-in-hand and are advertised alongside each other on networks' websites.
There are some quirks to watch out for, however.
For example, Three calls their VoLTE service Super Voice instead - it's the same service but they decided to give it a catchier name at launch and it seems to have stuck for now.
Plus, Virgin Mobile technically offer 4G Calling but only on their 5G device plans, with SIM only customers ineligible for now.
There are similar issues around compatibility that we've discussed with Wi-Fi Calling, so it's always best to check whether 4G Calling works with a specific device and provider if it's going to be a deal-breaker.
---
Conclusion: Good options for mobile users
Wi-Fi Calling and 4G Calling are useful additions for mobile customers and both have their role to play as we move away from 3G mobile services.
Being able to use wi-fi to make a call is a brilliant option in locations where mobile signals are unavailable or patchy while switching from Wi-Fi Calling to 4G Calling can help keep a call smooth even while a customer's environment changes.
However, there are definite flaws in the technology and inconsistencies across networks that will hamper how popular the features are - at least for now.
The fact that Wi-Fi Calling and 4G Calling aren't available across all mobile networks is irritating, plus the device restrictions and sometimes plan restrictions mean customers might be getting Wi-Fi Calling or they might not.
Knowledge around Wi-Fi Calling and 4G Calling is limited, even if the potential for the features is high.
Hopefully, we'll see more MVNOs embracing the service in the future and there may be some action to make it easier to use Wi-Fi Calling with the same device across different networks.