Simple, honest, mobile: Plusnet Mobile reviewed
Plusnet
AT THE time we're writing this review, Plusnet have just become the UK's newest quad-play provider with the launch of their own mobile virtual network.
Like their parent company BT, they're piggybacking off EE's network - but unlike BT, they're starting off with a premade customer base, having taken over the EE-administered MNVO Life Mobile and inheriting their roughly 150,000 3G customers.
While those customers are free to stick with the 30-day plans they're already on, Plusnet are offering them and new customers a range of simple 4G plans, also on rolling 30-day terms.
And as this is Plusnet, and Plusnet have a reputation for good deals, they're also offering extra data on certain tariffs for those who have their broadband.
SIM only plans
Because they're so new, Plusnet Mobile's range of products so far is limited to a choice of four SIM-only plans.
It's possible they may expand to include handsets at some point in the future - their owners BT started off with just three SIM plans when they relaunched BT Mobile in March 2015, adding handset plans to their range just over a year later.
But simplicity helps keep costs down - and Plusnet seem keen to provide a mobile network as simple and no-nonsense as the rest of their services.
Here's what they're offering:
| | Data | Calls and texts | Contract term | Monthly price | |
| --- | --- | --- | --- | --- | --- |
| | 500MB | 250 minutes, 500 texts | 30 days | £5 | |
| | 1GB | 1,000 minutes, unlimited | 30 days | £7.50 | |
| | 2GB | 1,500 minutes, unlimited | 30 days | £12 | |
| | 4GB | Unlimited | 30 days | £15 | |
Tethering is allowed, if it's supported on our handset.
Customers will find they're automatically protected from shock bills thanks to what Plusnet call the Smart Cap: a £10 buffer on top of the monthly price of their plan.
Say we have the 1GB plan, and use all of that data but barely touch our 1,500 minutes. We'll be able to use another £10 worth of data - see below for what that amounts to - but then the data service on our phone will stop working.
Handset reviews on Choose
We will, however, be able to continue making calls and sending texts for the rest of the month, as long as we stay within those allowances.
Customers can decrease the cap to as low as £2, or raise it as high as £30 (subject to status) by contacting Plusnet.
As the plans are all sold on monthly terms, if we find we're regularly going over - or not using - our allowances, we can always change to a different plan.
But if we find that mid-month we seem to have got through far more data or minutes than we usually do, there are two options: incur out of allowance charges (and hope that the Smart Cap doesn't cut us off) or buy a bolt-on.
The out of allowance charges look like this:
| Usage | Cost |
| --- | --- |
| Calls to standard UK landlines and UK mobiles | 40p/minute |
| Calls to 0500 numbers | 20p/minute |
| Calls to 080 numbers | Free |
| Calls to 084, 087, 09, and 118 numbers | Access charge of 19p/minute |
| Voicemail | 40p/minute |
| UK texts | 15p each |
| Picture messages (MMS) | 40p each |
| UK data | £1.50 per day, limit of 250MB per day |
Going back to the example above for a moment, someone who used up all their data and relied on the Smart Cap to protect them from overspending would be able to use up to another 1.5GB over six days that month, before losing that part of their service.
The other option is to buy a bolt-on:
Add-on
Cost per month
Minutes
100
£1.50
250
£4
500
£8
1,000
£12
Data
250MB
£2
500MB
£4
1GB
£6
2GB
£10
4GB
£15
UK texts
From 100 for £1 to 1,000 for £6
Anyone who knows they're going to need data for more than one day of the remaining month is best off getting a bolt-on: the 250MB boost may cost £2, but if we don't use it all at once it'll last for the rest of the month rather than until the end of the day.
Coverage
Plusnet say they're proud to use EE's network to provide their mobile service. It's also the obvious choice for them, as they're both owned by BT.
EE run the UK's biggest 4G - and 2G and 3G - network, with around 97% of the population, and 70% of the geographical UK, covered.
Combined 2G and 3G
Combined 3G and 4G
Outdoors
Premises
99%
98%
Geographical
78%
75%
Indoor / in car
Premises
94%
94%
Motorways
99%
99%
A and B roads
81%
79%
SOURCE: Ofcom Connected Nations Report 2015. Available here [pdf].
But while Plusnet's parent company BT can offer their mobile customers speed boost bolt-ons to take advantage of EE's double speed and 4G+ data connections where they're available, Plusnet are sticking with standard 4G for now.
Broadband and more from Plusnet
If Plusnet's SIM-only prices didn't seem competitive enough already, the Yorkshire ISP offer "Mates Rates" to customers who also have, or sign up to, one of their broadband deals.
The "Mates Rates" offer is simple enough: anyone with Plusnet Broadband will get double the usual data on particular price plans - which means it's possible to get up to 8GB for £15 a month.
So what do Plusnet offer in terms of broadband? Again, they keep things simple, with just three basic packages:
Package
Broadband
Contract terms
Upfront price
Monthly price
Unlimited + Line Only
Up to 17Mb
Unlimited
18 months
Free
£18.99
for 18 mths,
then £27.98
Unlimited Fibre + Line Only
Up to 38Mb
Unlimited
18 months
Free
£22.99
for 18 mths,
then £32.98
Unlimited Fibre Extra + Line Only
Up to 76Mb
Unlimited
18 months
£25
£29.99
for 18 mths,
then £37.98
They also sell their standard broadband with no minimum contract, and both their standard and fibre connections are available to people who take their landline from another BT-compatible provider.
Both of these options cost more, though - neither comes with any kind of introductory offer like those featured below, and there are higher setup costs to take into account as well.
The line rental part of Plusnet's phone and broadband bundles doesn't include any phone calls; bundles start at £4 a month for inclusive evening and weekend calls.
For more details on all of Plusnet's broadband packages, click here to read our full review.
Offer
Terms
Unlimited broadband from £18.99/mth for 18 months plus £75 cashback

Hurry! Offer ends in 6 days!
28 November 2017
No activation fee. 18 month minimum term. Costs may vary depending on location.
Unlimited Fibre up to 38Mb from £22.99/mth for 18 months.

Hurry! Offer ends in 6 days!
28 November 2017
No activation fee. 18 month minimum term.
Unlimited Fibre Extra up to 76Mb from £29.99/mth for 18 months.

Hurry! Offer ends in 6 days!
28 November 2017
No activation fee. 18 month minimum term.
Finally, Plusnet also sell pay TV - but only to their fibre broadband customers. Like their broadband, it's basically a resold version of BT TV, with prices starting at £5 a month for Freeview plus 20 "premium" channels that include BT Sport 1.
The monthly price is the same whether customers choose the basic BT Youview box with a single tuner, or the dual tuner Youview+ model with a 500GB hard drive - but the latter comes with a £50 activation fee.
Customers can add more channels, or the HD versions of 13 of the premium channels, for £3 a month per channel pack, or get the rest of BT Sport for an extra £5 a month.
There's more on Plusnet's TV in our main review of the ISP, and on how it compares to Youview from BT and TalkTalk, here.
Customer service
Plusnet are proud of their reputation for being "customer service superheroes", although it's taken a bit of a knock as they've grown larger.
It would seem fair to say that when Plusnet get it right, they really do excel: numerous independent surveys rate them highly, and one of the UK's biggest market research companies, GfK NOP have found their customer satisfaction higher than that of either Sky or Virgin Media.
But when they get it wrong, it's not so good: in terms of their broadband provision, Plusnet have been recently been the subject of more complaints to Ofcom than EE or TalkTalk, and as the note on the graph below states, they may even be on a level with BT - who aren't known for particularly outstanding customer service:
Fixed broadband complaints per 100,000 customers, Q3 2014 - Q2 2016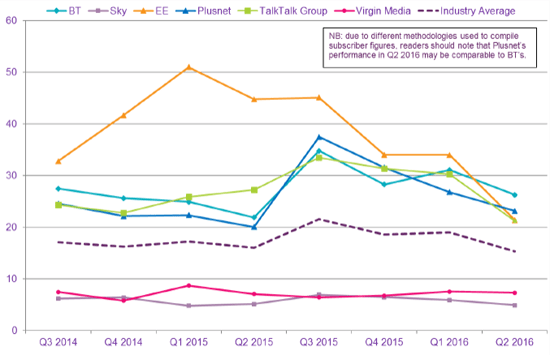 SOURCE: Ofcom. Available here.
Conclusion
It's too soon to tell what Plusnet Mobile are like as a provider, but they're making a promising start by using the strategy that's served them well in their broadband business: keep it simple, cheap and cheerful.
We'd be interested to hear from Life Mobile customers, who are probably best placed to say how the service compares pre- and post-takeover.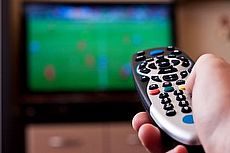 15 November 2017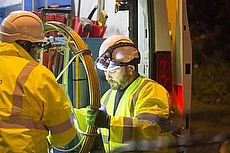 10 November 2017
9 November 2017
Follow us or subscribe for FREE updates and special offers