The notable exceptions to this are Tesco Mobile and Sky Mobile, who promise no mid-contract price increases for the duration of a fixed contract.
All other major mobile networks impose annual price increases, sometimes linked to the UK's rate of inflation.
Customers can take other steps to limit their mobile bills by choosing 30-day rolling deals or capping out of contract charges on their accounts.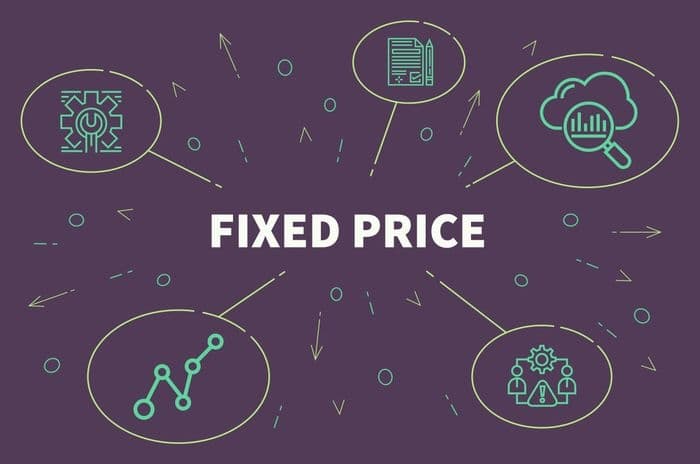 ---
At a glance
| Fixed prices | Annual increases | Rolling or other |
| --- | --- | --- |
| Tesco Mobile | BT Mobile | Asda Mobile |
| Sky Mobile | EE | giffgaff |
| | iD Mobile | SMARTY |
| | O2 | |
| | Plusnet | |
| | Three | |
| | Virgin Mobile | |
| | Vodafone | |
---
Best fixed price mobile deals
| | Package | Minutes | Data | Monthly price | Contract term |
| --- | --- | --- | --- | --- | --- |
| | 4GB data | Unlimited | 4GB | £6 | 1 month |
| | 5GB data | Unlimited | 5GB | £7 | 1 month |
| | 2GB data | Unlimited | 2GB | £7.50 | 12 months |
| | £8 Goodybag | Unlimited | 3GB | £8 | 1 month |
---
Who offers fixed price mobile deals?
Only one major mobile network in the UK promises no mid-contract price rises: Tesco Mobile.
We'll look at their promise more closely in a moment, but it's worth pointing out customers can access rolling mobile deals from many mobile providers too and we discuss those options below.
Read more about the cheapest mobile phone deals in the UK or check out the cheapest SIM only deals on offer.
Tesco Mobile
Tesco Mobile have, for several years, been the only major mobile network who pledge customers will not be hit by mid-contract price rises.
Their prices don't rise annually in line with inflation, nor will they rise at any other time while a customer is within their contract.
Tesco Mobile are very clear they won't start adding mid-contract price increases to their terms and make a virtue of being different to other networks.
A representative told Choose: "Surprise mid-contract price increases are particularly unwelcome when people are facing financial difficulties more than ever before. It's why, unlike other networks, we continue our commitment to keeping our customers' bills frozen throughout their contract."
Read our full review of Tesco Mobile or see how their customer service record compares to their rivals'.
Sky Mobile
As of May 2022, Sky Mobile are now promising no mid-contract price rises for new and existing contracts.
However, the terms do state other prices, such as call charges, may increase, and services may vary, including during the contract period.
Previously Sky Mobile didn't annually increase their prices as other networks mentioned in this guide do, but they did reserve the right to increase prices during a customer's minimum term.
Their old terms however did say that if they increase a customer's monthly subscription price, they will allow customers to cancel without incurring an early termination fee. So it's not the biggest move for them to switch to fixed prices, but it's a welcome one.
It's worth noting when Sky increased the prices of their broadband and TV packages from April 2022, no Sky Mobile prices were increased at that time. Although they did reintroduce roaming charges of £2 per day when customers travel to Europe from May 2022.
---
Price increases of mobile networks
The majority of mobile networks include annual price rises within their contracts, including all the big hitters: EE, O2, Three and Vodafone.
Mobile provider annual price increases
| Provider | Annual Price Rise |
| --- | --- |
| BT | CPI + 3.9% |
| EE | CPI + 3.9% |
| iD Mobile | RPI |
| O2 | RPI + 3.9% |
| Plusnet Mobile | CPI + 3.9% |
| Three | 4.5% |
| Virgin Mobile | RPI + 3.9% |
| Vodafone | CPI + 3.9% |
Let's take a look at each network's terms.
Asda Mobile
Asda Mobile reserve the right to raise prices at any point and will give customers no less than 30 days' notice before they are implemented.
Since Asda don't tie customers into contracts, the reality is that they can move to another mobile provider if they're not happy with any price increases.
BT Mobile
BT Mobile customers will see annual price increases of CPI + 3.9% which take effect in April each year.
This method of calculating annual increases only came into force in 2021 after a change in their approach. Previously, customers were liable for CPI only increases every year, but that's now altered, and the formula is included in all contracts since 1 September 2020 onwards.
EE
Like BT, their parent company, EE's contract terms include an annual price increase of CPI + 3.9%.
It's calculated based on the January CPI rate in any given year, so the increase in April 2022 was 3.9% + 5.4%, bringing the total increase for EE mobile customers to 9.3%.
giffgaff
Although giffgaff say they may raise their prices at any point, they are another provider who don't tie customers into a long-term contract for their SIM only deals.
This means customers are free to move away without penalty if costs do increase and they're not happy about it.
iD Mobile
If a customer's on a 12-month contract with iD Mobile, they will be subject to a price increase every April.
This is pegged to the RPI rate announced in February of the same year. In 2022, that was 7.8%, up from just 1.4% in 2021.
There are no increases for 1-month SIM only contracts.
O2
O2 is one of several networks who currently calculate their annual increases in relation to the RPI rate rather than the CPI rate.
However, while they used to calculate it just by RPI, the annual increase is now RPI + 3.9% for customers on newer contracts.
O2 also use the February figure of RPI for their annual prices rises, which are then implemented from April onwards. In 2022, this means O2 customers had price rises of 11.7%.
Plusnet Mobile
Plusnet Mobile price increases mirror those in their broadband plans.
Customers will see annual price increases of CPI + 3.9%, whether they're on a fixed term mobile deal or a rolling contract. However, customers without a fixed deal are obviously free to leave if they want to.
SMARTY
Mobile network virtual operator (MVNO) SMARTY is a subsidiary of Three offering rolling mobile deals.
Like most other providers with no-contract mobile plans, SMARTY say they may increase prices but don't routinely do so.
Again, customers can leave if they don't like the new rates.
Three
Three's contracts state customers' bills will increase by a flat rate of 4.5% every April.
This is at least unambiguous, and customers don't need to factor in the CPI or RPI rate when thinking about how much their bills will increase each year.
Read our review of Three.
Virgin Mobile
Virgin Mobile have changed their annual price increases from being just the RPI rate of inflation each year to be RPI + 3.9%.
This is in line with their sibling mobile company O2. Like O2 they also use the February RPI rate, and rises in 2022 came to 11.7%.
Vodafone
Vodafone increase their customer bills by CPI + 3.9% every April. This is line with the increases within EE and BT contracts. They also use the January published figure of CPI, and so Vodafone customers saw increases of 9.3% in April 2022.
Read more about Vodafone as a mobile network.
VOXI
As a subsidiary of Vodafone offering SIM only plans to customers, VOXI say they may make changes to prices but don't give specifics.
Customers who don't like these changes are free to leave their rolling SIM only contract.
---
Why do mobile prices go up?
Mobile networks offer several arguments when justifying annual price increases or even ad-hoc price increases.
A major reason for mobile network operators (MNOs) EE/BT, O2, Three and Vodafone to increase their prices every year is because they're investing in their networks.
This is more than just spin from the mobile networks. For example, we've seen all four operators commit to expanding their individual 4G networks to cover 88% of the UK by 2024 and 90% by 2026.
Operators have pledged to invest £500m into their networks to hit their targets, with O2, Vodafone and Three confirming plans for 222 new sites by 2024 and EE/BT increasing the 4G capabilities of 579 of their sites by the end of 2021.
As well as legally binding targets to upgrade their 4G networks, MNOs are also rolling out 5G services across the UK.
It's inevitable they will pass these costs on to customers in the form of higher bills.
And what about mobile virtual network operators (MVNOs) who don't operate their own mobile infrastructure but instead use a MNO's network? Surely those prices shouldn't be going up if a company has none of their infrastructure to invest in?
Well, it's notable that some MVNOs we've covered aren't raising their prices by as much as the MVNOs:
iD Mobile is pegged to RPI alone
Sky Mobile don't specify annual increases
Tesco Mobile pledge no mid-contract price increases
The costs of MVNOs may go up if their agreement with an MNO increases their costs. Plus, there are other reasons mobile providers may raise their prices:
To offer better or more varied services or packages
To improve customer service
There's also another element to consider that deserves its own section: regulatory requirements.
Meeting Ofcom requirements
Regulator Ofcom does more than just issue quarterly complaint figures and monitor when companies trip up on customer service issues. They also work to improve customer experiences and promote fairness.
One example of Ofcom action in recent years that has had a positive impact on the way customers handle their mobile deals is the "text to switch" rule.
This came into force on 1 July 2019 and allows mobile customers to leave their current network simply by sending a text message. This replaced the cumbersome process of needing to call a network to obtain a porting authorisation code (PAC), at which point a customer would usually be encouraged to stay with their existing mobile network when all they wanted to do was leave.
A great initiative, yes, and one that has undoubtedly made it easier for customers looking to switch their mobile provider.
Yet networks could legitimately argue they were compelled to invest in their systems in order to make the changes happen, adding to their operating costs.
This isn't to say the measures Ofcom put in place aren't welcome and they don't protect customers' interests because they do. But it does go some way to explaining why networks think they can justify their price increases by saying operating costs have increased.
CPI versus RPI
One final note about the differences between the Consumer Price Index (CPI) and Retail Price Index (RPI) methods of measuring inflation.
As we've seen, some mobile networks use CPI + a set amount while others are pegged solely to RPI. For a brief period between 2019 and 2020, BT and EE customers' bills were pegged only to the CPI rate of inflation with no additions.
Both CPI and RPI use goods and services to calculate the rate of inflation, but they use slightly different ways of calculating it.
For example, RPI covers household costs including council tax, mortgage interest payments, and TV licences while CPI includes none of these.
Here's a look at the CPI and RPI rates from January (the month many networks use to calculate their price increase) over the last five years:
| | CPI | RPI |
| --- | --- | --- |
| January 2017 | 1.8% | 2.6% |
| January 2018 | 3% | 4% |
| January 2019 | 1.8% | 2.5% |
| January 2020 | 1.8% | 2.7% |
| January 2021 | 0.7% | 1.4% |
As the table shows, RPI is consistently higher than CPI, and that's why the decision for networks to peg their increases to RPI in the past was so contentious.
Now, however, the situation has reversed, and most networks are indeed using CPI to measure their increases - but they're adding a set percentage to it every year which puts it far above the RPI rate.
To illustrate, imagine if EE and Vodafone's CPI + 3.9% was being calculated on the CPI rate from January 2018. It would hike prices for customers by 6.9%.
---
Capping extra mobile costs
It's worth remembering mobile customers can take steps to cap their bills in other ways, limiting the number of shocks at the end of a billing period.
Rules brought in by Ofcom in 2018 mean mobile providers must give customers an option to cap out of contract costs.
So, for customers on fixed contracts with a mobile provider can set their bill flexibility to £0, ensuring no out of contract calls, texts or data can be used.
Other customers may want to set their level at £5 or £10, enough to allow for some picture messages, a few premium rate minutes or a few MB more data than their inclusive contract allows, but not enough to put them in financial difficulty.
Out of contract charges can include:
Extra calls, texts and data not included in plan
Picture messaging
International calls
Data roaming
Premium rate numbers
Customers should check the small print of their contract to see exactly what's classed as an out of contract charge on their network.
---
Summary: annual price increases the norm
With the notable exception of Tesco Mobile, most mobile networks with fixed contracts reserve the right to increase their prices by either a set amount each year or one linked to CPI or RPI.
This means most customers will be hit by annual price increases they can't avoid as they were highlighted within the terms and conditions when they signed their contract.
The only exception to this would be if a network decided to try and levy a fee outside the one mentioned in their contract by, for example, adding another 3% or increasing prices more than once in a year when they promised a single annual price rise. If a network does try to do this, they are required to tell customers they can leave without penalty.
Switching mobile providers can be a crucial tool in helping mobile customers get a better deal on their mobile plans, but just remember to factor in annual price rises when taking out a contract and pay attention to those end of contract notifications sent out by mobile companies when customers' fixed terms are coming to an end.