The rise is made up of the Consumer Price Index (CPI) figure for January which is 0.6% and the 3.9% BT and EE added to their contracts in September 2020.
As affected customers agreed to these terms when they signed up for their EE or BT contract, they are not eligible to exit penalty-free.
These ISPs are not the only ones to hit customers with annual price rises, although some telecoms companies pledge no mid-contract price hikes.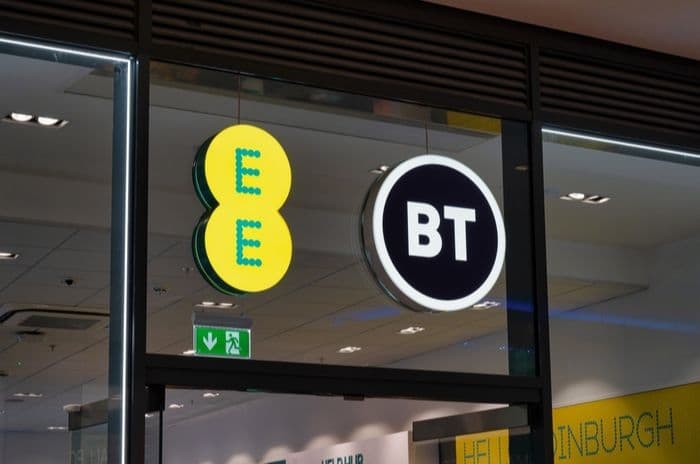 Credit: shawnwil23/Shutterstock.com
Price increases
Customers who signed up to their BT or EE contract before 11 January 2019 or after 1 September 2020 will be affected by the price rise.
It will add 4.5% to almost all the services customers have with the two ISPs including broadband, mobile and TV services.
While BT and EE say the average increase a customer will see on their bills is less than £2 per month, this is obviously going to be higher for customers with top smartphones on unlimited or high data deals.
Customers who signed up between the dates mentioned above won't be hit with the full increase and will instead find their bills increase by a much smaller 0.6% per year.
The changes come into force on 31 March 2021 and will be reflected on bills customers receive in April.
Change in calculations
If the 4.5% price rise seems higher than last year's increases for BT and EE customers, that's because the way the providers calculate their price increases has changed.
In September 2020, they confirmed they would be shifting to a system of taking the CPI figure for the January of a year and adding 3.9% to it. For 2021, this means 0.6% + 3.9%, coming up with the 4.5% figure.
However, this change was controversial when customers started spotting it in their terms and conditions, not least because BT and EE had only just altered their approach the previous year in January.
They shifted from pegging their increases to the Retail Prices Index (RPI) as EE did in their 2018 price rise to pegging it instead to the CPI rate which is usually lower.
That's why customers who took out their deals between 11 January 2019 and 1 September 2020 will be getting away with a 0.6% increase in their bills this year.
BT and EE aren't the only providers to have confirmed inflation-busting price rises so far in 2021. Virgin Media customers will see an average increase of 4% on their bills from 1 March 2021.
Yet other communications providers explicitly market their contracts as having no mid-contract price rises. Prominent examples include Tesco Mobile, Hyperoptic and Zen Internet.
A Tesco Mobile representative told Choose: "Surprise mid-contract price increases are particularly unwelcome when people are facing financial difficulties more than ever before. It's why, unlike other networks, we continue our commitment to keeping our customers' bills frozen throughout their contract."
Leanr more about fixed price broadband in this guide.
Can customers avoid the increase?
Unfortunately, customers who signed contracts before 11 January 2019 and after 1 September 2020 can't leave if they're still within their minimum term.
That's because they explicitly agreed to the terms when they signed up, meaning BT and EE have every right to impose this hike on their bills.
Customers who are not on minimum term mobile contracts with either company can compare cheap mobile deals to find a better deal, while broadband customers can use our free postcode checker for broadband deals.
If customer service is an important factor in decision-making, it's worth noting Tesco Mobile and Sky were recently named alongside EE as providers with low levels of customer complaints.