All their tariffs are on 1-month rolling contracts and use the Vodafone mobile network to deliver services.
One of their major selling points are the Endless Social Media & Video plans that enable customers to use social apps and stream video without eating into their data allowance.
Yet taking a truly unlimited tariff from VOXI is expensive and the only mobile phones offer are paid for via a PayPal Credit agreement.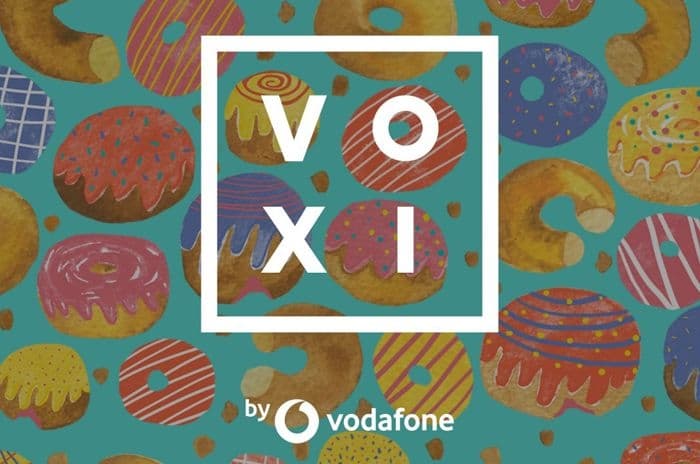 ---
At a glance
| | |
| --- | --- |
| 4G indoor coverage | 95% |
| 4G landmass coverage | 82% |
| RootMetrics speed | 25.2Mbps |
| Ookla speed | 34.8Mbps |
| Price from | £10 |
| Minimum term | 1-month |
| What we like | What we don't like |
| --- | --- |
| Inclusive video streaming on some plans | Unlimited tariff is expensive |
| Simple selection of tariffs | Mobile phones through PayPal Credit |
| 1-month rolling deals | Customer service record unclear |
| 5G as standard | |
---
VOXI tariffs
VOXI launched in the UK in 2017 as a mobile virtual network operator (MVNO) targeted at under 25s. Since then, they have removed age limits and are available to everyone.
VOXI offers a straightforward set of SIM only tariffs to customers. These are all on 1-month rolling deals so customers don't have to commit to a lengthy contract.
All VOXI tariffs are 5G as standard, so customers with a 5G-ready device in an area with 5G coverage from Vodafone will be able to benefit from faster speeds.
Here are VOXI's current tariffs:
| | Package | Minutes | Data | Monthly price | Contract term |
| --- | --- | --- | --- | --- | --- |
| | Endless Social Media 15GB | Unlimited | 15GB | £10 | 1 month |
| | Endless Social Media & Video 30GB | Unlimited | 30GB | £15 | 1 month |
| | Endless Social Media & Video 60GB | Unlimited | 60GB | £20 | 1 month |
| | Endless Data | Unlimited | Unlimited | £35 | 1 month |
There are incremental price increases for smaller data allowances followed by a bigger jump for unlimited data that doesn't always compare favourably with the cheapest unlimited SIM only deals around.
However, VOXI offers powerful perks to customers taking limited data allowances: Endless Social Media & Video.
Endless Social Media & Video
VOXI's 15GB tariff comes with inclusive social media use across the following platforms:
Instagram
Facebook
Facebook Messenger
Pinterest
Snapchat
Twitter
WhatsApp
It means that using those social media sites won't count towards a customer's data allowance each month.
Customers can even tether another device such as a tablet or laptop to their mobile phone and benefit from free access to the sites on those connected devices too.
For customers on 30GB and 60GB plans, this Endless Social Media is joined by Endless Video. This gives customers unrestricted and unlimited access to the following streaming options:
Amazon Prime Video
My5
Netflix
TikTok
TVPlayer
UKTV
YouTube
It's important to note that extra subscription costs aren't included, so customers will already need a subscription to Amazon Prime Video if they want to stream on their mobile, for example.
There are other caveats to these tariffs to be aware of such as the fact that they cannot be used to boost a customer's allowance while roaming (20GB limits still apply) and associated activities are not supported.
So, customers may find that adverts on video streaming sites still incur data costs and they will be unable to use their Endless Social Media allowance for making voice or video calls.
Nevertheless, VOXI's inclusive streaming options are unique among mobile networks and we ranked them as the top mobile network for free streaming in our dedicated guide.
Roaming on VOXI
Customers can use up to 20GB of their monthly data allowance in the 48 countries included in their Europe Zone.
Like all mobile networks, VOXI keep an eye on how often a customer is using their data abroad since roaming is designed to be a temporary option for holidays and short trips.
If a customer uses their plan in the Europe Zone for 62 days in a four-month period, VOXI will get in touch and customers may end up being charged for further usage.
The cost per 1GB of data outside of a customer's allowance is £3.13 while calls are charged at 3p per minute and texts are 1p each.
---
Mobile phones
VOXI offers some mobile phone deals to customers but the credit side of things is handled by PayPal Credit rather than VOXI themselves. This is similar to the way giffgaff have partnered with Klarna to offer phones alongside their SIM only plans.
VOXI's phone deals come with no upfront costs and a 0% interest rate. Customers can also make extra payments to reduce the length of the term.
Since none of the phones are locked to VOXI, they can be used on other networks if a customer decides to switch to another mobile provider at some point.
There are some top new and refurbished phones available via VOXI, so it might be a useful option for some customers, although we'd always recommend comparing mobile phones from various mobile providers too to see how the deals compare.
---
Coverage
VOXI runs on the mobile network operated by its owner Vodafone.
This means wherever there is a Vodafone signal, customers can get a VOXI signal too. On the flip side, it means that customers in areas where the Vodafone signal is patchy will miss out on signing up to VOXI.
Mobile coverage across the UK is monitored by Ofcom and these are the most recent figures published in the regulator's Connected Nations 2020 report:
| Type of coverage | Percentage |
| --- | --- |
| 4G indoor coverage | 95% |
| 4G geographical coverage | 82% |
| 4G indoor coverage (urban areas) | 98% |
| 4G geographical coverage (urban areas) | 99% |
| 4G indoor coverage (rural areas) | 75% |
| 4G geographical coverage (rural areas) | 79% |
As usual, rural mobile coverage can't keep pace with the coverage offered by Vodafone in urban areas, but the operator is joint first when it comes to 4G indoor coverage across the UK and second for 4G geographical coverage.
So, customers looking at VOXI as their next mobile network will have a good chance of getting decent coverage, although it's always worth checking before signing up.
With VOXI's 1-month rolling contracts, it's also easy to switch away if the signal doesn't meet expectations.
5G coverage
Vodafone's 5G network has been growing in the UK since it launched in July 2019. They say they are active in 124 locations across the UK.
The good news for VOXI customers is that they can access all of Vodafone's 5G network. The bad news is that it's far from comprehensive, so those interested in 5G mobile broadband and its benefits may have to wait until it reaches them.
---
Speed
Vodafone often come in second or third place when we look at how fast the network is and, consequently, how fast VOXI is.
Our analysis of mobile speeds in the UK found Vodafone speeds range from 11.5Mbps to 49.45Mbps when 5G is factored in.
That's a fairly big range, although it's worth noting different companies use different ways to measure speeds and collect data.
Here are the individual results:
| Research source | Average download speeds (in Mbps) | Place (out of four networks) |
| --- | --- | --- |
| nPerf (2020) | 49.45 | 2nd |
| Ookla (Q4 2020) | 34.83 | 3rd |
| Opensignal (H1 2021) | 21.6 | 3rd |
| RootMetrics (H1 2021) | 25.2 | 2nd |
| Tutela (2021) | 11.5 | 4th |
VOXI customers using the Vodafone network won't get the fastest speeds around (those belong to EE) but they will still be fast enough for most.
We also have 5G-specific data from several reports:
| Research source | Average download speeds (in Mbps) | Place (out of four networks) |
| --- | --- | --- |
| Ookla (Q4 2020) | 130.57 | 3rd |
| Opensignal (H1 2021) | 59.1 | 4th |
On 5G, then, Vodafone's speed range is huge and it's partly reflective of how patchy the technology still is.
As Vodafone 5G coverage continues to expand, VOXI customers will be able to access fast 5G speeds - but it's probably not a major selling point just yet.
---
Customer service
VOXI isn't covered in Ofcom's annual customer service reports or their quarterly complaints figures, so it's difficult to get a handle on how happy their customers are.
One thing we do know is that they don't have call centres, so customers will need to be happy with communicating through web chat or social media if they have an issue. They also have an extensive FAQs section on the website to troubleshoot common problems.
If we take a look at Trustpilot's reviews, VOXI has a Great score of 4.0 from over 16,000 reviews. 69% of customers ranked them as good with a further 12% saying they were a Good provider.
On the other end of the scale, 12% called them a Bad provider.
In fairness, at the time of writing this review, VOXI seem to be having some delivery issues for new SIM cards and devices, and some customers who haven't yet received them are being automatically invited to submit reviews of their experiences - a recipe for frustrated customers.
Yet many VOXI customers who had ordered SIMs were frustrated by being unable to talk to a human being over the phone and many took aim at the generic responses by VOXI that did not address the individual issues.
Read more about mobile customer service.
---
Verdict: Is VOXI any good?
VOXI brings something unique to the mobile phone market with their Endless Social Media & Video tariffs and a refreshingly simple line-up of packages.
Thanks to using Vodafone's mobile network, they have the benefit of wide 4G coverage and good speeds that often put them in second or third place behind EE.
It's also great to see them offering 5G capability as standard where this is available and should mean that many customers with 5G-ready phones will find them to be a good option.
Plus, the 1-month deals are ideal for customers who don't like commitment or would prefer to try a mobile provider on a short contract to see if they like the speeds and coverage.
Yet there are still some niggles with VOXI:
Restrictions on Endless Video could catch some customers out
5G coverage is still limited
Mobile phone credit agreements are with PayPal Credit
Their customer service record is patchy
Overall, we like what VOXI has to offer and their unlimited video streaming is an excellent deal.