With O2 mobile broadband, customers have a choice of SIM only plans or several devices including a 5G-ready pocket hotspot.
Independent testing shows O2's speeds aren't the fastest of mobile networks, yet their indoor premises coverage across the UK is at 95%, ahead of all some rivals.
Backed by a solid customer service record, O2's mobile broadband is a good option, although it may be a better choice for existing O2 pay monthly mobile customers than those on other networks.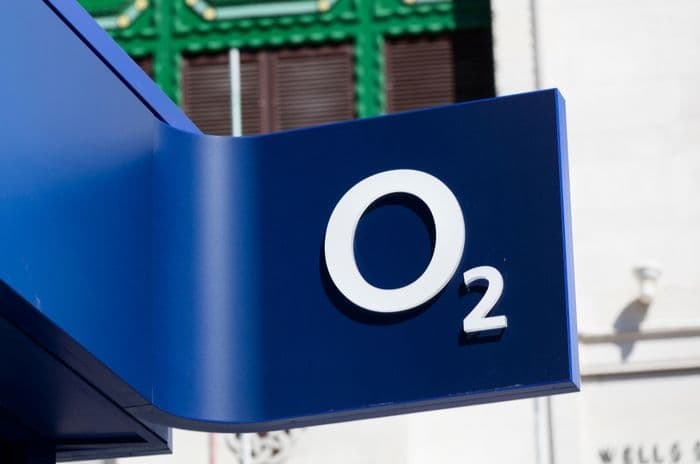 Credit: Ink Drop/Shutterstock.com
---
O2's offers
O2 mobile broadband SIM only plans are available on 12-month or 30-day contracts.
For customers who already have a mobile wi-fi device or intend to buy one separately, these SIM only plans could be ideal.
Special offers
Offer
Terms

Get this offer

Black Friday: Unlimited data, unlimited minutes and texts and Apple Music free for 6 months just £25.99/mth

Sorry, this offer ended 6 December 2023

24 month contract. Mobile SIM only.

Get this offer

Get this offer

Black Friday: 30GB data, unlimited minutes and texts and Apple Music free for 6 months, just £12.99/mth

Sorry, this offer ended 6 December 2023

24 month contract. Mobile SIM only.

Get this offer

Get this offer

More than double data for up to 3 months on O2 Pay As You Go from £10/mth

Offer ends 25 January 2024

1 month contract. Mobile SIM only.

Get this offer
---
SIM only for tablets
Here are O2's SIM only 12-month plans for tablets:
| | Package | Data | Monthly price | Contract term |
| --- | --- | --- | --- | --- |
| | 2GB data | 2GB | £10 | 12 months |
| | 5GB data | 5GB | £13 | 12 months |
| | 20GB data | 20GB | £17 | 12 months |
| | 100GB data | 100GB | £20 | 12 months |
| | 250GB data | 250GB | £28 | 12 months |
And here are the 30-day SIM only plans for tablets:
| | Package | Data | Monthly price | Contract term |
| --- | --- | --- | --- | --- |
| | 2GB data | 2GB | £13 | 1 month |
| | 5GB data | 5GB | £16 | 1 month |
| | 20GB data | 20GB | £23 | 1 month |
| | 100GB data | 100GB | £30 | 1 month |
As we can see, there's a slight premium for taking a 30-day deal rather than a 12-month one, but it's small enough not to be noticed every month if customers prefer the flexibility of no contract.
The main difference is the fact that unlimited data is only available on a 12-month plan. Yet 50GB may well be sufficient for many customers, so bear that in mind when browsing mobile broadband deals.
5G plans
5G mobile broadband SIM only plans from O2 don't cost extra per month, but customers will need to check a tick-box at sign-up to receive a 5G SIM card rather than a basic 4G one.
This will allow them to use O2's 5G network where available (more on this below).
---
Mobile hotspot tariffs
O2 separate their monthly prices into two parts: the device plan and the airtime plan.
For mobile broadband devices, this isn't as significant as the cost of a mobile phone, so the split mostly covers the monthly data costs.
Taking their Huawei 4G Pocket Hotspot as example, we can see how prices increase as more data is added:
| | Device | Data | Monthly price | Initial price | Contract term |
| --- | --- | --- | --- | --- | --- |
These prices include both the device and the airtime, with the device portion being £1.38 per month - this accounts for the unusual monthly price.
It's worth noting the Huawei 4G Dongle is only 38p cheaper per month with the same data allowances.
Learn more about the differences between wi-fi devices and dongles in our guide to the best mobile wi-fi deals.
O2 also like to stretch some of their device plans over 36 months rather than 24 if the device portion is more expensive.
The difference between the pricing isn't anything to do with the data element of the bill. It's the difference between the mobile broadband device costing £8.75 per month on 36-month plans and £5.84 per month on 24-month plans.
It's a similar story when we look at 5G options in the form of the Huawei 5G Pocket Hotspot Pro. These are the headline prices on 36-month contracts:
| | Device | Data | Monthly price | Initial price | Contract term |
| --- | --- | --- | --- | --- | --- |
The device portion of these 36-month plans is £11.95 per month. If we decreased the plan to 24 months, the device portion increases to £17.92.
O2 also allow customers to contribute upfront for more expensive devices like the Pocket Hotspot Pro. This brings down the monthly costs but is obviously dependent on having the upfront money available.
Mobile broadband devices
O2's mobile broadband devices are made by Huawei.
They currently have three main options:
Device
4G or 5G?
Features
Huawei 4G Pocket Hotspot
4G
Connect up to 16 devices, six hours of battery life
Huawei 4G Dongle
4G
Plug and play on a single device
Huawei 5G Pocket Hotspot Pro
5G
Download speeds of up to 1.65Gbps, dual-mode networking, super-fast charging, charge devices on the go
See this guide for more details about 5G mobile broadband and the potential speeds on offer.
---
What's O2's mobile broadband coverage like?
It's a mixed picture for customers looking at O2's 4G coverage: they're joint highest of the four mobile networks for indoor 4G coverage but they're one of the bottom two when it comes to 4G coverage across the UK's landmass.
Overall, O2's indoor 4G coverage is good, with 95% of indoor locations across the UK able to access an O2 mobile broadband signal. This is 5% more than the lowest ranked Three.
Yet when we look at geographical landmass, O2 isn't the leader for outdoor 4G coverage. In fact, they're second to last with only 80% of geographical coverage, 5% below leader EE.
There are a couple of things to note though:
Only 69% of the UK's landmass has good coverage from all four operators, but 91% has good coverage from at least one - there will usually be one network offering a good service in an outdoor area
That 69% covers more than 96% of UK premises, so most buildings will have good mobile broadband coverage from at least one provider
Customers looking at mobile broadband deals from O2 and other networks should check the coverage in the locations they're most likely to visit.
For example, if the plan is to use mobile broadband when camping in the wilds, O2 might not be the best option, but commuting on the bus around an urban area would likely be fine.
This official map taken from O2's website showing coverage across some parts of Scotland shows the issue in more detail: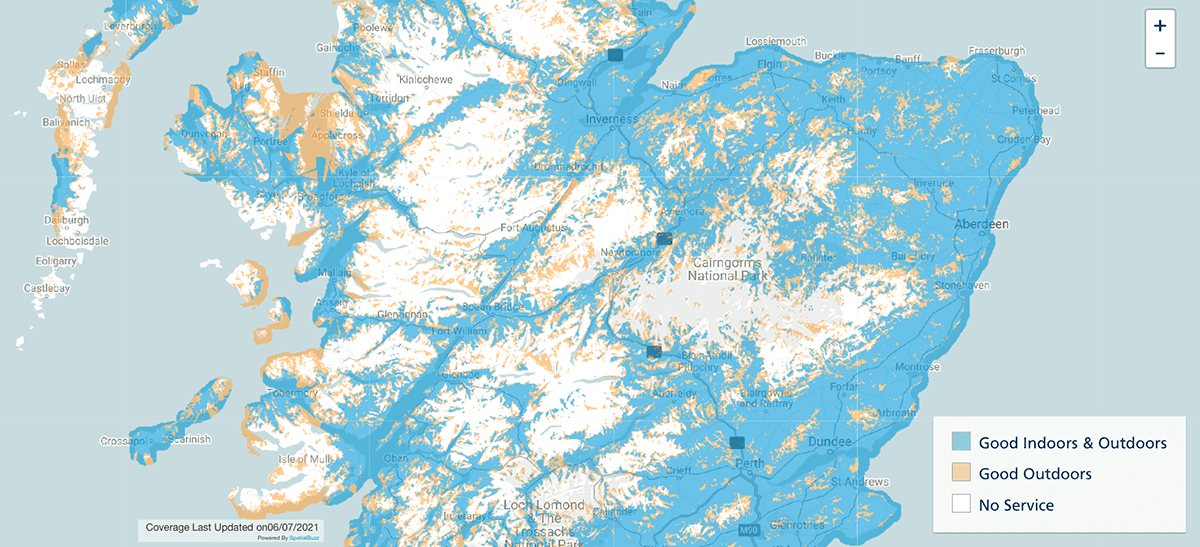 While indoor and outdoor coverage around urban areas like Aberdeen and Inverness is good, rural areas may have good outdoor service only or no service at all.
O2 are committed to investing in their infrastructure, announcing boosts to 4G services in 180,000 postcode areas in February 2021. They have also signed up to the Shared Rural Network (SRN) agreement and plan to install 222 new sites alongside Vodafone and Three by 2024.
Check your own favourite locations using the O2 coverage checker or read about which mobile network offers the best coverage.
What about 5G coverage?
For customers looking at 5G mobile broadband from O2, it's important to remember 5G isn't nearly as widespread as 4G - and it's going to take a long time before it's anywhere close.
O2's 5G networks covers parts of around 150 towns and cities across the UK at the time of writing, but these are often small elements of the locations such as busy urban streets and tourist hubs.
If 5G mobile broadband is available in some of the areas where a customer spends their time, it could be worth upgrading for the faster speeds. However, for anyone looking to use their mobile broadband device in less urban areas, 4G will be more than sufficient for now.
---
How fast is O2 mobile broadband?
Research from two separate studies gives us similar data on O2's 4G network performance, showing average download speeds of around 16Mbps.
Data from Tutela released in September 2020 analysed the median download speed in areas where all four networks are active, while Opensignal examined the download speed experience. Here are the results across all four networks:
| | Tutela | Opensignal |
| --- | --- | --- |
| O2 | 15.1Mbps | 17.3Mbps |
| Vodafone | 14.6Mbps | 21.0Mbps |
| Three | 13.2Mbps | 19.3Mbps |
| EE | 25.7Mbps | 39.0Mbps |
The figures for O2's speeds are the most consistent between the two studies, suggesting that speed range is accurate.
However, we also have data from RootMetrics for the first half of 2021 which tests mobile network performance in 16 cities across the UK.
That showed aggregate median download speeds of 15.6Mbps, the lowest of all four networks, but an improvement of 2.3Mb on the previous year. RootMetrics also noted:
O2's fastest median download speed was registered in Leicester at 39.1Mbps
O2 showed major improvements in H1 2021
Taken together, these three lots of research show average download speeds for O2 of between 15.1Mbps and 17.3Mbps.
5G speeds
The RootMetrics report mentioned above also took a look at 5G speeds in their 16 test cities.
O2 registered their highest median download speed of 179.3Mbps in Glasgow, slightly below Vodafone's top speed of 192.2Mbps in the same city.
It's an improvement from the first half of 2020 when RootMetrics could only find enough coverage in one city (Belfast) to test and their median download speed there was 121.3Mbps.
As O2's 5G rollout continues, those types of speeds will be available to more mobile broadband customers.
---
Are there any extras?
While O2 offer their O2 Extras to mobile customers, there don't seem to be any perks on offer to customers solely taking out mobile broadband deals.
It might be that O2 assume customers searching for an O2 mobile broadband deal will already have a pay monthly mobile handset and are simply taking out the mobile broadband contract as an extra service.
Even the promise of 16,000 free O2 wi-fi hotspots across the UK doesn't seem to apply to mobile broadband, probably because mobile broadband devices don't have the same control over access to hotspots as mobile handsets.
Plus, the point of a personal hotspot is to be able to connect to the internet on the move, something O2's wi-fi hotspots offer to mobile users anywhere - whether they're O2 customers or not.
So, those looking for access to some of O2's flagship features will need to be on a pay monthly mobile contract in addition to a mobile broadband contract.
Or, with tethering to mobile phones more popular than ever, a pay monthly mobile deal with a generous data allowance may be a better idea.
Read more in our O2 mobile network review.
---
O2 customer service: is it any good?
O2's complaint levels are low on pay monthly mobile contracts, registering below average for Q4 2020, the most recent quarter we have data for.
No data is available to show exactly how mobile broadband customers experience O2's service, but their statistics in Ofcom's Comparing Service Quality 2020 report for mobile customers suggest they're doing well:
91% overall satisfaction with service (slightly higher than industry average)
7% of customers had a reason to complain (average 10%)
62% of customers satisfied with complaints handling (average 57%)
Getting through to them on the phone is fairly easy too - calls were answered in an average of 2 minutes 17 seconds, in line with the industry average of 2 minutes 7 seconds.
Overall, O2 perform well as a pay monthly mobile operator, and we have no reason to believe their performance on mobile broadband is any different.
---
Verdict: Is O2 mobile broadband any good?
O2's mobile broadband ticks a lot of boxes with several devices (including a 5G option) and a good range of SIM only deals backed up by a stellar customer service record.
Each device has different plus points, ranging from the dongle option for limited plug and play on one device up to the 5G mobile broadband hotspot.
We also like the clear jumps between different data options - the leap from 15GB to 50GB to 150GB offers a clear reason for jumping from one plan to another rather than incremental increases that can leave customers confused about how much data they really need with their mobile broadband.
However, the separation between device and airtime in O2's device plans leaves scope for confusion and frustration, with 36-month plans the best way to keep monthly prices low.
Now O2's joint venture with Virgin Media has turned from a possibility into a reality, we've been told by Virgin Media O2 to expect accelerated investment across the 5G mobile network. This should improve the prospects of mobile broadband and mobile customers alike.
In the meantime, compare mobile broadband deals from O2 alongside those from other mobile providers such as EE, Three and Vodafone.