With 95% indoor coverage across the UK, Vodafone's mobile broadband can reach most of the places customers will want to go.
Vodafone's speeds are generally second to EE's, although it's worth noting some of their unlimited data bundles come with speeds capped at 10Mbps.
There are 30-day, 12-month and 24-month plans available, giving customers more choice, as well as a GigaCube 5G option too.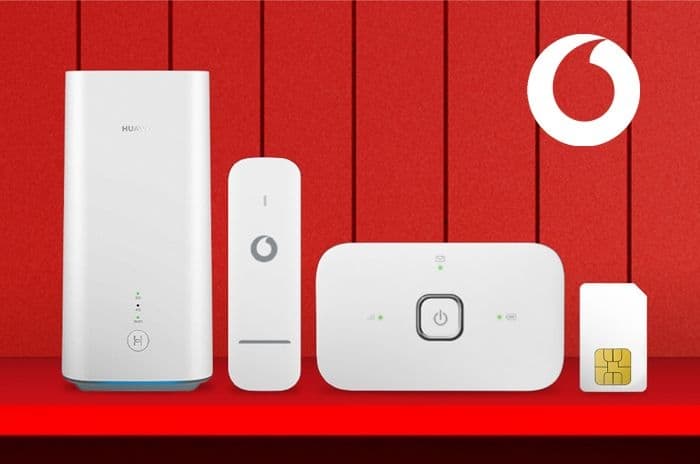 ---
At a glance
| | |
| --- | --- |
| 4G indoor coverage | 95% |
| 4G landmass coverage | 82% |
| RootMetrics speed | 25.2Mbps |
| Price from | £10 |
| Minimum term | 1-month, 12 months, 24 months |
| Device | Data SIM, mobile wi-fi, home router |
| What we like | What we don't like |
| --- | --- |
| Three contract options | GigaCube costs are high |
| Good range of data plans | Speed caps on some unlimited plans |
| Great mobile broadband coverage | Speeds are not the fastest |
| Several devices on offer | |
---
Vodafone mobile broadband tariffs
Vodafone offer deals on data SIMs that can be used in tablets and pre-owned mobile broadband devices or customers can purchase a mobile broadband device with a SIM direct from Vodafone.
They also offer a solution covering mobile broadband for the home called the GigaCube - but it's trickier to get hold of.
Before we dive into the details, it's worth pointing out that Vodafone's contract lengths switch between 1-month, 12 months and 24 months depending on which deal we're looking at. Be sure to check contract length before signing up.
Plus, customers signing up to Unlimited deals should be aware that only Unlimited Max plans allow top speeds - we look at this in more detail in the speed section later.
SIM only
Data SIM deals from Vodafone start with 4GB of data and go all the way up to unlimited data plans.
Here are some examples of how their pricing compares across the different contract lengths available:
| | Plan | Data | Monthly price | Initial price | Contract term |
| --- | --- | --- | --- | --- | --- |
| | 10GB: 24 months | 10GB | £15 | Free | 24 months |
| | 10GB: 12 months | 10GB | £17 | Free | 12 months |
| | 10GB: 30 days | 10GB | Free | £21 | 1 month |
| | Unlimited Max: 24 months | Unlimited | £30 | Free | 24 months |
| | Unlimited Max: 12 months | Unlimited | Free | £33 | 12 months |
| | Unlimited Max: 30 days | Unlimited | £37 | Free | 1 month |
As we can see, there's a step up in pricing each time we shorten the contract length but, for those who want flexibility with their data SIM deal, the extra monthly costs may be worth it.
However, customers who know they will use their Vodafone data SIM for two years can make significant savings compared to taking a rolling deal
Mobile broadband devices
Vodafone has several mobile broadband devices on offer. These come with a data SIM with a set amount of data each month and the price reflects the costs of bundling the two elements together.
Again, customers can choose from 24-month, 12-month or 1-month deals across two device types: the K5161 Dongle and the 4G Mobile Hotspot.
We've listed a couple of examples here:
| | Device | Data | Monthly price | Initial price | Contract term |
| --- | --- | --- | --- | --- | --- |
| | K5161 Dongle | 30GB | £20 | Free | 24 months |
| | K5161 Dongle | 30GB | £22 | Free | 12 months |
| | K5161 Dongle | 30GB | £26 | £30 | 1 month |
| | 4G Mobile Hotspot | 10GB | £15 | Free | 24 months |
| | 4G Mobile Hotspot | 10GB | £17 | Free | 12 months |
| | 4G Mobile Hotspot | 10GB | £21 | £35 | 1 month |
30-day plans come with upfront costs that aren't necessarily huge but might be enough to persuade some customers to opt for a contract instead.
There are other data options available with up to unlimited data although, again, customers should watch out for speed restrictions on some unlimited plans.
Mobile broadband for the home
The Vodafone GigaCube is the provider's mobile broadband for the home solution.
It's an impressive home hub that comes with 4G capability or 4G/5G capability depending on which model customers choose.
The GigaCube can only be taken on 24-month or 30-day deals and there's no way of ordering it directly through the Vodafone website - customers have to chat online with an advisor to even get started with the order.
The 4G GigaCube comes with a maximum data allowance of 300GB while the 5G GigaCube has a top unlimited level. Read more about data usage and how much is enough for you.
Here are the highest data options on both models:
| | Device | Data | Monthly price | Initial price | Contract term |
| --- | --- | --- | --- | --- | --- |
| | 4G GigaCube | 300GB | £50 | Free | 24 months |
| | 4G GigaCube | 300GB | £50 | £100 | 30 days |
| | 5G GigaCube | Unlimited | £60 | £50 | 24 months |
| | 5G GigaCube | Unlimited | £60 | £325 | 30 days |
The upfront costs of the GigaCube are prohibitive for rolling deals, especially the hefty £325 for the 5G GigaCube.
Along with this, the monthly costs are far above what customers would pay for Vodafone's fixed line broadband, so the GigaCube is very much a niche option and it's maybe unsurprising that customers need to go through a Live Chat conversation to get one.
---
Coverage
Vodafone come in at a solid second place for their 4G coverage across the UK's landmass and come joint first for 4G coverage indoors, according to Ofcom's Connected Nations 2020 report.
95% of indoor premises across the UK can access Vodafone's 4G network, putting them joint first with O2 compared to the 90% offered by Three and 93% offered by EE.
If we're looking at the geographical landmass of the UK, Vodafone's coverage is 82%. While this may seem low, it's second to EE's 85% and demonstrates the fact that some of the UK's rural areas are difficult to reach.
To combat this problem, the Government has agreed to invest an additional £500m in extending mobile coverage to hard-to-reach locations where networks wouldn't commercially roll out their infrastructure.
Plus, Vodafone has joined the other three mobile networks in agreeing to invest a total of £532m in locations where at least one operator has good coverage but others don't. This should improve options for customers in rural areas.
Vodafone has committed to reaching 90% of the UK's landmass by 2026 in line with other networks. So, even if mobile broadband coverage from them is sketchy in a given area now, it may improve soon.
Learn more about mobile network coverage.
5G coverage
Vodafone launched their 5G mobile network in July 2019, initially switching on services in seven cities including parts of London, Birmingham and Glasgow.
They say they are active in 124 locations across the UK, yet it's worth remembering that even places where Vodafone have switched on their 5G services are not comprehensively covered yet and it will take some time for 5G coverage to reach a good proportion of the UK.
Read more about 5G mobile broadband or find out how Vodafone and O2 are linking up to rollout 5G more rapidly.
---
Speed
Vodafone often come second to EE when tests of their speeds take place.
That's true if we look at RootMetrics' report covering operator performance in the first half of 2021 - Vodafone registered a median download speed of 25.2Mbps, less than half of EE's.
Here are the RootMetrics rankings:
| Network | Aggregate median download speed |
| --- | --- |
| EE | 58.2Mbps |
| Vodafone | 25.2Mbps |
| Three | 19.1Mbps |
| O2 | 15.6Mbps |
As we can see, Vodafone's network is faster than two of their rivals', but they can't match EE for speed.
That said, RootMetrics also noted Vodafone's network recorded some impressive speeds in some cities, so performance depends a lot on location.
Data from Opensignal published in September 2021 shows average download speeds of 21.6Mbps, a slight increase on their results from the previous year.
Finally, Tutela run their own regular studies of median download speeds in areas that are covered by all four mobile networks.
In their October 2021 update, Vodafone came in fourth place with a 11.5Mbps average.
Tutela also look at how often speeds were above 5Mbps for users. Vodafone fared better on this measure, coming in second to EE with 81.9% to their 93.7%.
So, Vodafone is not the fastest mobile network available, yet that owes as much to EE's dominance as anything else.
Vodafone customers receive speeds that are roughly in line with those offered by rivals O2 and Three - depending on which analysis we're looking at.
Speed caps
Vodafone do not offer top speeds to all their mobile broadband customers as we've already mentioned.
Their unlimited mobile broadband deals are separated into two:
Unlimited plans have a top maximum speed of 10Mbps, well below all the averages listed in the research above.
Customers who choose an Unlimited plan will be subject to these speed restrictions at all times, although customers who opt for the more expensive Unlimited Max plan will receive the fastest available speeds at any time.
It isn't a popular policy and has seen Vodafone rebuked by the Advertising Standards Authority (ASA) for putting out misleading ads, but it's important for customers to be aware of.
---
Customer service
Vodafone's complaints record is slightly higher than the pay monthly mobile industry average, but they still only registered 3 complaints per 100,000 customers in Q2 2021.
Pay monthly mobile complaint figures are generally much lower than fixed line broadband complaints, and the industry average for the most recent quarter was just 2 per 100,000 customers.
If we look a little more closely at Ofcom's data from their Comparing Service Quality report covering 2020, we can get a better idea of Vodafone's performance in that year:
| Metric | Vodafone's performance | Industry average |
| --- | --- | --- |
| Satisfaction with service overall | 90% | 90% |
| Customers with a reason to complain | 16% | 10% |
| Overall satisfaction with complaint handling | 55% | 57% |
| Average call waiting time | 1 min 56 secs | 2 min 07 secs |
| Ofcom complaints per 100,000 subscribers | 20 | 13 |
As the data shows, Vodafone are in line with the industry average on some measures (call waiting and satisfying with complaints handling), but they perform poorly on other measures, notably having the highest number of customers with a reason to complain than any other provider.
Back in 2016, Vodafone were fined £4.6m by Ofcom for breaking rules on billing and for their poor record of complaints handling.
Things have markedly improved since then on the mobile side of the business, and their previously poor broadband complaints have also been brought down to put them in line with the industry average.
---
Our verdict: Is Vodafone a good mobile broadband provider?
Vodafone are a solid choice for customers searching for mobile broadband deals with good 4G coverage, speeds generally second only to EE and three contract options for flexibility.
Customers can choose between a dongle and a mobile hotspot, plus there are plenty of SIM only data deals to choose from too if a customer already has a mobile broadband device or wants to pop a data SIM into a tablet.
There are still a few niggles with Vodafone's mobile broadband service, however:
The speed differences between Unlimited and Unlimited Max plans can be confusing
GigaCube 5G might offer fast speeds, but the pricing is high
Their customer service record has had some hiccups
There is no access to Vodafone's VeryMe rewards programme for mobile broadband only customers
Even so, Vodafone are a good choice for mobile broadband and their market-leading 4G coverage will mean that customers should be able to get a mobile broadband signal in plenty of places too.
We look at Vodafone's mobile broadband deals alongside other networks in our mobile wi-fi guide or visit our comparison page to search different mobile broadband options.
We've also got a review of Vodafone's mobile network for pay monthly mobile and PAYG customers. Plus, has tethering replaced the dongle? Find out.