BT Infinity for business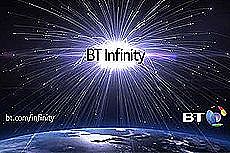 Infinity is BT's super speedy fibre broadband brand: would it suit your business?
As well as good speeds, the deals available for small to medium businesses claim to offer decent support, a first class router and unique extras like potential extra revenue with BT Wi-fi.
In this article we'll take a close look at how those claims hold up.
Click through above to get more detail or read on to start with the basics.
Infinity business: the deals
Infinity offer two speeds and two usage allowance options, 50GB or unlimited.
| | Package | Speeds | Limit | Price | |
| --- | --- | --- | --- | --- | --- |
| | BT Infinity Business | Up to 38Mb | 50GB | From £41 p/m | |
| | BT Infinity Business Unlimited | Up to 38Mb | None | From £48 p/m | |
| | BT Infinity Premium Business | Up to 76Mb | None | From £56 p/m | |
Note that the prices above are based on 24-month contracts, but they include the cost of BT line rental and a standard calling plan - which includes 500 landline minutes a month and capped call rates after that.
Those deciding between 50GB and unlimited should be aware of the monthly extra usage charges:
| up to 54.9GB | 55 - 59.9GB | 60 - 64.9GB | 65GB+ |
| --- | --- | --- | --- |
| £6 | £12 | £18 | £37.50 |
Extra costs
Access to a static IP is available, costing £5.50 a month for one, £8.50 a month for five addresses, or £15.50 for 13.
There's also an £8 plus VAT delivery charge to get the BT Hub, which you'll need even if you intend to use your own router.
Remember too that, unlike the home broadband prices on our site, the prices above exclude VAT; businesses liable for VAT on these services need to factor in the 5-20% extra.
Companies needing a new phone line connected will also have to pay either £110 + VAT on a 24 month contract, or £125 + VAT for a 12 month contract.
Contract commitment
As mentioned, there are two contract lengths available - 12 months or 24 months. It used to be the case that Infinity customers had to commit to 24 months, but now they can take advantage of a shorter contract - although prices are higher for those who do.
Availability
Finally, do check Infinity is actually available at your office address.
In the past it wasn't unusual to find Infinity wasn't available at your property even though it was in the general area.
TalkTalk even alleged that the fibre roll out was consciously skirting business parks so BT could keep hold of their leased line business.
How fast?
Fibre broadband is much better than ADSL at meeting its advertised speeds, as Ofcom's October 2014 results show:
Advertised Speed
Average over 24 hours
Up to 76Mb
(19Mb upload)
60.6Mb to 63.5Mb
(16.6Mb upload)
Up to 38Mb
(9.5Mb upload)
31.7Mb to 34.1Mb
(8.9Mb upload)
At peak times, P2P services can be slowed down, otherwise there's no traffic management.
Even taking P2P slowing into account, peak times tend to fall outside office hours: 5pm to midnight during the week, and 9am to noon at weekends.
Supportive service?
BT have a fair reputation for customer service to businesses.
Customer Service Guarantee
They've previously claimed 99.99% reliability - meaning one minute of downtime a week. This is a much safer bet than claiming the next step up - 99.999% reliability, which means just five minutes of disruption per year.
In either case, don't take it as anything close to a guarantee: just as with your home broadband, a contract for BT Business continues even if there are faults.
Unlike home broadband, BT Business do have a Customer Service Guarantee. Again, however, guarantee strays from its normal meaning.
Under the terms of the guarantee, if BT don't fix a serious fault within their stated time scale - one or two working days depending on the package - they provide compensation of £25.
But this is limited to one claim a month, and there are numerous exclusions. If, for example, the fault is caused by anyone other than BT, the claim is invalid.
It's nice as an extra inducement for them to get going on fixes, but it's not much.
For more detail, see here (opens as pdf).
Advanced support: TechHeads
With unlimited usage BT offer extra support which they call TechHeads.
They offer something more than the standard broadband "breakdown" support - for example, they can help troubleshoot connecting devices like printers, and issues with some hardware.
See the full list of services they offer here.
Looking through, it's notable that there are again a number of exclusions - they offer advice on security but can't help with software installation, for example - but it's still a decent level of support for basic business broadband, and it's good that BT are upfront about what they can help with.
BT Business Hub: any good?
Businesses that take standard broadband get BT's Hub3 - reviewed here - but those taking Infinity get the Hub5, which is similar to that provided to home customers. Details are here.
It automatically switches channels to give users the best signal strength, including a fast 5GHz 802.11n band as well as the slower 2.4GHz 802.11a/b/g protocols.
That means it can provide two separate network connections - one for devices like mobile phones, and one for devices able to connect using 802.11n, like your computer.
A faster processor, improved power-saving, and the fact that the Hub doubles as a VDSL modem all point to a better performance all round.
Unique to BT business
BT business customers get free, unlimited access to the BT Wi-fi hotspot network (formally BT Openzone), still the UK's largest network.
There's plenty of free wi-fi about (see our guide) but if you travel for business the peace of mind is nice.
Customer-facing businesses can also offer Wi-fi to their clients, as BT Business customers are allowed to sell access to their customers.
Whether or not your business chooses to charge for access depends on the likely level of disruption - while free access may bring in punters, only 13 users can connect at any one time.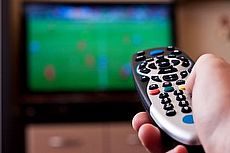 15 November 2017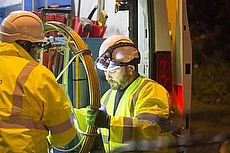 10 November 2017
9 November 2017
Follow us or subscribe for FREE updates and special offers