Essential broadband packages allow businesses to have broadband with basic features, which are still more impressive than those offered by competitors.
Enhanced business broadband (also known as Halo for Business) adds more premium features to a company's broadband service, although watch out for extras building up to big monthly bills.
Overall, BT broadband for business provides the same premium experience we've come to expect from BT's home broadband packages.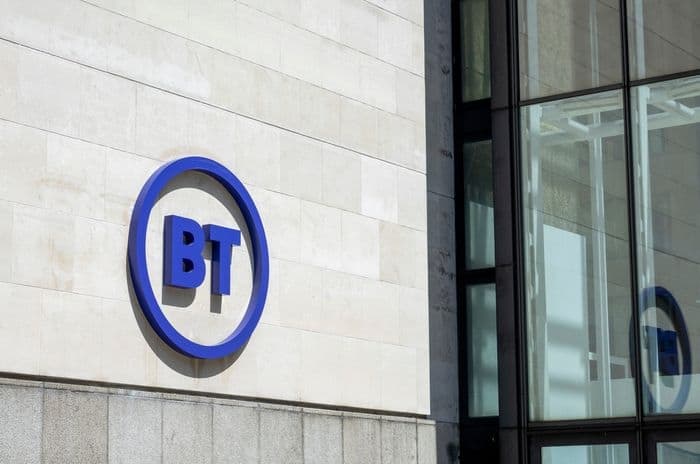 ---
At a glance
| | BT Business Superfast | BT Business Full Fibre 150 | BT Business Full Fibre 300 |
| --- | --- | --- | --- |
| Price from | £28.95 | £43.95 | £48.95 |
| Setup price | £9.95 | £9.95 | £9.95 |
| Download speed | Up to 76Mb average | 152Mb average | 314Mb average |
| Upload speed | 19Mb | 29Mb | 29Mb |
| Router | Smart Hub | | |
| Add business mobile | Yes | Yes | Yes |
| Minimum term | 24 months | 24 months | 24 months |
Special offers
Customers looking at BT Business fibre broadband may be interested in these current special offers:
Offer
Terms

Get this offer

Black Friday: First 6 months free on selected BT Business fibre broadband packages from just £34.95 a month

Hurry! Offer ends tomorrow!
3 December 2023

24 month minimum term. £29.95 set up fee. Price may increase after minimum term. Price excludes VAT.

Get this offer
---
What packages do BT offer for businesses?
BT's business packages come with two speed options: superfast up to 76Mb and ultrafast up to 314Mb.
These are the prices of BT business broadband excluding VAT:
Package
Broadband
Monthly price
Upfront price
Contract term
Fibre 76 Essential + Digital Line
76Mb average
£39.95
£29.95
24 months
Offer: Make & take calls on the go + Guest WiFI + Minimum speed Guarantee
Fibre 76 Enhanced + Digital Line
76Mb average
Free
for 6 mths,


then £54.95

£29.95
24 months
Offer: Black Friday: First 6 months free + Includes enhanced support and 4G back-up

(Ends 03/12/2023)

Full Fibre 150 Enhanced + Digital Line
152Mb average
Free
for 6 mths,


then £59.95

£29.95
24 months
Offer: Black Friday: First 6 months free + Includes enhanced support and 4G back-up

(Ends 03/12/2023)
While the upfront prices quoted in the table above covers the postage and packaging, there may also be other activation charges depending on the package.
These could include:
£125 charge for new line
£20 charge for reactivation of an old line or for taking over a working line
There is no charge to switch from another broadband supplier to BT business.
There are two types of business broadband packages: Essential and Enhanced (or BT Halo for Business). Let's take a closer look at both in this BT business broadband review.
What are Essential business broadband packages?
Essential broadband is BT's entry-level business broadband package.
It includes the following features:
BT Business Smart Hub (see below)
Access to 5 million hotspots
Guest Wi-Fi option to turn workplace into a wi-fi hotspot
UK-based 24/7 support
Unlimited data
Broadband speed promise set at time of sign-up
Fixed Price Guarantee for length of contract
Ability to upgrade at any time (i.e. to ultrafast)
For standard features, some of these are quite premium. The 5 million wi-fi hotspots are a unique proposition, for example, and access to those is what makes BT's home fibre broadband stand apart from the rest - it has the same impact on the attractiveness of their business broadband.
What are Enhanced business broadband packages?
Enhanced business broadband deals (also known as BT Halo for Business) include everything from the Essential package plus:
Guaranteed connection backed by EE 4G
Minimum speed guarantee
Expert set-up
Always Connected Guarantee offers a refund in case of a connection issue
Static IP address
Option to add Complete Wi-Fi for £7 per month
There is also enhanced IT support as part of these packages.
---
How does BT business broadband compare?
BT broadband is a premium business broadband option compared to many others.
Here's how their cheapest deal compares to three other major broadband names offering business packages:
Package
Broadband
Monthly price
Upfront price
Contract term
Fibre 76 Enhanced + Digital Line
76Mb average
Free
for 6 mths,


then £54.95

£29.95
24 months
Offer: Black Friday: First 6 months free + Includes enhanced support and 4G back-up

(Ends 03/12/2023)

Unlimited Business Fibre
76Mb average
£22
£4.99
24 months
Business Fibre 2
63Mb average
£23
Free
36 months
Complete Superfast Fibre
76Mb average
£26.95
Free
24 months
Offer: Save £192 over 24 months + Free P&P (was £9.95)

(Ends 12/12/2023)
The difference between BT Business fibre broadband and the services offered by Plusnet, Vodafone and TalkTalk comes down to two things: price and premium features.
The budget approach may work for some companies but, equally, the premium features offered by BT may be more attractive to businesses reliant on strong broadband and digital phone lines.
To find the cheapest business broadband deals, read more in our dedicated guide.
---
Business phone lines with BT
There are two types of phone lines available with BT business broadband: a traditional line or a digital line.
BT call the traditional line a Value phone connection while the digital phone line is officially known as the Cloud Voice Express digital phone line - but it's mainly referred to on their website as a Digital line.
Value phone lines can have phone packs added to them in the same way Digital lines can. The line functions as a normal landline rather than operating digitally.
Value lines also can't be connected to switchboards or phone systems.
Let's take a more in-depth look at Cloud Voice Express in this BT business broadband review.
Cloud Voice Express
This digital phone line allows businesses to make calls through the internet rather than through a physical phone line.
Cloud Voice Express comes with the following:
One geographical phone number
W60B base station and W56H digital handset
Choice of Pay As You Go calling plan or unlimited calls
Configurable phone features using online portal
BT Cloud Voice app to allow calls to be taken via mobile for free
It allows business users to:
Make and take calls via the Cloud Voice Express app on their mobile
Keep the number for life even if the business moves
Benefit from clever call filters blocking nuisance calls from known numbers
Benefit from voicemail that converts messages to texts and sends them to the app
Divert unanswered calls to other numbers
Manage their digital line account easily online
At present, there are no activation costs per user for Cloud Voice Express, but this may change in the future so check before ordering.
Phone line care packages
A Value phone line comes with Standard Care. This promises the following:
Ability to report a fault 365 days a year
Target to fix fault by the end of second working day
Engineering support available Monday to Friday from 8am to 6pm (excluding Bank Holidays)
For £7.20 more per month, businesses can upgrade to a Standard line. This upgrades the support businesses will receive to Prompt Care:
Target to fix fault by the end of next working day
Engineering support also available on Saturdays (8am to 6pm)
On top of this, businesses can add a Critical Care upgrade to either a Value or Standard line. This costs another £8.40 per month and further upgrades the support offered:
Target to fix fault within six hours
Engineering support available 24/7 (including Bank Holidays)
Whether these upgrades will be appropriate largely depends on how critical the business line is to the company - i.e. if a mobile can take on some of the functions of the business phone line, paying for upgrades may be unnecessary monthly expenses.
Call plans and features
There are two call plans businesses can add to their phone line if they want inclusive calls rather than relying on Pay As You Go calling features on the basic plan.
The Unlimited calls package allows unlimited calls to UK landlines and UK mobiles. It costs £14.90 per month when bought with a broadband and phone line bundle.
The International call plan is ideal for businesses operating internationally with 2500 inclusive international direct dial minutes (excluding some countries and mobiles outside the UK). This costs an extra £10 per month.
In addition, the following call features can be added:
Call diversion
Call waiting
Ring back when free
Call barring
3-way calling
Reminder call
Call sign
The pricing structure makes it cheaper for businesses to take multiple calling features:
1 feature - £4.60 per month
2 to 4 features - £8.40 per month
5 to 7 features - £11.70 per month
Taking all features costs less than £2 per feature, which is more cost-effective for businesses - as long as the company will use the majority of the features.
---
Business mobiles with BT
Three smartphone device options are available with some BT business broadband plans:
Samsung Galaxy A42 5G
Apple iPhone SE 64GB
Apple iPhone Mini 5G 128GB
BT say mobile and business broadband deals are meant to be flexible and come with the following features and options:
Choose from 4G or 5G and match to data allowance appropriate for the business
Pair any plan with any device
Unlimited speeds on unlimited plans
Wi-Fi Calling
4G Calling
Next day replacements for faulty devices
For businesses in need of a powerful company mobile, taking BT business broadband along with a device may be a great solution. Again, though, ensure it's worthwhile for the business before adding a device to a monthly broadband plan.
Mobile customers do have the benefit of being powered by the EE network, consistently the fastest network in major surveys and the first to roll out 5G services back in 2019.
---
How fast is BT business broadband?
We don't have any official testing to show how BT's business broadband performs in the real-world, but we can look at how their home broadband performs as a guide.
Here are the speed tests for the equivalent home packages in Ofcom's most recent report:
Ofcom average speeds, published March 2023
Advertised average speed
Over 24hrs
Peak time
(8-10pm weekdays)
BT
10Mb
12.92Mb
12.77Mb
BT
36Mb
32.36Mb
32.00Mb
BT
50Mb
43.79Mb
42.54Mb
BT
67Mb
63.76Mb
62.95Mb
BT
145Mb
148.72Mb
148.26Mb
BT
300Mb
302.34Mb
300.99Mb
Home broadband is advertised with average speeds rather than the "up to" speeds we see with business packages.
However, these real-world tests provide an indication of the drop between the advertised speeds and those attainable by users.
That said, remember the peak times registered in home broadband tests are unlikely to be peak times for businesses, so performance will differ.
Upload speeds
Businesses should pay close attention to the upload speeds they require for their everyday business activities.
For example, a design firm will need fast upload speeds to send designs to clients while shop premises updating a central stock system may not need the same upload speeds.
BT business broadband packages come with upload speeds of up to 19Mb on the Superfast deals or 29Mb on Ultrafast.
Bear in mind, again, these are "up to" speeds and not concrete guarantees of the upload speeds a business will be able to obtain.
---
BT's business hub
BT business broadband packages now come with the BT Business Smart Hub as standard.
BT say the hub offers:
Clearer customer communication through web traffic prioritisation
BT Smart Scan technology to monitor connections and ensure businesses are using the most effective signal
Futureproofing for faster future speeds
Ability to support lots of users and devices at the same time
Business-grade security firewall
Support for static IP
The specs of the Smart Hub follow the rest of BT's business offering by focusing on premium features including seven antennas (two more than Virgin, Vodafone and TalkTalk) and an advanced filter system to prevent unnecessary interruptions to signal.
---
Optional extras for businesses
We've already discussed optional extras like call plans and additional smartphones, but there are a couple of premium features meriting a more detailed examination: Hybrid Connect and Static IP.
Hybrid Connect
Also known as 4G Assure or Hybrid Backup, Hybrid Connect allows businesses to switch their connection to 4G if there's a problem with their business broadband.
The service is compatible with the BT Business Smart Hub and BT will be alerted if a business is forced to switch to 4G, allowing them to fix the problem as soon as possible.
Hybrid Connect is included with Enhanced business broadband deals and is probably the most attractive feature for those looking to upgrade from Essential to Enhanced.
The Internet Service Providers' Association (ISPA) awards recognised 4G Assure as the Best Customer Solution in 2019 for scaling an easy to use solution to a wider marketplace.
Static IP
A static IP is an integral part of business for many companies.
Enhanced BT business broadband plans include one as standard or they cost £6 per month for customers on Essential plans.
Companies looking for multiple static IP addresses can purchase five for £12 per month.
Static IPs allow businesses to:
Connect to computer from anywhere
Run own email server
Point domain names to services
Set up secure Virtual Private Network (VPN)
Run own website and FTP server
Run CCTV off the network
The inclusion of a static IP with Enhanced packages may be another good reason to upgrade from Essential.
---
What is BT's business broadband customer service like?
Again, we don't have official data on BT's business broadband customer service in the same way that we do for their home broadband.
From looking at two separate profiles on Trustpilot, the signs aren't brilliant with the main BT account registering an average rating of 1.4 out of 5 and 89% of reviews labelling them as Bad from around 9,100 in total.
It's worth noting these complaints cover home broadband as well as business accounts, and their BT Business Direct page has a rating of 1.4 from only 59 reviews.
Our caveat with looking at Trustpilot reviews and, indeed, reviews from any similar site, is they generally attract customers with a grievance. Reviews are often either terrible or fantastic, and major companies are susceptible to plenty of negative reviews.
Remembering, signing up for Enhanced plans gives customers improved access to tech support, so if getting someone on the phone quickly is a priority, upgrading to the next tier may be worthwhile.
---
Our verdict
BT broadband for business isn't a budget option, but it comes with numerous features that justify its premium price tag.
Here's what we like:
Ability to take a standard phone line if phone services aren't important to your business
Free Wi-Fi hotspot access at 5 million sites
Option to bundle mobile services alongside business broadband
High quality business hub
Fixed Price Guarantee
Option of 4G back-up on Enhanced packages
On the other hand, these are the drawbacks we've explored in this BT Business broadband review:
Premium price tag
Extras costing small amounts of money per month (like call features) can soon add up to bigger bills
24-month contracts aren't really suitable for younger businesses
Ultimately, however, BT business broadband is widely available and adds a layer of premium service and features on top of basic business broadband and phone services.